Thousands of Americans search for the best potato salad recipe. Potato salad is a side dish loved by many, and although it seems easy to make, some strategy goes into boiling the potatoes so that they aren't too hard or too soft. It's not always easy to know how long to boil potatoes for potato salad because there are so many different potato varieties to choose from.
A true cooking novice might not know how to boil potatoes for potato salad at all. If you're looking to learn how long to cook potatoes for potato salad, you're in the right place.
This potato article is not only going to tell you all of the different ingredients to add to your dish to make it taste better but also goes over the most popular potatoes that people use and how long to cook each type so that your recipe comes out perfect every single time.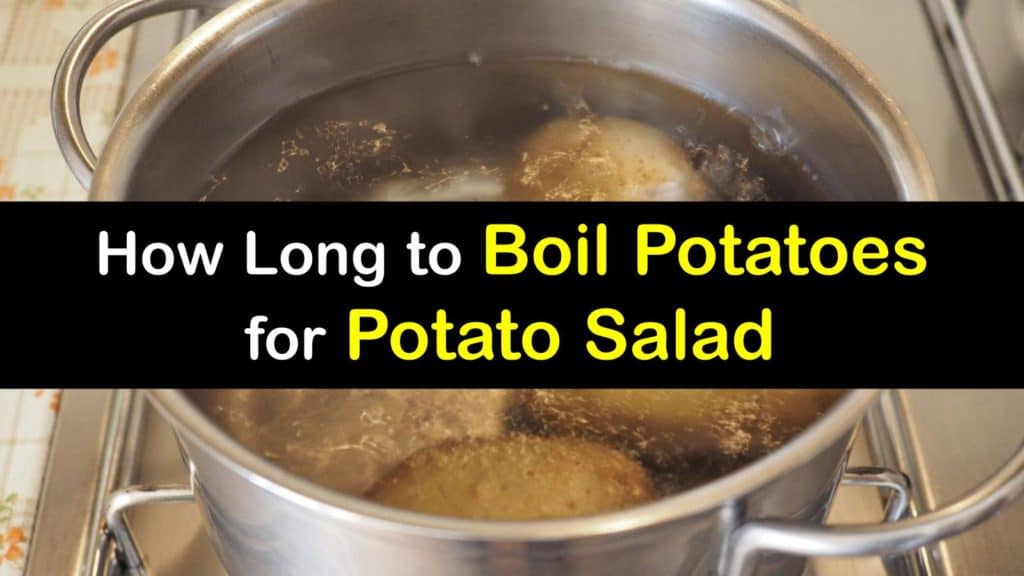 Important Potato Information
The number one vegetable crop within the United States of America is the potato. While many of us have eaten our potatoes fresh for years, home cooks started experimenting with cooking potatoes in the 1950s.
Between French fries and hash browns, there are so many mouthwatering ways to cook this versatile vegetable.
Potatoes are a comfort food because people like to mash them with butter and dairy until they are creamy and fattening. However, there are wholesome ways to cook and eat potatoes, and they have many health benefits.
One medium-sized potato has roughly 100 calories and zero percent fat. Even though they are high in carbohydrates, they contain no cholesterol or sodium.
The high amounts of vitamin C and potatoes work as an antioxidant that helps aid digestion, heart health, blood pressure and helps prevent cancer.
While we all know and love a classic potato salad recipe, there are endless modifications to make that give us even more nutrients.
For bolder flavors, add apple cider vinegar, Dijon mustard, and lemon juice. This doesn't even begin to cover the interesting ingredients for tasty salad.
Popular additions to potato salad are green onions, chives, hard boiled eggs, olive oil, sour cream, and more. The unlimited options make learning how to boil whole potatoes for potato salad even more enticing.
Knowing the different ways to preserve potatoes and your potato salad ensures that you can have some spuds whenever you like.
How Long to Boil Potatoes for Potato Salad
When learning how to boil potatoes for potato salad, the potato is most important. Know how to tell if potatoes have gone bad before you use them in your favorite potato salad recipe.
Boiled potatoes of different varieties have different cooking times. If you cook potatoes too long, they become mushy and unappetizing.
Boiled potatoes that are undercooked are too hard to eat, and the entire vegetable goes to waste. Use this guide to find the best way to boil potatoes for potato salad so that you never have to stress about over or under-cooking them again.
How Long to Cook Potatoes for Potato Salad
Figuring out how long to cook potatoes for potato salad is the most challenging part of the process. In general, most potatoes boil in a specific cooking time range.
Keep the information in the back of your mind, though, that some types of potatoes are better for potato salad than others.
Baking potatoes, such as russet potatoes, Idaho potatoes, and sweet potatoes have a flour-like texture and disintegrate more quickly than others. These types are best for making mashed potatoes or a baked potato.
All-purpose cooking potatoes are somewhat ideal for making potato salad. These types of potatoes include Yukon gold and red potatoes. Boiling potatoes of this type lets them hold their shape without falling apart.
Waxy potatoes are lower in starch and excellent for potato salad, soups, and casseroles. Potatoes in this category are round red potatoes, fingerling potatoes, and new potatoes. If you are concerned about your carb intake, it's nice to discover that the carbs in parsnips vs potatoes are much less and make a great substitute.
No matter what potato you decide to go with, there is an average length of time each one takes to cook. The size of the potatoes that you boil determines how long they cook.
If you boil red potatoes for potato salad or decide to go with other types of potatoes, the cook time is from 12 to 30 minutes.
How to Boil Potatoes for Potato Salad
Now that you know roughly how long it takes to make cooked potatoes, you're ready to create the perfect side dish for your cookout. When learning how to boil potatoes for potato salad, always start by prepping the veggies.
The best way to clean potatoes is to scrub the potato skins with a clean produce brush to remove dirt and rinse them under cold water. Once the potatoes are clean, use a potato peeler or paring knife, if desired, to remove the outer skin.
Some people keep the skin on, which is also okay for most potato types. Once your potatoes are scrubbed and peeled, cut them into one-inch cubes to speed up the cooking time.
It only takes a few extra minutes for larger diced potatoes to cook through. Now that you have prepped them, it's time to cook. Fill a large pot with water while the potatoes are in it.
Bring the water to a rolling boil and cook them for 12 to 30 minutes until cooked. The easiest way to tell if your potatoes are tender is to use a fork and stick it in the potato.
Drain the cooked potatoes in a colander and set them out of the way in a large bowl to thoroughly cool before using them in your potato salad recipe.
The Perfect Potato Salad
We all know and love the classic potato salad with mayo, mustard, and egg. Why not try a new spin on this traditional dish? Adding tons of herbs gives the salad a fresh flavor while still having a similar taste to traditional potato salad.
Put the raw potatoes in a large pot filled with water and a pinch of salt. Boil the potatoes over high heat for ten to 15 minutes until tender. Drain the potatoes and put them back in the hot pot with a lid.
Put the garlic, mayo, mustard, and olive oil in a food processor and pulse the ingredients until smooth. Add the cooked potatoes to a large serving bowl and mix in the mayo base, basil, chives, dill, lemon juice, and a pinch of salt, pepper, and red pepper flakes.
Once everything is well combined, put the bowl in the fridge for a few hours to cool before serving.
How long is potato salad good for? It depends on the ingredients. The fridge is the best short-term storage option but freezing is sometimes doable.
Boiling potatoes for potato salad is easy once you know about the different types of potatoes and how their size affects cooking time. Find the right potato for your family recipe, and you'll soon have the boiling time down to an exact science.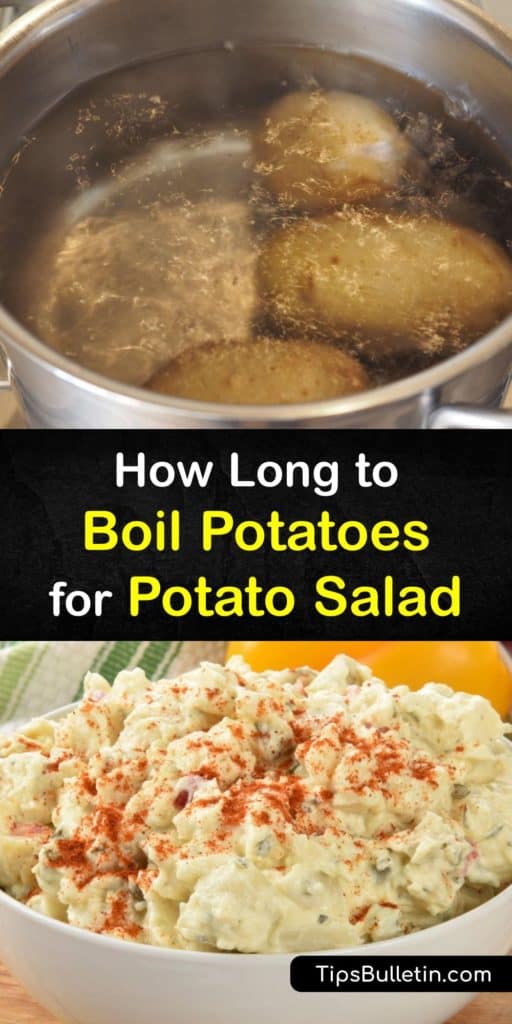 If learning how long to boil potatoes for potato salad helped you perfect your favorite recipe, share this guide on how long to cook potatoes for potato salad on Facebook and Pinterest.