Potato salad is a tasty side dish that goes well at any BBQ or cookout. "How long is potato salad good for?" is a great question to ask before eating leftover potato salad. It is vital to keep potato salad refrigerated and not at room temperature to keep it fresh.
Potato salad contains several fresh ingredients that are unsafe to eat if they go bad. We show you several ways to keep a classic potato salad fresh and ready to eat for the maximum number of days.
If you eat potato salad after it expires, you may experience food poisoning. Side effects of food poisoning include an upset stomach, nausea, and fever. To avoid these uncomfortable symptoms, learn how to tell when the potato is gone bad.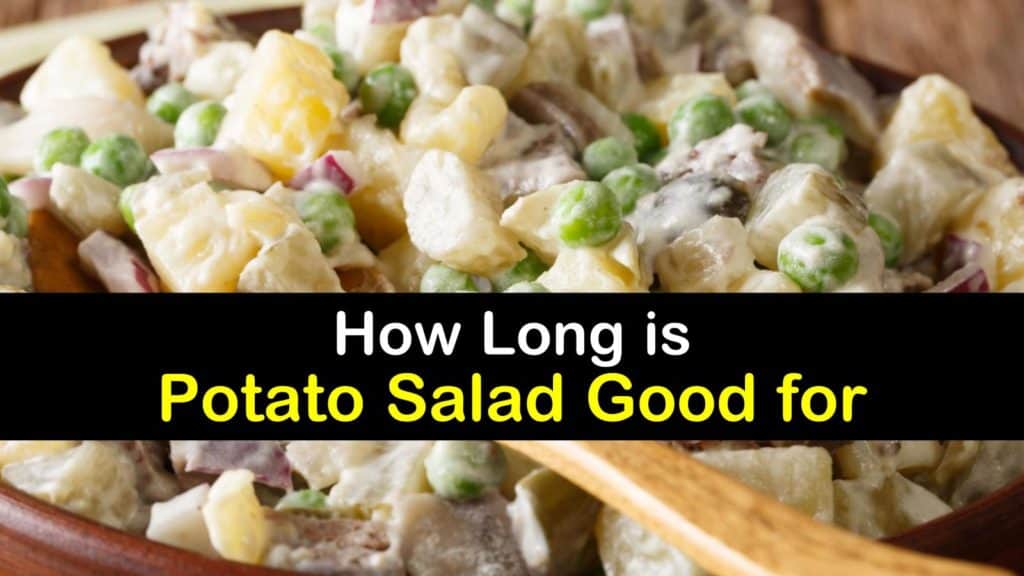 Potato Salad is an Excellent Side Dish
Enjoy a delicious homemade potato salad recipe perfect for bringing to any cookout or gathering. This potato salad recipe includes fresh veggies and as well as healthy alternatives to reduce fat.
The correct kind of potato for potato salad varies depending on your personal preference. Russet potatoes are commonly used for French fries because of their thick skin and creamy insides.
Yellow Finn, red potatoes, and Yukon Gold potatoes are the perfect type of potatoes to use for your salad. When is a potato bad for making salad? It's easy to tell when potatoes are spoiled or not right for a recipe. Color, texture, and smell are all ways to learn if you have the freshest spuds.
Creating the best potato salad is simple when you use the freshest ingredients and store them in ideal conditions.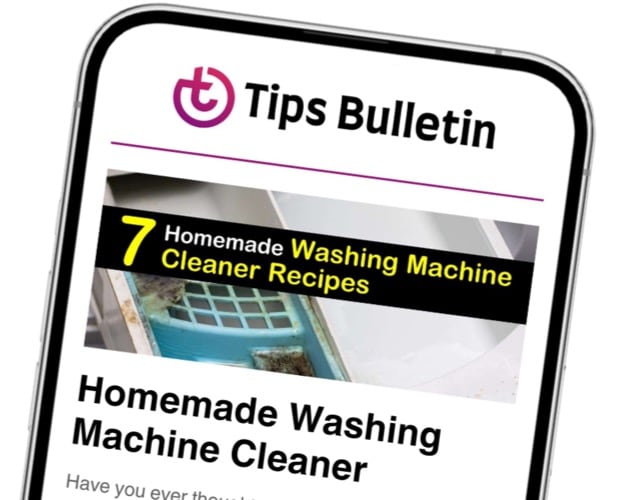 Finally, an email that Transforms Your Home.
Get the latest home and garden tips from our experts, delivered straight to your inbox.
How Long is Potato Salad Good for at the Correct Temperature?
Since potato salad contains fresh veggies and hard boiled eggs, refrigeration is vital to keep any salad fresh when made with these ingredients. When does potato salad go bad when kept in the refrigerator? When stored in a large bowl wrapped in plastic wrap, potato salad has a shelf life of three to five days.
How long is potato salad good for when it is stored at the ideal temperature? The correct temperature to keep a potato salad is around 41 degrees Fahrenheit.
Whether you buy your potato salad at a deli or make it yourself, storing it in the refrigerator is critical to maintaining freshness. Keeping a potato salad at room temperature speeds up the rate at which bacteria and foodborne diseases grow.
While freezing potatoes without blanching, as well as freezing potato salad are possible, it is not ideal, particularly if your salad contains dairy. The same applies to freezing pasta salad, although ingredients play a large part in how well these products freeze.
When Does Potato Salad Go Bad When Stored in Airtight Containers?
An airtight container locks out moisture and outside odors away from your potato salad. If potato salad interacts with the moisture or bacteria in the air, the ingredients' shelf life shortens – the same thing happens when freezing tuna salad.
You may be wondering, "When does potato salad go bad when it is kept in airtight containers?" When you have leftover potato or pasta salad from a potluck, storing it in an airtight container is the best way to keep it fresh for up to a week.
Place your potato salad in an airtight container and seal it properly. It is best if you close the container completely to ensure no bacteria gets into it.
After you place your salad in the container, set it in the fridge immediately to keep it out of room temperature.
How to Tell When Potato Salad is Gone Bad
Knowing when your potato salad has expired or how to tell when chicken salad is gone bad is necessary to avoid foodborne illness. Understanding how to tell when potato salad is gone bad is straightforward and requires a quick check-up.
Common indicators of spoiled potato salad include a foul smell, slimy texture, mold growth, or an odd taste. Mold growth is usually white, green, or black.
We recommend that if there is any doubt that your potato salad has spoiled, throw it out. You should be safe and avoid eating spoiled food.
Most potato salads last five to seven days in the refrigerator. However, if it is left on the counter or in the sun too long, spoilage occurs quicker.
If you experience stomach cramps or nausea after leftover eating potato salad, throw it out, as it has gone bad. Knowing how to tell when potato salad is gone bad is as important as knowing potato shelf life when it is not included in a recipe.
Making a Delicious Homemade Potato Salad
A tasty potato salad is a thick and creamy dish that includes several fresh herbs, potatoes, and hard-boiled eggs. The main ingredient in potato salad that makes the dish so thick is commercial mayonnaise.
However, replacing some of the mayonnaise in the recipe with either sour cream or plain Greek yogurt reduces fat in the dish.
Since you buy the potatoes whole, the first step is to cut them into quarters and place the pieces in a large pot. Fill a large pot about half full with cold water and put it on the stove over medium-high heat. Let the water sit on the stove until it starts boiling.
Let the water simmer for 15 minutes. Add a tablespoon of salt while the potatoes are boiling for more flavor.
As the potatoes cook, mix your measured mayonnaise, sweet pickle relish, mustard, apple cider vinegar, paprika, and one teaspoon of salt and pepper in a medium bowl. Stir the mixture until it is smooth.
Drain the water from the cooked potatoes and remove the loose peels. Cut the potato chunks in half, put them in a large bowl and stir in the dressing until all the potatoes are covered.
Add the hard-boiled eggs, celery, radish slices, and onions. Garnish the dish with salt and paprika for more taste. Cover your fresh potato salad and let it refrigerate for four hours before serving.
A potato salad's broad functionality makes it an excellent dish to bring to any family gathering, cookout, or picnic. Using fresh ingredients and the correct kind of potato make the dish taste even better.
If you end up with leftovers of potato salad, you must store it correctly to get the most extended shelf life possible. Refrigeration in airtight containers is the best way to ensure your potato salad stays fresh.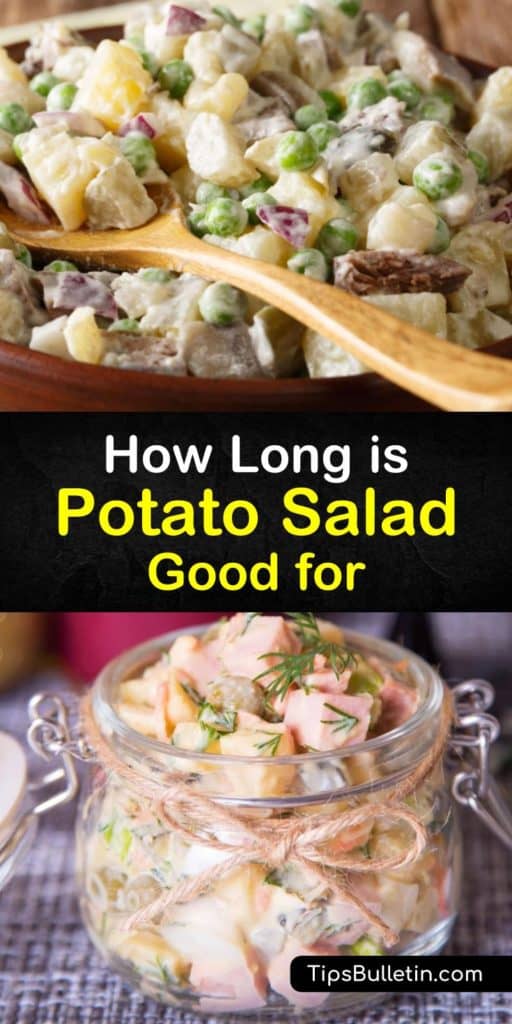 If we answered your question, "How long is potato salad good for?" share these tricks and recipes for an amazing homemade potato salad with your family on Pinterest or Facebook.