There are dozens of commercial bowling ball cleaners on the market, and some bowlers find them worth the investment. However, many bowlers prefer a more budget-friendly option and don't have the time or money to buy expensive cleaners when they could be cleaning their bowling balls at home. Teaching yourself how to clean a bowling ball benefits not only your pocket but also your game.
While some products are safe to use on the surface of the ball, others may damage it permanently. Finding the best way to clean a bowling ball might take a few rounds of trial and error.
Thankfully, there are a handful of practical and natural ways to clean a bowling ball that use ingredients found around your home and that professional bowlers even use. Try implementing some of these home remedies for cleaning a bowling ball, and you'll start to notice a difference in how it hooks and rolls down the lane.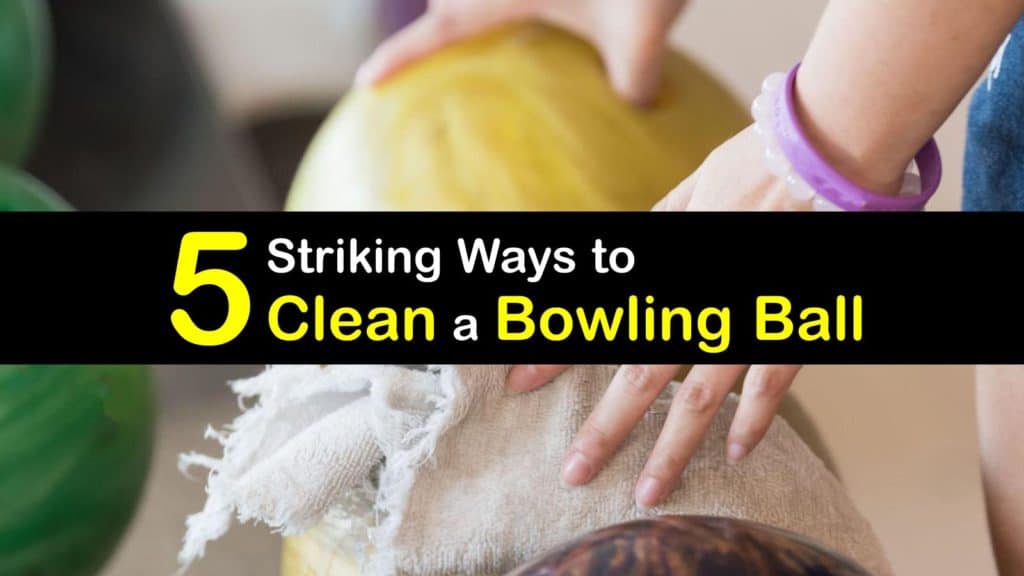 Why We use Bowling Ball Cleaner
If you're an avid bowler, pulling your ball out of your bowling bag and throwing it down the lane repeatedly takes a toll. Some bowlers notice that their balls don't hook anymore, and they cannot be as consistent as they once were.
This decline in performance is usually a result of poor ball maintenance. As you continue to bowl, the oily lanes start to absorb into the coverstock of the ball. Over time, this lane oil and grime buildup make the ball's performance drop.
You may also have a more challenging time gripping the ball in your hands and on the lanes. The more you take care of your equipment, the longer you prolong its lifespan, and you stop yourself from having to purchase a new one.
If you're learning how to clean a bowling ball, it's imperative to know how often you should clean your bowling equipment. The United States Bowling Congress (USBC) recommends washing your ball with safe cleaning agents once every six games.
They also say to implement a deep cleaning after every 20 to 50 games. If cleaning a bowling ball at home is more ideal than taking it to a local pro shop, use these bowling tips to help maintain and prolong the life of your equipment.
Natural Ways to Clean a Bowling Ball
Finding the best way to clean a bowling ball isn't as challenging as you may believe. Many standard household products act as a safe degreaser.
The one item that you must avoid using is acetone, which damages the urethane on the surface of the ball and finds its way into small cracks and pores of the equipment. Even though acetone isn't ideal for ball cleaning, many other products are.
How to Clean a Bowling Ball Regularly
As recommended by the USBC, it is important to clean your equipment regularly. All that is required is a little bit of rubbing alcohol and a microfiber cloth for routine cleanings.
Add some basic rubbing alcohol to a spray bottle and apply the spritzer over the entire surface. Use the microfiber towel to dry your ball's surface thoroughly. Repeat this cleaning process once or twice to ensure you remove any scuff marks and lingering oil.
A microfiber towel is necessary because they're so good at absorbing moisture. You don't want any moisture to get too far into the ball, or else it may cause permanent damage.
Cleaning Products to use on Bowling Balls
Believe it or not, Windex is one of the best and safest cleaning products to use during bowling ball cleaning and is ideal to remove oil from a bowling ball. This product is recommended by the USBC and is also something that many of us already have at home.
Ensure that you use clean microfiber cloths to remove all of the excess moisture after the cleaning.
You may spray the ball several times with the Windex to ensure that all the oil is removed from the surface and so that you get your hook back the next time you go to the lanes.
The Best Way to Clean a Bowling Ball
You don't have to use singular products to clean your bowling ball. Making a stronger DIY ball cleaner is also possible. These types of cleaners use potent ingredients that remove the oil without damaging the urethane surface.
To make this DIY bowling ball cleaner recipe, add equal amounts of Simple Green, isopropyl alcohol, and water to a spray bottle. Shake the spray bottle so all of the liquids get equally combined, and spray the solution over the surface of your bowling ball.
Once again, use a clean microfiber towel to wipe off the excess oil and the cleaner's remaining liquid.
If you have tried various home remedies for cleaning a bowling ball but still notice that it doesn't hook on the lanes, then it might be time to try a deeper cleaning method.
As a bonus, (isopropyl alcohol is also) great for cleaning foggy headlights and removing glue residue from plastic or glass surfaces.
Deep Cleaning a Bowling Ball
Deep cleaning is essential when learning how to clean a bowling ball. After some time, the oily lanes create build up on your ball's surface, and no matter how many times you wipe it down with topical cleaner, the oil doesn't seem to go anywhere.
This excess oil often means it's time to give your ball a deeper cleaning. Grab a large plastic bucket and fill it up with hot water and a few drops of liquid dish soap. Purchase some waterproof tape to cover the finger holes of your bowling ball.
This tape makes it so that there are no cracks that the water can seep into. Once the holes are properly covered, submerge the entire ball in hot water.
Oil is lighter than water and separates itself from it. This method brings all of the oil out of the pores of the ball, as well as dirt and grime that has gotten packed inside of them. For the best results, soak the ball for about 20 minutes.
Carefully lift the ball from the bucket of hot water and dry it with a lint-free towel with the tape still stuck over the holes.
Wipe away as much of the excess water from the bucket as possible, especially near the tape's seams. When the ball is almost completely dry, it is safe to take the tape off and dry those areas thoroughly with your dry towel.
Taking Bowling Balls to Professional Shops
If you want to give your bowling ball a deep cleaning that it can't get at home, then one of the best things you can do is take it to a pro shop. Pro shops use popular product brands such as Reacta and Brunswick to clean your equipment.
Not only do they clean the surface of your bowling ball, but they have a ball spinner and are knowledgeable about resurfacing the ball.
Resurfacing is where you can add things like a reactive resin, a polyurethane that increases the boss porosity and creates more friction on the lanes.
This option is pricier than homemade remedies, but it is something to look into if you're interested in giving your bowling equipment the best care possible.
We hope you found the best way to clean a bowling ball that works for you. It isn't possible for all of us to purchase expensive products for basic cleaning.
With these natural ways to clean a bowling ball, you'll notice a big difference in your game without having to break your wallet.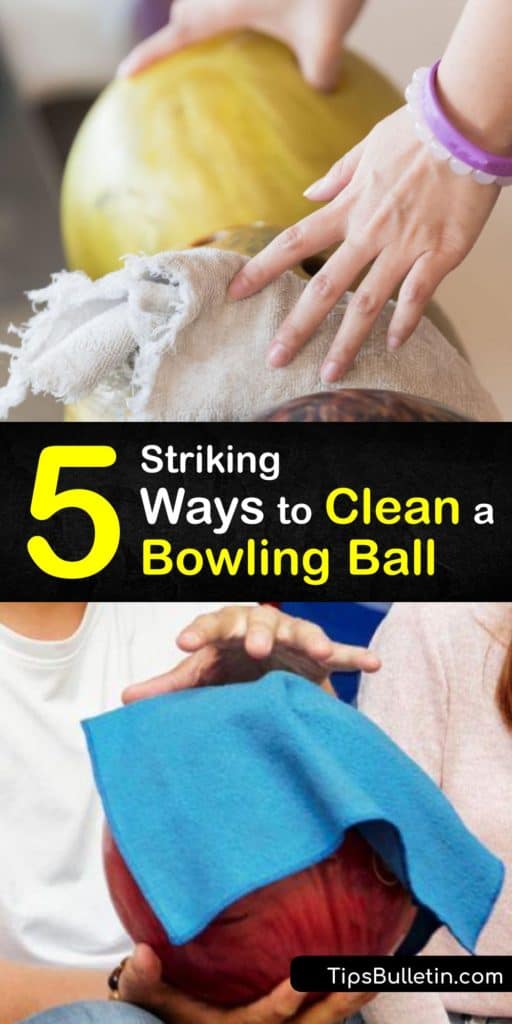 If these clever tips on how to clean a bowling ball have helped you create more friction on the lanes, share these simple methods for bowling ball cleaning on Facebook and Pinterest.