The only thing that's better than coffee in the morning is being able to take that coffee to go. However, using your favorite travel mug every day can lead to coffee stains and grime. That's why all coffee drinkers need to learn how to clean a coffee thermos. 
Washing thermoses is a bit more complicated than washing a coffee mug. Remember that for some items, running it through the dishwasher just won't cut it, and you need to get creative. If you find that regular cleaning and scrubbing with soapy water still leaves crud at the bottom of your coffee thermos, then this list is for you.
In this article, we'll guide you through some tips and cleaner recipes for removing stains and coffee residue from your favorite thermoses. Each cleaning solution only requires a few ingredients that you probably already have in your kitchen or bathroom!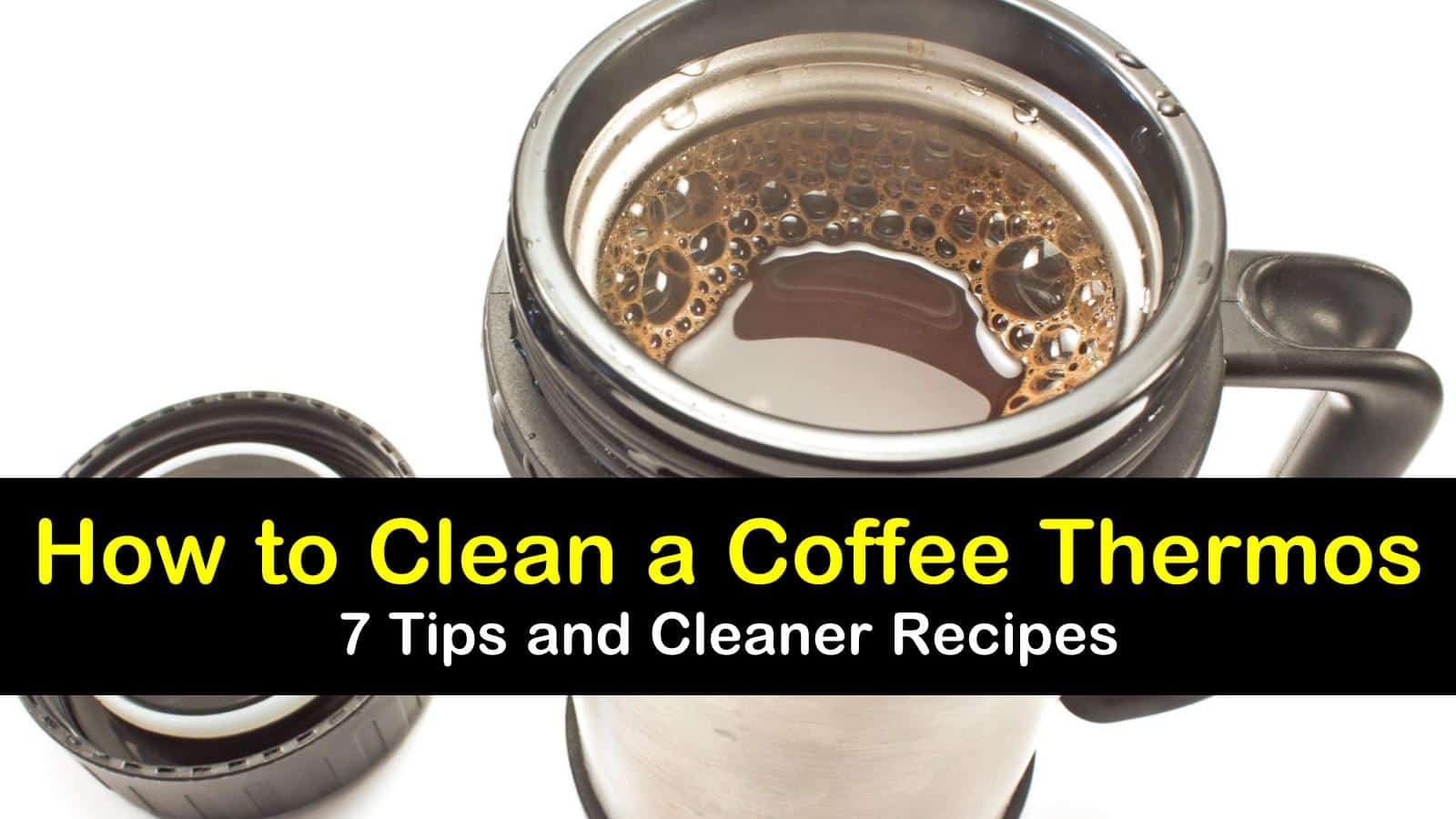 How to Clean a Coffee Thermos
If you're a big coffee drinker, then chances are your thermos probably has some stains in it. Instead of buying a travel mug every couple of months, you simply need to learn the best way to clean and take care of your thermos.
1. How to Clean a Coffee Thermos
The best way to have a stain-free coffee thermos is to understand how to wash it in the first place. If you have a vacuum flask, you should skip putting it in the dishwasher altogether. Instead, fill it with warm water and dish soap to wash. Do not submerge it in water, but allow it to soak for about five minutes.
After soaking, use a sponge or bottle brush to give it a thorough scrub to get rid of any residue. Rinse with hot water and dry it thoroughly with a clean dishcloth and let it drain with the lid off. To ensure your thermos is always fresh, give it a quick rinse with warm water before each use.
2. Best Way to Clean a Coffee Thermos with Baking Soda and Vinegar
If you've neglected cleaning your coffee thermos and a simple wash with dish detergent and water doesn't work, you need to step up your ingredients. A white vinegar and baking soda solution should do the trick on any stains your thermos has picked up.
Baking Soda and Vinegar Cleaner

½ cup of distilled white vinegar
1 or 2 tablespoons of baking soda
Hot water
Pour vinegar into your thermos and dump in one or two tablespoons of baking soda depending on how many cups your flask holds. Swish the thermos with the baking soda a vinegar cleaner inside, holding it over the sink in case the solution foams over. Do not place the cap on the spout.
Once the foam from the mixture settles down, pour hot water into the flask to fill it up. Allow the cleaning solution to sit for approximately ten minutes. To ensure you get every stain and to make the process easier, scrub the inside of the thermos with a bottle brush that is designed to reach those tight surfaces that you cannot get to by hand.
Pour out the mixture and rinse with hot water a few times, until it no longer smells of vinegar. Pat the thermos dry and let it air dry the rest of the way. This is not only the best way to clean a coffee thermos but is also perfect for a coffee maker or your favorite water bottle.
3. Descale a Thermos with Lemon Juice
This descaling solution for thermos is also one of the best ways to clean your flask. Thermoses or appliances you use every day can quickly accumulate build up and stains. Using a natural descaling solution like lemon juice is an easy and safe way to wash away this dirt.
Mix equal parts lemon juice and water and pour it into your thermos. Let it sit for about five minutes and scrub with a bottle brush or sponge. Dump the mixture and then rinse it a few times to get rid of the lemon scent. This cleaning solution is also perfect for your coffee pot.
4. Remove Coffee Stains from Stainless Steel Thermos with Ice and Salt
This might not sound like any cleaner you've heard of, but it works! Make sure your thermos is empty and then fill it a quarter of the way with crushed ice cubes. Pour in two to three big spoonfuls of salt. It works best if you use larger grain salt, such as sea salt or coarse-ground salt.
Screw the lid on your thermos and shake it well. The coarse salt and hard shards of ice will scrape away stains and build up on the metal. Shake it until you feel the ice and salt have done their job.
Pour out the mixture and fill the flask with warm water. Swirl it around to loosen any leftover debris and pour it out. Rinse the bottle a couple of times to remove all traces of the salt and then leave it to dry.
5. Use Denture Tablets to Remove Stains from Coffee Thermos
This is another cleaning tip that might sound surprising. However, one of the main ingredients in denture cleaner tablets is sodium bicarbonate, otherwise known as baking soda. Denture cleaning tablets are also perfectly safe to use on your flask, as they are designed to clean an object that goes in the mouth.
Pour boiling water into your thermos to the halfway mark. Let it sit for a few minutes to loosen the stains and other residue. Swirl the water around, so every part of the interior is wet. Drop in one or two denture cleaner tablets.
The water will start to bubble and foam, so hold your thermos over the sink. Leave the cap off. Let the flask sit for about half an hour and then pour out the mixture. Rinse the container a few times with fresh water and then leave it to dry.
6. Clean Thermos Flask with Hydrogen Peroxide
If you try one of the other cleaning tips but find that your stain is too tough, then you might need a stronger cleaning agent. Hydrogen peroxide can be used instead of vinegar in the baking soda and vinegar cleaning solution. 
While hydrogen peroxide certainly works on coffee stains, it is particularly useful for food thermoses. However, if you use hydrogen peroxide to clean your flask, be sure to rinse it thoroughly after cleaning. To be safe, you may want to give it a quick clean with water and dishwashing liquid before using it. 
7. Remove Coffee Stains with Dishwasher Powder
Dishwasher powder is a powerful cleaning agent that can remove coffee stains. Using a powder is more effective than a liquid because it is abrasive and can scrape at stains. For this cleaning method, you need one tablespoon of powder per quart that your thermos can hold.
Scoop the dishwasher powder into your thermos and pour in some hot water, but do not fill it to the top. Place the lid on your thermos and shake for a few seconds. Take off the lid and fill to the brink with water.
Leave it overnight with the lid off. In the morning, pour about half of the solution out and scrub the inside with a bottle brush. Empty and rinse a few times before leaving it to air dry. 
Items that you use every day can quickly develop stains, and this is particularly true of your thermoses. Instead of throwing out your favorite things, you can remove coffee stains from stainless steel thermos and other items using cheap, accessible, and safe ingredients. All of our tips are fast-acting and easy to follow.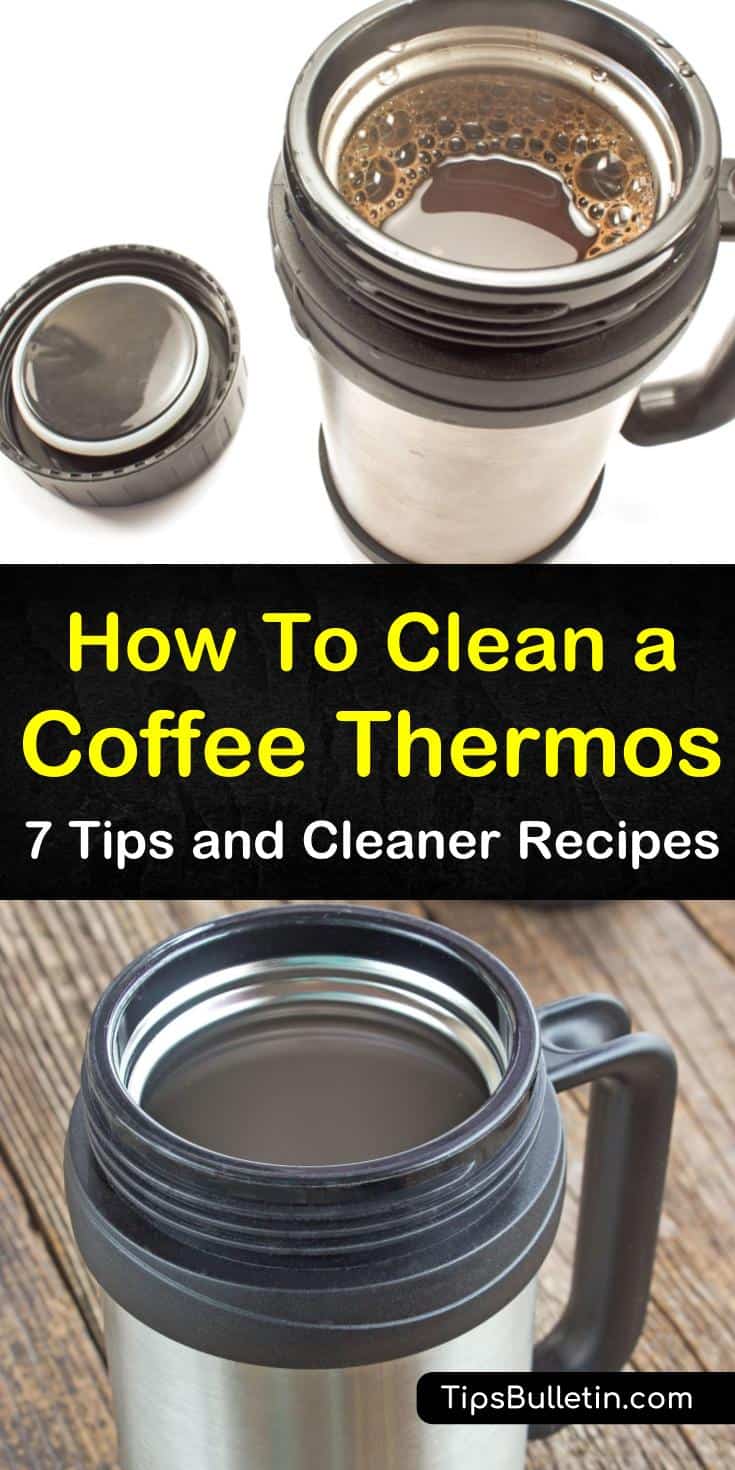 If you found our cleaning tips helpful, then share this guide on how to clean a coffee thermos with your friends and family on Facebook.