Sure, the dryer primarily holds clean clothes. But learning how to clean a dryer drum is essential for proper clothes dryer upkeep. Never underestimate dryer cleaning. Failure to remove dryer lint regularly is the leading cause of house fires, according to the National Fire Protection Association (NFPA). The appliance fills with grim and lint buildup over time.
Too much accumulation leads to lower energy efficiency and other problems. Cleaning a dryer drum is also crucial when the machine becomes coated in things that harm clothing, such as crayon, lipstick, gum, dye, or ink.
Our step-by-step instructions lay out the cleaning process beyond simply emptying the lint trap. Use these smart cleaning tips and tricks when unforeseen messes pop up and maintain your dryer drum with regular cleaning before issues appear. All you need is 30 minutes and a few cleaning products.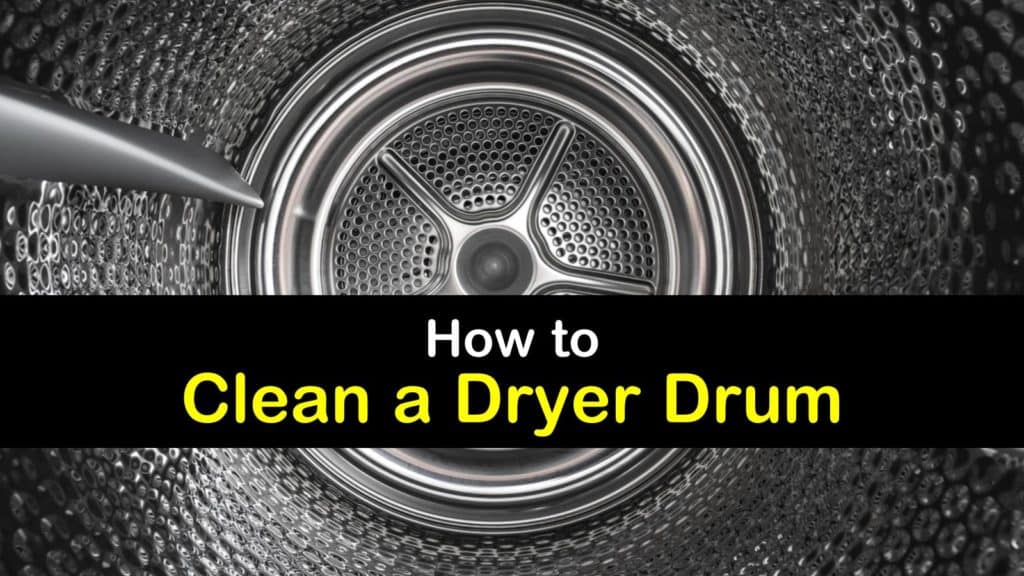 Smart Ways to Try When Cleaning a Dryer Drum
No one wants to deal with mold in dryer and washer. However, regular maintenance helps to avoid this nasty situation.
When learning how to clean a dryer drum, there are many solutions. Using liquid laundry detergent or natural washing machine cleaner is the safest option.
Some ingredients like rubbing alcohol and WD-40 are flammable. Make sure to use caution and remove all traces of the residue before running the dryer.
General Dryer Drum and Sensor Cleaning
While you may occasionally need to get gum out of the dryer, most people start deep cleaning a dryer drum once per year when they clean the washing machine.
Always unplug the dryer before cleaning to prevent accidents. Turn off the gas to gas dryers as well.
Most modern dryers have a moisture sensor to tell you when the clothes are dry. Locate your sensor around the dryer vent or the back of the dryer. They look like two long strips of metal.
Wipe off the sensor using rubbing alcohol and a microfiber cloth. Use a Magic Eraser for more scrubbing power. Open the panel around the dryer drum to clean the lint buildup from the inside.
The top or front panel comes off most Whirlpool machines near the lint filter. Remove the screws with a screwdriver if yours is a front load machine or pull forward for top panels.
Clean the exposed drum with a dry cloth or vacuum, then put the machine back together. Using soapy water or all purpose cleaner works as well. Never spray any cleaner directly onto the dryer drum to prevent further clogs.
Removing Crayon from a Dryer
Using WD-40 for cleaning a dryer drum works surprisingly well. However, liquid laundry detergent, dish soap, and a Magic Eraser are all safe alternatives.
Make sure the dryer is not connected to electricity first. Grab a spatula to scrape any big pieces of crayon from the drum. An old credit card also works. Spray WD-40 on an old, damp cloth to wipe crayon from the spot next.
Never spray WD-40 directly on the drum. Rinse the inside of the drum using soap and water. Mix soapy water in a large bucket and use a clean rag or sponge. Finally, run the dryer with a load of old towels to remove any remaining residue.
Ways to Get Ink Out of a Dryer Drum
Sometimes the mess in your dryer drum is hard to clean. Use these helpful ways to get ink out of a dryer drum. Always allow the dryer door to stay open for a few hours after cleaning for the best results.
Use Isopropyl Alcohol to Remove Ink
Remove ink from a dryer drum with isopropyl alcohol from your local drugstore. Run the dryer for ten minutes before cleaning to loosen the ink. If you skip this step, ink is harder to remove. A hairdryer works well for spot treatments.
When removing ink from dryer drum, unplug the warm dryer, and open a window nearby for ventilation. Apply isopropyl alcohol to a white, clean cloth. Wipe the ink with your alcohol-soaked cloth, avoiding spreading the ink as much as possible.
Mix soapy water in a large bucket, and use the mixture to wipe down the inside of the dryer with a clean cloth. Run the dryer with a cycle of old towels for any remaining residue.
An added bonus of using rubbing alcohol for ink removal is that it can also help eliminate a smelly dryer odor. Baking soda is ideal for this purpose, as well.
Clear Away Dye from a Dryer
For a more natural alternative, use baking soda and bleach water to remove dye or ink from a dryer drum. Unplug the machine to start.
Mix a few drops of water with baking soda to create a paste. Then, combine a cup of the bleach with warm water in a spray bottle. Spray the inside of the dryer with bleach water or an over-the-counter cleaning solution such as Clorox.
Apply the paste with a sponge, scrubbing the area. Rinse the drum with a damp cloth afterward. A microfiber or soft cloth is ideal. Mix a cup of bleach with a gallon of hot water in a bucket. Wear protective gloves for safety.
Soak a few old white towels in the bucket of bleach water for up to five minutes. Remove the rest of the dye from your dryer by running the wet towels on the fluff cycle for 30 minutes. Repeat the process as needed, then rinse the drum with soapy water and a sponge.
How to Clean a Dryer Drum of Lint
Keep your dryer in perfect condition by cleaning dryer lint every time you use it and deep clean the dryer once per year. Lint fills the crevices of a dryer quickly.
Fabric softener and residue from dryer sheets build-up over time, causing the dryer vent to clog and adding a layer of film to the drum. Without regular cleaning, the lint buildup causes your machine to work slowly and requires you to determine the best ways to get lint off clothes in a dryer. You also risk a fire.
The more lint buildup in your dryer, the more time it takes to dry clean clothes. Clean the lint trap every year using a vacuum cleaner to get the job done fast.
Use the hose attachment to clean the lint screen, getting in the crevices, behind the trap, inside the exhaust tubes, and the lint trap tube inside the drum.
With regular dryer cleaning, your machine functions better, your clothes come out faster, and you avoid serious problems later. Don't forget to deep clean a few times per year as well. It's easy to clean the dryer once or twice per year when you perform washing machine maintenance.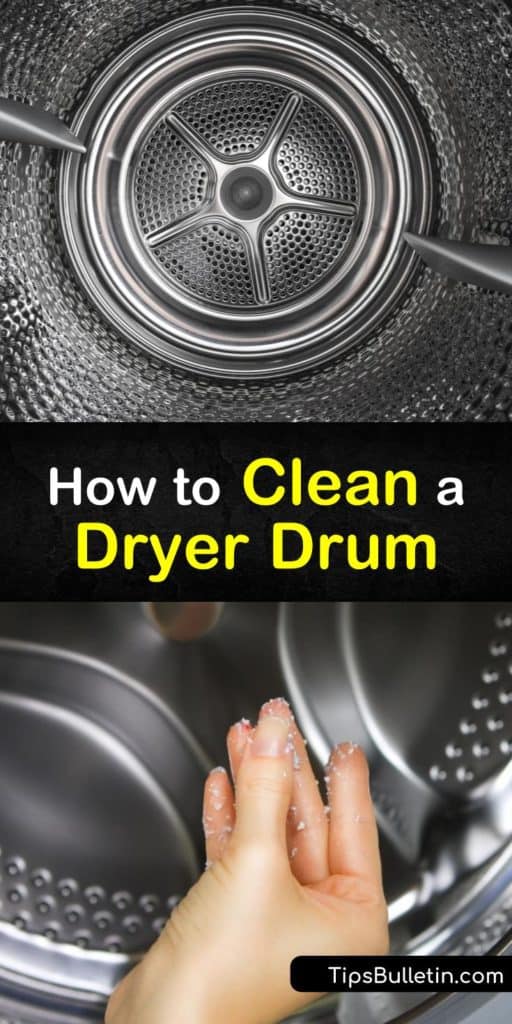 Use our step-by-step instructions for both regular cleaning and tackling tough messes. If you enjoyed our smart ways to learn how to clean a dryer drum, please share our cleaning tips with your family and friends on Pinterest and Facebook.