Hot tubs are relaxing and enjoyable, that is until you need to clean them. Fortunately, you don't have to use expensive spa cleaning products to clean your hot tub. We'll show you how to clean a hot tub with vinegar to remove soap scum, mildew, and hard water stains.
Can there be anything better than relaxing and winding down in your hot tub after a grueling day at work? The last thing you want to see when kicking off your work shoes is a tub filled with dirty water with a build-up of scum on the tub wall. The key to avoiding this is to use proper hot tub maintenance and cleaning agents.
Many hot tub owners agree that using the right cleaning solution without using harsh chemicals is not only safer for the environment but those enjoying the hot tub, as well. White vinegar is a natural ingredient that is used quite often for cleaning due to its acidity, which enables it to dissolve soap scum and calcium deposits.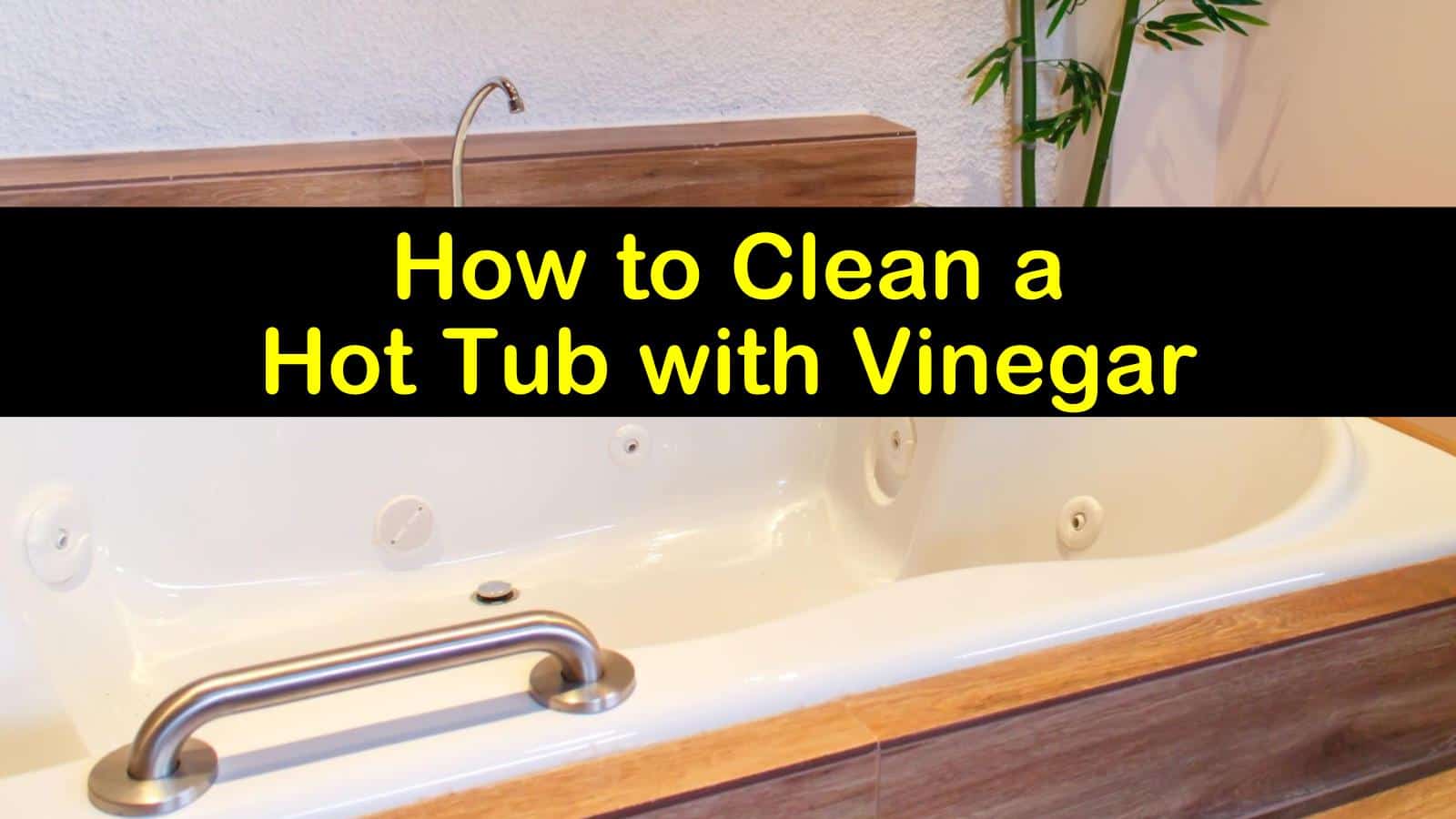 Cleaning a Hot Tub with White Vinegar
Cleaning hot tub filters with vinegar works well because it breaks down rust and hard water deposits while dissolving away grime. Ordinary household vinegar has an average acidity pH level that can range from two to four. Therefore, it is strong enough to clean a hot tub shell, jets, and filter without damaging the material.
There are many cleaning solutions that you can use to clean a whirlpool or Jacuzzi. When used with the right techniques and in combination with other natural ingredients, cleaning acrylic tubs with white vinegar is one of the best choices due to its strong yet gentle cleaning behavior.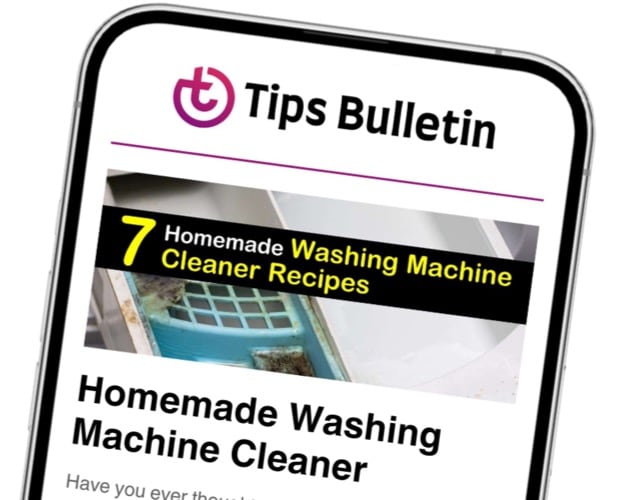 Finally, an email that Transforms Your Home.
Get the latest home and garden tips from our experts, delivered straight to your inbox.
Biofilm is another reason why you need to clean your hot tub regularly. This bacteria is a result of the accumulation of dead skin cells, body oils, lotions, and other substances that build up in the water over time. Using vinegar as a cleaning solution helps to remove and eliminate bacteria growth.
Cleaning Acrylic Tubs with Vinegar
Hot tubs have been a popular luxury for many years. Acrylic tubs have increased in popularity since they can be uniquely shaped to fit your specific needs.
While you shouldn't necessarily use a conventional bathtub cleaning solution to clean your hot tub, cleaning acrylic tubs with vinegar works wonders. This natural ingredient removes the build-up of grime and gunk from your hot tub.
To prevent contaminating the new clean water, flush the lines first. A water line that has dirty build-up leaves the water looking cloudy and decreases jet pressure. Perform a process called 'flushing the lines' using a special cleaner that you can purchase at your local hardware store or take care of the problem by using vinegar to clean hot water pipes.
After flushing contaminants and debris from the lines, turn off the power to the hot tub to prevent the power from being turn on accidentally during the cleaning process. If you turn the motor on while the water level is low, this can damage the motor.
Drain the hot tub water out via the drain plug or built-in sump pump. Use a hose to rinse away any of the line particles from inside the tub.
Mix equal parts water and white vinegar in a spray bottle and shake well. Working in sections, spray the cleaning solution onto the hot tub and let it rest for 15 minutes. Use a cleaning sponge or cloth to carefully wipe the inside and bottom of the shell.
Repeat in new sections until the entire tub is clean. If you have areas of tough stains, make a paste of baking soda and water and wipe them away with a sponge. Use a garden hose to spray fresh water throughout the tub to rinse away the dirty vinegar residue. Use a dry towel to wipe down the shell's surface to make it shine.
How to Clean Hot Tub Jets
The jets of a hot tub are an essential part of the whirlpool experience. These areas are small and easily attract soap scum and dirt residue. Regular cleaning of the jets is recommended to reduce bacterial growth in the tub. You can also use a vinegar based soap scum remover to clean a hot tub cover.
For cleaning a jetted tub with vinegar, fill the hot tub with water, covering the jets with approximately two inches of hot water. Pour the vinegar into the hot tub and run the jets for 15 minutes to allow the vinegar to cycle through the tub and the jets.
Wait half an hour before turning the tub jets back on for an additional 15 minutes. Use an old toothbrush or small scrubber to clean away stuck-on grime from inside the jets before draining the hot tub.
Refill the hot tub with clean water, making sure to cover the tub jets. Run the jets for five minutes to flush out leftover residue. Finish by draining the water out of the tub and wiping the interior.
Cleaning Hot Tub Filters with Vinegar
Cartridge filters are an essential part of maintaining your hot tub. Hot tub filters remove dirt, debris, and bacteria from the tub water. When these filters get dirty or clogged, they do not work effectively.
Clean a pool filter cartridge with vinegar, a commercial cleaner, or homemade cleaning solutions regularly. Do not try to clean a hot tub filter cartridge by putting it into the dishwasher. Dishwashing the filters causes damage, and they will no longer work properly.
To make this simple homemade hot tub cleaner, combine equal parts white vinegar and warm water in a large bucket and soak the filters in the cleaning solution for two hours. Use a garden hose to rinse the tub filters with cold water until the water runs clear and no more debris comes off the filters. After cleaning the hot tub shell, jets, and filters, refill the clean hot tub with fresh water.
While vinegar does not disinfect like chlorine bleach, its high acidity level and alkalinity make it a safe bleach alternative that is also biodegradable. This natural ingredient is an ideal sanitizer or hot tub cleaner that safely cleans the tub shell, jets, and filters without causing harm to the environment.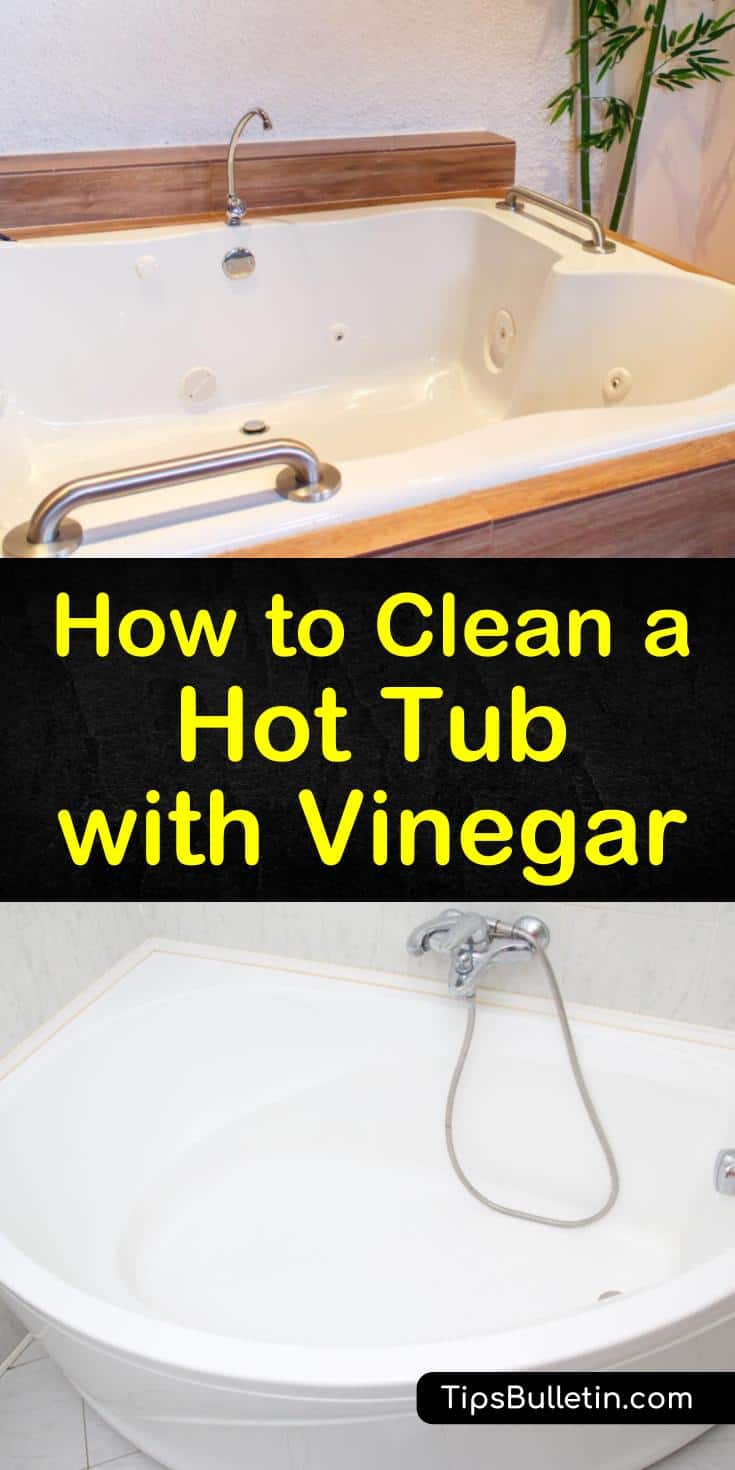 Understanding the importance of how to clean a hot tub with vinegar properly ensures that your Jacuzzi experience is top-notch, so why not share these hot tub cleaning tips with your family and friends on Facebook and Pinterest?