What do you use to clean the surfaces in your home? Are you buying expensive cleaners that contain harsh chemical ingredients? You don't have to.
Using a vinegar cleaning solution is one of the easiest ways to go green inside your home. A vinegar based cleaner also helps provide a healthier home, as you are no longer breathing in toxic fumes or touching harmful chemicals when cleaning your home.
To use vinegar to clean your home, you need to learn everything you can about vinegar, including what it is, how it's made, and ways to use it effectively.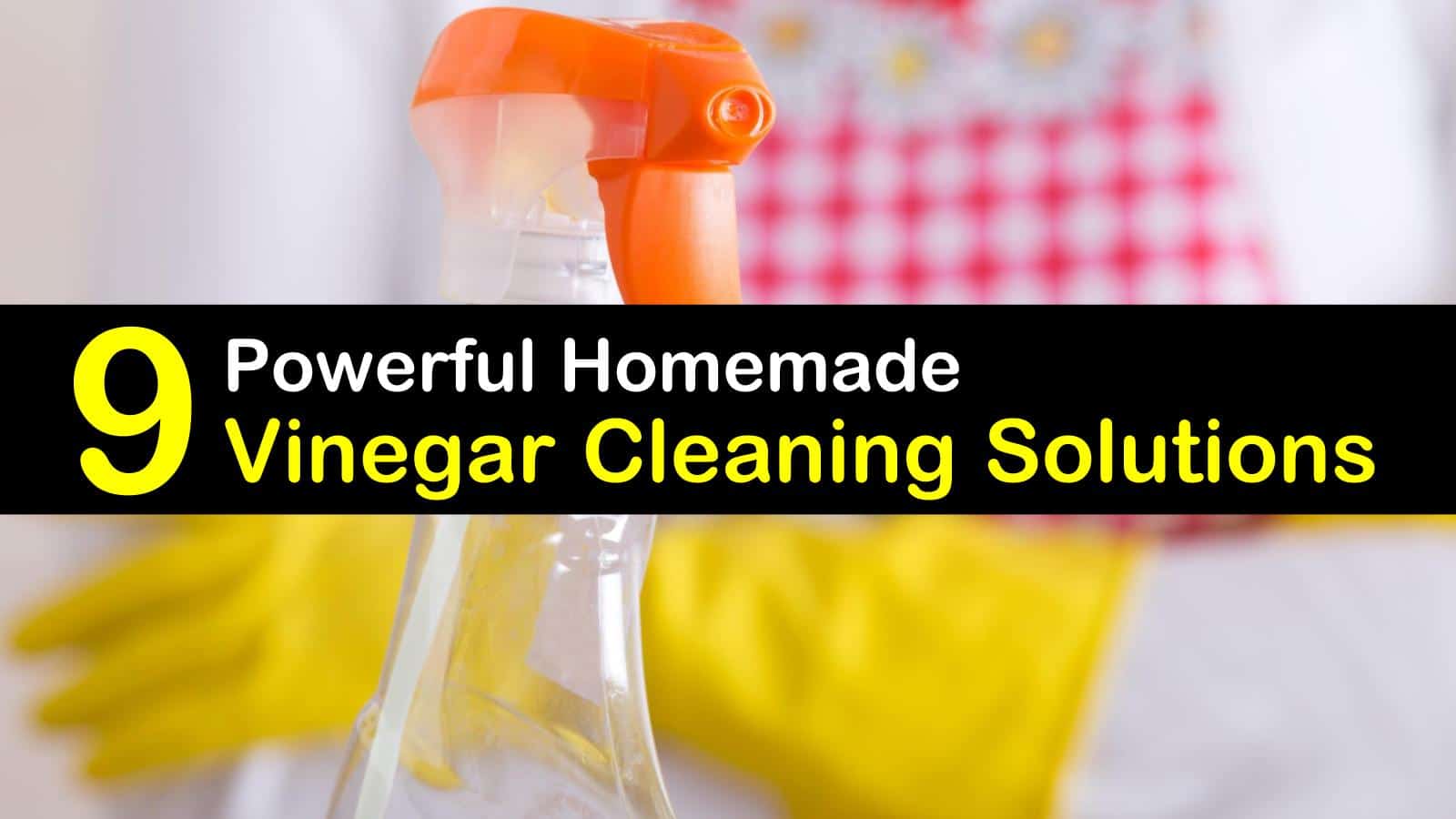 What is vinegar?
A weak acid, vinegar is used a lot in cooking and household cleaning. It is used in homemade cleaners for various cleaning tasks because its acidic pH breaks down basic substances, as well as alkaline substances. Vinegar also has a long shelf life so homemade cleaners won't be single-use recipes.
Vinegar is made through a two-step fermentation process using fruits and grains or through distillation. You can either learn how to make your own vinegar or purchase white vinegar in the store to use in homemade cleaners. White vinegar is used most often in homemade cleaners.
When using vinegar to clean you can use white table vinegar, but we recommend purchasing white cleaning vinegar. When making a vinegar cleaning mix, cleaning vinegar is preferred because it is stronger. White cleaning vinegar has a 6-8% percent acetic acid compared to cooking vinegar that has 5% acetic acid.
Is vinegar safe for everything?
When using any homemade vinegar cleaning solution, realize that these solutions are not safe for every surface inside your home. Vinegar cleaning solutions should never be used on natural stone surfaces, including floors and countertops made from granite, quartz, or marble.
Vinegar etches the natural stone. Avoid using a homemade cleaning solution on unsealed grout, as well as grout that needs resealing.
Like natural stone, the vinegar in these solutions etches the grout, causing horrible damage. Waxed surfaces should never be cleaned with any product containing vinegar, as the vinegar will wear away the wax finish.
What can you clean with vinegar?
As a versatile cleaner, a cleaning solution with vinegar can clean a variety of things in your home.
Vinegar makes an excellent shower cleaning solution, as well as safely cleaning windows, glass, mirrors, bathroom fixtures, garbage disposals, drains, solid surface counters, trash cans, appliances, stainless steel, and so much more. Take care of cleaning a humidifier with vinegar or sanitizing a toilet.
You will also find vinegar useful in the laundry process, as vinegar makes an excellent fabric softener. You can make homemade laundry soap that uses vinegar as the main ingredient, or you can pour vinegar in the fabric softener reservoir during the rinse cycle of your washing machine.
Vinegar is a great fabric softener because it removes minerals found in the water, but it also helps breakdown and removes soap residue. Vinegar also serves as a rinse aid in dishwashers in much the same way as it does in the laundry.
If you have been repainting your home with latex paint, vinegar is an excellent DIY paint brush cleaner. Swirling your dirty brushes in vinegar quickly removes paint and leaves your brushes ready for their next job.
It's important to note, though, that vinegar will not do the job for oil-based paints and stains. These brushes will require a different cleaning remedy.
What cleaners should never be mixed with vinegar?
Vinegar should never be mixed with certain cleaners when making a homemade vinegar cleaning mix. Bleach and hydrogen peroxide should never be used with vinegar as the mixture creates toxic vapors.
Mixing vinegar with Castile soap or baking soda can be done, but the cleaning power of both natural ingredients is reduced.
Can I use full-strength vinegar when cleaning?
While most green cleaning products use vinegar along with other natural ingredients, there is some cleaning that requires the use of full-strength vinegar. Pouring a cup of vinegar down kitchen and bathroom drains once a week keeps drains clean and fresh.
Straight vinegar can also be used to remove scorch marks from clothes. Dip the corner of a clean cloth into vinegar, rub the scorched area and wipe clean.
Vinegar can also be used to clean clogged showerheads and prevent soap scum from sticking to shower doors. Unclog your shower head by placing the showerhead inside a plastic bag filled with one cup of vinegar. Allow to soak for several hours. For shower doors, soak a sponge in white vinegar and then wipe down doors but do not rinse.
Vinegar makes a great homemade cleaner for concrete. For heavily soiled concrete use full-strength vinegar. Using a mix of equal parts vinegar and water makes an excellent concrete stain remover and can be used to clean patios.
Easy-to-Make DIY Vinegar Cleaning Solutions
Homemade Vinegar Glass Cleaner
Using a homemade cleaning solution with vinegar for windows and mirrors ensures you get the results you are after at a fraction of the cost. For streak free windows, never clean them on a hot, sunny day. For mirrors, spray the cleaner directly on a paper towel before wiping.
To make a homemade vinegar cleaner, pour all four ingredients into a spray bottle. Close spray bottle and shake well before using. Another homemade window cleaner uses equal parts water and vinegar.
Apply the mixture to the windows with a sponge and clean with a squeegee. Using one part water to three parts distilled white vinegar makes the best eyeglass cleaner.
This recipe is ideal for cleaning car windows without streaks, as well as your TV screen. Note that you should always spray your cloth rather than the television to avoid damaging the delicate equipment.
Coffee Maker Cleaner using Vinegar
Hard water minerals build up inside your coffee maker faster than you realize. Most people notice the buildup as their coffee drips slower than usual. Using vinegar to clean your coffee maker removes the mineral deposits, leaving your coffee maker running like new.
How much vinegar to clean coffee maker? The easiest and best way to clean your coffee pot is to pour vinegar and water in equal parts into the reservoir for easy Bunn coffee maker cleaning.
If you have a basket, place a paper filter inside and put the pot in position. Brew the vinegar and water solution halfway, turn off coffee maker, and allow to sit for 30 minutes.
Turn on the coffee maker, allow the brewing cycle to finish, and pour cleaning solution down the drain. Remove the paper filter and replace it with a new one, run a new brew cycle with fresh water to rinse everything on the interior of the machine. You may need to run several cycles with fresh water to eliminate the vinegar smell from the coffee maker.
Homemade All-Purpose Cleaner With Vinegar
As a natural cleaning product, vinegar is highly versatile. Vinegar kills mold and bacteria while leaving every surface sparkling clean. Combined with other natural cleaning agents, a vinegar-based cleaning solution can clean anything.
To make this simple natural household cleaner, pour vinegar and lemon essential oil into a spray bottle. Add the baking soda and mix well. Fill the spray bottle with water. Shake gently to combine. Spray this all-purpose cleaner directly on surfaces and wipe clean with a cloth.
Homemade Vinegar Disinfecting Wipes
Disinfecting wipes are a blessing for cleaning on the go. Using vinegar as the main active ingredient, you can create homemade disinfecting wipes that save money and avoid harsh chemicals.
Cut old t-shirts or other similar material into square sized cloths. Fold the squares of cloth and place inside baby wipe container. Mix water, vinegar, and essential oils in a bowl.
Pour vinegar solution into baby wipe container. Allow the cloths to soak up the solution for several minutes before using them.
Use these homemade wipes to clean blinds without taking them down, swipe the baseboards and walls, or almost any cleaning task you find in the house.
All-Purpose Bathroom Cleaner
The bathroom is probably the dirtiest area in your home, so you need an all-purpose cleaner that is up for the challenge. Our DIY vinegar cleaning spray harnesses the cleaning power of vinegar and washing soda to leave your bathroom sparkling, including your toilet bowl.
Use a measuring cup to combine distilled vinager, Castile soap, Borax, and washing soda. Slowly stir in hot water. Allow cooling before adding essential oils. Once mixed, pour the vinegar cleaning solution into the spray bottle with a funnel.
Use this simple solution as a way to clean grout with vinegar, tackle toilet stains, get rid of soap scum in the shower or tub, or even wash the bathroom floor. It is so versatile that you can use it on almost every bathroom surface!
Homemade Vinegar Based Tub & Shower Cleaner
Some parts of your bathroom require something a little stronger than the toughest all-purpose vinegar-based cleaner. Tubs and showers are prone to soap scum, hard water deposits, and some of the toughest stains around.
Measure out vinegar and Dawn in equal amounts in separate bowls. Heat the vinegar inside the microwave until hot. Pour hot vinegar into a spray bottle and then add dishwashing liquid.
Shake to mix. Spray liberally in showers and tubs; allow to sit for 60 minutes then scrub and rinse. Always use in a well-ventilated bathroom.
Vinegar Carpet Stain Remover
Our vinegar carpet cleaning solution is ideal for spot cleaning your carpets. Our method removes some of the most stubborn stains you have.
Generously sprinkle the stain with baking soda, allow to sit for 10 minutes and then vacuum. Mix warm water, dish soap, and vinegar inside a bowl. Use a sponge to apply stain remover until damp.
Blot gently with a clean cloth. Repeat the process with this vinegar carpet cleaning solution until the stain is gone.
Homemade Refillable Mop Vinegar Solution
Vinegar is safe to use on sealed hardwood floors, but you should always test a small section before doing your entire floor. Never use vinegar cleaning solutions on waxed or unfinished hardwood floors.
Cleaning hardwood flooring with white vinegar begins with mixing the ingredients and adding to your refillable spray mop. Rinse out the microfiber cleaning pad frequently to prevent hardwood floors from streaking and to ensure a perfect shine.
You can also pour ingredients inside a spray bottle to use with a microfiber mop if you don't have a spray mop. This mixture is safe as a natural cleaning solution for bamboo floors and other types of flooring. Rinsing is not necessary but buffing with a dry mop or towel leaves the floor shiny and streak-free.
Homemade Vinegar Based Grout Cleaner
There are several ways vinegar is used as a grout cleaner. One method involves coating the grout with vinegar, allowing it to sit for ten minutes, and then scrubbing the grout clean with a toothbrush. Wipe grout with a damp cloth to rinse away vinegar.
Apply a baking soda paste to your grout. Create a spray using equal parts water and vinegar and spray the paste. Scrub clean with an old toothbrush. Wipe paste away with damp paper towels. The spray can also be applied to grout inside your shower three times a week to prevent grime buildup.
Make a vinegar citrus spray to clean grout. Inside of a spray bottle, mix 3 ½ cups of hot water, ½ cup baking soda, 1/3 cup lemon juice, and 1/6 cup of vinegar. Shake to mix. Spray grout evenly and allow to sit for one hour. Use a scouring sponge to scrub the grout and rinse clean.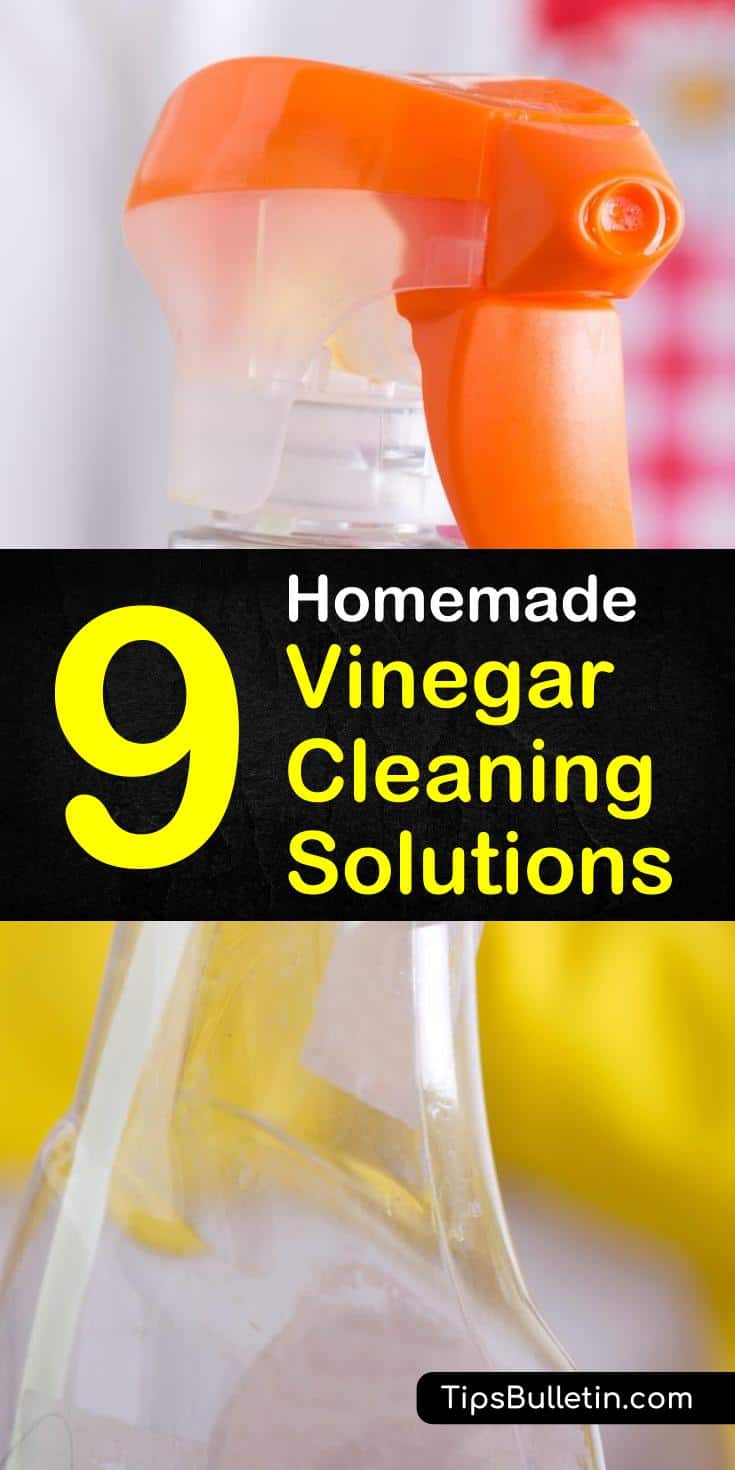 Thank you for reading about our homemade vinegar cleaning solutions. If you found a homemade cleaning solution with vinegar helpful, please share our homemade vinegar cleaning solutions with others on Facebook and Pinterest.