Your bathtub is a fantastic way to enjoy a relaxing bath after a long day of work. Jetted bathtubs provide much-needed stress relief and can also soothe sore muscles.
Their reputations for promoting physical and emotional health means learning how to clean a jetted tub should not be a source of angst in your household. Nor should it leave you with tireless hours of backbreaking work.
Discovering how to clean a Jacuzzi tub or hot tub is easier than you might think. With help from everyday grocery items like dish soap and baking soda, you can maintain the flow of your drains and remove soap scum from bathtub jets. Below are some materials to get you started on your bathroom cleaning journey.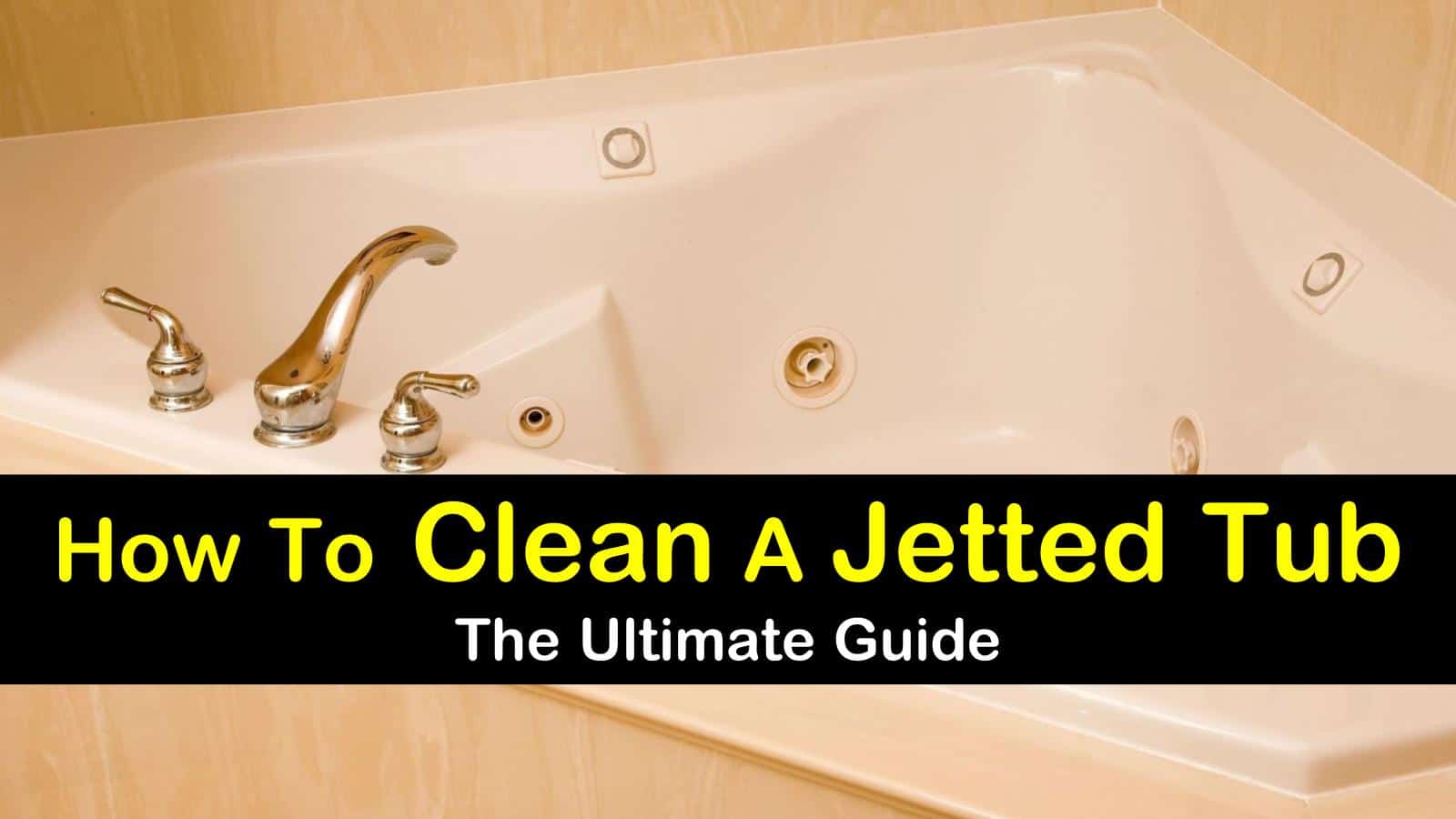 Cleaning Jetted Tubs – A How-to Guide
If you use your whirlpool tub every day, use this process once a month. For less frequent users, your jetted tub maintenance may only be necessary once every 2 to 4 months.
If you own a hot tub, a tub filter is a great way to increase the cleanliness and quality of your water without excessive maintenance. Changing the filter out every 3-6 months breaks down dirt and oils that may stick to the walls of your hot tub, allowing you longer time between cleanings.
Signs that It's Time to Clean Your Jetted Bathtubs
Whether it's your hot tub or Jacuzzi bathtub, when the jets need cleaning, you'll know it. If you notice dark, gunky specks floating in your bath, these are clear indicators of mold and mildew build-up in your pipes.
Hot tubs may give off an unpleasant odor if left stagnant for long periods. Equally, increased use of your hot tub that exceeds the norm, whether as a result of house guests or vacations, is another opportunity to be proactive in cleaning your jetted tubs.
These signs are nasty little reminders to clean your tub that every jetted tub owner should avoid receiving in the first place. Don't worry! Proper maintenance and regular cleaning of your tub will end these issues before they start.
Simple Step-by-Step Instructions for How to Clean a Jetted Tub
Unclog Drains Before Cleaning Bathtub Jets
The first step in conquering how to clean a jetted tub is realizing you must start from the inside out. Your initial instinct may be to wash the basin of your jet tub first.
However, considering the gunk and build-up you will encounter when cleaning Jacuzzi tub jets, save this step for last. Instead, start by clearing debris from drains to optimize water flow during cleanings.
There are many fantastic products for unclogging a drain, from storebought cleaners to DIY recipes. A simple, organic solution requires combining everyday household cleaners like baking soda and vinegar.
For a tub that requires multiple steps, avoiding products that contain bleach or ammonia in favor of natural cleaning products provides the peace of mind that you won't be unintentionally mixing dangerous chemicals. Plus, many of the products that contain bleach can cause discoloration and may dry out internal plumbing over time.
Remove the drain stopper. If it is attached or does not want to come off quickly, use a screwdriver. Clear any noticeable clogs caused by hair and other particles from the drain.
Having a strong stomach and a pair of gloves will make this step much more tolerable. After extracting all blockages, run a pot of boiling water down the drain.
Sprinkle the baking soda into the drain, washing it down with 2 cups of vinegar and a cup of hot water. Let the mixture sit in the pipes for 20 minutes before running an additional stream of hot water.
Ensure that the flow of water drains quickly before starting the next step. Based on the amount of debris removed from your bathtub jets, you may wish to repeat this step at the end of the entire process.
The Best Way to Clean a Jacuzzi – Clear Debris and Soap Scum from Bathtub Jets
The most crucial step for how to clean a Jacuzzi tub is clearing out mildew and debris from the jets. The internal plumbing lines of the bathtub jets need to be regularly cleaned to avoid clogs caused by soap scum and dirt or to prevent these disgusting particles from making their way back into your bathwater.
Luckily, there are several cleaning products and solutions available. Use our homemade hot tub cleaner recipe to get rid of nasty debris and bring your tub back to like-new condition with just a little effort.
For the first step, fill the tub with hot water up to two to three inches above the highest jets. Add dishwashing detergent, either powder or liquid soap, then mix in one cup of vinegar. Run the jets for approximately 15 minutes to effectively clear any debris that may be clogged inside.
Unless the tub manufacturer states otherwise, turn off the air induction valves before starting the jets. Next, drain the tub and refill it using cold water. Run the jets for an additional 15 minutes. Drain the tub for the final time.
For extra diligence, remove any remaining dirt and grime from the jet covers with a soft brush or washcloth. You may want to unscrew the jet caps to clean underneath them, as well, since mildew often gets trapped beneath the plates. Keep in mind: while running a homemade jetted tub cleaner is an excellent way to clear the internal pipes, it is not your only option.
How to Clean a Jetted Tub using Household Bleach
Which solution you add to your tub is the only step that varies in this process, since there are numerous cleaners for tub jets. If you prefer to use cleaning chemicals like household bleach, or if that is all you have readily available, replace the cup of vinegar with ½ a cup of bleach. Whatever you choose, never mix the two products or use them at the same time as they can create toxic gases.
Use a Jacuzzi Bath Cleaner as an Alternative for Biofilm Build-Up
Body oils and dead skin also get trapped in the jet's passageways, causing a build-up of bacteria and fungi known as biofilm. A whirlpool jet cleaner like Oh Yuk works wonders for removing biofilm. Add four ounces of the solution to a full tub.
If using Oh Yuk cleaner for the first time, you may want to add eight ounces instead when you clean a tub. Let the size of the tub and length in between cleanings determine how much you need to use. When in doubt, consult the maintenance guide for your tub and follow the instructions on the bottle of cleaner for best results.
Scrub Tub Basin after Cleaning Jacuzzi Tub Jets
You've made it to the easy part at last! At least, it is if you don't mind some good old-fashioned scrubbing. Cleaning the basin of a jetted bathtub or cleaning a empty hot tub is similar to cleaning a regular tub.
After sending all the horrifying particles uncovered in the previous step down the drain, use a homemade jetted tub cleaner to get rid of soap scum, hard water stains, and other unsightly messes that mar the pristine surface of the tub.
Vinegar and warm water form a cleaner that is easy to make and perfect for those searching for a no scrub bathtub cleaner. Mix equal parts warm water and vinegar in a spray bottle, or onto a small cloth. Spray the surface of the tub with the spray bottle, wipe it down, and rinse off with water.
Combining vinegar with eucalyptus and tea tree oils makes an excellent fiberglass shower cleaner recipe and is the best way for how to clean a fiberglass tub, too. The blended components effectively remove hard water stains and soap residue, prevent mold and mildew growth, and smell divine in the process!
For tougher spots or stains, add cornstarch and dish soap to your vinegar solution to give it some added oomph and cleaning power. The consistency of this mixture will initially be too thick to add to your spray bottle, so placing it in the microwave for a couple of minutes will help liquefy the solution. Spray on the area and let sit for several minutes before wiping clean.
After these tub cleaning steps are complete, you are ready to take a long, luxurious soak in your freshly clean bathtub. You deserve it! After all, can you think of a better way to wash away the muck of cleaning while rewarding yourself for a job well done?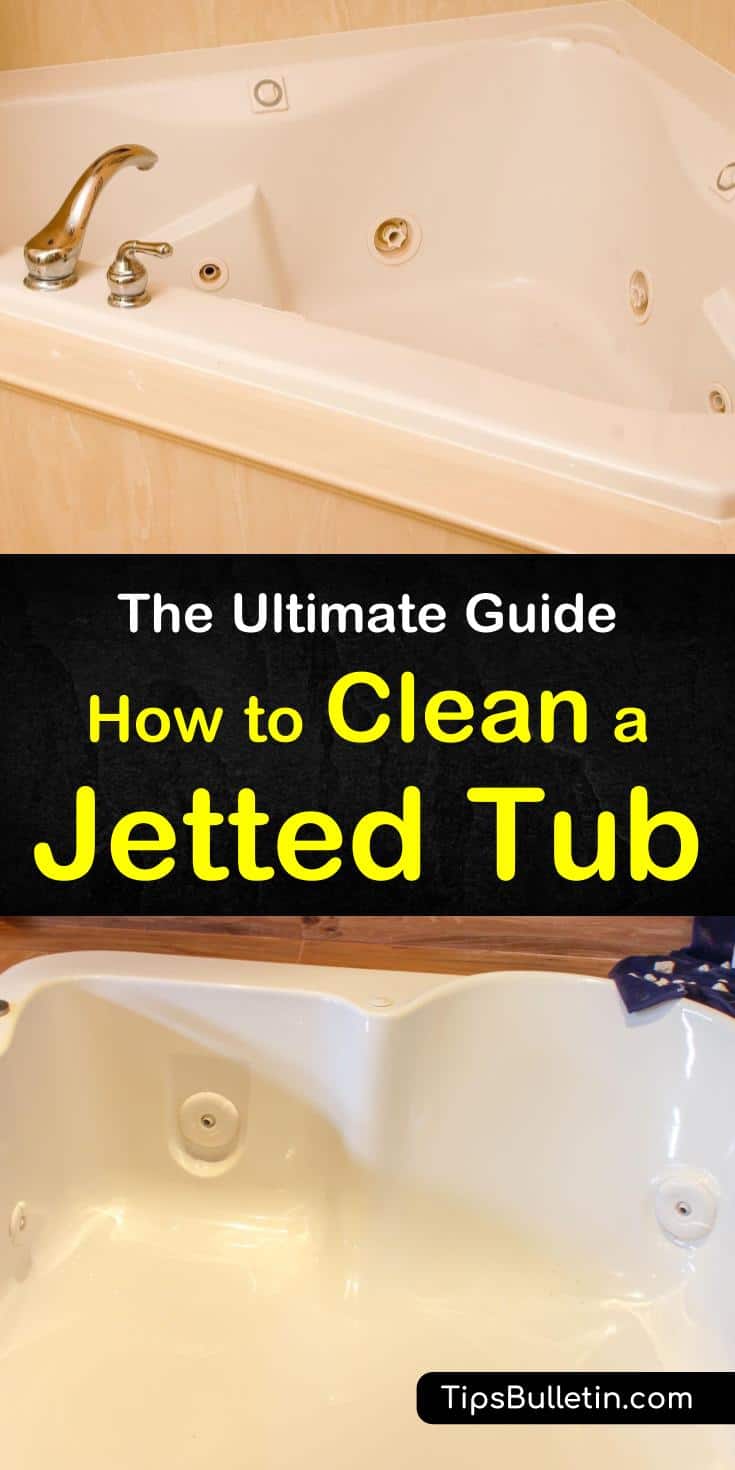 Cue the bubble bath, and let the bathtub jets roll! We hope you found these tips for how to clean a Jacuzzi tub useful. If so, don't forget to share these tricks for keeping your jetted tub flowing fresh and clean on Facebook and Pinterest!