No matter how clean you may think your shower is, it's only a matter of time before the floor and walls begin to reveal a build-up of soap scum, mildew, and hard water stains from mineral deposits. In this article, we will demonstrate how to clean a shower floor to remove grime, water stains, and hard water deposits.
If your shower floor starts to feel slick and slippery, it is probably a sign that it's time to clean it. The bathroom is a magnet for dirt and filth. This is especially true in the shower stall, on shower doors or the shower curtain, and shower floors.
The key is knowing which cleaning products to use and how to do the job correctly. No one wants to clean a filthy bathroom, but like many other tasks in life, it must be done.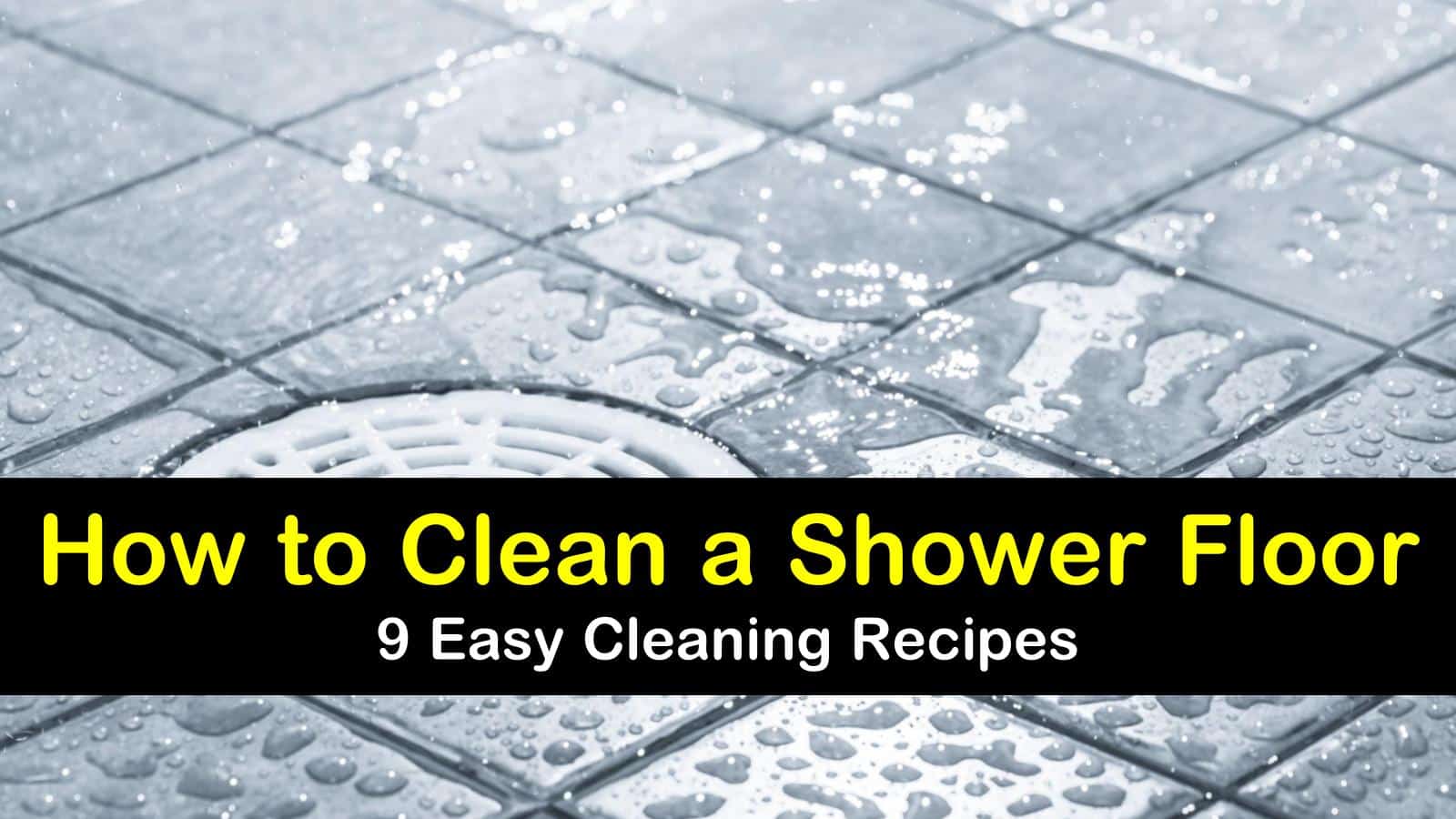 Cleaning a Shower Floor with Little Effort
There are many ways to clean a shower floor using ingredients found in your home. Our cleaner recipes demonstrate just how easy it is to get that shower floor clean without using cleansers that contain harsh chemicals. These methods can also be used to clean glass shower doors, the shower head, and shower walls.
Easy Way to Clean Tile Shower Floors
Mold and mildew often build up in ceramic tile grout lines after showering. You can mix your own cleaning solution for tiles and grout, and it only uses two natural ingredients and a little elbow grease to get the job done.
Mix just enough baking soda and vinegar into a small bowl to form a paste. Use an old toothbrush to scoop out the mixture and scrub the grout lines of the tiles.
Use the sponge to clean the tiles with the same cleaning solution. Remove hair from your shower drain and use this mixture to clean it, as well. Rinse the shower tile floor and drain with clean water.
Cleaning Shower Floor with Vinegar
A weekly routine of cleaning shower floor with vinegar reduces the accumulation of hard water stains. This method also works well for cleaning glass doors and is ideal for sanitizing the lavatory, from top to bottom.
Fill the bucket with the hot water and vinegar and add a few squirts of Dawn dish soap. Use the scrub brush to scrub the shower floor gently with the cleaning solution. Give the shower floor a proper rinsing with cold water. Wipe down the shower using a dry towel to prevent moisture build-up.
How to Clean Natural Stone Shower Flooring
Natural stone requires a specialized cleaning solution. While many shower floors can be cleaned with acidic liquids such as vinegar, a stone floor requires a non-acidic solution. The following floor cleaner recipe is the best way to clean natural surfaces in the shower.
Prevention is the key to keeping a natural stone shower floor clean. Therefore, we recommend wiping down the shower after each use with a dry towel or by using a squeegee to remove excess water.
Mix equal parts warm water and rubbing alcohol in a spray bottle. Label the container for safety purposes. Spray the shower floor with the cleaning solution and use a soft scrub brush to gently scrub away soap scum. Rinse the floor with hot water.
How to Clean a Fiberglass Shower Floor
A fiberglass shower pan needs to be cleaned with a non-abrasive cleaner to prevent scratching. Baking soda works well to clean a fiberglass shower floor because it not only absorbs odors but is a very mild abrasive that will remove soap scum and grime without scratching the fiberglass surface.
These ingredients are also included in the best homemade toilet bowl cleaner and for cleaning surfaces in the kitchen. It's quite versatile.
Sprinkle an even coating of baking soda onto the surface of the shower floor. Combine equal amounts of warm water and white vinegar into a spray bottle and spray the solution onto the baking soda. The baking soda will begin to bubble as the two ingredients work together to loosen dirt and grime.
Use the sponge to clean the entire surface of the floor. Rinse the dirty residue away with cold water. Finish by drying the surface of the shower with a towel.
For removing stains from a fiberglass shower, make a paste of the vinegar, water, and baking soda and gently scrub with a sponge or rag. Let it sit for a few minutes and rinse clean.
Keep a bottle of this bathroom cleaner recipe on hand to use for all the surfaces in your bathroom. Clean countertops, sinks, the toilet, and floor with this solution and your lavatory will gleam.
How to Make a Shower Floor Cleaning Spray
Create a basic cleaning solution that can be used to clean just about any style of shower flooring. Cleaning with this solution every week will remove soap scum and keep mold and mildew at bay.
Mix the detergent and water in a spray bottle and shake gently to mix. Spray the cleaning solution onto the shower floor and use a sponge to clean away dirt and grime using a circular motion. Once the floor is clean, rinse the soapy residue away with cold water and dry the floor with a soft cloth.
How to Remove Stains from a Shower Floor
Getting stains in the shower is inevitable, especially if you have hard water. You don't need to use a Magic Eraser to remove stains in the shower if you have the right ingredients. This stain remover recipe calls for baking soda, which is a mild alkaline abrasive and hydrogen peroxide that has mild bleaching agents.
Mix the baking soda and peroxide into a small bowl. Use a sponge to apply the mixture onto the stained areas of the shower floor. Let the solution sit for about 30 minutes.
Use the sponge or a soft bristle brush to scrub away the stains. Rinse the area thoroughly using clean water. Finish by drying the shower floor with a towel.
How to Clean a Textured Shower Floor
This cleaning method involves a two-step process to clean a textured shower floor. It uses baking soda to scour away scum and vinegar to break up grime. The baking soda will also eliminate that sewer smell from shower that you may get from time to time.
Begin by making a paste of the baking soda and water in a bowl. This process can be a bit messy, so you may want to wear rubber gloves. Scrub the paste into the textured areas of the shower floor with an old, soft-bristled toothbrush.
Allow the soda paste to sit while you pour equal amounts of vinegar and water into a spray bottle. Shake the bottle well to mix. If you cannot tolerate the smell of vinegar, add a few drops of your favorite essential oil to the liquid.
Spray the vinegar mixture onto the baking soda paste and let it bubble up to loosen any leftover grime. Use the sponge to wipe the shower floor clean and then rinse thoroughly with cold water. Use a soft towel to dry the entire floor surface.
How to Deep Clean a Dirty Shower Floor
The following cleaning steps are ideal if you are dealing with a filthy shower floor and need to pull out the big guns. While bleach is not always the first thing to go to when cleaning because it tends to be a harsher cleaning method, it will remove tough mildew stains and built-up grime and scum when all else fails. For this method, we use a non-chlorine bleach so that it does not damage the environment like chlorinated bleach.
Mix equal parts bleach and water in the spray bottle. Spray the surface of the shower floor with the cleaning solution and allow it to sit for about 30 minutes.
Use the sponge to scrub at the surface of the shower floor, paying particular attention to stained areas. After the floor is clean, thoroughly rinse the entire shower using cold water. Dry the shower walls and floor with a towel.
Cleaning a Shower Floor with Ammonia
If everything else fails and you need an extra kick of cleaning power to remove stains and grime from a shower floor, this recipe should do the trick. Complete this cleaning process in a well-ventilated room.
Make sure the room is ventilated by opening a window and turning on a fan. Mix the water, ammonia, vinegar, and baking soda into a bucket. While wearing rubber gloves, use the sponge to work the cleaning solution into the dirty areas of the shower floor.
Use a soft scrub brush to work in the extra dirty areas. Once the shower floor is clean, rinse it thoroughly with clean water. Finish up by drying the area with a towel.
What could be better than finding house cleaning tips to cut your cleaning time in half while using natural ingredients? Not much, except for maybe finding someone to do the cleaning for you!
All you need for a clean shower is a little bit of time and a few inexpensive ingredients. Using one of our shower floor cleaning recipes will keep your shower spotless with little effort and even less expense.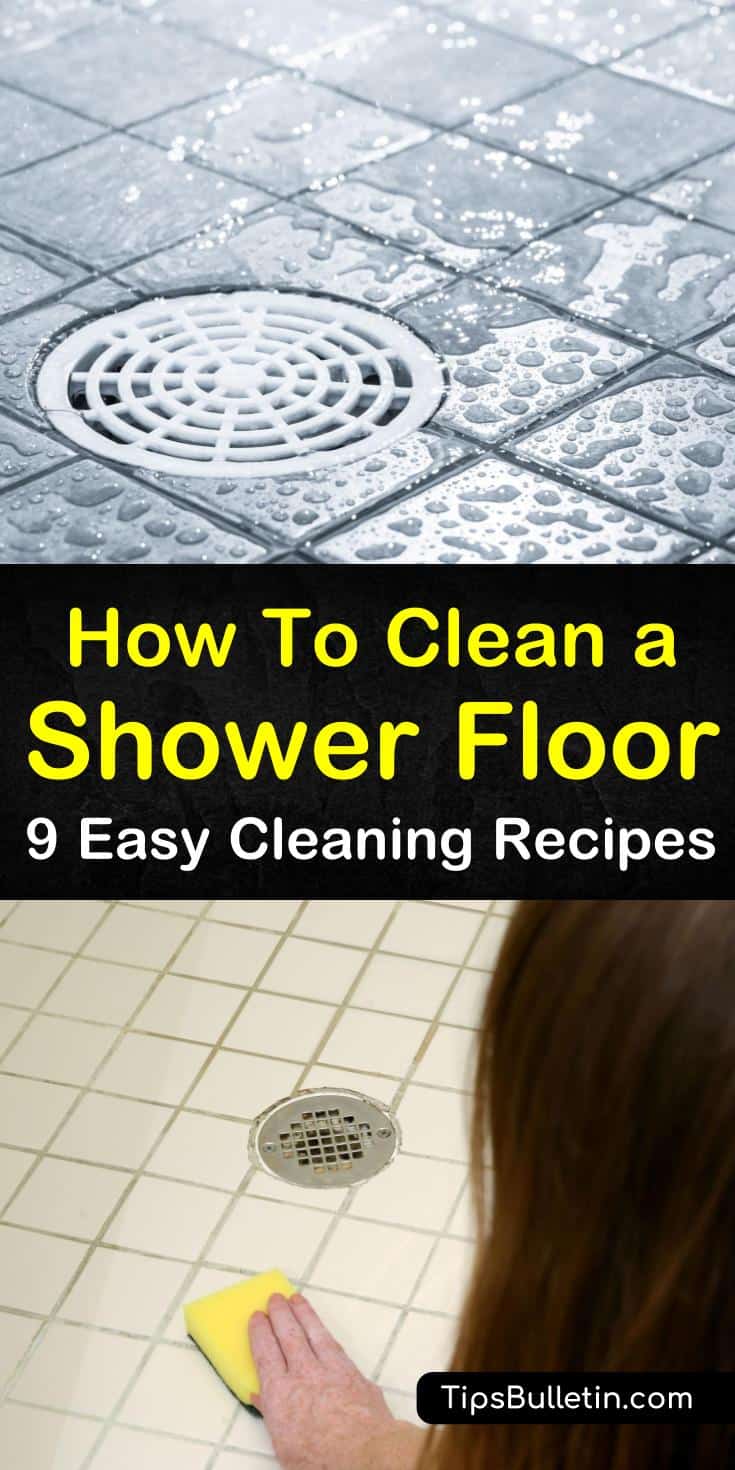 Now that we have shown you how to clean a shower floor with ease, we hope you will share our shower floor cleaning tips with your friends and family on Facebook and Pinterest.