Cleaning the bathroom is a dirty job, and other than the kitchen, it can take the most time and work because of all the different kinds of surfaces you have to tackle. While you can find inexpensive commercial cleaners that are strong enough, making a homemade bathroom cleaner is safer for your family and better for the environment.
Using simple and readily available ingredients, create a few different homemade bathroom cleaners to tackle the dirt and grime in your bathroom. From homemade toilet bowl cleaners to homemade grout cleaners, there's a recipe for it.
The following recipes will perform just as well if not better than the commercial cleaners you can purchase at the store. Here are the best homemade cleaners for every surface in your bathroom.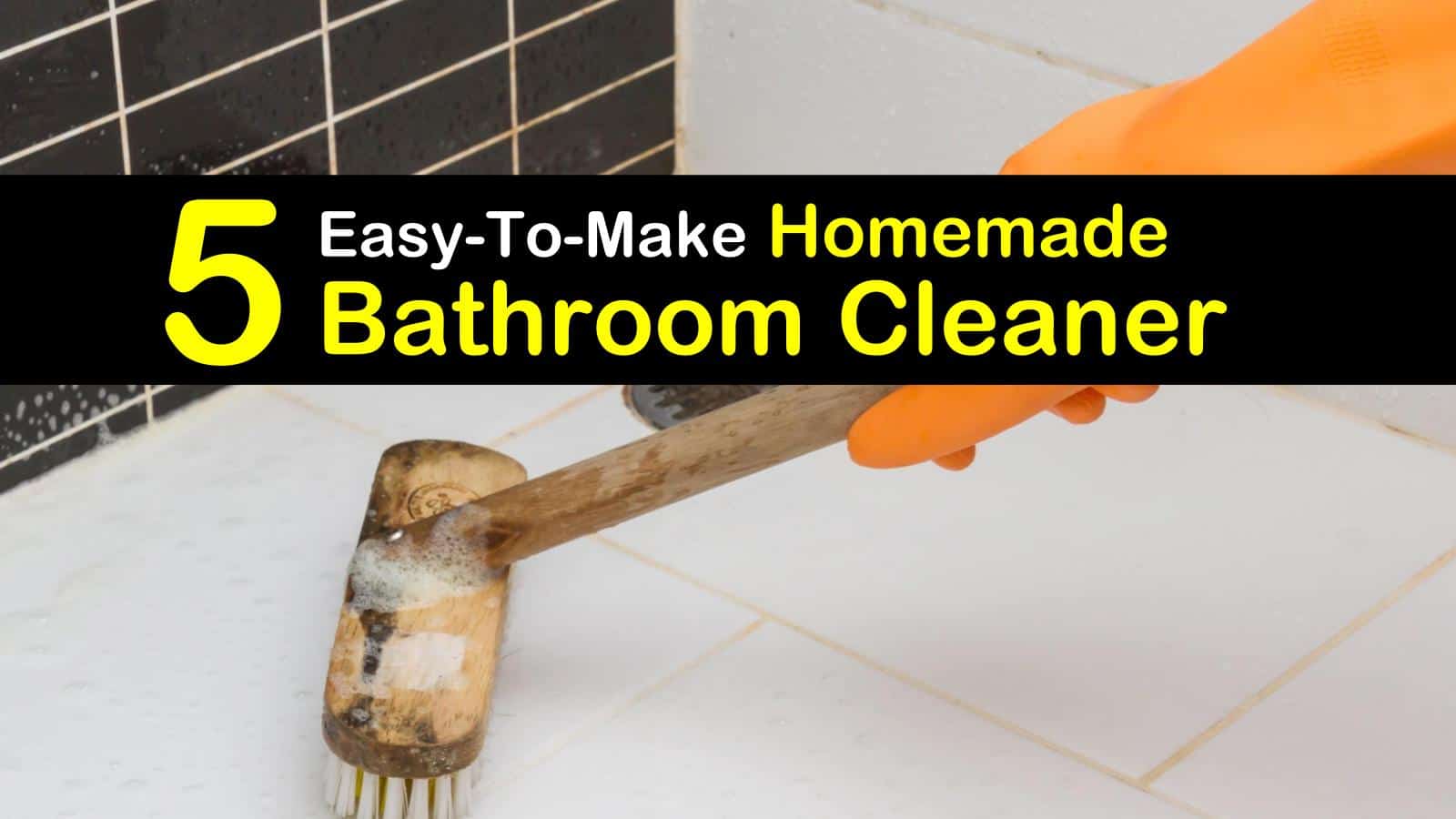 Be sure to add one or more of these simple cleaners to your cleaning checklist for the bathroom.
How to Make a Powerful DIY Bathroom Cleaner
Avoiding the harsh chemicals that often found in commercial cleaners has never been easier. Making your own bathroom cleaner is quite easy and will cost you a fraction of what the popular store-bought cleaners do.
With most ingredients already in your kitchen, learn how to clean a bathroom without leaving a toxic residue. What could be better than a bathroom cleaner that is safe for your family and environmentally friendly?
DIY All-Purpose Cleaner
The ingredients in this recipe will clean the bathroom well, from top to bottom. This natural bathroom cleaner uses simple products that are relatively cheap and easy to find, and they work to clean the dirt and smells associated with all bathroom surfaces.
Fill the spray bottle with warm water. Add the baking soda and shake well to combine. Add the essential oils and Castile soap and gently shake. Use this recipe to clean everything from the bathtub to the toilet or a Jacuzzi tub. It makes a fantastic homemade soap scum remover, too.
Spray and allow the solution to sit and wipe clean with a damp cloth. Use this mixture as a bathroom sink cleaner, to take care of the interior and exterior of the toilet and for the bathtub and shower. You can even use it on the floor!
To remove rust spots in your bathtub or toilet, ensure you check out our detailed tips on how to remove rust stains from bathtub and toilet. It includes multiple natural recipes for rust removal in porcelain and fiberglass tubs.
This recipe can also serve you well as the best cleaner for your kitchen, too, as it can be used on all appliances to make them sparkle!
Best Homemade Shower Cleaner
Cutting through soap scum can be difficult when it comes to cleaning the shower. The ingredients in this easy-to-make homemade shower cleaner are similar to our homemade window cleaner and quickly get rid of soap scum with everyday ingredients from your kitchen.
To make this homemade shower cleaning spray, combine the dish soap and vinegar and pour it in the bottle. Shake well. Add the essential oils and shake again. Spray the tub and tile with a generous amount of the mixture and let it sit for at least 10 minutes.
Wipe the solution away with a clean rag. For best results, use this DIY bathtub cleaner daily to stop stains and soap scum from building up. This recipe is one of the best ways to clean mold in shower grout naturally.
To clean your mirrors or glasses, use vinegar and water with some rubbing alcohol for excellent streak-free results. Use a microfiber cloth for drying to keep the surface lint-free.
Homemade Toilet Cleaner
You may think you have to use expensive, chemical-laden commercial cleaners or overly complicated DIY cleaners to get your toilet bowl clean. This homemade toilet bowl cleaner uses only three ingredients that you can find in your pantry, making it easy to make and inexpensive.
Put the baking soda in a glass bowl and add the essential oil. Blend the oil into the baking soda with a wooden spoon. After you've broken up the oil clumps, put the blend into a glass jar and store until ready to use.
To clean your toilet, pour one tablespoon of the cleaning mixture into the toilet bowl. Thoroughly scrub the bowl with a toilet bowl brush. Add eight tablespoons of 20-percent white vinegar. The mixture will fizz.
Take your cleaning brush and give the bowl an extra scrub. This toilet bowl cleaner is also handy to get rid of any sewer smell. Use it directly in your shower drains and bathroom sinks.
For serious drain cleaning, check out one of our natural drain cleanerrecipes here. To unclog a drain in the toilet, sink, or shower, read how to unclog a shower drain here.
If you have a blockage in the toilet, the easiest way to unclog a toilet with a plunger is to make a tight seal over the drain. A few hard pushes on the plunger is usually enough to dislodge a clog. For more serious problems, use one of our drain unclogging solutions.
Homemade Grout Cleaner Recipe
The grout in your bathroom can quickly become nasty looking and stained, no matter how much you clean it. To get your grout sparkling clean and looking like new, here's a homemade grout cleaner that is inexpensive to make and easy to use. It is also one of the best ways to get rid of hard water stains on glass shower doors.
For this easy homemade shower tile cleaner, combine the ingredients in a medium-sized glass bowl. Stir the mixture until a thick paste forms. Apply the paste to the grout, and using an old toothbrush, scrub the paste. Rinse with warm water and wipe any standing water with a clean, dry towel.
Homemade Bathroom Tile Cleaner
If you have a buildup of soap scum on your bathroom tiles, or mold or mildew, the hydrogen peroxide in this recipe will make a great tile cleaner.
It is a safe and environmentally friendly alternative to commercial cleaners and cost less than store-bought cleaners. To get more natural DIY recipes for floor cleaning solutions, check out our homemade tile floor cleaner recipe.
Mix the ingredients and apply them to the tiles with a sponge or brush.
Homemade Bathroom Cleaners for Special Uses
Simple Cleaner to Remove Soap Scum
In a glass bowl, combine the baking soda and hydrogen peroxide. Stir until a thick paste forms. Apply the paste to the bathroom tiles with a damp sponge.
Leave the mixture on for at least 30 minutes. Using an old toothbrush, scrub the paste to remove the soap scum. Rinse with warm water.
Cleaning Solution to Treat Mold
Mix the hydrogen peroxide and water in a glass spray bottle. Liberally spray the solution over the affected area. Allow it to soak without rinsing.
After thirty minutes, if the mold is still evident, spray the mold with straight hydrogen peroxide. Let sit for ten minutes then scrub with a nylon scrub pad. Wipe clean with a damp sponge.
Cleaner to Remove Mildew
Pour the hydrogen peroxide directly over the mildew to remove it. Allow the peroxide to sit for thirty minutes, then wipe with a damp sponge.
The next time you are preparing to clean your bathroom, consider whipping one of these recipes up as an alternative to commercial cleaners. Not only are these inexpensive to make using ingredients you have at home, but they are safer for your family and more environmentally friendly.
Don't continue to clean with harsh chemicals that could be toxic to your family; use these homemade bathroom cleaners instead.
Recipe for Homemade Bathroom Cleaner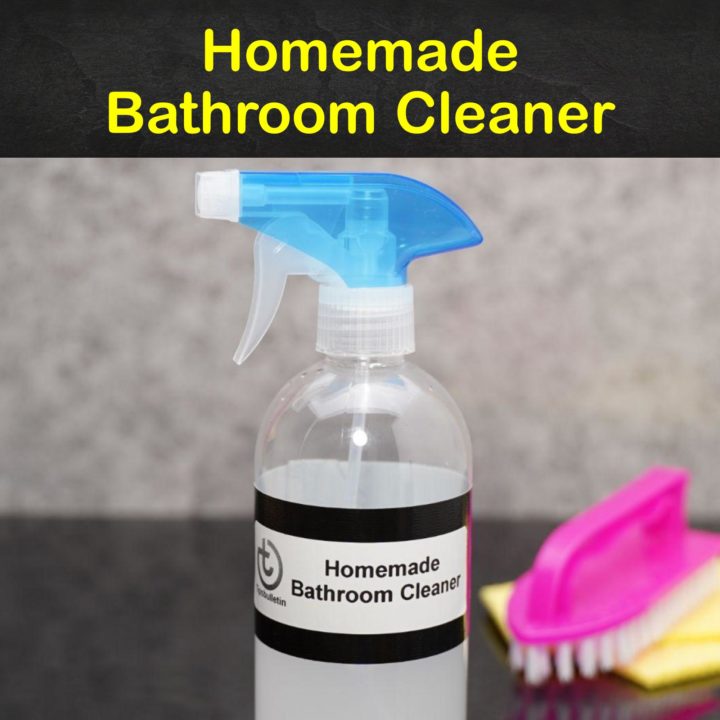 Homemade Bathroom Cleaner
An easy DIY bathroom cleaning recipe!
Materials
16 ounces water
2 tablespoons liquid Castile soap
20 drops orange essential oil
30 drops tea tree (melaleuca) essential oil
1 tablespoon of baking soda
Tools
Measuring cup
24-ounce glass sprayer
Tablespoon
Cellulose sponge
Instructions
Pour the water into the sprayer.
Add baking soda and shake to dissolve it completely.
Mix in the soap and oils.
Spray on any bathroom surface.
Let the solution sit for 5-10 minutes.
Wipe with a damp sponge.
Rinse the sponge frequently.
Notes
Essential oils degrade plastic so be sure to use a glass sprayer.
We hope the information we've provided you in this article is helpful. Please share with everyone you might think could benefit from this information.