In my household, cleaning the tile floors is one of those chores that's always pushed back to the point where it never happens. Instead of procrastinating, it's time we all do something about our dirty tile and grout.
As you go through this article for homemade tile cleaner, you may find a recipe that will do the trick. Whether it's just mud and spills, day-to-day life, or you're looking at months of hard water or soap scum build-up, these problems won't cause you any worry with these cleaning recipes.
By using ingredients found around the house, you can create cleaning products that, with a little elbow grease, will become cleaning solutions that will get your tiles looking brand new.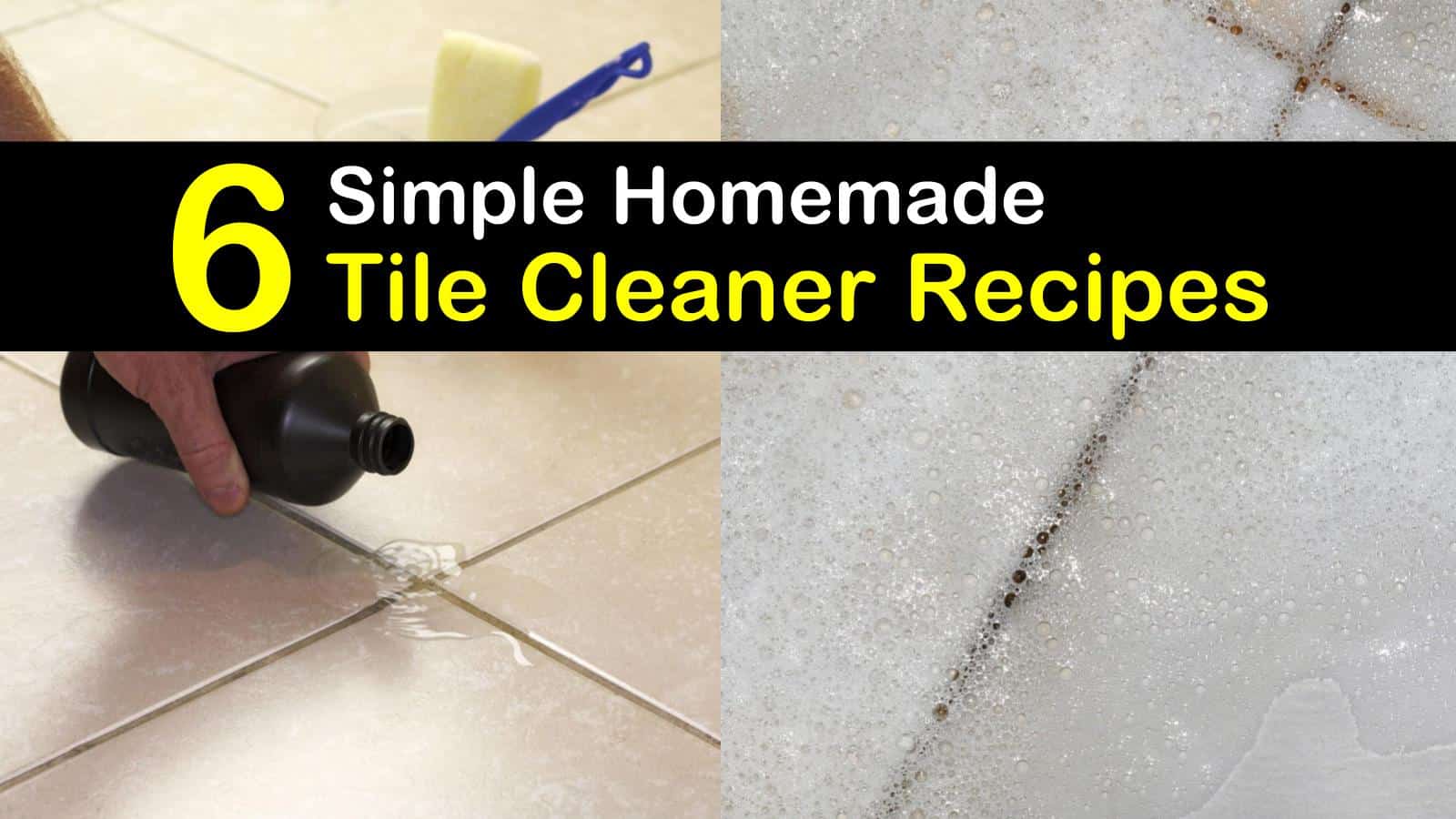 Amazing DIY Tile Cleaning Tips
You can apply these recommendations to new or old tiles, whether they are ceramic or porcelain. Use a homemade porcelain cleaner for tackling everyday stains or for stubborn build-up that is difficult to remove.
If your tile work is new, you may need to remove stray pieces of grout from the tiles before you give them a good cleaning. Carefully use a grout removal tool and one of these recipes to get rid of grout that accidentally found its way onto your tile surfaces.
Baking Soda
A great solution for treating smaller spots, or if you're looking for another natural cleaning step to help brighten up your house, is baking soda. Fill a bowl with some baking soda and use a damp sponge to pick some baking soda up to scrub at the stubborn spots on the ceramic tile or for tile grout cleaner.
If you have some particularly stubborn spots, hard water stains, or moldy areas, scrub with an old toothbrush for a little extra help. Rinse the area with warm water after cleaning. If the stains remain, mix baking soda with vinegar for some added oomph and cleaning power.
White Vinegar
One of the most diligent of all natural cleaners, white vinegar will keep those floors looking bright. It also kills any mold or mildew, making it a doubly effective natural tile cleaner.
Mix equal parts water with distilled white vinegar and then transfer to a spray bottle. Spray the vinegar mixture onto your tile and let it sit for a few minutes. Scrub away at the floor and then wipe it dry for an effective bathroom tile cleaner.
This white vinegar floor cleaner recipe is similar to others that teach you how to clean porcelain tile floors. You can also use it as a homemade ceramic tile floor cleaner, as well, and get spectacular results. Vinegar cuts through all kinds of grime without leaving a residue behind.
Lemon Juice – The Natural Tile Cleaner
If you want the acidity of white vinegar, but you don't want to put up with the pungent smell, then try this lemon juice scrub instead for one of the easiest homemade cleaners. How to clean dirty grout and tile has never been easier than with this simple yet effective recipe.
Mix the equal parts baking soda and lemon juice in a bowl. Using a sponge or old toothbrush with some of the paste on it, scrub at the floor. Rinse or wipe down the area with some warm water afterward.
If you're also looking for a good tile grout cleaner recipe, this lemon juice recipe is similar to some of the best homemade grout cleaner recipes. Use this solution to clean grout, tiles, bathtub stains, and sinks and leave everything smelling fresh and looking bright and shiny once more.
Dish Soap Spray – An Easy DIY Tile Cleaner
Liquid dish soap is one of those versatile cleaning products. So it's not a surprise that you can also use dishwashing soap, like Dawn, to make a homemade tile cleaner.
Pour the ingredients into a sprayer and shake to make cleaning shower tile grout and the tiles themselves easy. Spray the mixture on the area you want to clean and let it sit for at least 30 minutes, then rinse with hot water. The dish soap makes this spray effective against soap scum build-up in the shower.
This floor cleaner recipe is also an excellent option to use as a general shower cleaner. Learn about other homemade daily shower cleaner recipes and see what best fits your lifestyle. Keep a bottle on hand to use daily or when you notice the shower getting a little dingy.
Hydrogen Peroxide: The Heavy Duty Homemade Tile Cleaner
If you have some problematic stains that do not want to come off, you may need a more intensive approach with this overnight DIY tile cleaner and tile grout cleaner.
The best way to clean a bathroom tile with peroxide and flour is to mix the ingredients until you get a thick paste. Once you have the right consistency, evenly spread a thin layer over the tiles you want to clean. Cover in plastic wrap and let the paste sit overnight.
Clean up the paste the next day by wiping and rinsing with cold water. This recipe also makes a great tile grout cleaner, so you can clean floor grout without scrubbing the tile and grout at the same time.
The Ultimate Homemade Tile Cleaner Mixture
This homemade tile cleaner recipe is filled with a lot of the individual ingredients from other recipes in this article, so if nothing has done the trick yet, this one might be worth trying since you will get that combined power.
Use this solution for cleaning bathroom grout and tiles that are particularly soiled and you will be amazed at the results. The tiles will end up sparkling and the grout will look like new.
Combine the ingredients in a bucket or large bowl and mix well. The vinegar and the baking soda will fizz, demonstrating their incredible cleaning power.
Dip a sponge or rag into the solution and scrub the section that you want to clean. Clean grout on tile floors along with the tile at the same time. Rinse the area with some warm water or a damp rag.
Hopefully, you found a few recipes and tips to help keep your tile floors looking clean and bright. Having clean tile and grout can make your kitchen or bathroom look like new.
Recipe for Homemade Tile Cleaner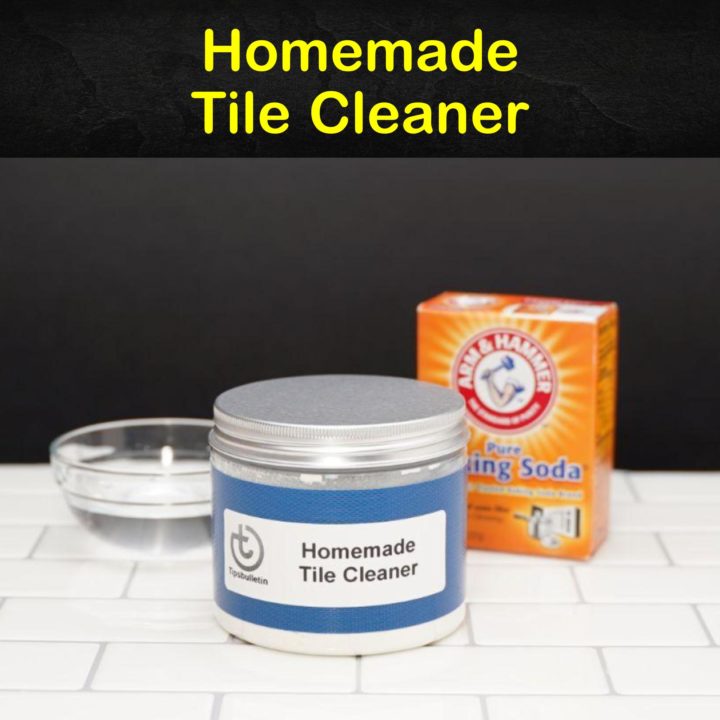 Homemade Tile Cleaner
Clean tiles with a lemony scent!
Materials
8 ounces baking soda
8 ounces lemon juice
Clean water
Tools
Stir stick
Measuring cup
Container
Sponge or brush
Instructions
Pour the lemon juice into the jar.
Stir the baking soda into the lemon juice until combined.
Apply the paste to tiles with a sponge or brush.
Scrub gently.
Rinse with clean water.
Notes
This natural recipe works well for cleaning grout, too.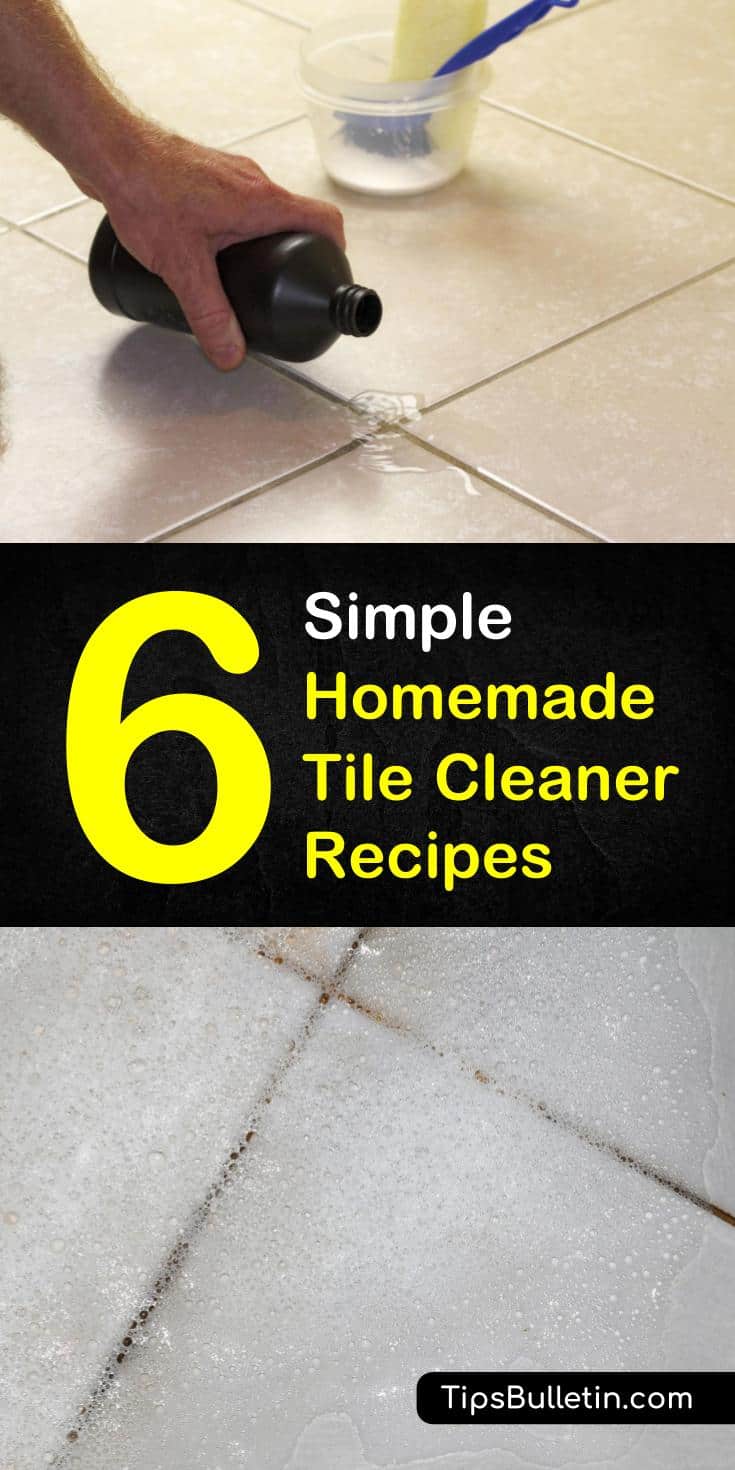 Everybody deserves that clean feeling, so if you liked this homemade tile cleaner article, please share these DIY cleaning recipes with your family and friends on Facebook and Pinterest.