When we walk into the bathroom in the morning and put toothpaste on our toothbrush, we expect the sink to work correctly. But sometimes, the sink drain can back up, leaving us unhappy and out of luck. In those moments, folks who know how to clean a sink drain are calm when the rest of us panic.
Knowing the best way to clean sink drains in any circumstances helps you relax and prepares you for future home improvement challenges. This article looks at the process of cleaning a sink drain from beginning to end.
In this guide, you'll get tips on preventative maintenance you can do to reduce clogs, the equipment you can use to remove a clog physically, and a variety of DIY recipes that are perfect for cleaning drains. We'll get you ready for any sink-related mishaps that you might encounter.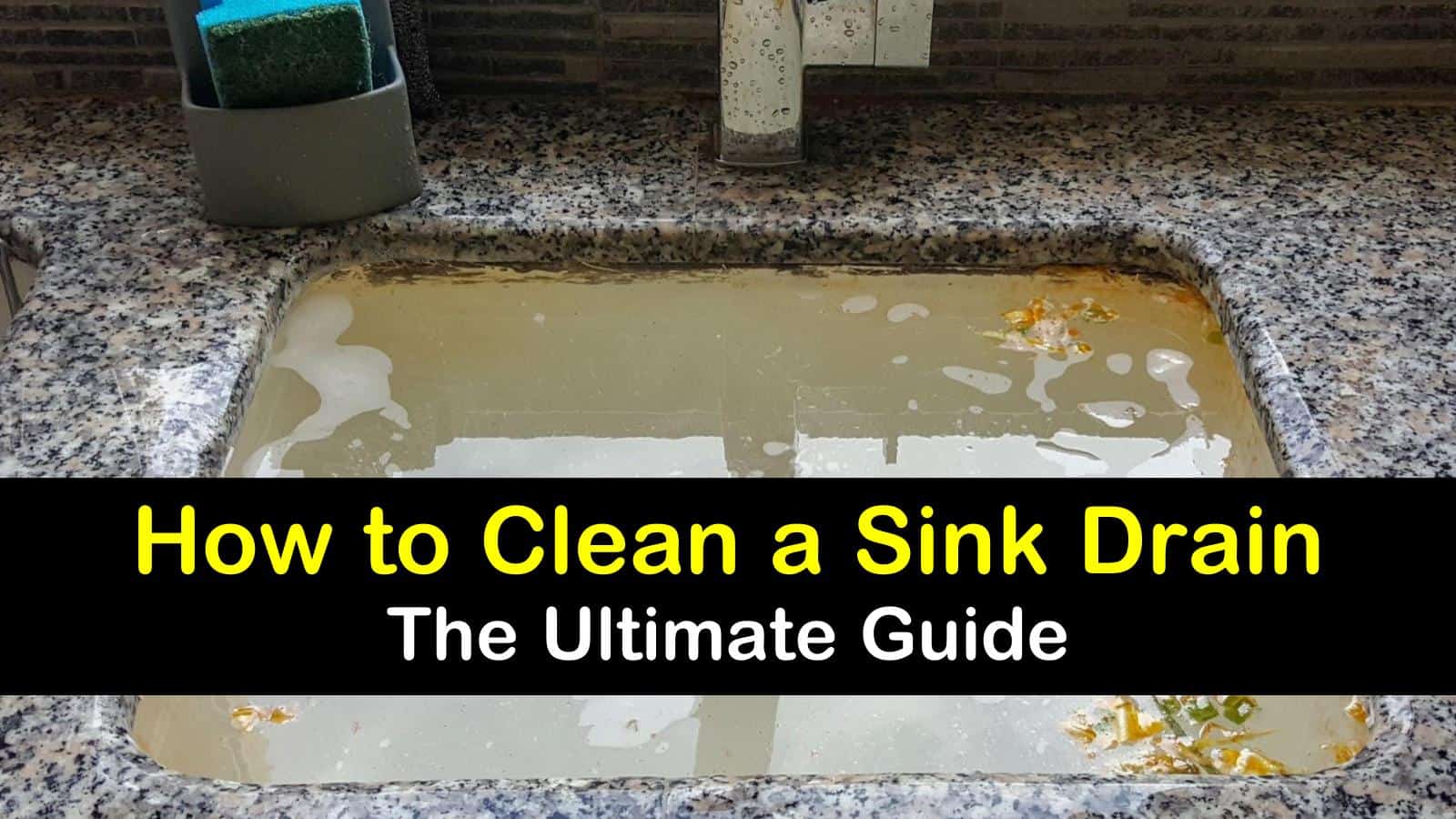 The Best Way to Clean Sink Drains
Your time spent cleaning a sink drain will vary depending on how much preparation and prevention you invest in your sinks. If you ignore your sinks and never clean or maintain them, you're going to spend a lot more time wrestling with clogs than someone who tends to their cleaning and makes sure that all of their household appliances and fixtures are in good working order.
Maintenance and Prevention
This section examines the different actions you can take to ensure that you can clean a sink drain and keep it unclogged. We show you how to keep the area around your sinks clean and free of debris, which will reduce potential drain issues.
You'll discover how to keep your sink well maintained and humming along. A little care ahead of time can make your sink drain cleaning much more straightforward.
Keep the Sink Area Clean
A clean area is much less likely to cause issues in the long run. Dirt and grime lead to debris and gunk in the pipes, and the more flotsam near your sink, the more likely it is that some of it will wind up getting stuck in the drain. If your kitchen sink smells like sewage or has a slow drain, it might be because you haven't been cleaning it.
Add the sinks and surrounding area to your weekly cleaning chores. Place strainers and hair traps in bathroom sink drains and put a food trap over the kitchen sink drains.
Adding a food trap is a great way to get rid of gnats in the kitchen sink and drain areas and costs very little. These small steps add up and can mean the difference between a working sink and a broken and dirty one.
Perform Regular Maintenance
A well-tended home is a happier one, never truer than in the kitchen and bathroom. You might not regard sinks and drains as needing regular attention, but when you care for them, they'll take care of you. Sink drains require maintenance and care to keep them in top working order.
Make sure that all of your drains have drain stoppers and debris traps. Pop-up drains should all be in place and working correctly. Unscrew and oil all drain parts that you can reach at least every three months.
If your stopper operates via a lever system, keep those parts maintained and oiled, as well. If you have a drain that doesn't get a lot of use, such as a garage sink drain, take the time to run cold water through it for five minutes once a week. Dried out pipes are more likely to break down.
Cleaning a Sink Drain
Maintenance and cleaning are essential if you want your sinks to last. However, even the most conscientious homemaker will eventually have to deal with a sink drain clog. When you encounter a slow or stopped-up drain, you have two approaches from which to choose.
You can either opt for a liquid cleaning solution or use a piece of equipment to unclog the drain. These same rules apply for the best way to clean a shower drain, too. Showers often accumulate stray hair that causes a blockage in the drain that must be removed for smooth water flow.
Cleaning With Equipment
This section examines how to clean a sink drain using equipment. These methods of cleaning a sink drain involve physical removal or shifting of debris in the drain. They're simple ways to clean smelly drains in a bathroom, laundry room, or the basement.
Equipment-based drain cleaning often goes hand-in-hand with cleaning solutions, and they can complement each other. If you think your drain issue stems from nothing more than a clump of hair or an object that's blocking water flow, an equipment approach is an excellent first step.
Use a Coat Hanger to Clean the Drain
We often learn that our sink is dirty or clogged at the worst moments. If we encounter a clogged sink drain as we prepare for bed or wake up in the morning, we might be unable to run to the store for a piece of professional equipment.
That doesn't have to prevent you from cleaning a sink drain, though. A coat hanger makes an excellent makeshift plumbing snake.
Use the pliers to form the coat hanger into a straight line except for the hook at the end. Squeeze the hook so it fits into the drain, and unscrew the drain plate if required. Feed the hanger into the bathroom drain or kitchen drain with the hook end first.
Move slowly to avoid damaging the pipe. Little by little, remove hair and any other debris and place it in the trash bag. Use a paper towel to clean off the hook when it gets fouled. When you remove enough debris, the water will begin to drain again.
Make a DIY Plunger Out of Plastic Wrap
If your makeshift snake can't reach or doesn't shift the clog in your sink, change tactics and try a plunger. Like your coat hanger snake, you can be your own plumber and make a plunger out of household items if you don't have one handy. A plunger pushes and pulls the clog, hopefully dislodging it and sending it down the drain line.
Put on the gloves. Place sheets of plastic wrap across the top of the sink, covering it entirely. Use the tape to reinforce the edges and prevent the wrap from coming loose.
Place your hands in the center of your sheets of plastic wrap, and press down sharply. When you press down, the air in the sink pushes into the drain and forces the clog to move. Repeat until you can drain warm water in the sink again.
Use a Store-Bought Plunger
While your plastic wrap plunger might do in a pinch, a commercial plunger is a much better tool for the job. Plungers are cheap and easy to find at your local hardware store, and it's worth having a few of them on hand in case you need them. The pressure and vacuum a plunger produces are enough to shift almost any clog.
Place the plunger over the drain; cover it completely. Grasp the plunger handle with both hands, and make a rapid series of straight up-and-down movements. Pause after a few plunges to check on your progress, and then continue if needed.
Throw away any debris you pull out. Repeat until the water in the sink begins to drain. You can use this same process to clear a shower drain and it is also the best way to unclog a toilet. Always keep a plunger handy for unexpected clogs. Be sure to clean the plunger after every use.
Hit the Drain With a Commercial Plumbing Snake
Like a commercial plunger, a store-bought drain snake will do a much better job of cleaning your drain than a wire hanger can manage. Plumbing snakes are flexible and long, and they'll go around corners and far into the drain pipes to get to the clog. A snake is going to be your most likely tool for pulling out a clog.
Take care when you use the snake, as a rash movement can damage your pipes. Slowly feed the snake into the drain pipe. When you reach the clog, the snake will stop feeding.
Rotate the snake to dislodge the clog. Pull out the snake every once in a while, and throw out any debris and gunk it brings back with it. Continue until the water in the drain starts to move again.
How to Clean a Sink Drain – Recipes
Liquid drain cleaners are perfect companions for plumbing equipment and can even clean your drains without requiring you to resort to snakes or plungers. Once you've finished with your equipment-based drain cleaners, it's time to move on to one of our DIY drain cleaning recipes.
This section contains recipes for the top homemade drain cleaners. In this section, you'll find out the best way to clean sink drains using household cleaners, as well as how to use commercial drain cleaners. We show you which cleaner will deodorize a sink drain, and you'll also learn how to clean a sink drain using an organic drain cleaner.
Use Boiling Water
Hot water might not seem like one of the more powerful cleaning products, but if used the correct way, it is a highly effective clog remover. Boiling water will eat through almost anything organic, given enough time.
It's just what you need to clean your sink drain. Use it as a drain cleaner for sink and toilet clogs. It's particularly handy on slow drains and grease clogs.
Don the clothing and safety gear. Take care as you proceed to avoid burning yourself, and make sure that all children and pets are out of the area before you continue. Add the dish soap to the water, and pour the water into the sink a little at a time.
As the water slowly drains, the boiling water will reach the clog and eat away at it. If the clog comprises hair and other organic material, the boiling water should dislodge it after a little while. If the clog contains grease, heat and soap should break it down.
Clean Your Drains With Vinegar
Homemakers are already familiar with the miracle that is household vinegar. Vinegar contains acetic acid, which happily eats through organic matter and is the ideal solution for gnats in sink as well as unclogging the drain. Vinegar works more slowly than store-bought drain cleaners, but it won't harm your pipes or produce caustic fumes as it operates.
Put on your safety gear, and add the essential oil to the vinegar. Pour the vinegar slowly into the drain. Wait an hour before repeating. The vinegar will disintegrate the clog in the drain line and allow the water to start moving again.
Make Your Drains Sparkle With Lemon Juice
Like vinegar, lemon juice contains acid and is perfect for cleaning all sorts of gear, including sink drains. And, lemon juice leaves a delightful citrus scent behind when you're done using it. When you combine it with Borax, lemon juice is just what you need to get your sink back into fighting form.
Combine the lemon juice and Borax. Don the gloves, and pour the solution into the drain. Let the mixture sit on the clog for a few hours, and then repeat.
Continue until the clog dislodges. This method is the best way to clean sink drains when you need odor control and cleaning power.
You can use this simple recipe the next time your garbage disposal or dishwasher backs up or if you are looking for a solution for how to clean a garbage disposal, as well. The lemon juice and Borax will sanitize and deodorize the appliance and have it ready quickly for the next time you are ready to use it.
Get Your Drain Back to New With Liquid Dish Soap
Liquid dish soap is one of those household items that you can use for practically any purpose. It's perfect for wasp control, it cleans dishes, and it can clean out your drain like you wouldn't believe. The liquid dish soap acts as a lubricant and will work its way into the clog, making it slippery and more likely to move.
Because the dish soap is heavier than water, it will sink through a backed-up drain until it reaches the clog. Our liquid dish soap option is an easy recipe. Just put on gloves for protection and pour dish soap into the drain.
Let the soap sit on the clog for an hour or so. Repeat until the clog dislodges. This approach works exceptionally well on hair and other organic clogs.
Give Baking Soda and Vinegar a Try
You probably think of baking soda and vinegar as more of a cleaner for surface stains, but it will take care of all sorts of tough drain clogs and odors. Baking soda and vinegar react when you combine them, and this chemical reaction produces a fizz and an effervescence that can deodorize drains and eat through many types of clogs.
Wait until the water in the sink recedes into the drain. Pour at least a half cup of baking soda into the open drain. Wait a few minutes, and then pour a cup of vinegar into the drain. Wait an hour or so.
Repeat until the clog clears up. You should be able to run hot tap water through the drain without a backup after using this recipe. It's a fantastic unclogging option for slow drains.
We hope you had a lovely experience checking our drain cleaning tips. Knowing how to clean a sink drain will keep your home functioning and your family happy. Our guide shows you the best way to clean sink drains and helps you make sure that you and your loved ones enjoy the convenience of running water without having to endure the misery of a clogged drain.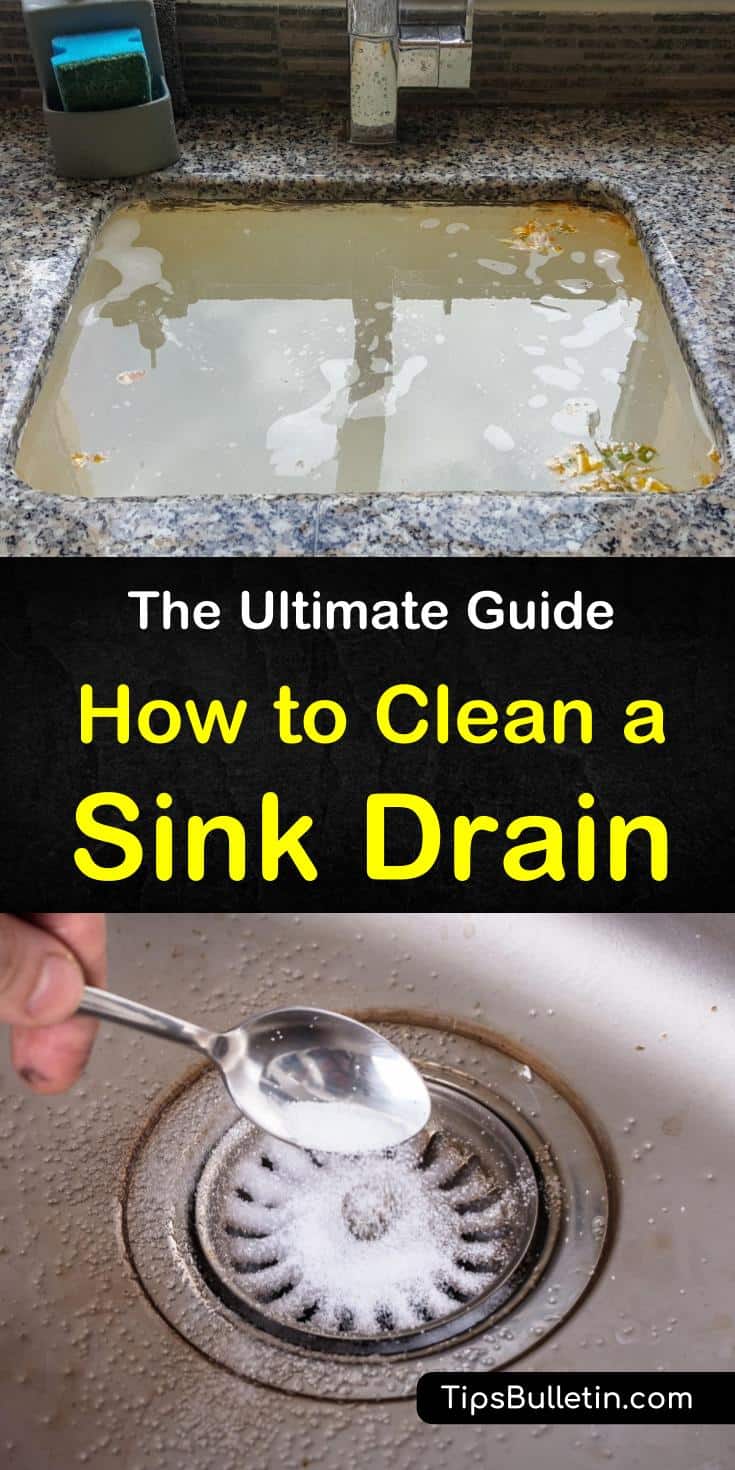 Thanks for reading our tips on cleaning a sink drain. If you found our suggestions on how to clean a sink drain helpful, please share these drain cleaning tips with your family and friends on Facebook and Pinterest.