Aluminum is a light-weight material often found on rims and wheels that brings a brilliant sense of style to any car. Despite the obvious aesthetic appeal of these wheels, there are also numerous practical applications for using these types of car parts. Shinier and stronger than steel wheels, the metal is also much easier to maintain, which makes understanding how to clean aluminum wheels a breeze.
Some of the many ways to clean aluminum wheels and rims involve using common household cleaners like baking soda and cream of tartar. However, taking care of your vehicle wheels does not consist solely of washing them.
There is also a significant amount of polishing and protective measures that go into maintaining the condition of your rims. Follow these step by step guides for how to remove corrosion from aluminum wheels.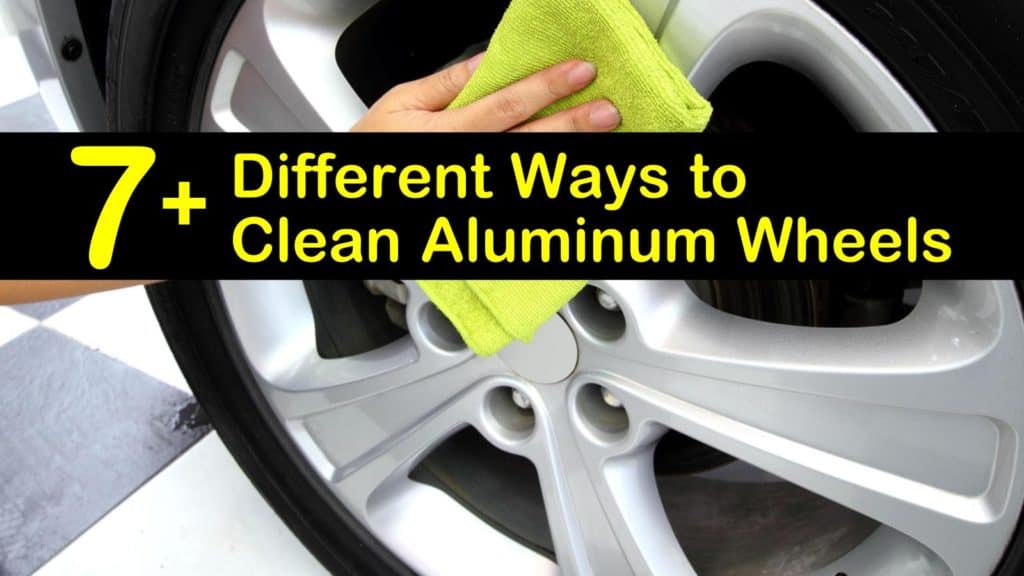 The Many Ways to Clean Aluminum Wheels and Rims
Your wheels and rims undergo a lot of dirt and road grime in their lifetime. Because of this issue, they require a little extra love and care from time to time to keep them looking beautiful. With aluminum, it isn't as hard to convey that sense of beauty and style.
Rinse Wheels with Water First
Before adding any soaps or cleaners to your rims, clear away as much dirt as possible. Doing this ensures you have a clean slate to work with when you clean, polish, or seal the metal. The easiest way is by spraying your car wheels with a strong stream of water from a hose.
During the rinsing process, make sure you wet all parts of the wheels and get down deep into the crevices in the design. Clean the brake calipers and the spokes until all traces of dirt are gone, and you have nothing more than the bare aluminum wheels. Dry with a microfiber cleaning cloth when finished.
Cleaning Aluminum Rims with Household Products
Washing your wheels is a simple process that requires just a little bit of elbow grease to accomplish the task.
Complex cleaning products are not necessary on bare aluminum, and frequently a moderate abrasive is all that's required to remove gunk and buildup on your wheels. Baking soda provides a gentle scrub while leaving the surface of the metal virtually untouched.
For one of the ways to clean cast aluminum, mix the soap and water into a nice lather. Dunk a soft sponge or cloth into the soapy solution and then sprinkle a bit of baking soda over the top.
Scrub along the surface of the aluminum to eliminate all traces of dirt and mud still caked onto the tires. Be sure to get into all the cracks and crevices. Once finished, rinse and dry thoroughly.
It's also ideal as a homemade aluminum trailer cleaner if dish soap doesn't seem to get the job done.
How to Clean Aluminum Wheels with Soapy Water
While adding in a little bit of baking soda for an extra clean can be helpful on occasion, sometimes it isn't necessary. After rinsing, all you generally have to use is a little bit of soap and water to wash your alloy wheels.
Dish soap works great as a degreaser, which makes it the perfect weapon against greasy stains and oily remnants that cling to the surface of your vehicle. Use the same dish soap recipe as above, only without the baking soda as a car wash soap alternative for your rims and tires and the rest of the car, too.
Check the wheels for any pitting or corrosion to determine whether further methods are necessary before completing the care program. If so, a commercial aluminum wheel cleaner may be required.
How to Remove Corrosion from Aluminum Wheels
If you would rather use a professional cleaner, products like Sonax or Meguiar are perfect. Both come complete with a line of various supplies, from waxing materials to a basic tire cleaner. They also complete the full round of merchandise with luxurious polishes.
However, wheels cannot be polished if they show signs of corrosion. The polish only enhances the scratches and corrosion, making them look even more evident than when they weren't gleaming in the light.
One way to remove these cracks pits is by using either pure lemon juice or vinegar to wear down the surface. If that doesn't work, file it down using a little sandpaper instead.
Clean Oxidized Aluminum Wheels
Another way to clean aluminum that is oxidized is by using a gentle abrasive similar to baking soda. Cream of tartar not only cleans aluminum rims but is a fabulous homemade chrome wheel cleaner, as well. It is equally as successful at removing stains caused by road gunk and oil spots.
This step requires a little more effort and a ton of scrubbing. Start by adding the powder to the wheel brush and scrubbing the area until all stains and scratches dissolve.
For small areas, use a washcloth or toothbrush instead. Rinse off the cream of tartar with some cool water when done.
Ways to Clean Aluminum Wheels and Rims
Though having the perfect cleaning solution is essential to keeping your aluminum alloy wheels looking brilliant and beautiful, the supplies you employ are also significant. Using a hard bristle brush creates small creases and scratches in the wheel surface over time, which is not a good look for anything in your car.
To avoid this, use a soft bristle wheel brush or microfiber cloth.In many cases, these brushes possess a long handle that makes it easier to scrub down into the grooves of the wheels.
Use this method before using soap, to knock off all the loose dirt, and afterward to lather in the soap. Ensure that you rinse off the gunk and grime before adding the soap to prevent circulating dirty water around the wheel instead.
Polishing Aluminum with Microfiber Cloth
After you clean aluminum wheels, the one thing you always want to remember to do is to dry them off. Drying them after cleaning reduces the appearance of unsightly water spots and limits the amount of dirt left behind after washing.
Using a microfiber towel is the best way to polish aluminum wheels to ensure your rims have a flawless, streak-free shine. To enhance that radiant beam, apply an aluminum polish to the surface, then dry with a microfiber cleaning cloth.
Of course, you can also make a homemade aluminum wheel polish yourself if you prefer. When selecting a commercial brand, choose a clear coat, safe polish.
Let the polish dry before buffing with a soft cloth. For best results, start with a light polish at first, then slowly work your way up to a thicker polish as you get used to the procedure.
Clean Aluminum Lug Nuts
After you finish washing the wheels themselves, don't forget about all the little parts that demand cleaning, as well. Mainly, cleaning the lug nuts is just as critical to a smoothly running car.
As you're driving, your brake pads release small metallic shavings that fall into tiny flakes on your wheel wells. This brake dust collects in the cracks and crevices of the lug nuts, causing corrosion, which is why it is so important to also treat the other parts of your vehicle during your regular wheel washing.
When using this strategy, it's important to note that not all the ingredients are combined at once. Instead, pour the soda over the lug nut holes and leave it to soak for at least seven minutes.
Using either a toothbrush or a lug nut brush explicitly designed for this, scrub away at the rusted parts until they slowly loosen. Follow up the scrubbing with a combination of the soap, vinegar, and water, then rinse clean.
Extra Advice on Cleaning Aluminum Rims
By now, you have some brand new recipes to work in terms of cleaning your aluminum rims. But what do you do with all that information, and how often should you use it? We'll answer those questions with just a little extra wheel cleaning advice.
How often should I clean my aluminum wheels?
Regular washing of your car should take place every one to two weeks. During this time, don't forget to pay special attention to your wheels, too. Washing with soap and water is more than enough to keep it looking bright and clean.
Complete deeper cleaning every two to three months. This wash may include using a store-bought cleaner or using vinegar or lemon juice to remove rust particles.
When deep cleaning, remember to check the lug nuts for corrosion, too, and take care of them as they begin to show signs of noticeable wear. Of course, if your car spends way too much time in the dirt one week, and extra thorough clean ahead of schedule won't hurt either.
These helpful tools and techniques provide you with all the resources you need to keep your vehicle looking shiny and new. With so many different ways to clean aluminum wheels and rims, finding the perfect solution for your vehicle has never been easier.
From homemade solutions to store-bought brands like Meguair's, discover your new maintenance program among any of these simple-to-follow steps.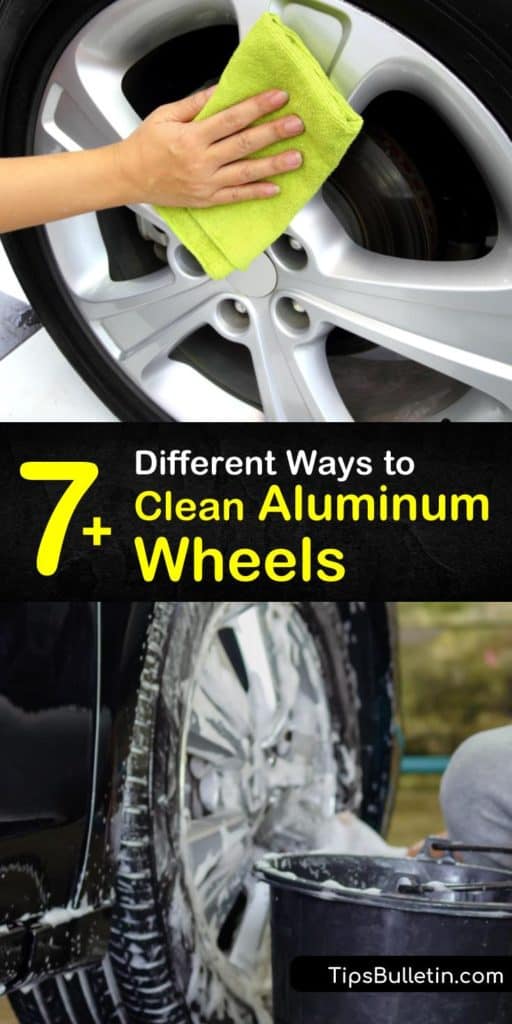 If you found these car care and wheel cleaner tips helpful, then please share how to clean aluminum wheels with everyone you know on Facebook and Pinterest.