Did you install a brand new kitchen complete with beautiful Corian countertops? If so, it's time to explore how to clean Corian countertops. Corian is the trademark name for a solid-surface, man-made material frequently used for countertops and sinks in kitchens and bathrooms. Corian, which comes in various colors, is adaptable because it can be routed, drilled, and cut exactly like wood.
Despite being heat- and stain-resistant, Corian surfaces need careful cleaning and maintenance to appear their best. Although many store-bought Corian cleaners are available, most contain toxic substances that people don't want on the counters where they prepare food. Fortunately, there are safer alternatives for cleaning Corian countertops.
Save money and a journey to the store by finding out how to disinfect Corian countertops with products you already have around the house. Use straightforward DIY cleaner recipes to maintain your Corian in the best condition and maintain its visual appeal.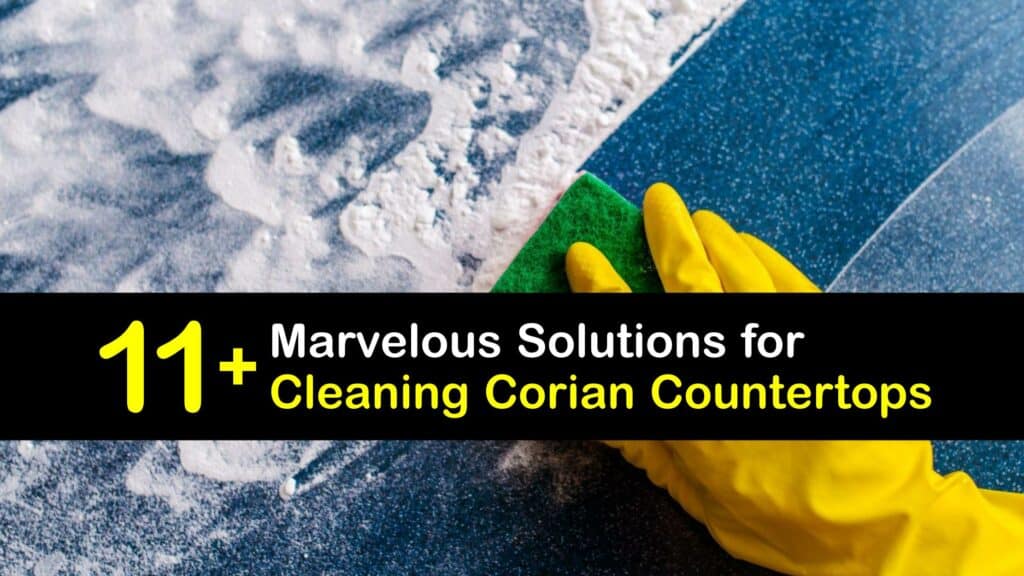 How to Disinfect Corian Countertops
Countertops are vital to a kitchen. They house kitchen appliances, tie together a decoration, and act as a station to make meals. Korean is the perfect choice for any home as it's stylish, functional, and uncomplicated to care for.
Despite being durable, there are vital things to know about how to clean Corian countertops to ensure they last for years. Discover tricks for cleaning Corian countertops with soapy water, baking soda, bleach, white vinegar, hydrogen peroxide, a Magic Eraser, Murphy Oil, apple cider vinegar, and rubbing alcohol.
What Is a Corian Countertop?
Corian is a solid surface material constructed of solid components throughout. A lot of people use it for countertops.
DuPont, a manufacturer of chemicals, released Corian Solid Surface in 1971. The company creates it by combining synthetic acrylic polymers with raw materials taken from minerals and stones. The mixture is molded into the desired shapes.
Corian is more resilient than laminate, an alternative that is less expensive and softer. Corian is more stain and crack-resistant than natural stone since it is non-porous and uniform in composition. Solid surface countertops may be repaired easily with abrasive cleaning or sanding if scratched, burnt, or stained.
Corian is also difficult to beat in terms of look. Homeowners can choose an integrated Corian sink for an ultra-smooth appearance. Thanks to epoxy colored to match the countertop, the seams are essentially undetectable. If you invest in Corian, it's crucial to understand Corian countertop care.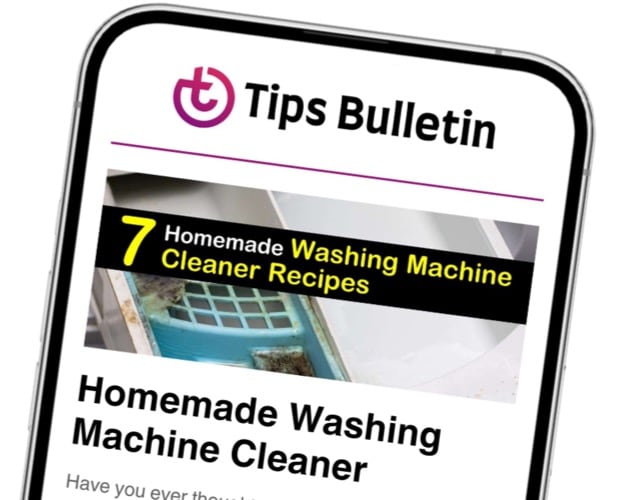 Finally, an email that Transforms Your Home.
Get the latest home and garden tips from our experts, delivered straight to your inbox.
How to Clean Corian Countertops With Soapy Water
A mild dish soap solution cleans everything from a quartz countertop to a granite countertop or Corian. The best method for removing dirt from your counter without harming the finish is to use a mild cleaner such as liquid dish detergent.
Mix dishwashing liquid with warm water and use the resulting solution to scrub them. Since it is a gentle detergent, dish soap won't bleach, fade, or corrode your Corian.
Combine the liquid dish detergent and the warm water in the basin. After soaking a cloth in the soapy liquid, squeeze out the excess water and use it to clean the Corian. Be sure to wipe off the worktop and the edge. After they have time to dry, conduct an inspection to look for areas requiring a second cleaning.
Baking Soda for Cleaning Corian Countertops
Baking soda, most commonly associated with making cookies, is an effective cleaner to remove a dried-on sauce mark or sticky stain from Corian. Cleaning a Corian countertop surface is a breeze when you use baking soda. It is prudent to perform spot cleaning to eliminate heavy buildup before moving on to general countertop cleaning.
The application is easy and requires little cleanup. Mix equal quantities of baking soda powder and lukewarm water in a small basin. Apply a generous baking soda coating directly onto the blemish on the counter, and give it ten minutes to dry. Use a wet microfiber cloth to remove the paste and the remnants of food.
Disinfecting Corian Countertops – Bleach
To remove germs from your Corian countertops, use regular chlorine bleach. Bleach is a drying and caustic substance, but if diluted, you may safely use it to kill germs on Corian worktops. While working with chlorine bleach, protect your hands by wearing gloves and a face mask.
Create a dilution of the bleach using the water in the bucket. While protecting your hands with latex gloves, soak a towel in the bleach solution and use it to wipe off the Corian counters.
Allow the bleach to sit on the Corian for five to ten minutes to disinfect, remove it with a moist cloth, and let the counter air dry. When dealing with bleach, it is vital to have the windows open so poisonous vapors escape.
Vinegar to Sanitize White Corian Countertops
Distilled white vinegar is a natural cleaner to get hard water stains off stone countertops and sanitize the area for food preparation. Since the acetic acid found in distilled white vinegar effectively kills bacteria, you can work with peace of mind by knowing your counters are sanitary.
Though white distilled vinegar is excellent for removing dirt from Corian counters, the acidity of the vinegar could cause damage if it is not diluted with sufficient amounts of water. But don't freak out, we can show you how to safely use vinegar on quartz countertops and delicate surfaces.
Fill a glass or plastic spray bottle with equal parts water and distilled white vinegar to make a straightforward cleaner for Corian. Apply a tiny amount of the solution to the counter. Clean the Corian with a damp cloth, and allow it to air dry.
Peroxide Cleans a Corian Worktop
Hydrogen peroxide disinfects as it cleans to give you confidence that your work surface is clean and ready to assemble your next meal. If you're short on supplies but need a safe cleaner for your Corian countertops, head to the first aid kit and grab 3% hydrogen peroxide. Dilute hydrogen peroxide with water to make a simple counter-cleaning spray.
Measure and transfer the ingredients to the spray bottle and shake vigorously until blended. Spray the counter with the peroxide mixture and wipe the Corian with a damp microfiber cloth. Lemon juice adds extra cleaning power thanks to its natural citric acid content and the pleasant aroma of citrus fruits.
Try a Magic Eraser on DuPont Corian
A Magic Eraser is a block of melamine foam with diverse cleaning applications. Corian stains are erased using a Magic Eraser. Before cleaning your counter, soak the Magic Eraser in water, and squeeze off the extra liquid. A Mr Clean Magic Eraser makes it simple to remove persistent blemishes.
Scrub the dirt away as the eraser cleans through abrasion. Cut the Magic Eraser into tiny fragments to reach into nooks and crannies more efficiently. Utilize a wet towel or sponge to wipe the Corian surfaces. To make the countertop as pristine and shiny as possible, buff it with a microfiber cloth.
Wash a Corian Counter With Murphy Oil Soap
Murphy Oil Soap removes grime and won't dry out or leave streaks on your counters. Due to its numerous uses, you can find Murphy Soap in hardware or auto parts stores.
Following the instructions on the packaging, add one gallon of warm water to the Murphy Soap. Dunk a microfiber cloth or soft scrub brush in the bucket and gently scrub the counter. Wipe it down with a damp towel to remove the cleaner and any remaining buildup.
Apple Cider Vinegar Corian Cleaner
Create an effective cleaner to leave your Corian gleaming by combining the cleaning capabilities of apple cider vinegar and lemon juice with the power of rubbing alcohol as a solvent.
Remove grime and food residue from Corian smoothly with mild acids in apple cider vinegar and lemon juice. Make an efficient spray for cleaning your Corian kitchen countertops.
After putting all the components into the spray bottle, give it a vigorous shake. Spray the solution over the Corian surface, or apply it with a soft cloth. Your Corian counter is left smelling fresh and clean.
Determine which essential oil suits your preferences in terms of its aroma. Lavender and lemongrass are popular choices. Some pure essential oils, such as tea tree oil, have antibacterial characteristics to disinfect your countertops.
Rubbing Alcohol Removes a Stubborn Stain
This recipe calls for rubbing alcohol because it hastens the process by which the solution evaporates from the Corian surface and reduces the likelihood that water marks are left behind.
The solvent qualities of alcohol combine with the acidic nature of distilled white vinegar to make your own marble counter cleaning solution. This rubbing alcohol spray leaves your kitchen countertop spotless and ready to prepare a meal.
Blend the vinegar and rubbing alcohol in a spray container and pour cool water into the mixture. Tighten the lid securely and shake well. Spray the solution onto the countertops, and wipe it with a clean, soft cloth.
Because rubbing alcohol is extremely flammable, storing this homemade Corian cleaner away from heat sources and in an inaccessible location for children and animals is crucial.
Solid Surface Countertop Cleaners
Don't worry if you don't feel confident using a DIY cleaning tip. A commercially available cleaner could be the answer if you're short on time and seeking a reliable method to clean Corian countertop surfaces without damaging the finish.
There are many choices for cleaners, disinfectants, and polishes to use on Corian furniture and counters. Pick a product that satisfies your requirements and preferences. Check out products like Clean Encounters countertop spray or Countertop Magic.
To get optimum results with commercial cleaners, always follow the instructions provided by the manufacturer. Before considering broad usage, familiarize yourself with any precautionary directions and consider conducting a test patch. Enhance countertop polish by using an appropriate soft cloth and buffing until gleaming.
What to Avoid on Corian Surfaces
Learning what to avoid is a key part of care for Corian sinks and countertops. Never use strong chemicals like oven cleaner, paint stripper, or nail polish remover on Corian counters. These industrial-strength solvents degrade the epoxy and lead to imperfections.
Refrain from cutting directly on Corian countertops. Instead, use a cutting board to save your worktops from unsightly knife marks. Clean up spills as they occur, and wipe your Corian at least once a week. Keep Corian countertops polished to ensure a pleasant sheen and maintain their lustrous appearance.
Did this article enlighten you on how to disinfect Corian countertops? If you invest in these stunning counters, don't let them deteriorate due to improper care. Stay away from toxic chemical cleaners and rely on everyday items to maintain Corian worktops. Discover easy-to-follow home remedies to keep Corian counters clean and immaculate.
If you loved this illuminating article on how to clean Corian countertops, please share it with your friends and family who are cleaning Corian countertops on Pinterest and Facebook.