Granite has an unmatched beauty that enhances any room in the home if it is kept clean and stain-free. Unfortunately, using the wrong types of cleaners causes damage to granite. Learn how to clean granite countertops, floors, and other granite surfaces to remove dirt and stains.
Granite is a beautifully textured natural stone that comes in predominately in gray, pink, and white colors. Unlike marble, granite is not a porous material and resists soaking up stain-causing liquids. It is also bacteria-resistant, which makes it an ideal material for the kitchen. That said, granite does require specific cleaners to remove dirt and grime.
While granite is reasonably easy to clean and maintain, there are specific cleaners to avoid. Acidic cleaners, such as white vinegar and Windex, dull the granite surface and cause the sealant to weaken. Therefore, using non-abrasive and mild cleaning products is essential in maintaining the beauty and shine of granite.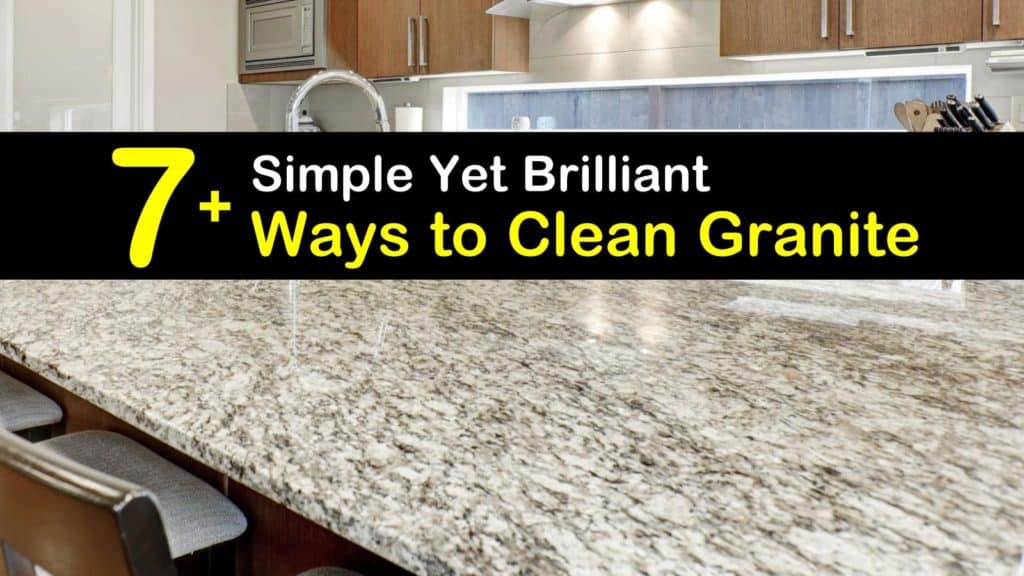 Ways to Clean Granite
The type of cleaner you use to clean granite is the difference between a beautiful, shiny surface and a dull, damaged one. Here are several different ways to clean granite properly for both kitchen countertops and flooring.
Performing Everyday Granite Cleaning and Maintenance
Performing daily and weekly cleaning of granite ensures that it stands the test of time while keeping its natural shine and beauty. Not only that, but it makes deep cleaning easier and more efficient.
Clean away spills and grime as soon as you notice them by wiping them up with paper towels. While granite doesn't stain as quickly as other materials, it still happens with certain liquids such as red wine and coffee.
To clean quartz, granite, or other stone counters and floors, get a microfiber cloth wet with warm water and apply a drop of mild dish detergent to the fabric. Wipe the spot on the counter or floor with the cloth to remove dirty residue. Rinse the rag with cold water and clean up the soapy water.
For cleaning a granite pizza stone, soap and water are usually all you need. However, you can always follow our guidelines below if you have a tough stain that doesn't respond well to a traditional cleaner. Scraping off debris with a plastic scraper works well, too.
How to Clean Granite Countertops with Mild Soap
Harsh cleaning chemicals are unnecessary when it comes to washing granite. Many of these cleaners are harmful to the surface. A mild soapy solution is one of the best ways to clean granite to remove everyday dirt.
To clean granite or for a homemade marble cleaner solution, pour warm water in a bottle sprayer and add the dish soap. Shake the bottle to mix without creating too many suds. Label the container for secure storage and everyday use.
Spray the soapy cleaner over the entire surface of the granite or marble countertop. Use a soft cloth to wipe the granite surface, using a circular motion.
Rinse the cloth under cold water and wring out excess liquid. Use the cloth for rinsing the counter and use a dry microfiber cloth to buff the surface dry.
Granite Cleaning and Disinfecting with Rubbing Alcohol
After cleaning your countertop with a soapy solution, use isopropyl alcohol for granite cleaning and disinfecting. Not only does the solution sanitize the surface, but it brings out the natural shine of granite in the process.
Combine the water and rubbing alcohol in a bottle sprayer and shake well to mix. Label the container for future use and safety purposes. Spray the disinfectant over the granite and allow it to sit for five minutes. Clean the area with a clean microfiber cloth.
Rubbing alcohol can also work as a DIY gravestone cleaning solution. Granite that is kept outside often needs a strong cleaner to remove the grit and grime from the rough surface.
Removing Tough Stains from a Granite Countertop
If you have a stubborn stain on your granite countertop that requires a stronger cleaning solution than soapy water, try using a baking soda poultice to absorb and remove stains. This homemade natural granite cleaner is safe and effective at eliminating many stains from granite, including oil stains and water stains.
Making this homemade hard water stain remover is easy. Pour baking soda into a container or bowl and add hydrogen peroxide, one teaspoon at a time, to the powder. The aim is to make a thick, paste-like poultice. If you have an oil-based stain, substitute water for hydrogen peroxide.
Spread the soda paste evenly over the stain and cover with a sheet of plastic wrap. Apply pressure over the plastic so that it adheres to the paste and secure it in place with a piece of tape.
Allow the plastic wrap to remain in place for at least one day. Remove the tape and plastic wrap from the counter and discard it. Use a soft cloth, wet with cold water, to wipe away the stain soaked baking soda paste. Buff the area dry with a paper towel.
If a little bit of the stain remains, you can repeat the treatment. Don't be tempted to scrub it away as you will damage the surface.
How to Restore Glossy Shine on Granite
Over time, many surfaces get dull from everyday wear and tear, even granite countertops. It's easy to restore surface shine by applying everyday cooking oil. The application also acts as a mild stain resistant.
After cleaning your granite countertop, apply a small amount of cooking oil to a microfiber cloth. Any cooking oil that you have in your kitchen works.
Rub the oily cloth in circular motions across the entire surface of the granite. Use a dry cloth to buff the counter using the same actions to bring out the shine.
Basic Granite Tile Floor Cleaning with Mild Dish Soap
Granite floors are beautiful in their own right. However, if your flooring has tiles, there are a few steps to take to ensure that the grout lines and tiles remain equally clean.
Clean the floor of any sand and dust by sweeping away the debris with a dust mop. For one of the easiest and best homemade cleaners for your granite floor, fill a tub or bucket with warm water and add a few squirts of mild dishwashing detergent. Swish the water to make a soapy solution.
Dunk a microfiber mop into the soapy water and wring as much of the liquid out as possible. Start at the far corner of the flooring and work in sections to clean the granite. Use a soft towel to wipe each section dry, paying particular attention to the grout lines.
How to Remove Stains on a Granite Floor
Stains are common on granite flooring, especially in foyer areas and in the kitchen. Drops of water leave water stains, and spilled liquids are easy to forget. Use a baking soda paste to remove unsightly stains from your granite floor.
Combine just enough water and baking soda in a bowl to form a paste-like substance. Use a soft cloth to apply the paste to the stained area of the floor.
Let it sit for at least half an hour and then use a clean, wet cloth to wipe away the residue. Rinse the towel with clean water and use it to wipe the area once again. Make sure to dry the spot thoroughly with paper towels.
Avoiding Common Mistakes with Granite
Granite is a highly durable and stain-resistant material that leads many to think it is indestructible. However, it does stain and gets damaged when improperly cleaned and maintained. Here are several things to avoid while taking care of granite surfaces.
Mistakes to Avoid
If you have a granite floor, make sure to place floor mats in the entryway to prevent tracking in dirt. To protect granite countertops, always use coasters for drink placement to avoid water stains.
While cleaning granite surfaces, less water is better. Never leave pools of water and always dry the surface after cleaning. Avoid using vinegar or cleaners that contain vinegar to clean granite.
Using this acidic solution regularly causes the granite surface to become dull and lifeless. Do not use harsh cleaners such as Comet or bleach to remove stains from granite. Instead, use a granite cleaner such as Granite Gold, or make a mild solution with soap and water.
Avoid using any abrasive materials on granite. While granite is a lot more durable than a laminate countertop, it can still suffer damage. Abrasives leave tiny scratches on the sealant surface, which causes the granite to appear dull. Do not use steel wool or scrubbing sponges to clean the counter.
Soft, microfiber cloths work just as well when a little bit of elbow grease is applied. Keep sharp objects like knives away from the surface, and always use a cutting board when preparing food. While the granite handles the job of slicing and dicing, those tiny cuts build up over time.
It's important to know what to use and what not to use while cleaning a granite countertop or floor. Using the wrong cleanser dulls the granite surface and damages the sealer. Not only is it easy to remove dirt and stains using simple and mild ingredients such as dish soap and baking soda, but they bring out the natural luster of granite.
We're glad that we could show you how to clean granite surfaces to restore their beauty and shine, and we'd love it if you'd share our granite cleaning tips with your friends and family on Pinterest and Facebook.