Keep your landscaping pristine by learning how to clean moss off retaining walls. Moss is a tiny, non-flowering plant that blossoms in dimly lit, wet environments. Trees, homes, and stone walls are some of the surfaces moss often grows on.
Thanks to moss sprouting on stone walls, your surroundings have a natural, fantasy appearance. However, the moss might stain and destroy your retaining wall if left unchecked. Figuring out how to remove moss from a retaining wall doesn't have to be a challenge. Removing moss as soon as possible is crucial to avoid harming the stone.
Algae and moss frequently grow on external walls and roofs when there is enough moisture. While algae resemble thick slime, moss looks more like grass. Gaining control of the matter and taking back your wall is simple. Removing moss from stone wall surfaces is easier with the help of a potent home remedy.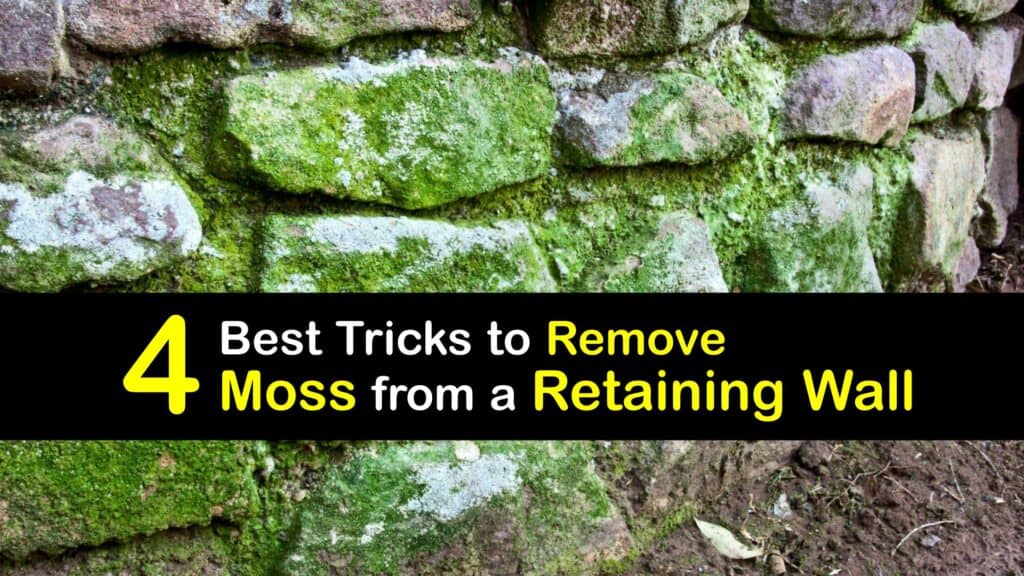 How to Remove Moss From a Retaining Wall
Why is it necessary to know easy ways of getting moss off a concrete wall? Moss grows everywhere in the right circumstances. Moss flourishes as long as there is enough light, moisture, and food because the spores are constantly in the air.
Almost any place, including the roof, lawn, driveway, and retaining walls, can become covered in moss. Explore methods for removing moss from stone wall fronts to keep your retaining walls looking clean and stylish.
What Causes Moss Growth on Retaining Walls?
Moss thrives in moist, shady environments, especially on exterior walls used for landscaping. Unfortunately, moss degrades the structure of a stone or brick wall. Green moss can be ugly and will sometimes stain surfaces permanently. Moss paves the way for algae and mold growth and makes your retaining wall or paver patio look dirty.
Master techniques for cleaning live or dead moss from your walls and paving stones so your yard remains well-kept.
How to Clean Moss off Retaining Walls
Since traditional chlorine bleach is unsafe for outdoor use, rely on oxygen bleach to eradicate stubborn moss from your walls. Oxygen bleach is safe to use in nature as its only byproducts are oxygen and water.
Mix one scoop of oxygen bleach powder into a gallon of clean water and use a stiff scrub brush to remove the moss from the wall. Rinse your wall thoroughly with clean water using your garden hose.
Removing Moss From Stone Wall Surfaces
White vinegar is a natural cleaner that evicts moss from your brick patio or retaining wall. Craft this budget-friendly solution with just two ingredients.
Shake the vinegar and water in the garden sprayer and liberally cover the moss layer. Wait 24 hours, then easily remove it with a scraper or a strong jet of water from the garden hose. If you prefer not to use a DIY technique, purchase a product like Simple Green Outdoor Cleaner to destroy the moss on your wall.
Use Your Pressure Washer to Clean Moss off Brick Walls
One of the simplest ways to get moss off bricks with at home solutions is pressure washing. Pressure washing is not only efficient but also relatively quick. Retaining walls may have taken years to get soiled and filthy, but pressure cleaning makes them look brand new.
Most individuals feel power washing once a year is enough to prevent the accumulation of dirt, filth, mold, or fungus. However, think about pressure washing more frequently if your retaining wall is situated in an area that encourages moss, algae, or mold growth.
Start on low pressure and observe how the moss and the wall beneath react. Increase the pressure as needed to clean mold off cinder block walls without damaging the wall.
Any outdoor location is made beautiful by installing retaining walls. However, as with any construction, dirt, grime, and unsightly materials may start to gather with time; this has several detrimental effects on your retaining walls. Find out how to remove moss from a retaining wall to protect your investment and present your home well.
If you appreciated this informative article on how to clean moss off retaining walls, please share these smart tricks with your friends and family who are struggling with removing moss from stone wall fronts on Pinterest and Facebook.