Did you finally install your dream garage floor, only for it to suffer a stain from one of your projects? Fortunately, there are numerous straightforward hacks for how to clean stains off epoxy floors to help you restore your resin coating. An epoxy resin floor coating is an exciting investment. Whether you installed resin in the garage or the gym, it offers style and easy maintenance paired with convenient nonslip footing.
Epoxy is durable by nature and serves for many years if properly maintained, but discoloration and blemishes on your epoxy take it from looking sleek and stylish to dingy. Find out how to remove stains from a resin floor to keep it looking good.
Though cleaning an epoxy garage floor is uncomplicated, you risk damaging or destroying the floor coating when done improperly. Stay away from caustic cleaners like bleach or vinegar. Follow step-by-step directions to take the guesswork out of epoxy floor stain removal and ensure outstanding results every time.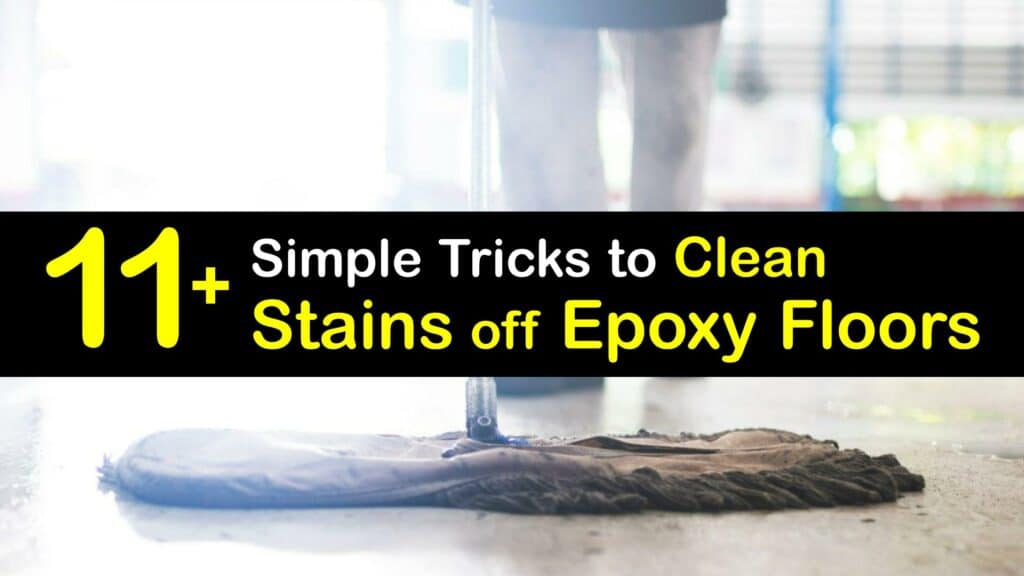 How to Remove Stains From a Resin Floor
When you install a new epoxy floor, finding out how to get paint off the epoxy garage floor is vital. Epoxy resin floors are ideal for many rooms as they protect the base layer beneath, offer nonslip footing, and are readily customized to suit your style.
Thanks to their durability, epoxy floor coatings are popular in garages, opening them up to everything from oil spills to grease smears. Discover epoxy floor care tips to take the headache out of keeping your flooring stain-free.
Explore ideas for cleaning an epoxy garage floor with a broom, warm water, ammonia, Murphy Oil Soap, dish soap, baking soda, and a pressure washer.
What Are Epoxy Floors?
Epoxy flooring is a synthetic resin floor applied on top of concrete substrates for protection or decoration. It's a common choice for industrial buildings and home garages.
The installation technique typically includes coating, troweling, or pouring layers of thermosetting resin over a concrete base. The floor system creates a solid and long-lasting bond after the resin layers fully cure, acting as an impenetrable and aesthetically pleasing barrier to shield the concrete.
Thanks to its excellent mechanical and chemical-resistant qualities, epoxy is a favored garage floor option above plain or polished concrete. A variety of colors, designs, effects, and decorative alternatives may be added to personalize epoxy flooring.
Epoxy flooring can incorporate a nonslip profile by sprinkling sand on the wet body coat as it's applied. Epoxy floors are simple to care for, though using the correct methods is vital.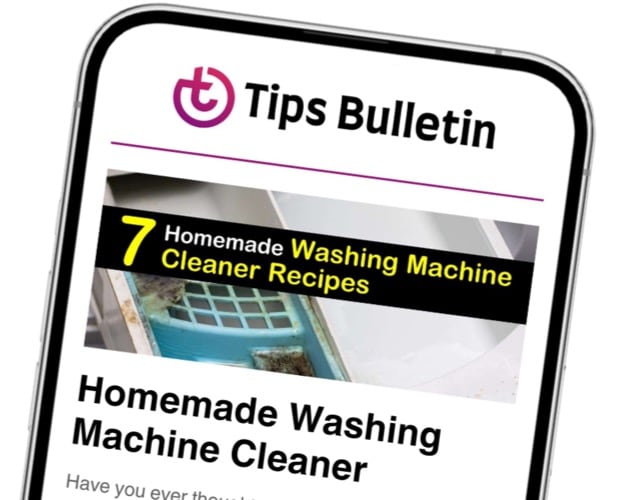 Finally, an email that Transforms Your Home.
Get the latest home and garden tips from our experts, delivered straight to your inbox.
Addressing a Fresh Spill on Epoxy
It's essential to remove any liquid from your epoxy flooring as soon as you notice it, especially chemical spills that could destroy the resin if left in contact with it. Protect yourself by wearing gloves, if required, and use clean, absorbent cloths or paper towels to soak up as much liquid as possible.
Once you've collected most of the spill, rinse the area with warm water, dab it dry, and assess. If remnants remain, use one of the cleaning techniques below to eliminate them safely.
Sweeping Your Epoxy Floor Coating
A vital first step in epoxy floor maintenance is sweeping. Sweep up any dirt and debris to assess the floor and identify areas requiring spot cleaning. If your epoxy floor is not swept often, sand and dirt particles scratch the finish, dulling it.
Choose a medium bristle sweeping brush and start from one side of the room, working toward the other, brushing particles into a pile for accessible collection. Plan to sweep your epoxy floor at least once a week or more frequently if it's prone to debris buildup.
Trust Warm Water to Clean Epoxy Flooring
Sometimes all that's required to clean epoxy coating is warm water. It's prudent to start with this option and work up to more aggressive cleaning techniques if needed. Be sure to sweep your epoxy floor before beginning.
Fill a bucket with warm water, and use a dampened microfiber mop to clean your entire floor. Work from one side of the floor to the other to avoid stepping and leaving footprints in regions you've already cleaned. Allow the floor to dry and review the outcome to decide if your floor is clean or requires additional stain removal.
How to Clean Stains off Epoxy Floors With Ammonia
Ammonia is a popular bathroom and household cleaner, and it's ideal for removing stains from an epoxy garage floor. Most chemicals are too harsh and risk disrupting or dissolving your epoxy coatings; ammonia is excellent for deep cleaning and removing stubborn stains without affecting the epoxy.
Ammonia is sold with cleaning supplies at most stores. Dilute it in water to make your own basement concrete cleaning solution that works on all types of stains.
Measure and transfer the cleaning ammonia and water to the bucket and use the mop to swirl the liquid to blend. Submerge the mop in the ammonia solution, squeeze it out, and mop your epoxy floor, paying particular attention to areas of discoloration.
Murphy Soap for Cleaning an Epoxy Garage Floor
If a bottle of Murphy Oil Soap is lying around your garage, you already have the perfect tool to get water stains off an epoxy floor. Murphy Oil Soap contains mild detergents to break down filth without disturbing the bonds, keeping the epoxy solid and shiny.
Pick up some Murphy Soap at your local auto parts or cleaning supplier. Mix Murphy Oil Soap with water to craft a convenient mopping solution for your epoxy floor.
Add the Murphy Oil Soap and warm water to the bucket, swish to combine, and use this solution to mop your epoxy floor. Be sure your mop head is damp rather than dripping wet so you don't oversaturate the epoxy. Work across your floor, wait for it to dry, and perform a second cleaning if the discoloration is still visible.
Dish Soap to Clean Epoxy Floor
Liquid dish soap is best known for cleaning dirty plates, yet it can also get spots off nonslip resin floors. We know dish soap is tough on tricky stains and works to get out grease stains stuck to concrete flooring. Bring all this cleaning power to your epoxy flooring without harming the finish.
Dish soap contains cleaning detergents and surfactants, which lower the surface tension, making it effortless to wipe off grime. Mix liquid dish soap into hot water for an affordable and convenient epoxy flooring cleaning solution.
Stir the dish soap and hot water in the bucket, submerge your mop, remove excess water, and use it to clean the entire epoxy-coated floor. Leave the epoxy to dry and inspect the results.
If small areas have persistent stains, go back with a microfiber cloth dunked in the soapy water solution and spot-clean with a gentle scrubbing motion.
Spot Cleaning Epoxy With Baking Soda
Baking soda is a catchall cleaner and is particularly famous for removing even the toughest stains. A fantastic remedy for stains on epoxy, baking soda is ideal for homeowners who prefer safe and natural treatments.
Baking soda is food grade and won't injure your pets or children if they come into contact with it. Pick up a box of baking soda in the baking aisle and make erasing stains from your epoxy-coated floor a breeze.
Mix baking soda powder and warm water to craft a cleaning paste. Aim for a stiff and spreadable consistency. If the paste is too thick, add extra water to loosen it; if it's too runny, add baking soda to thicken it up. Use a soft cloth to spread the baking soda floor cleaner on the blemish on your epoxy floor.
Leave the paste to dry for at least an hour, and wipe it with a damp cloth. While baking soda is excellent as a paste, scrubbing with baking soda powder is inappropriate as a slight abrasive combined with the scrubbing could dull your epoxy.
Pressure Wash Your Epoxy Garage Floor Coating
If you don't have much time to get marks out of resin flooring, your pressure washer helps. Power washers or pressure washers remove stubborn stains using high-powered water jets to blast the dirt particles.
Be sure to sweep your floor before you begin to prevent accidental scratching. Open your garage door and have a broom handy to sweep out water as you work, or a wet dry shop vac is another valuable option for clearing the water as you're cleaning.
Start on the lowest pressure setting with a broad nozzle and keep the end of the hose at least six inches away from the epoxy floor. Direct the pressurized water to the stain and move slowly back and forth over it to clear it. Sweep the water outside or clean it with your shop vac and leave the floor dry.
Commercial Cleaning Products for Epoxy
If you prefer a store-bought cleaning product to tackle a tough stain on your epoxy, many are available. Visit your neighborhood hardware store and check out the epoxy cleaners. Look for a product appropriate for the type of stain you're trying to treat, whether a rust stain, oil stain, or general grime.
Always review the manufacturer's instructions carefully to ensure the best outcome. Note and follow the safety guidelines while using the product to protect yourself. Commercial cleaners contain toxic substances and require careful handling.
Chemicals to Avoid on Epoxy Resin
Epoxy floors are hard-wearing and durable, yet certain cleaners soften and even dissolve hardened epoxy. Harsh chemical cleaners like bleach disrupt the epoxy bonds and degrade the floor. Similarly, the acidity in cleaning vinegar is unsuitable for resin surfaces.
Another popular cleaner to forgo is lemon juice or anything with a citrus base. The citric acid in a citrus cleaner breaks down the epoxy, leading to discoloration or dissolution. Some soap cleaners are unsuitable despite dish soap and Murphy Oil Soap being safe for epoxy.
Several detergents are too harsh and affect the resin set, while others leave the floor slippery even after drying. If you prefer a soapy cleaner, stick to those recommended to avoid unwanted effects.
Precautions for Cleaning Epoxy Floors
Epoxy floors become scuffed and dulled through abrasion. This can happen from grit and sand particles moving back and forth over the floor or improper cleaning. Stay away from harsh scrubbing brushes, scouring, pads, and anything that risks disrupting the epoxy surface.
Always clean with soft cloths and mops to remove residue gently without slicing into the resin. If your epoxy-coated flooring is in the garage, consider using pads and coverings to protect it from concentrated weight or potential spills.
Prevention and being proactive in the care of your floor cut down the time you spend cleaning and keep it looking appealing for longer.
Did this article help you understand how to remove stains from a resin floor? An epoxy floor is a fantastic investment for the garage or any space. Epoxy is easy to install, comes in different colors and styles, and is durable when correctly cared for.
Use trusted epoxy cleaning hacks to save yourself the hassle of accidentally dissolving your floor coating with improper cleaning techniques. Sweep off your epoxy floor regularly and remove stains as you find them to ensure your floor coating lasts for years.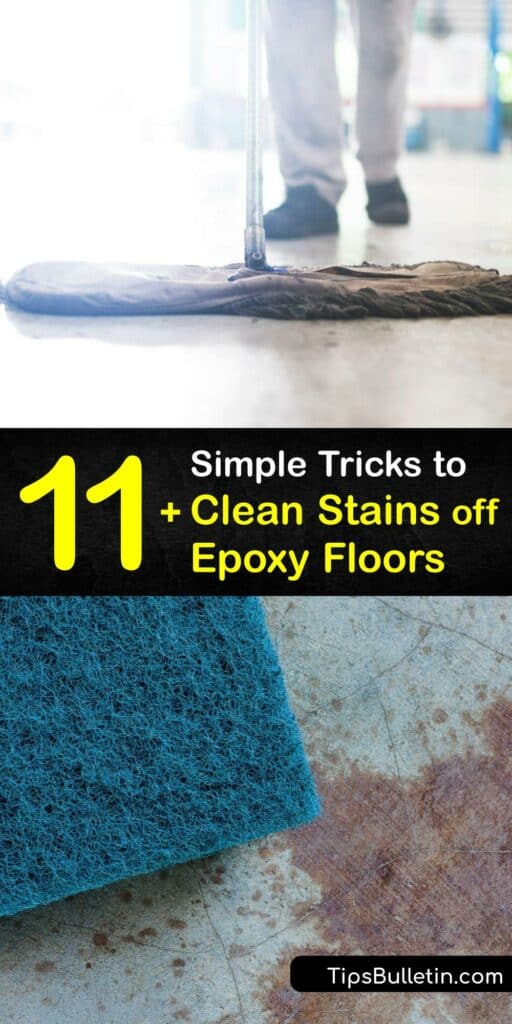 If you loved this informative article about how to clean stains off epoxy floors, please share it with your friends and family who are cleaning an epoxy garage floor on Pinterest and Facebook.