There are many reasons for a soggy pair of tennis shoes, whether it's from running through a rainstorm, accidentally stepping into a puddle, digging your car out of a snowy driveway, or cleaning them in the washing machine. Whatever the reason, it's essential to dry out your wet running shoes before wearing them again. Discover tips for cleaning your shoes and how to dry sneakers overnight or quickly if you need them in a hurry.
There is nothing more uncomfortable than wearing a pair of wet shoes. The insoles squish as you walk, and the excess moisture seeps into your socks and between your toes.
While it seems that removing your shoes and letting them sit overnight is enough to get them dry, they are often still wet in the morning. Leaving your shoes damp causes mildew growth, shoe odor and is a great way to ruin the fabric and other shoe material.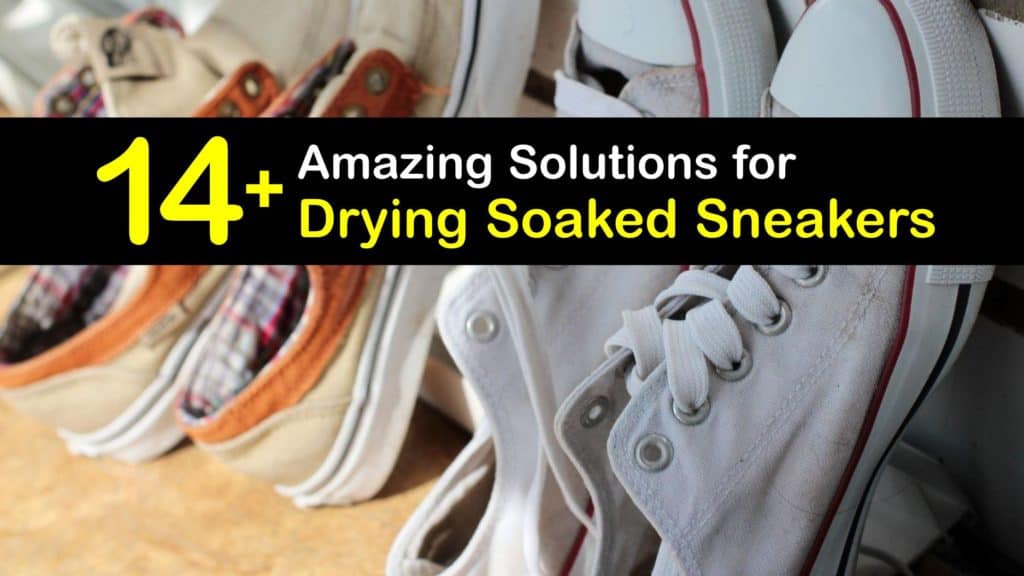 Ways to Clean and Dry All Types of Shoes
Luckily, there are several ways to quickly and safely clean and dry shoes, whether canvas sneakers, suede shoes, or leather shoes.
Your running shoes or suede sneakers experience a lot of wear and tear, especially if you wear them every day. Learn how to clean sneakers to remove excess dirt and stubborn stains and ways to dry them back to their original shape.
Understanding Shoe Material before Washing and Drying
While we often think of canvas as the typical shoe fabric, there are many other types, including suede and leather. It's a good idea to understand your shoe's material before washing and drying to prevent damage.
There are five primary shoe materials – synthetics, textiles, leather or suede, rubber, and foam. Synthetics have two layers of man-made materials and are inexpensive and less durable than natural materials.
Textiles include cotton, polyester, wool, and nylon, and their physical properties vary depending on the type.
Leather and suede are natural, flexible, and durable materials that conform to the feet and are a popular choice for shoes.
Rubber is commonly used to make the rubber sole, especially in sports shoes, running shoes, and tennis shoes. Foam is a popular material that provides support in the uppers of all types of footwear.
Cleaning Shoes before Drying
We always recommend cleaning the shoes before tossing them into the dryer or using another drying method, especially white shoes. Otherwise, you risk the chance of setting in stains, giving the sneakers an unattractive appearance.
Often, the best way to wash black suede sneakers or those made from other delicate materials is by hand. Suede and leather are usually damaged when soaked in water.
Set the washing machine to the delicate cycle with a cold water setting. Remove the laces from your shoes and place the shoes and laces in a mesh garment bag.
Set the bag and some towels in the machine to balance the load in the washer and add your favorite laundry detergent. After washing the shoes, remove them and dry them with your preferred drying method.
There are people who believe that washing sneakers in dishwasher is okay, too. Use your judgment – temperatures in the dishwasher can get quite hot, which may damage some shoe types.
Drying Sneakers in the Dryer
Drying sneakers in the dryer is the quickest and easiest way to get them dry. However, check your shoe material beforehand to ensure it is safe for this method.
Check the care tag in your shoes. If you see an X, they are not safe for drying in a clothes dryer. However, a circle in a square indicates they are fine for drying on low heat.
Tie your shoe's laces together and close the dryer door with the top of the laces hanging outside the machine. Doing this keeps the shoes from tumbling about inside while drying.
Set the dryer to air-dry to prevent your sneakers from shrinking and dry them at 20-minute intervals until they are dry.
How to Dry Sneakers Quickly with a Fan
If you'd prefer not to dry your sneakers in the clothes dryer for fear that they may shrink, regular household fans are a great alternative. Here is how to dry sneakers quickly by using fans.
Place the wet sneakers on sheets of newspaper to absorb water, loosen the laces, and pull open the shoes.
Set a portable fan on the floor in front of the sneakers and turn the switch on high. Rotate your shoes in different directions as they dry to ensure air gets to all areas.
How to Dry Sneakers with Towels
If you don't have fans, bath towels are ideal for drying wet sneakers to absorb excess moisture and speed up drying.
While this technique takes a bit longer to get your shoes dry, it's a good option if you don't plan on wearing them right away.
It's helpful to use towels of all sizes, from small to large. Spread a large towel out on the floor and set your shoes on top.
Loosen the laces, push small hand towels inside your shoes to soak up moisture, and pat down the outsides of each shoe with another dry towel. Repeat with dry towels until the shoes are no longer wet, and then let them air dry.
Using Newspapers to Dry Shoes
While drying sneakers in the dryer is the fastest way to get shoes dry, this is not safe for all footwear. Newspapers work wonders for absorbing moisture from your shoes while holding their shape as they dry.
Take some old newspapers, rip them into smaller pieces, and scrunch them into balls.
To dry tennis shoes, loosen the laces of your shoes, remove the rubber insole from each one, and shove the balled-up newspaper inside. Set the shoes in a dry place overnight while the paper absorbs the moisture.
How to Dry Shoes with Rice
You've probably heard about placing a wet phone in a bowl of rice to soak up moisture and prevent damage to electronics.
This hack also works for drying your athletic shoes or white sneakers. Here is how to dry sneakers quickly with bags of rice.
Pour some uncooked rice into the bottom of a box and set your shoes inside. Pour the remaining rice over the top of your footwear to cover them, close the lid, and wait a couple of hours for the rice to soak up the water.
Drying Your Shoes in the Refrigerator
Your refrigerator does more than keep your food fresh. It's also a way to dry wet sneakers made of fabric or canvas. The fridge vent pushes cool air through the material for fast and effective drying.
Take the insoles out of your sneakers and loosen the laces. Position each shoe in the refrigerator with the shoe opening facing the vent. Let them sit overnight to dry and check them in the morning.
How to Dry Leather and Suede Shoes
What works to dry canvas is not always safe to dry other shoe fabrics like leather or suede. These natural materials are damaged with excessive heat, and it's crucial to dry them differently.
After you follow the best way to clean suede sneakers at home, you need to know how to dry them. To dry leather shoes, remove the laces and insoles and use a soft towel to wipe down the exterior and interior of each shoe. Elevate them on a shoe rack or by leaning them up on a wall to enable them to breathe as they dry.
If they are extra wet, consider stuffing the insides with newspaper to suck up water.
Drying suede shoes is a little different because of the nap. After blotting the shoes with a towel, use a soft-bristled brush to brush the nap back and forth while it's still damp.
Use a hairdryer on low while brushing to speed the drying process.
Things to Know about Drying Shoes in the Clothes Dryer
There is often confusion about whether or not you can put Vans® in the dryer. Many people say that the dryer might shrink your shoes or destroy the soles.
Fortunately, your dryer is a great place to dry sneakers if you have a high-quality dryer. However, there are things to know beforehand to ensure your footwear gets dry safely.
The most important thing about drying shoes is that not all shoe types are safe for the dryer. A clothing dryer damages and shrinks leather and suede, and these types require manual drying techniques.
Always remove the lint from the lint tray before drying your shoes to encourage air circulation.
To prevent stretching and shrinking, stuff small rags and towels into each shoe before drying them. Doing this also absorbs moisture and speeds up the drying process.
When drying canvas and fabric shoes in the dryer, use a low heat or air dry setting to prevent the rubber from overheating and place large towels in the drum to speed up the drying time.
Using Sunshine to Dry Your Shoes
There is nothing quite like a warm and sunny day. The sun provides vitamin D, helps your plants grow, and warms your skin – it also dries your white shoes.
Not only is the sun excellent for drying your sneakers, but the rays kill odor-causing bacteria and germs.
Spread a towel on a flat area in the sunshine and set your shoes on top. Loosen the laces and open up the top to expose the inside to air and sunlight. This method works perfectly to dry white shoes.
However, the sun causes fading over time, so check your shoes often and turn them in different directions if you dry colored shoes, and do not perform this technique with leather or suede shoes.
How to Hand Clean and Dry Shoes
If you're unsure of the material of your shoes, or you'd rather not risk washing them in the washing machine and drying them in the dryer, your best bet is to take care of them by hand.
Here is how to deodorize, spot clean, deep clean, and dry your shoes using basic steps.
If you have smelly sneakers but they are otherwise clean, sprinkle baking soda inside them and let them sit overnight while the powder absorbs the odor.
To remove salt stains and other stain types, get a rag wet with warm water and apply a small dab of liquid detergent to the cloth. Rub the stain with a circular motion and wipe it clean with water.
If your entire shoes need a good washing, fill a sink with warm water, add some mild detergent or Oxiclean and soak your shoes in the soapy water.
Use a brush to clean away the stains and dirt, rinse them with fresh water, and air dry them on a towel or drying rack.
Shrinking Leather Shoes after They Get Wet
Leather tends to stretch after getting wet, especially if you're wearing them at the time. Fortunately, this material is relatively simple to shrink back to its original size using a little heat.
Dampen a washcloth with water and rub the outside of your leather shoes to get them damp but not wet, focusing on the areas that require shrinking.
Set a hairdryer on the lowest heat setting, hold it six inches away from your shoes as you dry them, and use a back and forth motion to avoid burning the leather.
Do Canvas Shoes Shrink When Wet?
While leather often stretches when wet, canvas materials tend to shrink, which causes problems if your once comfortable shoes are now too snug on your feet. Here is how to stretch canvas sneakers back to their original shape and size.
A shoe tree is not needed to stretch out canvas shoes. If your shoes have no metal pieces, place them in the microwave for no more than 30-seconds and then put them on to stretch the material.
Walk around for a minute or two to test if the stretching is adequate and repeat the steps if necessary.
If your shoes contain metal, put on a thick pair of thick socks and your shoes and aim a hairdryer at them for about half a minute to soften and loosen the canvas to stretch sneakers lengthwise and side to side.
Tips for Helping Shoes Dry Faster
While there are times when getting your sneakers wet is unavoidable, there are steps you can take to shorten the drying time and ensure your shoes are ready to wear the next time you go out.
If your sneakers get wet, take them off as soon as you get home to prevent them from stretching. Blot the outsides with paper towels to remove moisture and place a small towel inside each shoe if necessary until they dry.
A shoe dryer is a handy tool to have at home since it dries shoes quicker than air-drying. It's the best way to dry boots fast, as well as other types of shoes.
It uses thermal convection to dry your footwear by pulling room temperature air through vents, warming it, and then circulating it up through your shoes or boots.
If you've ever left your sneakers sitting in a pile of shoes after washing them or accidentally getting them wet, then you probably already know it's a bad idea.
Without proper air circulation, the damp shoes refuse to dry and even begin to stink with mildew growth. Luckily, there are many simple steps to take to ensure your wet footwear dries quickly.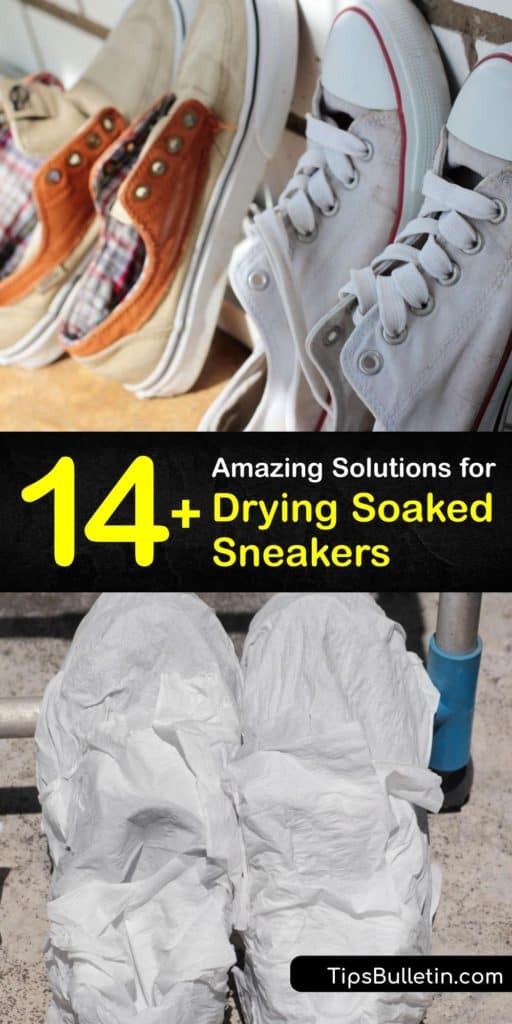 Now that you know how to dry sneakers after cleaning them, why not share our shoe cleaning and drying tips with your circle of friends and family on Pinterest and Facebook?