Nobody likes a smelly shoe. Whether you're struggling with mildew smell or a sweat odor, learn how to get smell out of sneakers with these easy-to-follow methods. Every day we sweat in our shoes, often going many hours with them on our feet while moisture accumulates.
Odor causing bacteria from a sweaty foot build up over time and creates a severe odor issue which clings to shoe insoles and is tough to remove.
Nobody likes smelly feet, whether you struggle with an unpleasant sweat odor or a generally foul smell. Foot odor is a problem that affects many types of shoes and strikes when you're wearing socks and when you're not.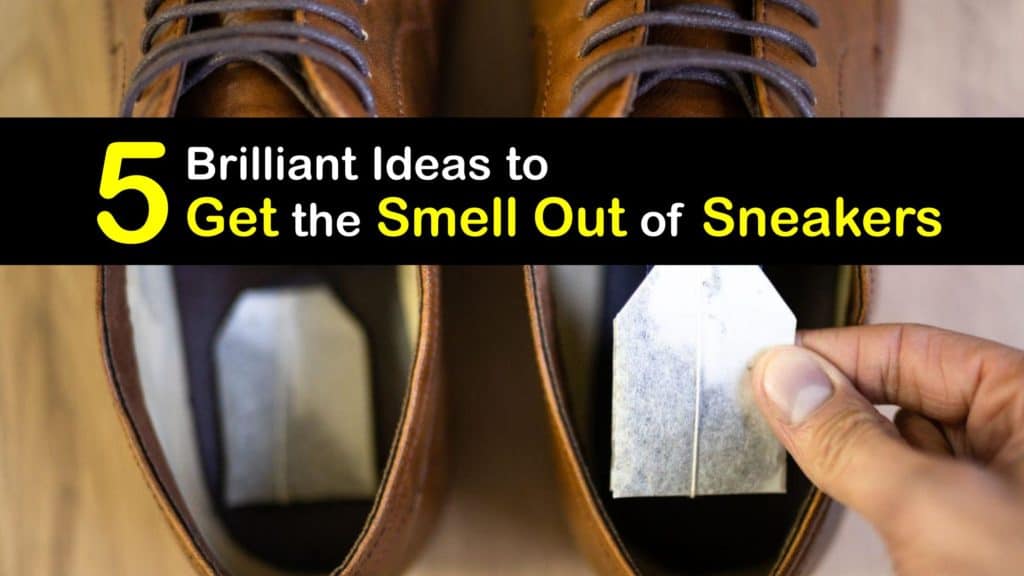 How to Clean Stinky Sneakers
Like a leather shoe, certain material types have their own set of challenges as they're more likely to make your feet sweat and give off an unpleasant odor.
If your athletic shoes are the issue, or you have stinky shoes for work, quickly remove the foul smell using items you likely already have at home.
The chances are if you have smelly shoes, you already have everything you need to clean them at home. While you can clean sneakers with dish soap to remove dirt and stains, it doesn't help much with odors inside your shoes.
Smelly feet are inconvenient and embarrassing. Consider a foot soak and consult the list below for details on how to clean stinky sneakers using products you probably have on hand.
There are many ways to salvage shoes that smell, have stains, or have become too small to wear. Stretching sneakers is just as easy as eliminating odors and both only take a little time.
How to Deodorize Sneakers With Baking Soda
Baking soda is well known for its versatile cleaning properties – learn how to get bad smell out of sneakers with baking soda or for the way to clean smelly work boots.
To remove foot odor from shoes, sprinkle some baking soda inside your smelly shoes, covering the insoles as evenly as possible, and leave it overnight. Shake the powder out into a plastic bag or onto newspaper in the morning, and your shoes are ready.
If you need to put Vans in the washer anyway, add some baking soda to the water and let the shoes soak for about a half hour or so before starting the cycle. This may be enough to clean and deodorize your shoes at the same time.
Baking soda absorbs the bad smell created by bacteria to leave shoes fresh; use it to craft homemade sneaker balls.
Cut the toes off the old socks, add two tablespoons of baking soda to each, and glue them closed. Use these handy DIY baking soda sneaker balls to toss into your smelly shoes overnight instead of worrying about sprinkling the powder.
You may also find that baking soda can remove squeak from shoes. Sprinkle a little inside your shoes and sift it around. It may be just enough to work.
Homemade White Vinegar Shoe Odor Cleaner
Use household items to clean shoes or get rid of unpleasant smells. Look in the pantry and learn how to deodorize sneakers by creating this super effective mixture which removes the stinky foot smell from a tennis shoe and many other kinds of shoes.
For this natural odor eliminator for shoes, add the ingredients, shake the spray bottle well and mist the solution over the inside of the shoes, including the shoe insoles. Avoid getting the deodorizer on the outer part of the shoes.
Once all inside surfaces are fully covered, take a clean cloth or cotton ball and wipe them down, then leave to air dry. This is a great way to remove the smell from shoes instantly or a way to clean stinky boots if they have a particularly bad odor.
How to Get Bad Smell Out of Sneakers With a Tea Bag
If you're wondering how to deodorize sneakers, look no further than the kitchen. A black tea bag is a powerful tool to get rid of odours and restore your smelly shoes to cleanliness.
Each black tea bag contains powerful tannins, which kill bacteria and remove the bad odour from your shoes, whether you are getting smoke smell out of leather shoes or have a moldy odor that needs elimination.
Submerge the tea bag in boiling water for 2-3 minutes, then remove it and let it cool. Squeeze out some liquid and place the tea bag inside your smelly shoe for about an hour to naturally deodorize.
Once you remove the tea bag, use a paper towel or cotton ball to clean up any excess liquid and leave your shoes to dry.
How to Clean Stinky Sneakers With a Dryer Sheet
Dryer sheets are something most of us have on hand that will combat foul odor fast when struggling with stinky shoes. Learn how to get smell out of sneakers with just a trip to the laundry room.
Place one dryer sheet inside your smelly sneakers and leave them overnight. The dryer sheet acts as a shoe deodorizer and neutralizes foot odor and mildew smell; remember to throw the dryer sheet away before wearing your sneakers.
Use a dryer sheet in other places where odor collects, such as the gym bag where you store your athletic shoes. When you close up your bag, throw a dryer sheet inside and let it remove bad smells with zero effort.
How to Get Smell Out of Sneakers With Cat Litter
Kitty litter absorbs moisture and odor – two things you need to remove from your tennis shoe. Kitty litter removes the moisture that odor causing bacteria need to thrive while acting as a shoe deodorizer and leaving your smelly shoe fresh.
Line the inside of your shoes with cat litter, being sure to cover the insoles. Leave the kitty litter overnight, empty it into the trash, wipe down your boots with a slightly damp cloth, and enjoy smell-free sneakers.
Other Ways to Remove Shoe Odor
Other methods to tackle foul odor in your shoes include specially designed foot powder or baby powder. Foot powders soak up moisture, so bacteria have a more challenging time living in your tennis shoe.
Sneaker balls act as a shoe deodorizer. Insert these fragrant plastic balls into your smelly sneakers and let them take care of the foul odor.
Wipe rubbing alcohol on your shoes to kill moisture-loving bacteria and quickly remove foul odor. Rubbing alcohol is one of the best ways to get mildew smell out of shoes. You can use it on any type of fabric to eliminate any bad smells or mold left over from moisture.
If you need to store your shoes, choose a plastic bag with a vacuum seal. This storage method keeps your sneakers airtight, stopping odor causing bacteria from invading and creating a bad smell.
Sweaty foot smell or mildew smell ruins your favorite tennis shoe or leather shoe. Understanding that foot smell is due to odor causing bacteria that thrive in moisture makes it easy to know how to wash smelly sneakers.
Choose a simple method based on items you have at home and how much time you want to spend, and take care of shoe odor with ease.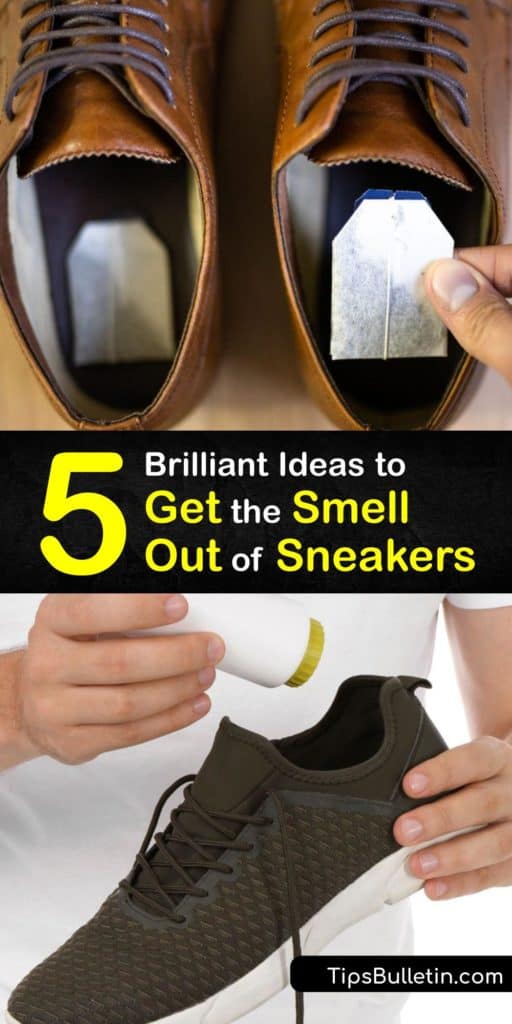 If this article about how to get smell out of sneakers was helpful, please share these handy tips about how to wash smelly sneakers with your friends on Facebook and Pinterest today.