Winter squash, like acorn, delicata, butternut, and spaghetti squash, lasts for months when stored in a cool and dry place. Sometimes, however, it is helpful to extend the shelf life even more by putting these foods in the freezer. Learning how to freeze butternut squash is something you can apply to dozens of other winter veggies.
There are many varieties of squash, but freezing butternut squash is a great place to start because it is a shining example of winter veggies.
Can you freeze butternut squash? Is there another way to store these foods? You don't realize how many different ways there are to freeze all sorts of foods.
Butternut squash is especially versatile, and many recipes keep well for over six months or up to a year. Browse through these unique and flavorful methods to freeze butternut squash without sacrificing the color or flavor.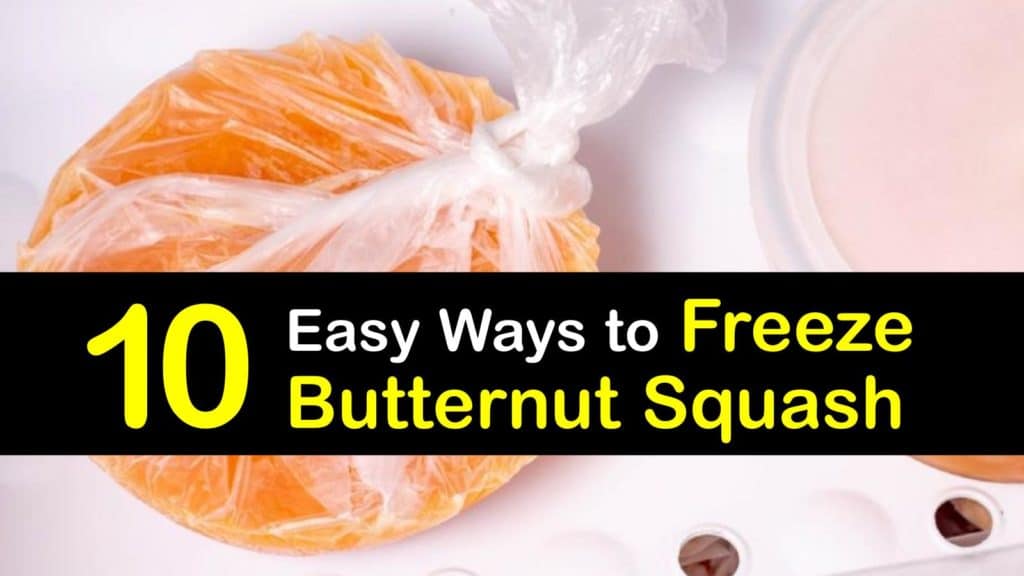 Can You Freeze Butternut Squash? What to Know before Starting
Preserving garden vegetables that you worked so hard to grow isn't difficult. However, finding the best way to freeze butternut squash isn't recommended before you learn a little bit more about what makes this ingredient so special. Butternut squash is called Cucurbita moschata and has a sweet and nutty flavor.
These fruits grow on the vine. Grow butternut squash from seed or seedlings. The fruits are tannish-yellow in color and are orange on the inside. Butternut squash is rich in fiber, potassium, magnesium, and vitamins A and C.
Even though squash is technically a fruit, we often use it like we would vegetables. We have to break down the tough interior by roasting, sautéing, or boiling it.
It works well in both sweet and savory dishes, and the sky is the limit when it comes to culinary creativity with this ingredient.
Butternut squash has an odd shape, and they are either small or medium in size. All species of this squash are native to southern and central America.
These squashes were used all over North America before they ever made their way to European countries. Today, people worldwide love devouring this fruit, and many people ask, can I freeze butternut squash?
Can You Freeze Butternut Squash?
What about summer squash? Can you freeze summer squash and can you freeze zucchini squash? It is possible to freeze butternut squash and summer squash. The freezer is also where to store spaghetti squash to preserve it for a while.
It is one of the best storage methods despite them lasting for several months on their own. Food preservation is sometimes tricky, but this is a beautiful ingredient to start learning with.
How to Freeze Butternut Squash
One of the simplest strategies for freezing butternut squash is to cut up raw squash pieces and put them right into the freezer. Start by peeling the thick rind with a vegetable peeler and scoop out the inner seeds. Cut the flesh into one-inch chunks.
Spread the cut butternut squash pieces in a single layer on a baking sheet and set it in the freezer overnight.
Remove the baking dish and dump the frozen butternut squash chunks into an airtight container or some freezer bags. Label the container and set it in the freezer. This method is probably the best way to freeze raw veggies.
Freezing Butternut Squash that is Cooked
Another super simple way to freeze this winter squash is to cook it beforehand. Peel away the rind, scoop out the seeds, and cut the fruit into chunks using a sharp knife and cutting board. Either blanch the squash cubes or roast them in the oven.
Blanching in boiling water will not completely cook the squash while roasting will. If you plan to roast them, ensure they are tender all the way through before lining them on a large baking tray and freezing them. Dump the frozen pieces into a freezer-safe container. How long does butternut squash last in the freezer? Store them for up to six months.
Freezing Butternut Squash Puree
This is an excellent butternut squash recipe for making pureed squash. Use it to make pumpkin puree or sweet potato puree, too. After it is cooked, try thawing the squash and using it in soups, stew, pies, or casseroles.
Heat the oven 375°F. Grab a large, clean knife and slice the squash in half lengthwise. Scoop out the fruit seeds and stringy contents with a spoon and discard them. Set the squash cut-side up and brush it with olive oil.
Sprinkle on a bit of salt, pepper, and brown sugar to your liking. Roast the halves for 45 minutes until tender. Remove the roasted butternut fruit from the oven and scoop the tender flesh out of the skin and into a blender or food processor.
Blend until smooth. Pour the fresh puree into ice cube trays to make squash cubes or into airtight containers. Use this puree in your favorite recipe with frozen butternut squash, like soup.
Freezing Butternut Squash Soup
Instead of pulling out a bunch of pots and pans, keep prep simple by turning your squash into a soup and freezing individual servings for a quick, tasty, and easy-to-make meal.
Add butternut squash chunks, onion, carrot, thyme, garlic, and sage to a slow cooker. Pour the chicken broth over the veggies and season everything with salt, pepper, and a small pinch of cayenne pepper.
Cook the veggies on low for about eight hours before removing the sage and thyme sprigs. Use a sharp immersion blender to create a smooth texture.
Either serve fresh or freeze and start thawing the soup in a warm pot when you're ready. When serving the soup, stir in a small amount of heavy cream and garnish everything with freshly chopped parsley.
Turning Squash into a Scramble
You can also create a scramble of frozen veggies that you can easily throw in a pot and turn into a stir fry. Cut up a bunch of squash, zucchini, sweet potato, broccoli, peppers, and other veggies before freezing them on a baking sheet.
Once frozen, dump everything into a large plastic bag and set it back in the freezer. When you're ready, pour the veggies back onto a baking sheet and roast them with some olive oil, kosher salt, and pepper until everything is tender and starts to brown.
How to Refrigerate Butternut Squash
The refrigerator isn't an ideal place for whole squash. They keep much longer when they are in a cool, dry, and dark place. However, if you have already peeled and cut your squash, make sure to store them tightly covered in your fridge for about five days.
Canning Butternut Squash
Canning is a food preservation method that has been around for nearly 200 years. The process usually involves blanching your veggies before sealing them in a jar with a pressure canner.
Butternut squash isn't the most popular canning choice, but it is still possible. Wash and peel and entire squash before cutting it into cubes. Blanch the squash pieces in boiling water for two minutes and then dunk them into an ice bath.
Pack the squash pieces into sterilized pint or quart canning jars. Leave roughly one inch of headspace at the top of each jar. Top off the squash with clean, boiling water. Wipe the rims clean on the jars before replacing the lids and seals.
Process the canning jars at ten pounds of pressure for 90 minutes. Lift the hot jars from the canner and let them sit on the counter for 24 hours. Check that all jars have been sealed before removing the rims and storing them in a dark place.
Turn Squash into Bread
Placing bread in the freezer is an excellent storage method. You can extend the life of your squash by turning it into a tasty treat before freezing it. Here is another delicious recipe for when you learn how to freeze butternut squash.
Heat your oven to 350°F and grease a loaf pan. Puree eggs, water, oil, and sugars in a large bowl. In another baking bowl, whisk the flour, salt, cinnamon, nutmeg, cardamom, and baking soda. Stir the dry ingredients into the wet ones without overmixing them.
Pour the butternut batter into the greased pan and bake it for 55 minutes or until you stick a clean fork in the center and it comes out without batter. Allow the loaf to cool before wrapping it in plastic wrap and aluminum foil and setting it in the freezer.
Turning Squash into Pie Filling
Many people use squash to turn into pies. We love the idea of prepping the filling ahead of time and storing it in the freezer until you are ready to spend some time baking. Mix the squash with pumpkin puree for a unique combination and tasty dessert.
How to Thaw Frozen Butternut Squash
There will come an exciting time when you feel ready to use your frozen foods, and you have to thaw them. Remove the frozen squash from your freezer and place it in your fridge until it is soft.
Butternut squash is a versatile crop that many of us wish we could be more creative with. Can you freeze butternut squash?
Freezing is the perfect storage option for setting aside your harvest and using it at another time. It allows you to take a pause in life and think about your cooking plans before it spoils.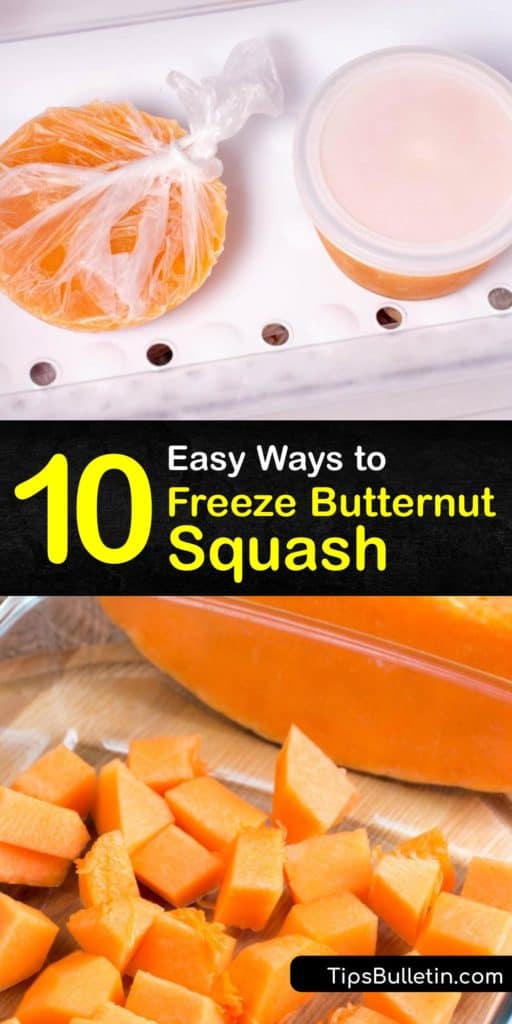 If learning how to freeze butternut squash has eliminated a lot of your food waste, share these tips on freezing butternut squash on Facebook and Pinterest.