If you enjoy garlic as much as we do, then you probably keep an abundance of garlic on hand at all times. Unfortunately, peeled garlic cloves only last for a few days in the refrigerator. We'll show you how to freeze garlic so that you'll have ready-to-go garlic whenever you need it.
Garlic has very few calories and is highly nutritious. It also has many health benefits through its medicinal properties. You can use garlic in salad dressings, sauces, soup, stew, and the list goes on.
The downside to garlic is that it doesn't have a very long shelf life after you peel it. Spoiled garlic in oil has been known to contain a botulism toxin, clostridium botulinum, and can cause botulism, a form of food poisoning. Therefore, you must store garlic properly.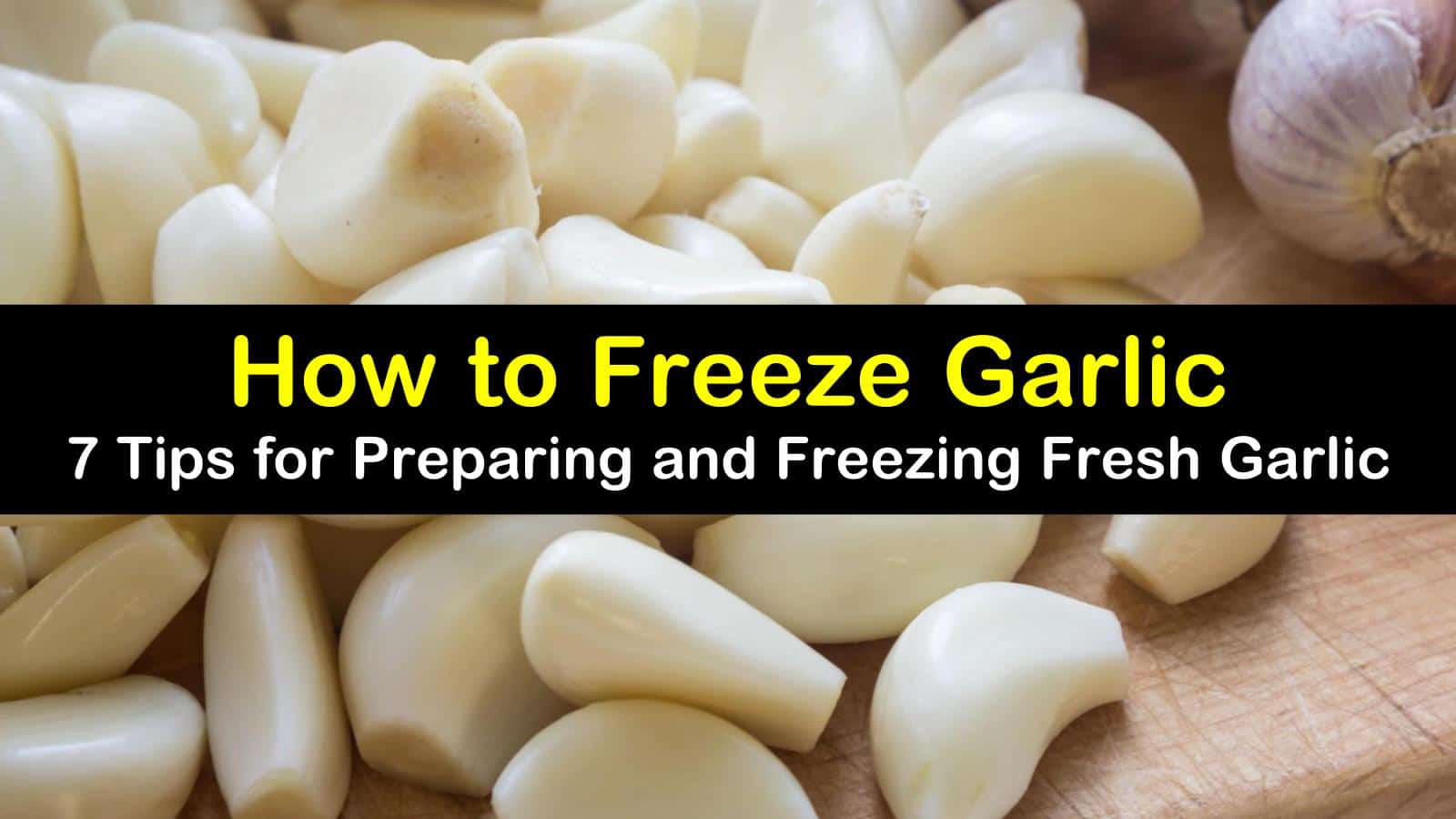 Clever Tips for Freezing Garlic
Preserving garlic is a great way to keep it until you need it. After peeling garlic, it has a shorter shelf life. How long do garlic bulbs last? A whole unpeeled garlic bulb may last up to six months while a peeled clove may only last a couple of weeks.
If you use garlic regularly, then you probably have peeled cloves and chopped garlic in a Mason jar sitting in your fridge that you should consider freezing instead. Freezing is an excellent way for how to store garlic until you need it for your next main dish or side dish recipe.
Choosing the Right Garlic for Freezing
Before you learn how to preserve garlic in the freezer, you need to be sure that it is still fresh and not spoiled. This same rule applies to freezing cucumbers, tomatoes, and all fruits and vegetables.
Only the freshest produce should be preserved to obtain delicious results later. No one wants mediocre garlic of questionable quality for that special recipe.
Garlic Freshness
Fresh garlic that has begun to spoil will develop brown spots and start to yellow. They may also start to grow green sprouts from the center of the clove. Raw garlic has a very distinct scent.
Upon smelling the garlic, you may notice that it has either lost its scent or now has a sour odor. This smell is a sign that it may be spoiled. Garlic cloves should be firm when you touch them. If you notice that the cove is soft or mushy, then you need to toss it in the garbage.
Freeze Garlic Bulbs
Whole garlic bulbs last around four months when stored at room temperature in the pantry. After peeling garlic, however, that time is significantly reduced.
Freezing garlic ensures that they are fresh and ready when you need them. You can freeze garlic cloves, peeled or unpeeled, and they last up to a year in the freezer.
If you are freezing fresh mozzarella, have canned your own tomato sauce, and have frozen garlic on-hand, you are well on your way to having the ingredients for a fresh, delicious homemade pizza.
Wipe away any dirt from the garlic bulbs. Place them into a freezer bag, write the date of storage, and place it in the freezer. Whenever you need some garlic, open the bag, pull out a bulb, and reseal and pop the bag back into the freezer.
Can You Freeze Peeled Garlic Cloves?
The expiration clock begins ticking faster after you peel garlic. Can you freeze peeled garlic? Yes, you can, and it's reasonably easy to do.
Begin by breaking the cloves away from the garlic bulb. Peel each clove and lay them on a sheet of aluminum foil or plastic wrap. Wrap and secure the foil around the whole cloves. Write the name and date on the front, and place in the freezer.
Smart Way to Freeze Chopped Garlic
Having chopped and frozen garlic in the freezer brings you one step closer to easy meal prep. It also keeps your hands free of that garlic smell each time you cook.
Start by pulling the cloves away from the bulb and peel each garlic clove. Use a chef's knife to chop or slice each clove into desirable pieces. Place the chopped garlic into a freezer bag, write the date and contents on the front, and place it in the freezer.
Freezing a Garlic and Oil Puree
An alternative way to freeze fresh garlic for use in your favorite recipes is to make an oil garlic puree. This form of garlic must be frozen immediately to prevent possible food poisoning.
Separate the cloves from the bulb and peel each garlic clove. Place the cloves into a blender or food processor and add olive oil. Add two parts oil to one part garlic.
Blend the two ingredients and pour the puree into an airtight container. Make sure to write the contents and date on the plastic containers.
Making and Freezing Garlic Paste
Garlic paste is similar to garlic puree but with a twist. You use less oil when making a garlic paste, and end up with frozen garlic cubes that you can conveniently add to a favorite meal.
Separate the cloves from the whole head of each garlic bulb. Peel each clove and put it into a blender. Add the oil and blend until it reaches a pasty texture.
Scoop one teaspoon of paste into each compartment of the ice cube tray and place it in the freezer. Store the frozen garlic cubes in a freezer bag, label with the date and name, and put back into the freezer.
If you do not have an ice cube tray, you can spread the paste onto a parchment-lined baking sheet and freeze. Use a spoon to scoop out frozen balls of garlic and then store it in a freezer bag.
How to Use Frozen Garlic
There are countless ways to use frozen garlic. This recipe calls for mushrooms and garlic and makes an excellent sauce for steaks, chicken, and pork. If you are wondering, can mushrooms be frozen? Yes, just like garlic, you can also freeze mushrooms.
Rinse and cut the mushrooms into half-inch slices. Heat the oil and butter in a skillet over medium-high heat and toss in the mushrooms. Add soy sauce and olive oil and give the mixture one stir to coat. Let the mushrooms simmer without stirring for about five minutes.
Add the garlic and thyme and allow the mushrooms to cook for an additional five minutes. Add some salt and pepper, and pour over your favorite grilled meat. Sauteed garlic mushrooms also make an excellent topping for baked potatoes, pasta, or even on its own.
Preserving garlic in the freezer is a great way to save time for future meals. Not only that, but it eliminates the need for you to scrub away garlic oils from your hands every day.
Have handy freezer bags and storage containers of garlic puree, minced garlic, chopped garlic, and garlic paste ready to go whenever you need them. You can never have too much garlic, after all.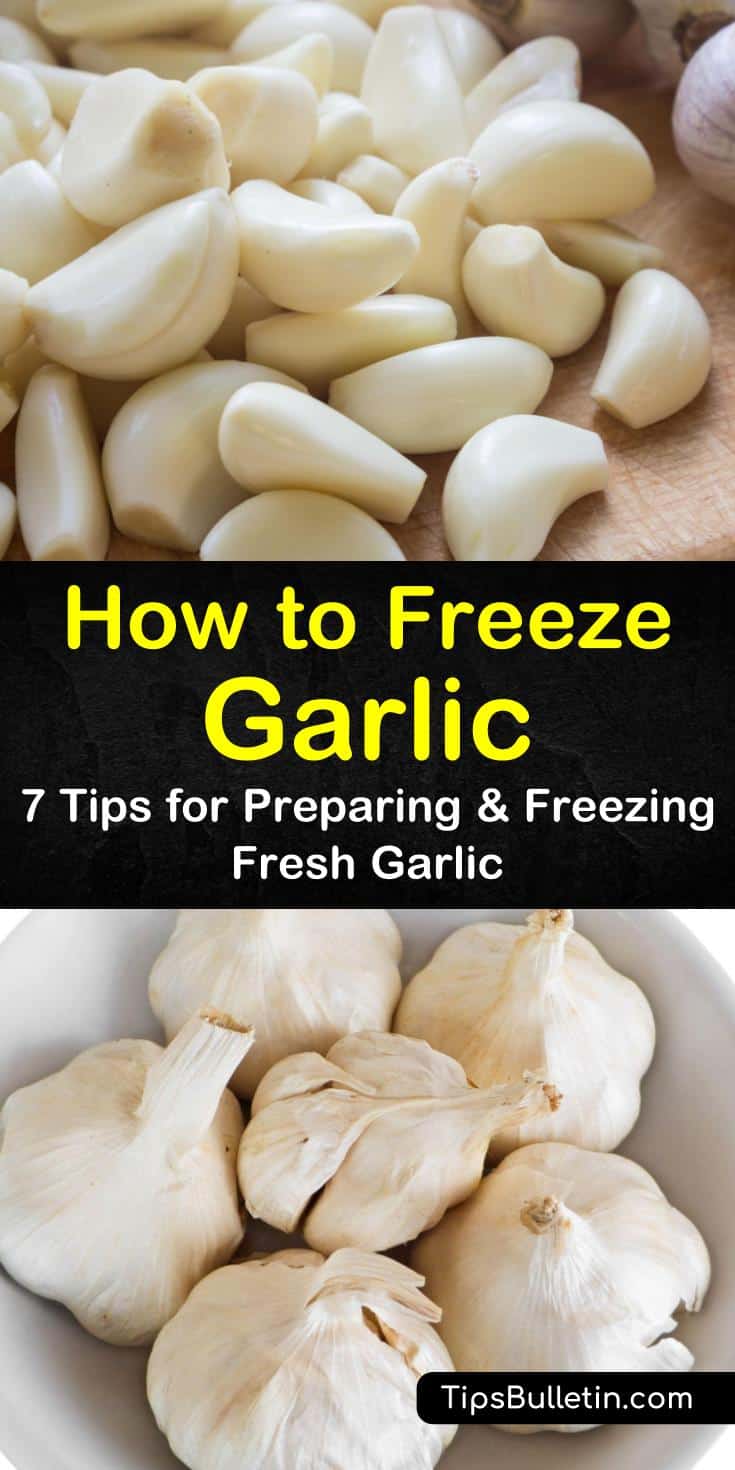 Learning how to freeze garlic for future meals shortens your meal prep time and prevents accidental consumption of spoiled garlic, so why not share our garlic freezing tips with your friends and family on Pinterest and Facebook?