Whether you grew your own or bought too much at your local farmers market, you need to learn how to store garlic correctly to prevent it from spoiling. When it comes to storing garlic, there are several methods you can use. All of these methods work and ensure your garlic is used to its fullest extent so you can continue to receive all of the health benefits garlic provides.
No matter where you purchase your garlic from, buy only the best bulbs. Inspect the bulbs at grocery stores carefully for any damage or sprouting, avoid purchasing soft bulbs.
Undamaged bulbs are the best choice when it comes to long-term storage. Most people have an easy time storing garlic during the spring, summer, and fall. It is the cold winter months that cause garlic bulbs to dry up and turn solid inside their papery skins because of the arid environment.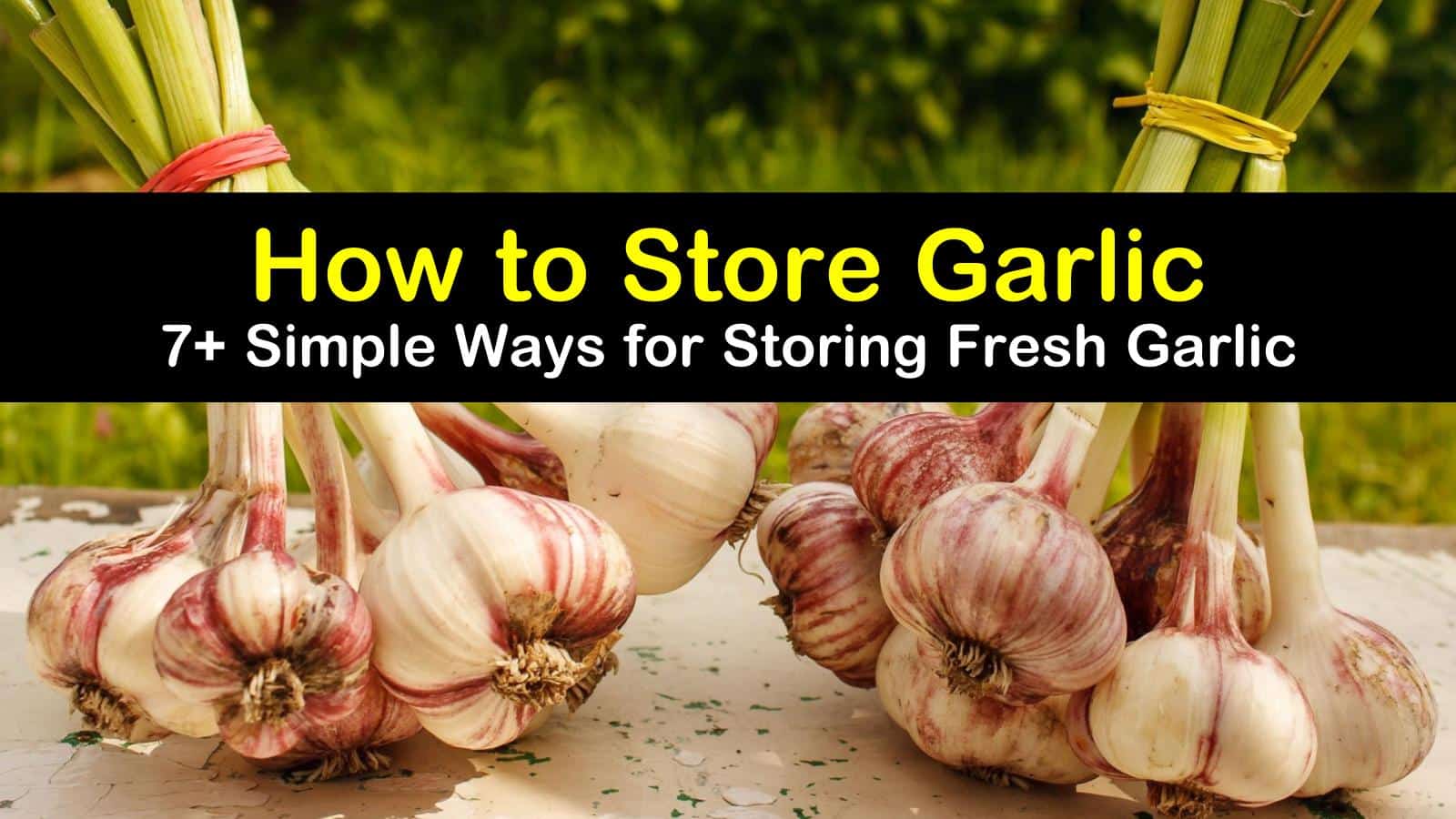 Essential Tips and Ideas for Storing Garlic
Although many people use garlic in all kinds of recipes, you may wonder what is a garlic clove? This herb or spice adds a zip of flavor to many different dishes.
When it comes to storing garlic, many people wonder how long fresh garlic will last. The answer depends on the storage conditions, such as temperature and where you are storing the garlic.
There is quite a bit of difference when you store fresh garlic vs garlic powder. When stored in the freezer, fresh garlic lasts for up to 12 months, while storing garlic at room temperature allows it to last anywhere from three to five months.
Of course, for an almost unlimited supply, regrow garlic from the cloves that you buy at the store. It's easy to do and you have fresh garlic whenever you want it.
Where to Store Garlic Cloves
The best spot to store garlic is in your home in a mesh bag or a woven basket in a root cellar where you can also store leeks. Never store garlic in a paper bag as it lacks good air circulation for the garlic. Garlic with a flexible top may be braided for hanging, but hardneck garlic has a stiff central stalk that breaks when you try weaving them together.
You can also store your garlic in a garlic keeper, as long as it has holes to allow for air circulation — store garlic in a dark place with moderate humidity. To get the most shelf-life out of your garlic, store it at room temperature.
Garlic keeps best in temperatures between 55 to 60°F. If your room temperature is higher than that, the garlic's shelf life will be shorter. In the winter, an unglazed clay pot turned upside down inside a cupboard works to store your garlic. Good air circulation is vital as it prevents the garlic from molding and rotting.
How to Store Garlic in the Fridge
If you plan to store your garlic in the crisper drawer of your refrigerator, you cannot bring it back out and store it at room temperature. Going from cold temperatures to room temperatures causes garlic to sprout within a few days.
If storing garlic in the fridge, do so until you are ready to use it, just like storing bell peppers. Always store leftover minced or chopped garlic and peeled garlic cloves inside the fridge to prevent spoiling.
Store the extra garlic in a covered container for up to seven days. Minced garlic you purchase in jars from the store will keep longer as it has been acidified. This process allows you to keep it safely for several months. You can substitute fresh garlic for minced and vice versa in a variety of recipes.
Can I Store Garlic in the Freezer?
Yes, you can store garlic in the freezer, just as you do with storing ginger root for ultimate freshness, but some people claim frozen garlic isn't as potent and flavorful as fresh garlic. There are many different ways to prepare garlic for freezer storage. The method you choose depends on how you use garlic when cooking.
The most common method used to freeze garlic is to make a garlic paste or puree. Peel the individual cloves and place them inside a food processor. Add ½ cup of a neutral-tasting oil for every five cups of garlic cloves.
You can also make the paste without oil — pulse garlic cloves for about a minute. Adjust the time based on how you want your paste to look. Scoop the garlic paste into ice cube trays or small plastic bags.
If using ice cube trays, allow garlic to freeze for several hours and then transfer cubes to ziplock freezer bags. Label and date the bags or containers. You can also wrap whole garlic bulbs in freezer wrap as you do with ginger, or use aluminum foil for freezing.
Freezer containers or bags can also hold unpeeled garlic cloves. Remove only as many cloves as you need for the recipe at hand. Garlic keeps in the freezer for up to 12 months.
Dehydrate Garlic for Longer-Term Storage
If you are looking for some of the best ways to store garlic for an extended period, consider dehydrating your garlic – whether granulated vs powdered garlic. Dehydrated garlic stores safely for several months as long as it remains at room temperature in an airtight container that remains sealed.
Aave the dried garlic in slices or chop them up in a blender. To dry garlic, begin by peeling and thinly slicing the cloves. If using a food dehydrator, place the slices in a single layer on each rack.
Turn your dehydrator to 155°F and allow it to cook until crisp. You can also use your warm oven to dry your garlic slices. Place them in a single layer on a baking sheet, and maintain a steady temperature of 115°F.
Roasting and Freezing is the Best Way to Store Garlic
One of the great things about roasted garlic is you can store it in the freezer for a long time. Roasted garlic provides a mellower flavor than peeled, fresh garlic and is the best way to keep garlic fresh.
Easily save garlic by roasting and freezing as you don't have to worry about peeling it beforehand. Roasted garlic is a direct substitute for fresh garlic in almost all recipes.
Grease the bottom of a casserole dish lightly with olive oil. How big a bowl you need depends on how many garlic bulbs you plan on roasting. Fill with garlic bulbs and roast in a 350°F oven for 45 minutes.
The bulbs are soft and squishy when done. Cut off the tops of each bulb, so you expose the cloves inside. Squeeze the soft flesh out of the bulbs.
Use your roasted garlic immediately, or store it for future use. To store in the fridge, squeeze flesh into an airtight container for up to seven days. To freeze, squeeze into freezer containers or freezer bags.
There is no reason to divide the roasted garlic up into small containers before freezing. Roasted garlic will never turn hard in the freezer, thanks to the high oil content. Not freezing solid allows you to scoop out as much garlic as you need.
Store Fresh Garlic in Flavored Oil
We strongly recommend that you dry the fresh garlic before storing it to create garlic-flavored oil. You can store fresh garlic in an oil mixture, but you run the risk of the mix developing clostridium botulinum, also known as botulism. To decrease that risk, always store the fresh garlic and oil mix inside the fridge and use it within three weeks.
If anything is left after three weeks, toss it out and start over. To store garlic in oil, place a handful of fresh or dried garlic slices inside a glass jar. You can use also use whole cloves, in addition to chopped or minced.
Cover the garlic with olive oil and place it in the fridge. As the oil evaporates, replenish it, as the garlic needs to remain covered in oil. You can also infuse raw garlic in olive oil to make salad dressings.
When infusing olive oil with garlic, cook garlic cloves in the olive oil over low heat. Add various spices, such as thyme sprigs or chili peppers for a unique taste. Store the infused oil in a dry place for up to one month.
Storing Peeled Garlic through Pickling
If you need a different way of storing your fresh garlic, consider pickling it. One of the advantages of pickling your garlic is that the garlic flavor mellows out, allowing you to eat it as a snack or use it as a salad topping.
For this recipe you want to use whole peeled garlic cloves, do not smash the cloves to peel. To quickly peel your garlic cloves, place them inside a mason jar and secure with the lid. Shake until the cloves peel.
Inside a medium-sized pot, bring vinegar, salt, and water to a boil and then reduce heat to low. Keep the pan covered until ready to fill your Mason jars. In each half-pint Mason jar, add your seasonings and pack full of garlic. Leave about ½ inch of headspace.
Pour the hot vinegar solution into each jar and leave ¼ inch of headspace. Use a knife down the insides of the jars to remove all air bubbles. Add more vinegar solution if necessary to ensure a ¼ inch of headspace remains.
Use a paper towel to wipe the rims clean, place the lid on jars, and secure rings until hand tight. Decide if you want to store the jars in the fridge or process using a water bath canning method for shelf-stable storage.
If refrigerating, allow the jars to come to room temperature before placing them in the refrigerator. Refrigerate garlic for three days before consuming.
How to Determine if Your Garlic is Bad
To safely store garlic, you also need to know when it is time to throw it out. There is no difference between minced and chopped garlic in this regard. While storage times vary based on the storage method used, keep an eye on your garlic bulbs and throw them out when they start to rot.
As the garlic begins to spoil, it will start changing color, often it will go from white to a yellow color, but garlic will also start to turn brown. If your garlic is changing colors, smells rotten, or starts going soft, it is no longer safe to use.
Garlic will also begin to sprout green roots as it is starting to go bad. Just know the green sprouts doesn't mean the garlic isn't safe to eat, but the flavor will be different. Always remove green shoots before cooking or preparing for freezing.
How to Make Your Own Garlic Salt
One way to make garlic salt is to mix three parts salt with one part garlic powder. You can also make garlic salt with fresh garlic cloves.
Place peeled garlic cloves and salt into a food processor and mix until the consistency is similar to sand. Never use sea salt or table salt, as the iodine may cause discoloration.
Spread mixture out on a baking sheet and bake at 180°F until the mix is crisp and dry. Scoop the mixture back into the food processor and pulse until it resembles cornmeal. Store your garlic salt in an airtight jar for up to three months.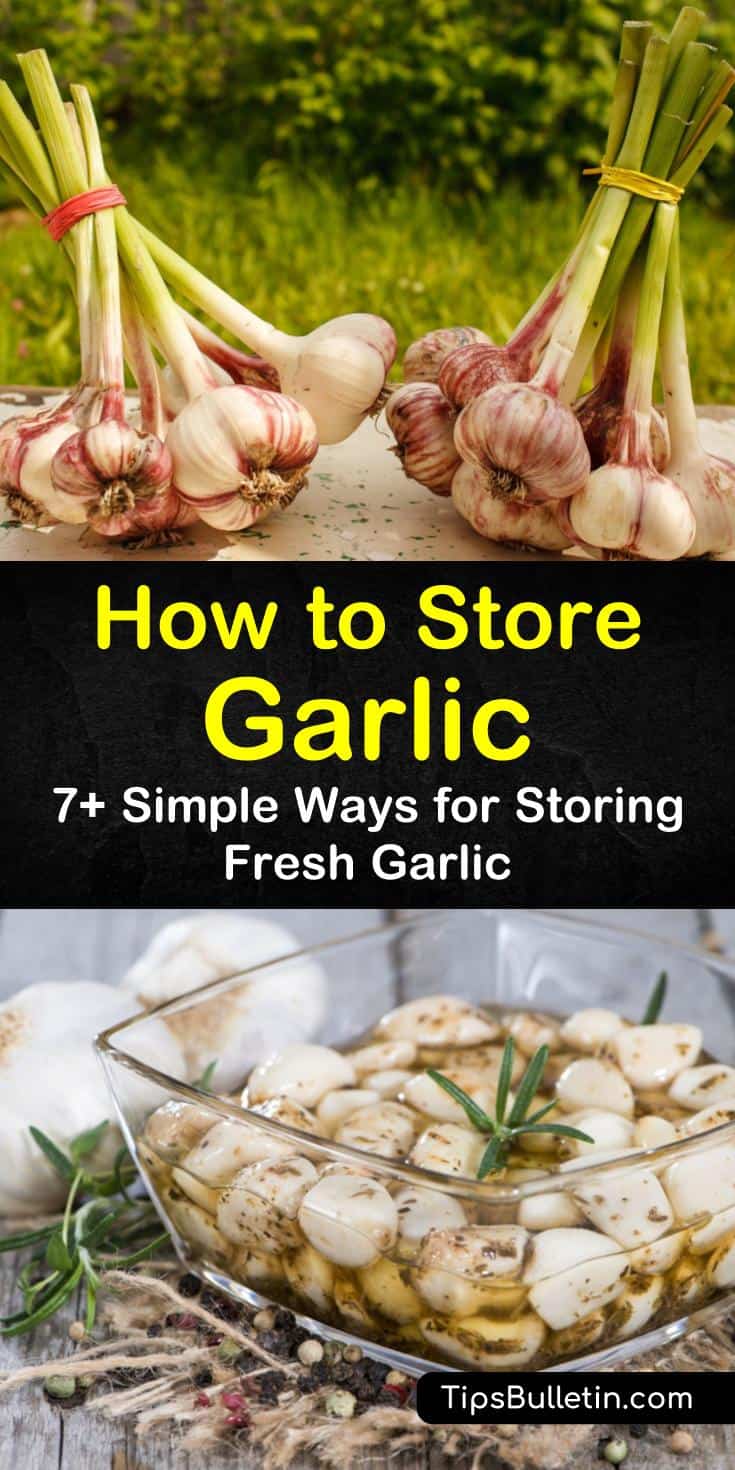 Thank you for reading our tips and suggestions on storing garlic. If you found any of our tips on how to store fresh garlic useful, please take the time to share our garlic storing tips and ideas with others on Facebook and Pinterest so they can learn how to store garlic, too.