Getting a sweat smell out of a mattress is simple and affordable.
Baking soda neutralizes odors effectively and is budget-friendly.
White vinegar is a superb natural deodorizer that also disinfects.
Essential oils offer a quick, natural solution to refresh your mattress scent.
Vacuuming your mattress regularly helps remove odor-causing debris.
Activated charcoal absorbs stubborn odors, keeping your sleep area fresh.
To get rid of a sweat smell from your mattress using baking soda, sprinkle a generous amount of baking soda over the entire mattress. Allow it to sit and absorb odors for several hours, ideally all day. Afterward, vacuum the baking soda off the mattress thoroughly to leave it smelling fresh.
For a deeper clean, create a mixture of white vinegar and essential oils in a spray bottle. Spritz this solution over your mattress and let it air dry to effectively remove odors and add a pleasant aroma.
Regularly vacuuming your mattress can prevent the buildup of dead skin cells, dust mites, and other debris that contribute to odors.
If you're facing particularly stubborn smells, place activated charcoal near the mattress to help absorb the unwanted scents. This non-invasive method ensures a fresh-smelling bed without much effort.
By combining these easy and cost-effective methods, you can efficiently remove sweat smells from your mattress and enjoy a cleaner, more pleasant sleep environment.
A smelly mattress is unappealing and off-putting. A sweat smell makes it hard to relax at night and implies a larger issue with your sleeping conditions. Discover how to get a sweat smell out of the mattress to prolong the life of your bed and enjoy restful sleep.
Laying on a dirty mattress is terrible for your skin. Sweat particle accumulations, dead skin cells, and dust mites create skin irritation and may lead to acne and rashes. Find out how to remove sweat smells from a memory foam mattress so your sleep space is pleasant.
Getting the sweat smell out of your mattress doesn't have to be challenging. Mattresses are cumbersome, thanks to their heavy weight and large size. Fortunately, there are many ways to get the stink out of a mattress without heavy lifting or laborious washing.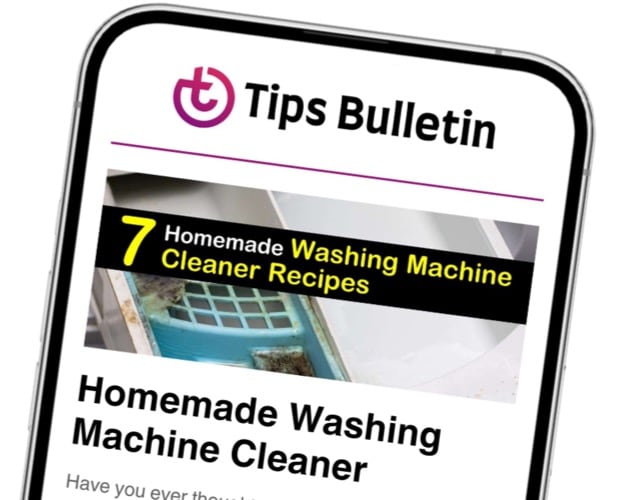 Finally, an email that Transforms Your Home.
Get the latest home and garden tips from our experts, delivered straight to your inbox.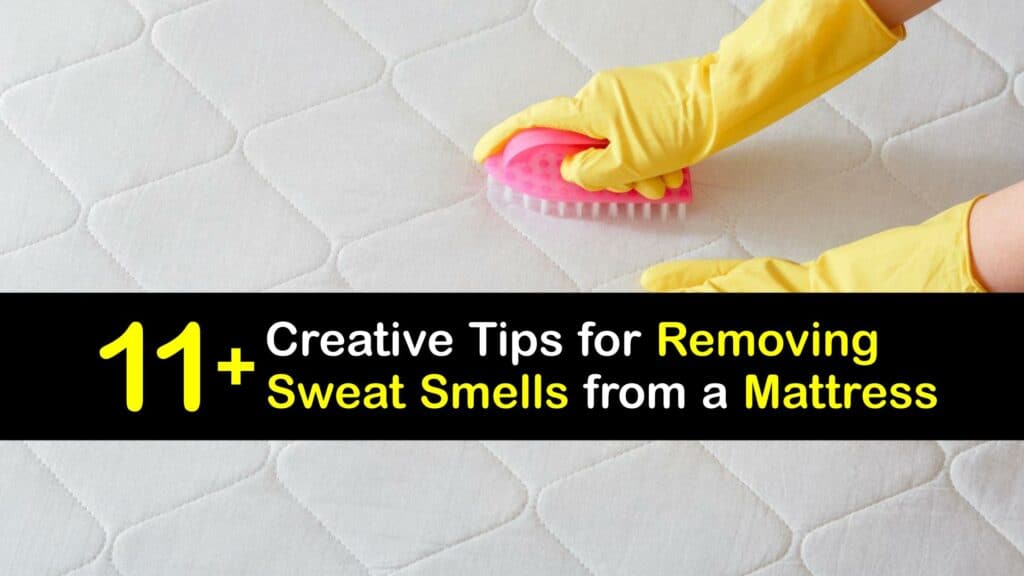 How to Remove Sweat Smells from a Memory Foam Mattress
Everyone should understand how to get a sweat smell out of the mattress. Even if you shower often and launder your bedsheets, sweat particles and body oils build up in pillow top and memory foam mattresses. Whether you have a brand new or preloved bed, the time eventually comes for getting the sweat smell out of your mattress.
It's easy to deodorize your mattress with household supplies. Use a steam cleaner, essential oils, baking soda, and more to leave your bed smelling amazing, so you enjoy a good night's sleep.
Why Your Mattress Smells Like Sweat
After you've checked every mattress review and selected the perfect option, it's disheartening to have your brand new mattress suddenly carrying an odor. Mattresses are vital to a good night's sleep and part of personal hygiene.
When we sleep at night, dead skin and body oil accumulate in the bed. Hot summer nights often result in a sweat stain, and issues with pests like bed bugs or a dust mite problem can lead to an unsightly blood stain on your mattress protector or mattress.
Consider buying a waterproof mattress encasement to prolong your mattress's life. Ensure your body and nightclothes are clean before getting into bed to cut down on unwanted odor. Regular cleaning and knowing simple tips to deodorize your mattress help keep your sleeping space clean and healthy.
How to Get a Sweat Smell Out of the Mattress
Baking soda is unparalleled in deodorizing heavy odors quickly. Though typically used for baking, baking soda can absorb unwanted smells without laundering, making it the best way to wash a mattress and ideal for getting a sweaty smell out of your mattress and mattress cover.
Remove your mattress pad or protector and lay it flat on the floor. Sprinkle baking soda powder over the entire mattress and pad, aiming for a thin, even covering. For the best odor reduction, use the baking soda in the morning and let it sit all day. Vacuum the baking soda and remake your bed in the evening.
Getting the Sweat Smell Out of Your Mattress
Whether dealing with pee stains or body odor, white vinegar is an excellent way to clean your mattress for a fresher smell. This natural mattress cleaner can deodorize a bed to erase undesirable smells and leave your bed smelling great.
Choose essential oils based on your tastes to customize the scent profile in your bedroom. Lemongrass, lavender, and other florals are popular choices.
Shake the supplies in the spray bottle until the deodorizer combines. Spray evenly over the top and bottom of your mattress, allowing it to air dry in a well-ventilated place. Repeat the process for heavy smells to ensure the unpleasant odor is gone.
Removing a Sweat Smell from a Mattress
Dish soap is a cleaner designed for organic or naturally occurring substances. Since sweat is an organic odor, dish soap makes a brilliant solution for cleaning sweat stains off a mattress and removing other unsightly stains.
Add the ingredients to the sprayer, shake vigorously, spritz the entire mattress surface, and leave to air dry. When removing a yellow stain, use a more concentrated spraying action and rinse with cold water.
Steam Cleaning Memory Foam Mattresses
Deep cleaning your mattress is vital. From dust mites to a urine stain, bedding collects dirt that needs to be removed over time. A steam cleaner is a smart way to remove a mattress stain or oust sweat and body odor from a memory foam or pillow top mattress.
Choose an appropriate setting on your steam cleaner and use it per the product guide to achieve the best results. Ensure your clean mattress is completely dry before placing it back on the bed frame and adding your bedding.
Depending on how much you sweat and your mattress style, steam clean every six months to once a year.
Corn Starch Erases Odor from a Pillow Top Mattress
Though corn starch is most commonly used in the kitchen, it's an ideal tool to remove a stench from your mattress. Corn starch is highly absorbent. When spread on your mattress or mattress protector, corn starch absorbs the odor-causing body oil to leave the fabric cleaner and make it smell better.
Remove the bedding and mattress coverings, and sprinkle cornstarch on the entire mattress surface. Let it sit for at least eight hours. Vacuum and remake your bed.
Mattress Cleaning with a Vacuum
When we think of vacuuming, most of us think of carpets, yet the usefulness of a vacuum cleaner doesn't stop there. Vacuuming your mattress is an effortless way to remove dead skin cells, dust mites, and other odor-causing molecules without getting the bed wet.
Strip your bed, so the mattress is bare, and vacuum thoroughly. Be sure to get in the seams; if you have a mattress pad or protector, clean it, too.
Essential Oils are the Best Mattress Deodorizer
Essential oils are all-natural and safe and provide a quick and cost-efficient way to make your bed smell amazing. Choose your favorite combination of essential oil to craft a unique scent and make a mattress freshening spray.
Shake the liquids well in a spray canister and spritz them on your mattress as needed.
Air Out Your Mattress and Memory Foam Mattress Topper
Since mattress toppers and pads lay above the mattress, they are prone to harboring body oils and bacteria and developing a scent. Airing out your mattress topper is a smart way to keep it fresh and give your mattress time to breathe.
Periodically strip your mattress topper and take it outside. Hang it on a clothesline or fence and let the fresh air circulate through the material.
Eliminate Sweat Stains and Odor from Your Mattress Protector
Activated charcoal is famous for its odor-eating capabilities. A teaspoon of activated charcoal powder has the same surface area as a football field; using it to soak up unpleasant odors like sweat. Follow the package instructions to remove bad smells from your mattress using activated charcoal.
Bear in mind that the dark color of the charcoal may stain or discolor lighter fabric. Add a few heaping teaspoons of activated charcoal to a mesh bag or bowl and set it under or close to your bed to keep your whole room smelling fresh.
Keep Your Mattress Clean to Prevent Sweaty Odors
Like the bathroom, kitchen, and clothing, a mattress requires regular cleaning to stay fresh. Making sure your body and pajamas are clean before getting in bed helps extend the time between washes.
Launder your bedding regularly, including your fitted sheet and pillowcases. Consider using a waterproof mattress encasement to keep dead skin cells and dust out of the mattress. Set a schedule to deep clean your mattress with a steam cleaner or use a treatment like white vinegar spray.
Commercial Products Clean Mattress Stains
When you don't have time for DIY cleaning, pick up an odor remover for your mattress from the store. Several options are available to cut down on mattress odor, from air purifier machines and ozone generators to sprays and treatments.
Select a mattress deodorizing option based on your budget and personal preferences, and combine your choice with regular deep cleaning to keep your bed smelling fresh.
A smelly bed creates an impression of poor hygiene and makes sleep less restful. Learning tips for how to remove sweat smells from a memory foam mattress prevents you from having a stinky bed or embarrassing sleepovers. Use simple items like essential oils and baking soda to ensure your mattress smells pleasing.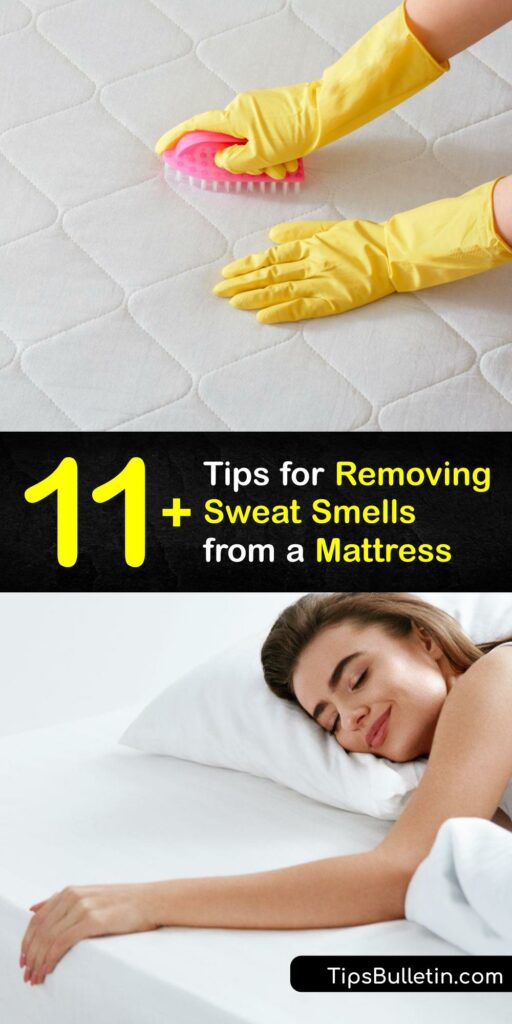 If you loved this article on how to get a sweat smell out of the mattress, please share these brilliant tips on getting the sweat smell out of your mattress with your friends and family on Pinterest and Facebook.