There is nothing like getting cuddles from your dog after a long day at work. However, your furry friend likes to share more than a happy wag of their tail, and they often leave behind bits of loose fur, especially if your pooch has a thick coat. Find out how to get dog hair out of blankets using simple strategies.
If you're an animal lover, you're aware of how pet fur like cat hair and dog hair stick to just about anything. You find it on your furniture, carpeting, and clothes, and clumps of dog fur gather in areas where they spend a majority of their time napping.
Unfortunately, they are not the cleanest family members in your home, and this is particularly troublesome if they like to curl up on your bed and blankets. No matter how much we adore our furry-faced friends, too much dog hair around the home is a nuisance.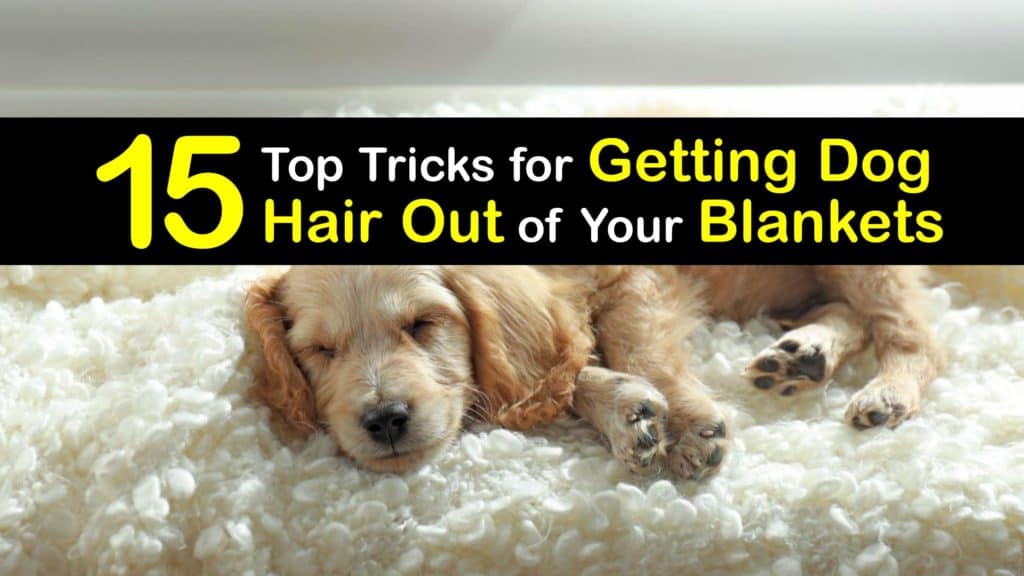 Simple Ways to Remove Pet Hair from Blankets
While the occasional stray hair now and then is tolerable, too much pet hair and pet dander is a problem, especially if you or a family member has allergies.
A loose hair is easy to pluck off fabric and discard. However, excess hair and dirt build up on a blanket the longer your dog lays on it, making it more challenging to clean.
Fortunately, various pet hair removal techniques work to keep your home fur-free, whether you need to get pet hair out of carpet, clothes, or blankets.
Remove Dog Hair from Blankets with a Lint Roller
If your blanket has only a few loose hairs on it after your dog takes a nap, a lint roller works wonders to pull up the hair. It's also ideal to get pet hair off couch or sofa seats.
While we often think of this tool as picking up lint from clothing, it is also a handy way to quickly remove dog hair from blankets.
Start by shaking the blanket outside to remove as much of the loose hairs as possible. Spread it out on the clean floor and roll a lint roller over the surface by starting at the top and rolling it down to the bottom.
Remove the adhesive strip as it accumulates hairs and continue to the other side of the blanket until all dog fur is gone.
Get Pet Hair Out of a Blanket with Sticky Tape
If you don't have a lint roller, sticky tape is a great alternative and something we usually have in the home. The hairs stick to the tape surface, leaving the blanket fur-free. Here is how to get pet hair out of a blanket or to remove dog hair from your car with a roll of tape.
Take your blanket outside, shake it off to remove loose hair, and lay it on a flat, clean surface.
Wrap a large piece of tape, like duct tape or packaging tape, around your fingers and then press them against the areas of the blanket with fur or to remove dog hair from clothes. Use new tape as needed until all the dog hair is removed from the blanket or clothing.
Here is How to Get Dog Hair Out of Blankets with a Rubber Glove
While it may seem unconventional, rubber gloves are great for pulling loose hairs off of everything from fleece and upholstery and blankets to the way to clean decorative pillows to get rid of dog fur, and they are reusable. Discover how to use a glove to remove pet hair from blankets.
Before you wash a feather duvet or clean your blankets, shake off the blanket outside, put on a rubber glove, and spread the blanket out on a clean surface. While any rubber gloves work, the types with nubs help get the most hair off the blanket.
Rub your gloved hand over the material with sweeping motions to collect loose hairs, and use a towel to wipe off the fur between swipes.
This strategy works well to get dog hair out of the laundry, too, although it may take a little while if you have a big load.
Using Anti Static Spray to Prevent Dog Hair on Blankets
If you don't want to remove dog hair from blankets every day, consider spraying the fabric with an anti static spray.
You can also make your own homemade dust control spray with liquid fabric softener and water. These sprays leave an invisible layer on the material that prevents static electricity build-up from attracting pet hairs and dust.
After removing the pet hair, lay the blanket on a clean surface, hold the anti static spray can six to seven inches away from the fabric and spray the blanket lightly and evenly.
Let it dry, flip it over, and spray the opposite side to reduce static electricity and prevent dog hairs from sticking to the material.
Brushing Pet Hairs Off a Blanket
One of the simplest ways to get pet hair out of a blanket is to use a brush. However, the type of brush you use depends on your dogs coat. Here are two brushing methods to remove pet hair from a blanket.
Take the blanket outside and shake off the excess hair to make the cleaning job easier and less messy.
Spread the blanket out on a flat, clean surface and use a dog pin brush for long hair or a lint roller for short hair to brush the fabric from top to bottom and side to side.
Remove the hair from the brush with your hands as you go and discard it in the trash.
Removing Dog Fur from a Blanket with Fabric Softener
Instead of plucking the loose dog hairs off a blanket by hand, there is a good chance you have something in your laundry room that makes the job easier.
Dryer sheets contain a fabric softener that breaks static charge for quick hair removal.
Spread your blanket out on a flat surface and get a dryer sheet damp with a little warm water.
Start at the top corner of the blanket and draw the softening sheet down over the fabric to pick up loose hairs. Use new damp sheets as you work until all the pet hair is gone.
Getting Dog Hair Off Blankets with a Rubber Broom
A rubber broom is an all-in-one cleaning tool that picks up dirt, dust, and hairs from many surfaces, including blankets. Here is how to get pet hair off a blanket with a broom.
Rubber Broom Pet Fur Removal
Lay your blanket out on a clean, hard floor. Start at one and gently pull the rubber broom down to the other side. The rubber material pulls the hairs from the blanket into a pile, making it easier to remove with your hands.
Use the Clothes Dryer to Get Pet Hairs Off a Blanket
While we usually use a dryer to dry clothes after washing laundry, this machine is also excellent for removing dog hair from fabric.
The heat loosens the blanket fibers while the fabric softener reduces static cling, moving the hair from the material into the lint trap.
Place a fabric softener dryer sheet and a wool dryer ball into the clothing dryer, along with the blanket, and dry the item on a low heat setting for ten minutes. Remove the comforter and clean the excess hair out of the lint trap.
Removing Excess Pet Hair with a Vacuum Cleaner
A washing machine and clothes dryer are not ideal if you have an extra-large comforter. The next best way to get dog fur off a blanket is to use the hose attachment on your vacuum cleaner.
If your dog has long hair or sheds a lot, a vacuum may be suitable for getting hair off a blanket. However, it's vital to use a vacuum cleaner with a brush hose attachment to prevent damaging the fabric.
Lay the blanket on a flat surface and use the hose brush to suck loose hairs from the material on both the front and back of the blanket.
Getting Pet Hair Off Blankets with Shoes
Believe it or not, you may have a pair of shoes or boots somewhere in your home that removes pet hairs from blankets.
However, not all footwear gets the job done. Find out which types of shoes work and how to use them to get dog fur off the fabric.
Rubber Shoe Method
Shoes with rubber soles offer the best effectiveness – make sure they are not dirty. Put the shoes on and lay the blanket on a clean, hard floor.
Drag your feet gently across the blanket as you walk from one side to the other to pull up hair from the fabric.
How to Remove Dog Fur from a Blanket with a Microfiber Cloth or Sponge
Sometimes the most basic method is all you need to get dog hair off a blanket. If your dog is not a heavy-shedder, an everyday sponge or microfiber cloth quickly removes stray dog hairs.
Get a microfiber cloth or soft sponge damp and wipe it in one direction across the blanket. Remove excess hair when you reach the opposite side and repeat the steps until the blanket is clean.
Washing and Drying a Blanket to Get Rid of Dirt and Pet Hair
Washing and drying your blanket is the best way to remove dog hair, and it's important to perform this routine regularly to keep the bedding fresh and clean.
However, it's essential to use the proper wash and dry settings to prevent damage to your blanket.
Check the care label on your blanket to ensure it's safe for washing and drying. Place your blanket in the washer and add your favorite detergent.
Wash it on a standard or gentle setting and add a half cup of white vinegar during the rinse cycle. Once the blanket is clean, transfer it to the dryer with a sheet of fabric softener and a dryer ball and dry it on a low heat setting.
Vinegar makes a great spray to keep dogs from peeing in areas where you don't want them to, like on the carpet or anywhere else indoors.
Protecting Bedding from Dog Hair with Covers
A great way to protect your blanket from getting dirty with excessive pet hair is to use a duvet cover. These covers fit over your comforter and are easy to remove for convenient cleaning.
If your dog enjoys laying on its own bed, consider placing it in a cover. When the bedding gets hairy, remove the cover and toss it into the dryer for a few minutes to remove excess fur.
If they prefer to lay on your bed with your blanket, slip the blanket into a duvet cover. These covers protect the blanket beneath and are simple to remove when it's time to wash and dry them.
Preventing Dog Hair from Ruining Your Washing Machine
While washers are designed to handle a lot of dirt, a blanket full of pet fur may damage the machine if it gets too clogged with hair. Here are some tips to help you wash the blanket safely and effectively.
Before washing your blanket in the washer, toss it in the dryer for ten minutes using the no-heat setting to loosen the hair and trap it in the lint tray so that it doesn't clog your washing machine.
Consider adding white vinegar to the rinse cycle when washing your dog's blanket. This liquid is a natural fabric softener that works wonders to get the hair off fabrics.
After cleaning a hairy blanket, always wash the machine by running the wash cycle without laundry and wiping the drum with a wet cloth.
How to Groom Your Dog to Prevent Shedding on Blankets
While loose pet hairs around the home are inevitable, regularly brushing your dog cuts back on the amount of shedding.
Here is how to groom your dog with the proper brush for their coat to eliminate the amount of hair on their bedding and blanket.
It's essential to brush your dog every couple of days, no matter how thick or long their coat is, especially if they are shedding.
There are four main types of dog brushes – they remove excess hair from different types of dogs. A slicker brush has a flat surface with short wires and is helpful for curly-haired and medium to long-haired dogs.
Rakes are ideal for dogs with a thick coat since they penetrate the fur and remove tangles, while a bristle brush is better suited for a smooth coat or short-haired dogs.
Pin brushes are similar to people's brushes, and these types are perfect for getting hair off of furniture and blankets.
With pets comes much responsibility, and cleaning excess dog, and cat fur around the home is one of them. While it's easy to vacuum the carpeting to remove loose hairs, blankets require a bit more work to get clean.
Luckily, many cleaning hacks help keep your home fresh and pet hair-free.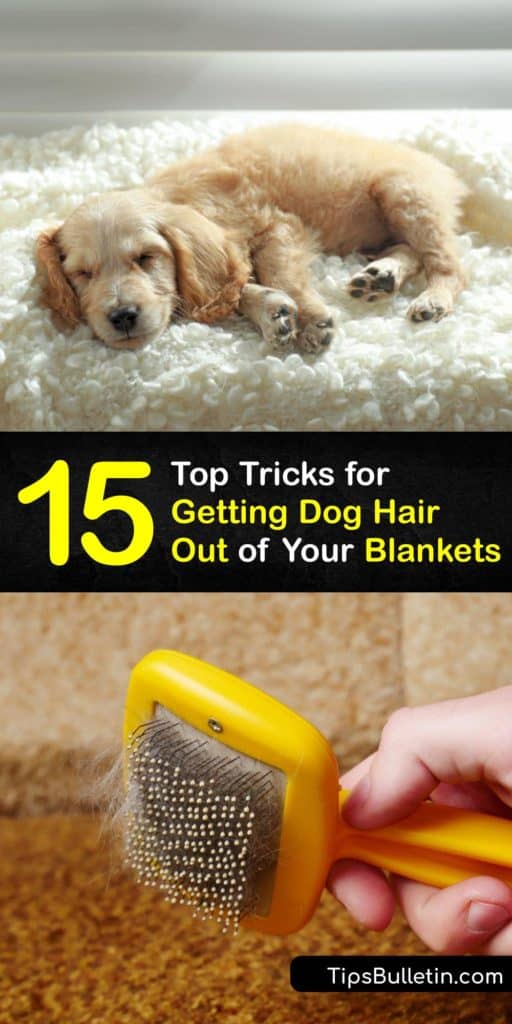 We hope that learning how to get dog hair out of blankets keeps your home free of allergens, and we'd love it if you'd share our dog blanket hair-removal tips with the animal lovers in your life on Pinterest and Facebook.