Nothing sparks a child's imagination better than small plastic tubs of colorful Play Doh and putty. However, these popular crafting toys can be messy, and you often have to deal with dough and slime stains when playtime is over. Learn how to get playdough out of clothes using safe and effective cleaners you already have around the home.
There's no better way to entertain little ones on a rainy afternoon than making homemade playdough, silly putty, or slime. You gather the flour, water, cookie cutters, and other ingredients, add food coloring to create different colors, and let your kid's imagination do the rest.
A weekend play dough session leaves a child's nightstand adorned with pink puppies, yellow cats, and other playdough critters. Yet, you also find dried Play Doh in random spots throughout the house and discover Play Doh stains on carpet, clothes, and even hair. Fortunately, there are simple ways to remove excess slime or a Play-Doh stain, leaving more time for fun and creativity.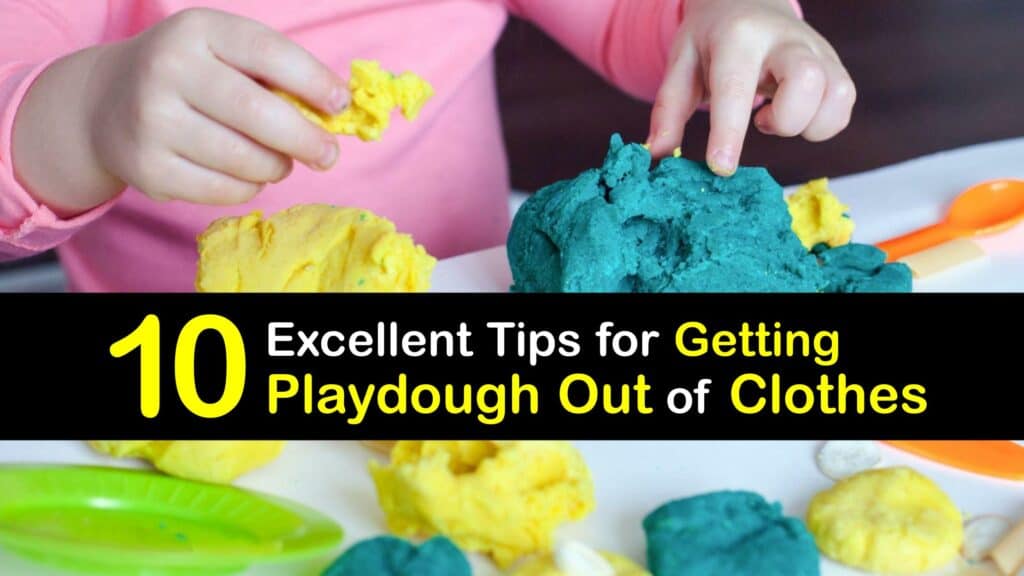 Ways to Remove Playdough From Clothes
While it takes a bit of patience, it's possible to remove dried slime off couch cushions using the proper cleaning solution and method. Discover several ways to clean a playdough stain from clothes and keep them out of the ragbag.
How to Remove Playdough From Fabric After It Dries
While promptly scrubbing at the stain is tempting, the simplest way to get Play-Doh off clothes is to allow the dough to harden first. Learn how to remove playdough from fabric by gently scraping it from the material.
To get dried playdough out of clothes, lay the item on a hard surface, wedge a butter knife between the fabric and dough, and pry off the large pieces. Use a stiff brush to gently scrub small particles from the cloth without scratching the material, and use a hose vacuum to suck up the dry playdough.
If the dough isn't hard enough, place the garment in the freezer to harden it, repeat the steps, and use Goo Gone or another stain remover to clean the fabric.
Getting Playdough Out of Clothes by Soaking
The next step for getting playdough out of clothes after you scrape away dried dough is to soak the garment. Soaking loosens the remaining stain from the fibers, making it easier to clean the fabric.
Fill a bin with warm water – use one large enough to accommodate the garment size. Soak the clothing in the water for 20 minutes to ensure the leftover playdough has plenty of time to loosen. Scrub the stained area with a toothbrush, and rinse the item beneath running water.
How to Get Playdough Out of Clothes
Try pretreating the clothes if playdough leaves a color stain on the fabric. Use a store-bought stain treatment or learn how to treat the material using the detergent in your laundry room.
Lay the affected item on a table and place a paper towel between the fabric. Apply a coin-sized amount of liquid dish detergent or commercial stain remover to the dough stain and let it soak for five minutes.
Rub the area with your fingers to work the soap into the material, and rinse the cloth beneath hot water until it runs clear. If the stain persists, repeat the process and let the garment sit overnight before rinsing.
Getting Playdough off Delicate Fabrics With Cornstarch
Wool, silk, rayon, and other fabrics require gentle cleaning to prevent damage to the material. Find out how to remove playdough from fabric that is too delicate for cleaning with harsh cleaners.
Lay a sheet of paper towel on a flat area and pour a pile of cornstarch on the paper. Set the garment stain on the powder and leave it for at least one hour. Make sure that the circumference of the pile matches the stain size. Pick up the clothing and shake it over the garbage can to remove the loose powder.
Remove Playdough off White Clothes
Hydrogen peroxide is a good choice for getting playdough out of clothes if there are leftover stains after using another treatment. It is also helpful for cleaning white fabrics. Discover how to use peroxide to remove playdough residue.
Combine a tablespoon of hydrogen peroxide with three tablespoons of warm water in a bowl and apply the liquid to the Play Doh stain with a soft cloth or sponge. Blot at the area until the stain is gone, and rinse the fabric with cold water. Inspect the garment for remaining stains and repeat the process if necessary.
Removing Playdough Color Stains With Rubbing Alcohol
Playdough tends to leave a color stain on fabric even after you remove all the dough. Luckily, you can easily get a thick mess off clothing with rubbing alcohol; it's great at lifting food coloring stains – you probably have a bottle in the bathroom.
Lay your shirt on a table with the stain facing up, and place a towel between the fabric. Pour alcohol onto a cotton pad and dab at the stained area with the damp pad. Continue using fresh cotton and alcohol until you remove the colored dough. Rinse the garment beneath running water.
How to Get Playdough off Fabric
Acetone-based fingernail polish remover is handy for lifting tough stains from various materials, including clothes. Explore effective ways of getting TheraPutty out of clothes as well as removing silly putty from fabric with nail polish remover.
Pour just enough nail polish remover onto a cotton ball to lightly soak it and use it to blot the dough-stained fabric. Acetone-based remover provides optimal results. Once the stain is gone, hold the cloth beneath running water to flush away residue and launder the item as normal.
Cleaning Playdough Fabric Stains With White Vinegar
White vinegar is a common household product with many uses – it's an acidic liquid that is excellent for removing playdough from clothes without damaging the fabric. Use vinegar to get Play Doh stains off clothing.
Pour a quarter cup of white vinegar and a cup of warm water into a spray bottle and shake it well to mix. Lay the stained garment on a clean, flat surface and spray the stain lightly with the vinegar solution. Leave it for a couple of minutes, and use a dry, clean cloth to blot at the dough stain until it's gone. Rinse the clothes thoroughly beneath cold water.
Using Pine-Sol to Get Playdough off Clothing
Pine-Sol is a popular floor cleaner with grease-cutting cleaning agents. However, it also works to clean up a Play-Doh mess. Discover how to use this pine-scented cleaner to get playdough stains off clothes.
Start by combining a cup of warm water with a quarter cup of Pine-Sol in a small container. Lay the clothing on a hard surface, with the stain facing upward. Dunk the corner of a sponge into the cleaning liquid and apply it to the area in a circular motion.
Use clean parts of the sponge as you work until the playdough is gone, rinse it with clean water, and wash the clothes as usual.
How to Remove Playdough Stains in the Washing Machine
Whichever stain remover you decide to use, there is one more step in the cleaning process when removing playdough stains. Give your garment a final cleaning in the washing machine with the proper wash cycle.
Place the garment in the washer, add your regular laundry detergent, and clean the item on the pre-soak cycle. If you don't have this option, use the standard setting and pause the machine before the rinse cycle starts to allow the clothing to soak for 15 minutes. Check for leftover stains when the washer completes. Do not machine dry until the stain is gone.
As much fun as it is to make homemade playdough and create imaginative Play Doh creatures, clean-up time is not, especially when dealing with food color stains. White vinegar, detergent, and other stain removers make cleaning easier.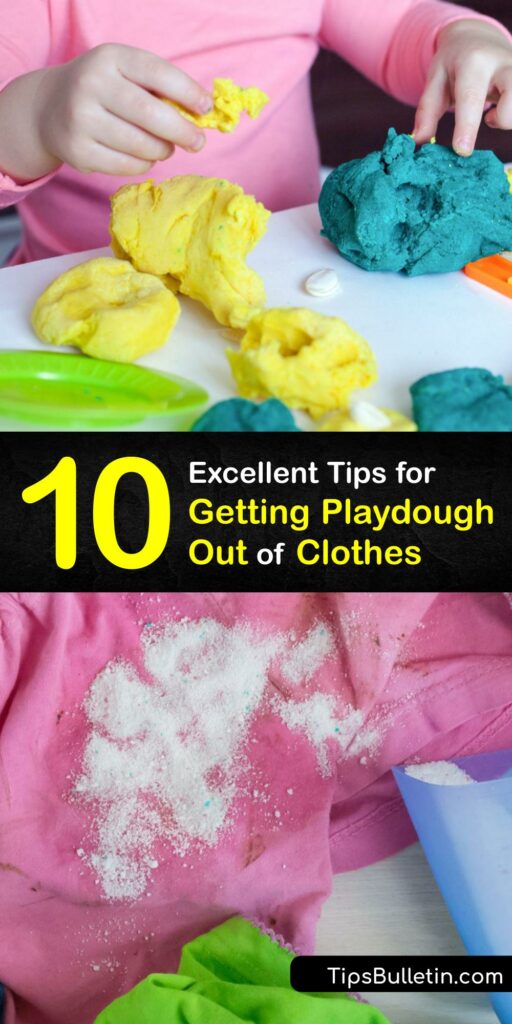 We hope that learning how to get playdough out of clothes gives you more time to play with the kids, and we'd love it if you'd share our playdough cleaning techniques with your family and friend circle on Pinterest and Facebook.