Kale leaves are a popular superfood full of vitamins and nutrients, but we aren't the only ones who enjoy them. Aphids love munching away on these tasty leaves in the vegetable garden and often destroy whole plants. We tell you how to get rid of aphids on kale using a few simple and easy methods.
Many aphids, such as cabbage aphids and peach aphids, suck fluids from leaves, stems, and flowers of various plants and fruit trees, leaving sticky honeydew in their wake.
It's easy to miss them at first, but there are things to look for to determine if you have an aphid problem. Curling leaves that yellow and wilt are signs of aphids, leading to a decline in plant growth, black sooty mold, and disease.
Whether you call them plant lice or whiteflies, it's essential to terminate these tiny insects before they become an infestation and destroy your kale plant.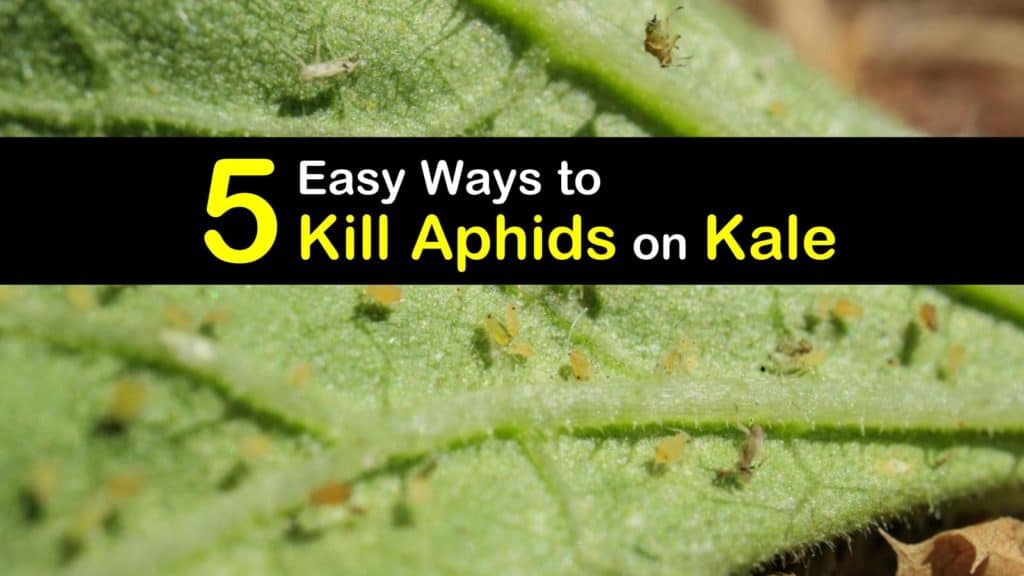 Killing Aphids and Keeping Them out of the Garden
Whether you grow kale from seed or a seedling from the nursery, sometimes pests are a problem. While there are a few quick and efficient ways to kill aphids, preventive pest control is just as important. Finding these tiny green bugs on tomato plants, kale, basil, and in the rest of your garden is definitely unwelcome.
Therefore, we recommend following an aphid killer solution with preventative measures to manage aphid populations around your yard, whether they are on kale vs collard greens or other plants.
How to Get Rid of Aphids the Easiest Way
A basic garden hose is one of the easiest ways to get rid of aphids, whether you have them on your kale, have basil aphids, or they are invading some of your other plants.
This method is ideal if you notice mild aphid activity on your plants, and the problem is not yet out of hand.
Use a garden hose with an adjustable spray nozzle and turn it to a strong jet setting. Spray the water over the kale leaves to send the aphids flying.
Turn off the water and inspect the top and bottom of the leaves for obstinate bugs. Use paper toweling to wipe stubborn bugs away.
How to Kill Aphids on Kale with Tomato Plants
There are many ways for killing backyard pests, such as Neem oil and insecticides, but how often do you have these items in your garden pest arsenal?
Here is how to kill aphids on kale using tomato leaves. Tomato plants naturally contain toxic alkaloids as a form of defense against aphids and are an excellent tool for killing them on other plants.
Use a sharp knife to chop up tomato leaves on a cutting board and set them in a bowl full of water overnight. Strain the soaked leaves out of the water and pour the liquid into a spray bottle. Spray the tomato leaf juice on the top and bottom of the leaves and stems.
Home Remedy for Aphids on Kale
Rather than using an insecticidal soap, consider making a basic soapy solution to solve the problem. This home remedy for aphids on kale is a cheap and quick way to kill aphids naturally.
For getting rid of aphids on peppers and other plants, fill a bottle with water and a few squirts of dish soap, and shake it gently to mix. Spray the soapy water on both sides of the leaves and stems.
The soap stops the bugs from breathing, and the bitter taste repels them from the leaves. Write the contents on the container and use it as needed.
How to Get Rid of Aphids on Kale with Natural Predators
Killing aphids on kale by using the predatory nature of other insects is useful for eliminating them without using harmful pesticides. Many insects kill yard pests without disturbing your plants, so this is a great way to kill spider mites, Japanese Beetles, and aphids.
Introduce predator insects to your garden to keep an aphid population in check. Many beneficial insects, such as ladybugs, eat as many as 50 aphids per day and are excellent for controlling aphids.
Some garden centers and online distributors sell these bugs for agricultural use, and certain plants attract them, so try drawing them to your yard with companion plants.
Using Nature to Control Aphids
Companion planting or planting together is a technique that involves growing two or more plants with a common purpose, and many of them are natural tools for repelling pesky insects. These plants are useful for attracting aphid predators, and aphids steer clear of them.
To prevent aphids in a vegetable garden, choose your companion plants carefully. Avoid planting nasturtiums and mustard (Brassica), which aphids love, and try planting marigold, catnip, sweet alyssum, chives, fennel, and calendula around your gardens to eliminate aphids and attract good bugs.
If you're looking for plants to keep flies away, consider wormwood and pennyroyal. These plants are a great home remedy for cabbage worms, aphids, and other garden pests that wipe out gardens with ease if left unattended.
Therefore, it's vital to eliminate the problem immediately to prevent losing your plants. Control aphids by introducing beneficial insects and incorporating companion planting and kill them with natural ingredients.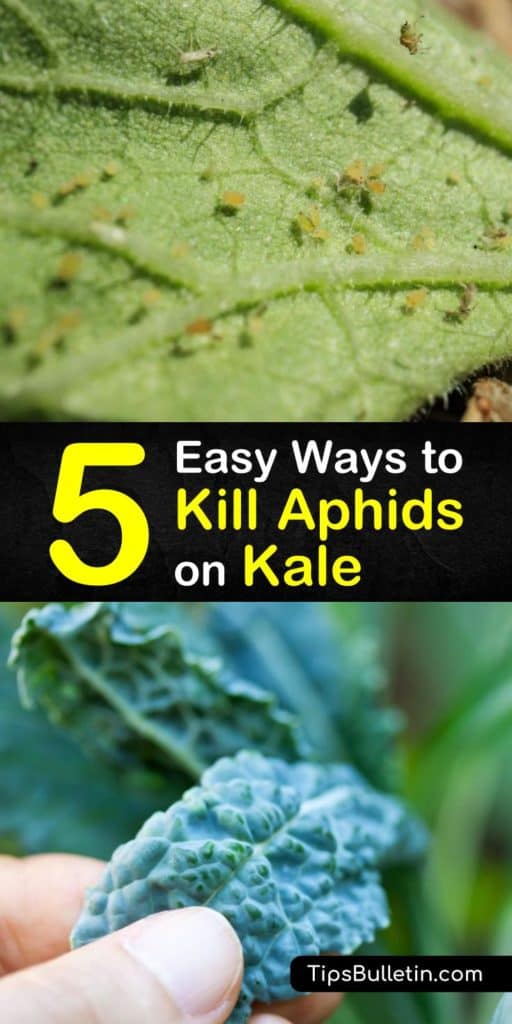 Now that you know how to get rid of aphids on kale and can prevent an aphid infestation in your garden, why not share our aphid killing tips with your garden-growing friends and family on Pinterest and Facebook?