You're relaxing with a good novel or watching a movie when you glance up and discover a bunch of gnats or flies congregating on the ceiling. While their presence is cause for concern, there are ways to get rid of these pests and keep them out of your home. Discover how to get rid of gnats on the ceiling with a few simple home remedies.
There are different reasons for flies hanging out on the ceiling. You may have a gnat infestation in a house plant, drain flies or moth flies in the garbage disposal, houseflies from dirty dishes, or fruit flies from overripe fruit. The first step in elimination is to determine the cause.
Getting rid of ceiling flies is relatively easy once you remove the rotten fruit, clean the sink drain, and take out the trash. The key is to determine which flying insect you're dealing with, whether it's a fungus gnat, fruit fly, housefly, or drain fly, and use a targeted pest control remedy.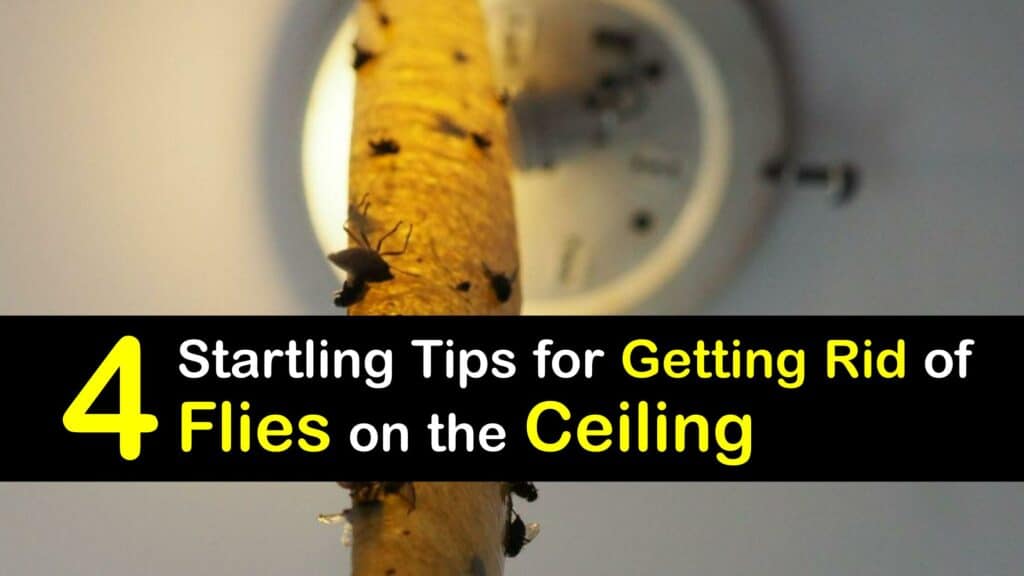 Getting Rid of Ceiling Flies
All types of flies are a nuisance, especially when they're hard to reach as they rest on the ceiling. Learn how to get rid of flies on the ceiling using a DIY gnat trap without vinegar, and learn cleaning tips to remove the fly poop.
Take advantage of essential oils. Try adding lemon or lavender or even vanilla scents wherever gnats and flies are an issue, as these are smells that gnats hate. A diffuser often works well.
How to Get Rid of Fruit Flies on the Ceiling
Ripe fruit is a favorite food source for fruit flies, which leads to an infestation, and sometimes you find them resting on the ceiling and walls. This is only one of the reasons for gnats in house and patio areas. Explore how to get rid of fruit flies on the ceiling with a homemade fruit fly trap.
Pour apple cider vinegar, fruit juice, or wine into a shallow container and add a couple of drops of liquid dish soap. Cover it with plastic wrap, secure with a rubber band, and poke holes in the top.
Set the bowl where you notice fruit flies on the ceiling and watch as the bugs fly into the gnat trap in search of sweet organic matter and get stuck.
Getting Rid of Flies on the Ceiling
While getting rid of flies on the ceiling is a pain since they are hard to reach, there is a simple way to eliminate them. Get rid of flies easily using a sticky trap and flyswatter so you won't have to be sure you treat gnat bites quickly. Most people don't have to worry about gnat bites but others are susceptible.
The simplest way to get rid of houseflies or moths on the ceiling is to hang up fly paper. The flies are attracted to their fragrance, and the sticky paper has a toxic substance that kills them.
Another way to eliminate the phorid fly and common housefly is with a fly swatter. It also kills moths instantly as well as other bugs if you can catch them being still. Wait for the flies to land on the ceiling, swat them dead, and use a vacuum cleaner to remove them from the carpet.
How to Get Rid of Gnats on the Ceiling
You may have a problem with fungus gnats if you have an indoor potted plant with mold. The adult gnat lays gnat eggs in the organic material in the soil, and the larvae turn into more adult gnats, leading to an infestation. Make a fly spray to kill them on contact.
Bug sprays are excellent for getting rid of flies on the ceiling and help you fight gnats in toilet and shower areas. Mix a cup of water with a tablespoon of vinegar and a couple of drops of liquid dish soap in a bottle.
Spray the gnats and gnat larvae as soon as you see them, whether you discover small bugs on your bathroom ceiling and walls or find them elsewhere in the house. Use the spray as one of the remedies for flying ants, roaches, and other unwanted bugs.
Ways to Clean Fly Poop Off the Ceiling
After you know how to get rid of fruit flies on the ceiling and eliminate the problem, the next step is cleaning fly poop off a ceiling. Remove fly feces using white vinegar.
Fill a bottle with a cup of water and white vinegar and spray the liquid on a sponge to wet it without making it soggy. Rub the damp sponge on the ceiling to remove fly feces and dry it with paper towels.
Nobody wants flying insects in the house, whether pantry moths, cluster flies, Indian meal moths, gnats, or houseflies. Fly traps and sprays keep them off the ceiling, out of the floor drain, away from your house plant, and out of the home.
We hope that knowing how to get rid of gnats on the ceiling keeps your home fly-free, and we'd love it if you'd share our tips for eliminating gnats and other flies from the ceiling with your family and your friends on Pinterest and Facebook.