If you're human, you're familiar with a smelly shoe. After a long day of wear, our favorite tennis shoes, athletic shoes, and leather shoes are susceptible to stinky foot odor caused by sweat and bacteria. Discover how to get rid of shoe odor forever, so you can keep your favorite pairs ready for wear.
Smelly shoes are nothing to be ashamed of; it happens to just about everyone. Your feet have almost 250,000 sweat glands in them, and odor causing bacteria are plotting against you.
The bacteria are harmless; however, they become stinky, unwelcome visitors when they digest amino acids in your sweat. Don't lose hope. Smelly feet and shoe odor are treatable. In this article, learn how to get rid of foot odor from shoes for good. Wear your favorite tennis shoes or athletic shoes with confidence, and more importantly, take them off anywhere you want, worry-free.
Learn How to Remove Foot Odor from Shoes
Banish that bad smell forever with these fantastic tips and tricks to deodorize and destroy foot odor causing bacteria in any stinky shoe.
Baking Soda for Any Bad Odor
If you're curious about how to get odor out of shoes, why not start with something you may have sitting in your fridge door?
Baking soda or sodium bicarbonate is a natural antimicrobial; it's inexpensive and a significant first step toward forgetting foul odor forever, whether you have stinky slippers, boots, or your favorite pair of high heels.
Sprinkle some baking soda right into your shoe to sit overnight, or consider a soda sachet for long-term use. Add a few drops of a natural deodorizer like clove oil or tea tree oil to your soda sachet for a fresher scent.
Some people also use teabags. Remember to dispose of baking soda in the garbage, not your garden compost, as it may kill beneficial organisms.
How to Remove Foot Odor from Shoes with Vinegar Spray
Both the food and cleaning industries use vinegar to stop bacteria. The acetic acid in distilled white vinegar is an organic acid with demonstrated antimicrobial properties, especially when enhanced by citrus.
Mix the water and white vinegar in any clean spray bottle. Cut the lemon and squeeze the juice into the vinegar mixture.
For a simple and natural shoe odor eliminator, lightly mist the inside of your shoes and allow them to air-dry. To ban bad odour, keep the bottle by the door and spritz your insoles after every use.
How to Get Foot Odor Out of Shoes with a Dryer Sheet
While a dryer sheet might not kill the odor causing bacteria in your shoe, it'll undoubtedly deodorize and get rid of the unpleasant smell for a bit.
Slip one dryer sheet into each shoe overnight, and it should make a noticeable difference to your nostrils in the morning.
A dryer sheet works well for occasional use, though maybe consider a more long-term solution to address foot odor.
Look into foot powder or more breathable socks. Even baby powder absorbs moisture and deodorizes. Test different solutions to find out what works for those smelly shoes.
Use the Freezer
Discover how to remove foot odor from shoes with your freezer. Bacteria on your feet transfer to your shoe insole and multiply in moist, low-light conditions, especially in athletic and tennis shoes.
Ruin the fun for odor causing bacteria by putting your shoes in the freezer overnight. The extreme temperature is inhospitable for the odor causing bacteria, and eliminating them stops the production of unpleasant odor.
Pop your shoes into a plastic bag and leave them in the freezer overnight. It's remarkable how well this works.
Make Your Own Foot Powder
Learn how to get rid of shoe odor by making your own foot powder for regular use. This recipe makes an absorbent, odor combating shoe powder that's non-toxic and natural.
Absorbency is vital if you're prone to the dreaded sweaty foot, and this powder works wonders.
Add all dry ingredients to the container of your choice and shake well. Stir in a few drops of tea tree oil or lavender as a tremendous additional odor-fighter.
Tap a small amount of this natural foot powder into your socks or shoes each day, and notice the difference with regular application.
Try Activated Charcoal
Activated charcoal is prevalent in many products these days, but what is it? Activated charcoal is charcoal treated to develop a very porous surface on a micro-level.
These pores make molecules stick to the carbon, and therefore, are super-effective at absorbing odor, whether you need to get the smell of gas out of your shoes or have embarrassingly unpleasant foot odor.
Purchase activated charcoal in a pre-made bag at a drug store or online for a reasonable price. They're reusable for at least a year and are incredibly low-fuss.
Insert it into your tennis shoes or athletic shoes after every wear to maintain a no-odor zone.
How to Remove Foot Odor from Shoes with Kitty Litter
Typical cat litter is designed to be an absorbent deodorizer, so it's not totally crazy that cat litter works on odor causing bacteria in your shoe.
However, since no one wants to dump cat litter right into their athletic shoes, we've included a way for you to make your own little shoe odor sachets. Deodorize work boots with this simple remedy, too.
Fill the socks with cat litter, tie them closed at the top, and pop one into each shoe. For a fresher shoe smell, try citrus-scented cat litter.
If you enjoy crafting, try cutting some decorative, breathable fabric into 8-inch circles, fill with kitty litter and tie securely with ribbon or string.
Rubbing Alcohol for Athletic Shoes
When you think of how to get odor out of shoes, rubbing alcohol might not immediately come to mind. Rubbing alcohol is a famous topical antiseptic, and it even helps slay the shoe odor dragon.
Rubbing alcohol is available in different concentrations, though many experts recommend 70% for disinfecting purposes.
Lightly wet a cotton ball and thoroughly go over your shoe insole and shoe interior. It's safe for use on most fabrics, but avoid using it on delicate materials like suede and leather.
Foot Odor in Leather Shoes
Try a cedar shoe tree if you've been wondering how to get rid of shoe odor from fussy leather shoes. Shoe trees may seem like they're from a bygone era, but our grandparents had it right.
Cedar is naturally antimicrobial, and it keeps moisture to a minimum after a long day of wear.
Investing in a cedar shoe tree even helps your leather shoes keep their original shape and fit, prolonging their life and saving you frequent replacement costs.
Purchase a shoe tree pretty inexpensively at department stores or men's suit shops. After trying them out of curiosity, many people swear by cedar shoe trees for their leather shoes.
Classic Shoe Deodorizer
Researching how to get rid of shoe odor can be exhausting. Sometimes you just want a ready-made, classic shoe deodorizer, without the chemical irritants.
Fortunately, many companies are pioneering all-natural options that are affordable and still get the job done.
Research anything that interests you as a long-term solution for foot odor. It's nice to know you can adhere to natural options that suit your lifestyle, even if you don't make it in your own kitchen.
Stop Wondering How to Get Rid of Shoe Odor
We always advocate for prevention, and smelly shoes are no exception. Try some of these helpful ideas to stay on top of known odor-causing issues.
Learning how to get rid of shoe odor is life-changing. We're social creatures, and we care about what our peers may think. Learn the best way to dry shoes quickly to keep odors from lingering in your footwear after they get wet.
Being able to take off your tennis shoes or athletic shoes anywhere, without shame, opens up possibilities and only builds confidence.
You have enough knowledge to make your shoes inhospitable for odor causing bacteria and crush that foul smell forever.
Go forward and fight foul odor wherever you find it with this new collection of tips and tricks. It's empowering to choose any footwear you want and know that it's going to smell pretty ok for a shoe.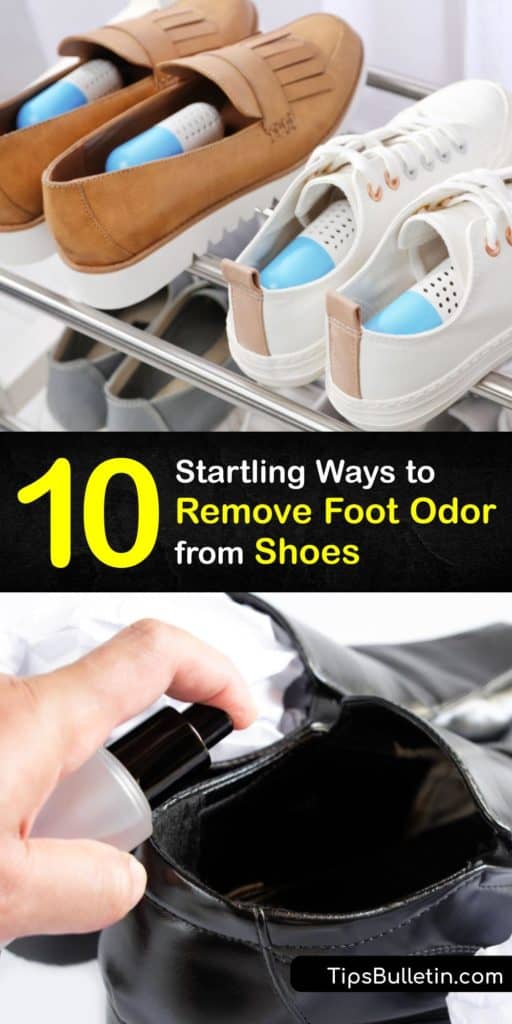 If you loved these stink-busting ideas for how to get rid of shoe odor, then share with a friend on Pinterest or Facebook who may also be wondering how to remove odor from a favorite pair of shoes.