Crafting with tie dye effect on fabric is very popular right now, but it often leaves stubborn tie dye stains on your hands and fingernails afterward. Learn how to get tie dye off your nails and skin so you can tie dye confidently every time without worrying about a long, laborious cleanup.
It may feel like unintentional tie dye nail art comes with the territory, but it doesn't have to. Manufacturers make tie dye products with fiber-reactive dyes that won't harm your body, just your manicure. White nail polish or any beautiful manicure is vulnerable to tie dye paint stain because it penetrates right to the base coat.
We recommend prevention as a first step, but if your safety gloves break, wash your hands quickly with soap and warm water to remove the dye and prevent it from setting into your skin. We have some simple, safe solutions for any lingering dye stains, so don't worry too much about your gorgeous fingernails.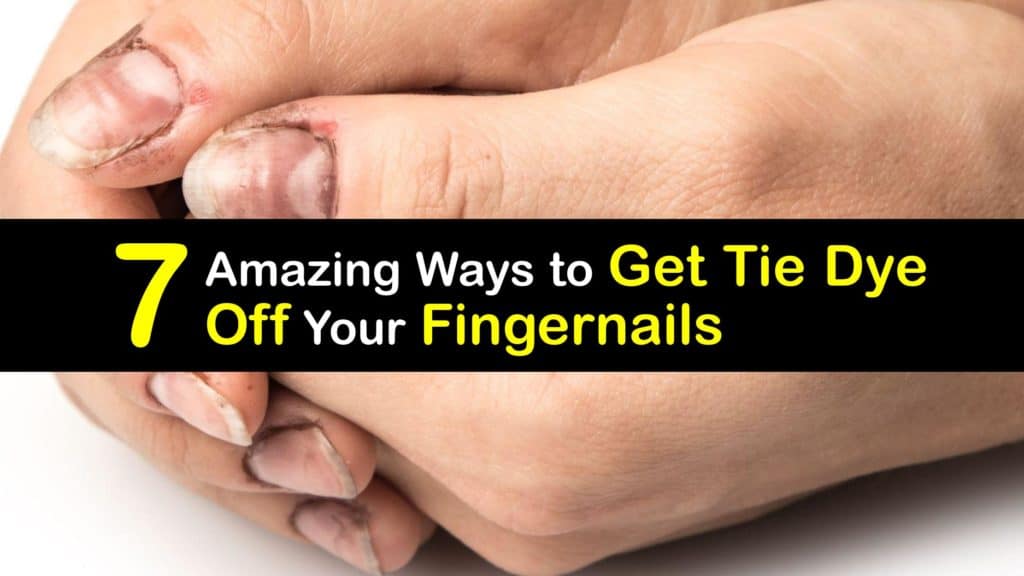 Discover How to Remove Tie Dye from Your Fingernails
It's pretty easy to find out how to get tie dye off your nails or clean fabric dye from your skin with these fantastic tips and tricks. Here are the quickest, most straightforward solutions to help you if you're in a hurry.
Exfoliate with Baking Soda
Let's start with something simple. Most kitchens have a box of baking soda tucked away in the cabinet or fridge, and it does a fabulous job of breaking down stubborn tie dye stains.
To get tie dye off your nails, mix half a teaspoon of baking soda with enough warm water to make a paste. Gently exfoliate your skin with the baking soda paste as you run your hands under warm water.
The skin around your fingernails is delicate and dries out quickly; remember to moisturize after treatment and stop if you notice irritation.
Use a nail brush or soft scrub brush to help lightly exfoliate with steady, gentle pressure. Toothpaste also works in a pinch and can be applied the same way as a mild abrasive to break up dye components.
How to Get Tie Dye Off Your Nails with Vinegar
We can't stop singing the praises of simple household ingredients like white vinegar. You likely have a giant jug of distilled white vinegar in your house, and that's all you need to clean tie dye from nails and skin., as well as to get fabric paint out of clothes or your hands.
Get a cotton ball or cotton pad, soak up a bit of vinegar, and then soak and blot the dyed areas. Rinse with warm water, and repeat. Add a little extra power and mix a cup of vinegar with a teaspoon of dish soap and a squeeze of lemon juice; it will help the paint stains on dyed skin separate and wash away a bit easier.
Vinegar is acidic, so rinse your hands in between applications, stop if your hands feel irritated, and moisturize your delicate skin after vigorous washing.
Try this remedy as a way to get dye out of clothes, too. Use care with darker fabrics, as the lemon juice may lighten it.
Try Nail Polish Remover
Nail polish remover doesn't just eliminate old nail art; the acetone also works on a stubborn tie dye or hair dye stain, whether you need to remove black hair dye from skin or nails. Soak a soft cotton pad with nail polish remover. Gently blot the stained area and rinse with warm water; repeat as required.
A small toothpick or even your nail art brush can gently clean around your fingernail for stubborn nooks near your cuticle. Reach for the nail polish remover only after other preliminary steps have failed; wash your hands well with warm water. Use a homemade exfoliator or try an oil-based product first.
Rubbing Alcohol for Tie Dye
If you're struggling to get tie dye off your nails or need to get tie dye off your hands, have a look in the medicine cabinet for a bottle of rubbing alcohol or 3% hydrogen peroxide. Both of these items are usually already in the bathroom, and if not, they're very inexpensive.
You can also look around for rubbing alcohol wipes; they're convenient and show how much tie dye is lifting from your skin.
To use liquid rubbing alcohol for removing dye or to clean super glue off nails and fingers, apply directly to a cotton ball and gently pat the stained areas of your hands and fingernails. Leave the rubbing alcohol to sit for a minute or two, then rinse with warm, soapy water; repeat as needed.
Exfoliate with Sugar and Olive Oil
Try a little sugar and olive oil if you need a way to remove tie dye from your fingernails. This natural, non-toxic exfoliator works well for sensitive skin or anyone who prefers a DIY approach to tie dye removal. Oil products are excellent for working away skin-based stains – fabric dye, hair dye, and tie dye.
Pour a cup of olive oil in a shallow dish, and mix in the sugar; add more or less sugar depending on your desired consistency. Apply the exfoliator over your nails and surrounding skin.
Rub the exfoliator gently in small circular motions until the dye begins to break up and lift away. Feel free to use olive oil, baby oil, or coconut oil on its own to dissolve the dye stain; it works, and it keeps your hands moisturized while cleaning.
Get Tie Dye Off Your Nails with Makeup Remover
Remove tie dye from your fingernails or get hair dye off fingernails with a bit of makeup remover. Makeup remover and makeup wipes are a simple, effective way to clean up many other skin-staining products like hair color and tie dye stains.
Since makeup remover is for your face and around sensitive spaces like your eyes and mouth, it's a gentler alternative to harsh chemical solutions. Use a cotton pad and gently work makeup remover into the tie dye stain; you'll see it begin to break up and disappear.
Professional Skin-Safe Stain Remover
We've covered how to get tie dye off your nails with simple household solutions, but sometimes it's not enough. Many companies feel your struggle and manufacture fantastic solutions like hair dye removal wipes, pastes, and creams.
You're not alone – there are plenty of DIY or professional solutions at your fingertips. If things have just gone too far, and your skin says, "no more," it's time to consider a safe, effective professional product.
We hope you feel ready to conquer those stubborn tie dye stains. It happens to the best of us, even with preparation. It's essential to wear gloves and appropriate protective gear when crafting with dye or any products known to stain skin or fabric. Take extra precautions to cover surfaces, and we promise you a smoother, stain-free tie dye experience.
There's a lot of great stuff here about how to get tie dye off your nails with simple items like baking soda, vinegar, and lemon juice. You've learned how to make a DIY exfoliator and about handling more intense cleaning options like hydrogen peroxide and nail polish remover.
There's nothing you can't do when tackling tie dye or hair dye stains on your hands, but let's hope you don't have to.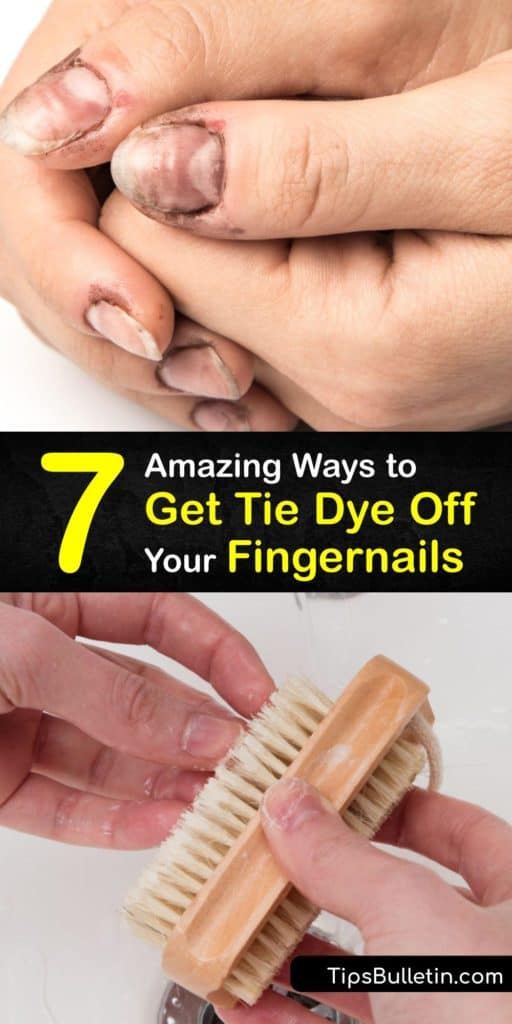 If you enjoyed learning how to get tie dye off your nails with these simple tips and tricks, share this article with a friend on Pinterest or Facebook who may need some help with tie dye stains.