Ah, pineapples, the sweetest and most succulent fruit of them all. But, did you know that pineapples are easy to grow at home from the tops and seeds? Learn how to grow a pineapple as a houseplant or for fruit using a few easy methods.
This tropical fruit is striking in appearance and gets its name because it resembles a pine cone. We often think of these bromeliads as native to Hawaii, but this is untrue. Many commercial growers produce pineapple fruit in other areas, such as Mexico, Thailand, and China. These plants grow in other regions, too, but they are a popular choice for growing indoors and as a yard ornament in warm areas such as Florida.
They are a unique houseplant and even produce fruit under the right conditions. And, the cool thing about pineapples is it's easy to grow them from grocery store scraps. How many times did you throw away the leafy top and outer layer of your fresh pineapple after slicing away the fruit flesh? We'll show you how to grow a new plant from the pineapple top and seeds for indoor decor and fruiting.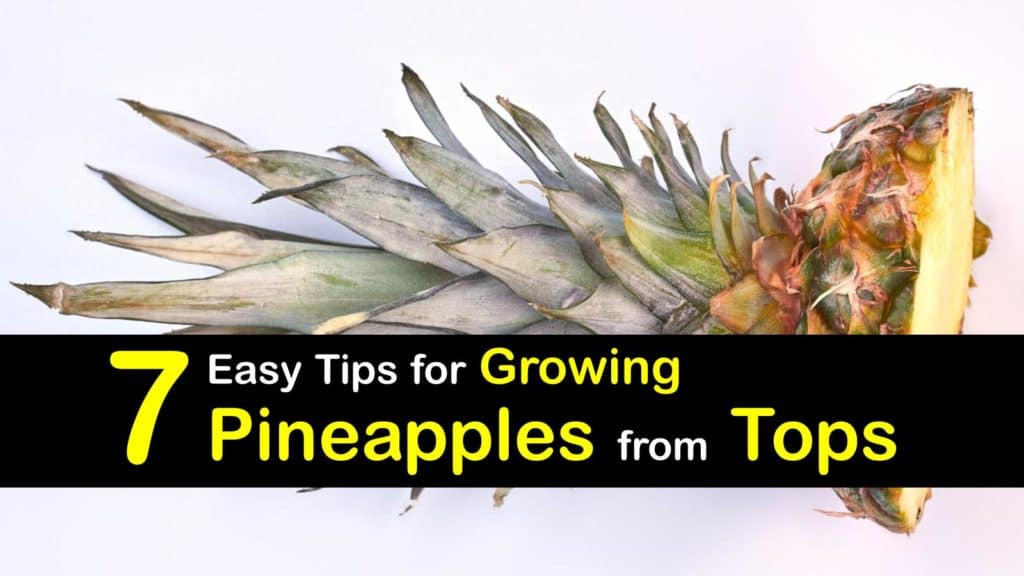 How Do Pineapples Grow and Choosing the Perfect Pineapples
What are pineapples? This delicious juicy fruit is tart and sweet at the same time. How do pineapples grow, and where do pineapples grow from? These are two important questions and knowing the answers helps you grow the healthiest plants with the tastiest fruits.
Pineapples
Since pineapples (Ananas comosus) are tropical, they thrive in consistently warm regions of the world and do not tolerate freezing temperatures.
Healthy plants have sword-like pointed leaves that reach up to five feet tall, and after several years, a red cone appears from the center, followed by purple flowers, which give way to pineapple fruit.
To grow a plant from a grocery store pineapple, it's vital to pick the perfect one. Choose fresh pineapples with firm, green leaves.
Avoid under ripe fruits, since they do not release ethylene gas and do not ripen further, and select those with golden brown and firm skin.
Growing Pineapples from Tops by Drying and Soaking
Growing pineapples from tops is the easiest way to develop new plants, but there are a couple of steps to take beforehand to prepare them for the pot. Here is how to grow a pineapple from the top by drying and soaking them.
To regrow a pineapple from its crown, hold the pineapple tightly with one hand and use the other hand to twist off the top leaf section from the fruit base. Removing it this way ensures that the base of the leaves remains intact.
Pluck off the bottom leaves to expose a couple of inches of the stem to help roots sprout after planting, and slice away any remaining fruit.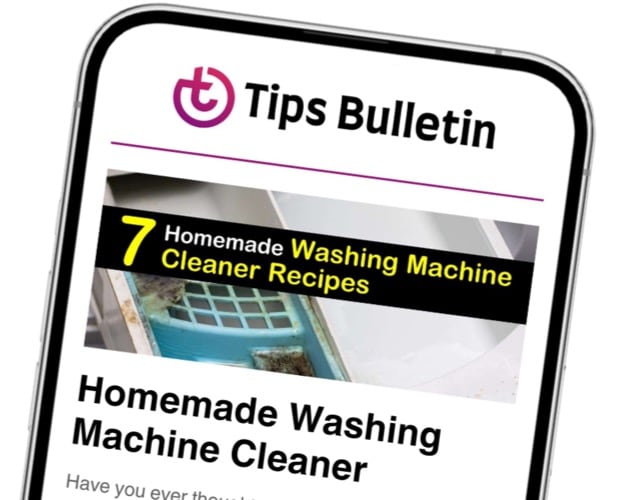 Finally, an email that Transforms Your Home.
Get the latest home and garden tips from our experts, delivered straight to your inbox.
To dry the top, place it in an out of the way area in an upside-down position for one week to harden the scarred areas of the stem.
After drying, stick toothpicks around the pineapple crown beneath the lower leaves, fill a jar with water, and balance it on the rim of the glass to submerge the stem in the water while keeping the leaves dry.
Set the glass of water in a sunny window and wait for roots to emerge while refreshing the water as needed.
How to Grow a Pineapple Top in a Pot
After you prepare the leaf section for planting, it's time to start growing pineapples from tops in a potting mix and a container. This method is similar to growing most other household plants, and the result is worth the effort.
Choose garden soil that contains organic matter and perlite, and fill a small pot with the material.
After the pineapple stem has roots that are a couple of inches long, bury the stem into the dirt with the leaves just above soil level and firmly pack the dirt around the base of the plant. Give it enough water to help it settle and place it back in the sunny window.
Growing Pineapples from Seed
If you're a start-from-scratch, DIY type person and prefer to grow your food from seed, growing pineapple from seeds is a relatively simple task. While this form of pineapple growing takes more time to produce fruit, it's a good choice for home gardeners.
The pineapple seeds are located about three-eighths of an inch from the outside of the fruit and are small and black, so inspect this area while slicing it. Once you locate your seeds, rinse them in water and wrap them in a damp paper towel.
Store them in a sealed plastic storage bag and keep them warm and damp until they sprout. This process takes up to six months, so patience is required.
Once they have decent sized sprouts, remove them carefully from the paper towel and plant them in a small pot of potting soil. Put them on a sunny windowsill and keep them warm and damp as they mature.
How Long Does it Take for Pineapples to Grow?
So, you have your newly planted pineapple and wait with anticipation for fresh fruit, but how long does it take for them to grow? The answer depends on whether you are growing pineapple from crown or seed and the type of conditions the plant receives.
If you start your pineapples from seed, expect to wait about six months before the seed sprouts and is ready for planting in soil in a temporary container.
After this, it's important to transplant it to a larger pot while it matures and takes approximately three to four years of growth before maturity and fruiting.
For plants started from a pineapple top, it takes about two to three years before you see the flowers begin to bloom and about six months before they completely develop and turn into fruit.
Common Problems While Growing a Pineapple
How do pineapples grow, and is there anything to be concerned about during the growing process? These plants grow well from both tops and seeds and thrive in slightly acidic soil and full sun. However, there are some conditions to watch for to maintain a healthy plant.
Pineapple Growing Problems
There are a few common pests that plague pineapple plants both indoors and out. These include mites, scaly insects, and mealybugs.
Use a damp paper towel to handpick these bugs from your plants and new leaves, and eliminate them with insecticidal soap.
Other pineapple problems are under and overwatering. A plant that receives little water and is too dry has yellow and brown foliage that starts outside with the older leaves.
To check if your plant is getting too much water, pull the soil away from the tops of the roots and look for brown and mushy material.
This is a sign of root rot, and it's vital to let the soil dry out and inspect for new growth. If your plant has yellow leaves in the center, this is a sign that the entire plant is dying.
How to Care for a Pineapple Plant
Now that your pineapple plant is seated in the perfect pot and soil, it's time to give it some TLC to ensure its good health as it matures. These include sunlight, temperature, water, fertilizer, and repotting.
After your new plant is firmly rooted in the soil of a small starter pot, it's time to repot it for healthy and robust growth. Move the plant to a ten to twelve-inch pot with drainage holes and pack it in place with fresh potting soil.
As it continues to grow, transplant it to a more suitable container as needed until maturity. Water your pineapple plant about once a week or when the soil is dry at three inches deep.
Make sure to water it thoroughly during each session until water appears out the drainage hole at the bottom of the pot. Empty the saucer and do not allow your plant to sit in standing water.
Be sure to use a balanced organic pineapple plant fertilizer to feed your plants once a month by mixing a half tablespoon of a slow-release formula into the top half-inch of the dirt.
Keep your plant in a sunny area of your home where it receives bright sunshine but not too much direct light that tends to burn the leaves. Trim away dry, dead leaves if they appear to encourage the plant to put more energy into healthy growth.
Do you know when to pick a pineapple? Ripe pineapples have leaves and skins that turn brown and the fruit smells sweet. It takes about two years to grow a pineapple from start to finish.
Stop yourself from throwing the leafy top into the trash or compost the next time you cut up a ripe pineapple.
Growing pineapples from the tops is a simple task, and these tropical houseplants not only look beautiful but produce sweet and juicy fruit under the right conditions.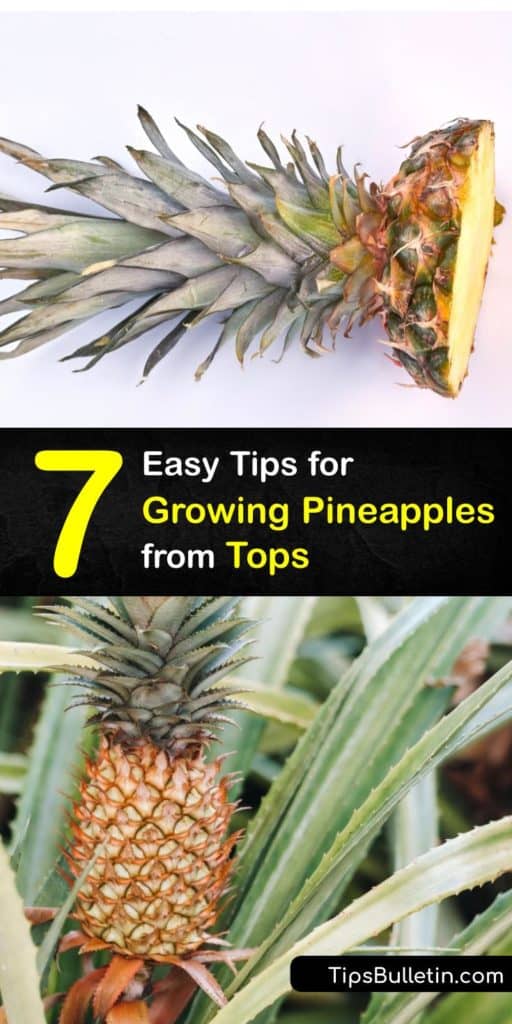 Now that you know how to grow a pineapple in your home, why not impress your friends and family by sharing our pineapple growing guide with them on Facebook and Pinterest?