The fact that you're reading this article tells us that you not only like it hot, but super hot. Ghost peppers are a favorite among those who enjoy their food with a high kick, but this pepper is not as easy to find at the grocery store as other hot peppers. And, knowing how to grow ghost peppers at home rewards you with plenty of peppers during harvest time.
Ghost peppers are famous for making the best hot sauce around, and only a couple of drops is necessary when adding it to tacos.
While the Carolina reaper is currently the world's hottest pepper, the ghost pepper is number seven on the top ten list and is hotter than the habanero.
While the bell pepper is a common staple in the garden and growing the occasional jalapeno or habanero pepper turns up the heat a little, ghost pepper plants are another great addition.
That said, this pepper variety requires the right amount of heat and humidity to thrive.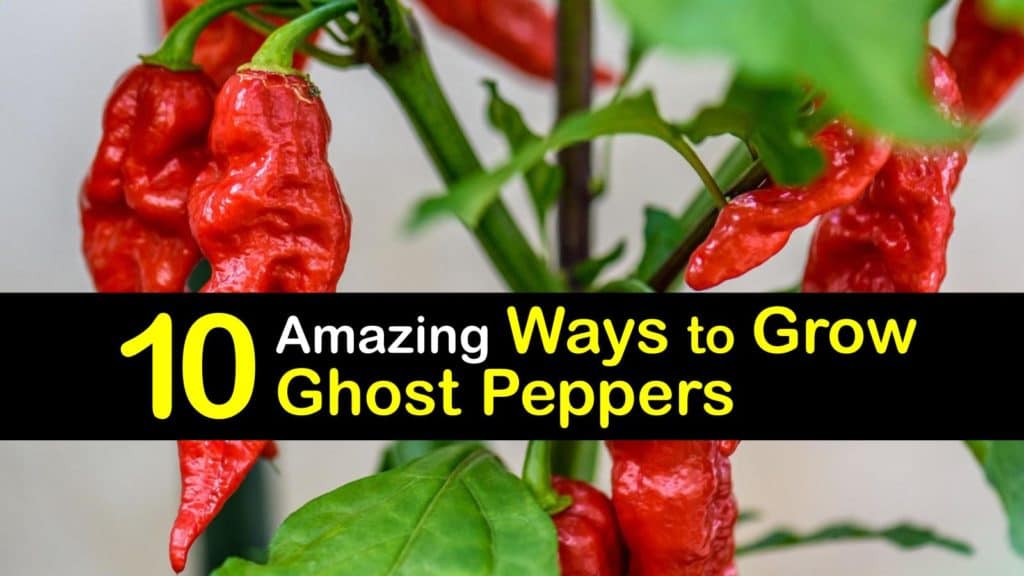 How to Grow Ghost Peppers at Home
The ghost chili pepper is a finicky plant since its heat index is directly related to its growing conditions.
However, it's not impossible to grow it at home, like when growing habanero peppers, as long as you take the right steps to keep your plant happy. Here are several ghost pepper growing tips and how to care for your garden plants.
What to Know Before Growing Ghost Peppers
There are a couple of things to understand before growing ghost peppers at home. While they are not the hottest pepper on the planet, they pack enough heat to cause pain. So, what makes ghost peppers so special?
Ghost Peppers
Bhut jolokia, or ghost pepper, is a popular hot pepper of India, and it is a hybrid of Capsicum frutescens and chinense. It is an exceptionally hot pepper with 1,000,000 Scoville heat units and has a range of uses other than making hot sauce.
Believe it or not, Indians use this pepper to ease stomach ailments and cool the body through perspiration. These peppers range in color depending on their ripeness, from yellow to bright red, and are two to three inches long and approximately an inch wide.
Ghost pepper plants get their heat from the climate they grow in and need high humidity and temperatures for at least five months of the year, similar to native India. They are ideally grown in USDA hardiness zones 8 through 11.
How to Grow Ghost Peppers Indoors from Seed
Before you plant your peppers outdoors, it's important to give them a head start by planting the seeds inside eight to ten weeks before the last frost. Here is how to grow ghost peppers indoors by starting them from seed.
To increase the chance of germination, place the ghost pepper seeds in a dish of hydrogen peroxide for one minute before planting them. Fill a seed starting tray or pots with potting soil and place a couple of seeds into each section by following the packet instructions. Grow bell peppers from seeds the same way.
Ghost peppers take up to 35 days to germinate and require warm dirt of 80 to 90°F, so place them beneath a fluorescent grow light during the germinating process or in a full sun windowsill. Keep the soil moist by spraying them with water.
How to Grow Ghost Peppers in a Garden Bed
After you grow ghost peppers from seed indoors, it's time to move the pepper seedlings to their outdoor location. To do this, the garden bed needs preparation, and the young plants require hardening off.
Once the outdoor temperature is above 70°F and the fear of frost is gone, harden off your pepper plants by moving them outdoors each day for a couple of hours.
Pick a sunny location where the plants receive bright, direct sunlight, and prepare the garden bed for planting. Dig a hole in the dirt that is slightly larger than the plant base, remove the pepper plant from the container, and set it into the hole.
Push the soil around the plant's roots and pack it down lightly. Space your plants about 20 inches apart, and water and feed them with a balanced fertilizer right after planting.
Can You Grow Peppers in Containers?
Growing ghost peppers in a container garden is ideal if you have limited outdoor space. You can also grow them inside like growing jalapenos indoors with enough light. However, it's vital to ensure that your patio or porch receives the right amount of sunshine for the plants to thrive.
Before planting your seedlings outdoors, acclimate them to the environment by taking them outside each day for a couple of hours, about a week before transplanting.
Fill a large pot or container with a well-drained potting mix. Ghost peppers grow best if you space them 18 to 24 inches apart, so use separate containers for each plant or space them in a raised bed.
Dig a hole in the middle of the container that is a little larger than the seedling pot, and set the plant's roots into the dirt. Fill in the soil around the plant's base and pack it down lightly. Water and feed the seedlings and place them in the sunniest part of your patio or porch.
Caring for Your Ghost Pepper Plants
Now that you know how to grow tabasco peppers or ghost peppers indoors from seed and plant them in the garden or container, it's time to give them the perfect amount of sunlight, water, and food during their growth, so they reward you with the spiciest fruits.
The best way to see if your plants require watering is to test the soil and give them a good drink when the top two inches are dry. Keep in mind that container plants demand more watering than those in a garden bed.
Feed your pepper plants right after planting them and twice more through the season. Use a fertilizer high in potassium and avoid high nitrogen fertilizer when fertilizing your plants since this causes them to produce little to no fruits.
Test the soil pH of your dirt to ensure it is fertile with a pH of 6.0 to 6.8. Remove damaged leaves and stems as soon as you notice them and mulch around the plant's base with straw or grass clippings to stop weeds from growing and retain soil moisture.
Managing Common Ghost Pepper Diseases
There are some issues to be aware of while ghost pepper growing, and these include bacterial and fungal diseases. Here are some common disorders and how to prevent them from destroying your plants.
If you notice lesions on your plants' leaves, this is most likely bacterial leaf spot. The spots begin on the lower leaves and progress to the fruits, causing spotting and cracks.
To prevent the problem, rotate your crops each year and use a soaker hose to water them to prevent the soil from splattering on the foliage. Powdery mildew is evident when you see a white powder on the underside of leaves and yellow blotches on the tops.
To remedy the issue, mix a gallon of water with a tablespoon of baking soda and a half teaspoon of liquid soap and spray liberally over your plants.
How to Keep Garden Pests off Pepper Plants
While some pests steer clear of hot peppers, others are not bothered by the heat or flavor of these plants. Therefore, it's essential to know what's munching on your peppers and how to eliminate them from the garden.
Aphids, a tiny insect that hides beneath leaves, and slugs, are easy to remove by hand, but spider mites are a little more challenging to get rid of.
To kill mites, mix one quart of warm water with two teaspoons of neem oil and one teaspoon of Castile soap and spray the entire plant from top to bottom.
Practice companion planting to limit pest problems. Growing peppers with the right plants is mutually beneficial. However, what not to plant with peppers includes beans and members of the Brassica family.
When to Harvest Ghost Peppers
Growing peppers is a lengthy process, especially if they are ghost peppers with a long growing season. How long do these hot peppers take to grow, and when are they ready to harvest?
Pepper Harvest
Ghost peppers take about three months to grow under the right conditions. They begin green and then gradually turn yellow, orange, and then bright red. Once they are red and have slightly wrinkly skin, they are ready for harvesting.
They are harvested at any stage of their development but have a higher Scoville level when mature.
How to Store and Preserve Ghost Peppers
So, you have a basket full of super-hot ghost peppers but, what is an ideal way to store them after they ripen? Here are ways to store peppers, from the fridge to the freezer, to keep them fresh longer.
Always wear gloves when preparing peppers for storage to stop capsaicin oil from getting on your skin and avoid touching your face. To store the peppers in the fridge, place them in a plastic bag and keep them in the crisper drawer for about two weeks.
To freeze the peppers, slice them into strips and spread them in a single layer on a baking sheet. Flash freeze them for an hour or two and then transfer them into freezer bags. Keep them in the freezer for about six months.
How to Germinate Seeds from Dry Ghost Peppers
Some seeds are inexpensive and easy to find at just about any garden center, while others, such as ghost pepper seeds, are not as readily available. Learning how to harvest seeds from your favorite peppers goes a long way to next year's crop.
Dry your peppers by placing them in a cool, dry, and dark area of your home. After drying, put on a pair of gloves, break open each pepper, and scrape the seeds from the inside.
Save the mature seeds that are dull white and hard for planting rather than immature seeds that are glossy, bright white.
Place the seeds in a bowl of lukewarm water and soak them for about three days. After they hydrate, plant them as you do store-bought pepper seeds.
Ghost peppers are not the easiest to find in local grocery stores. However, growing your own is possible once you understand the conditions they need to produce.
Harvesting ghost peppers at the end of the growing season gives your spicy dishes the perfect punch of heat.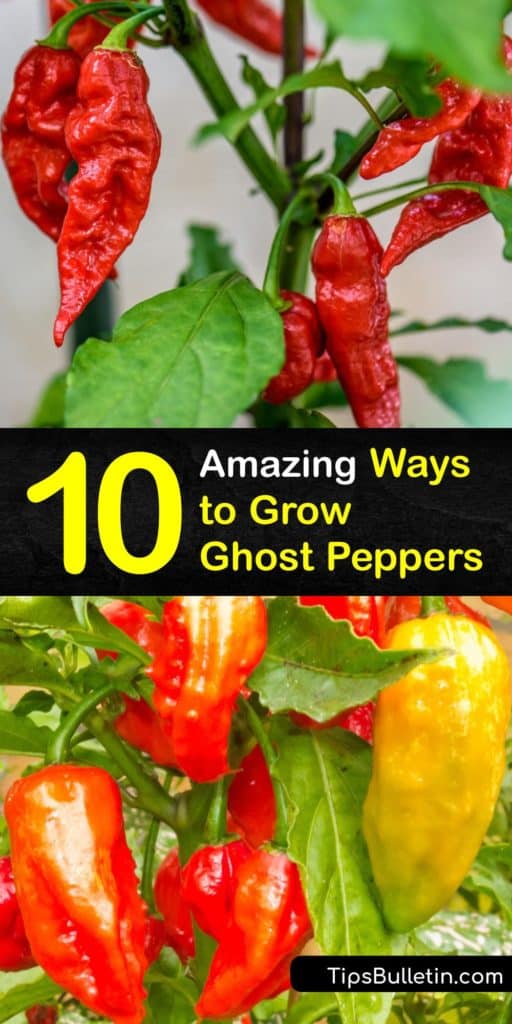 Now that you know how to grow ghost peppers and harvest them to make the hottest sauce around, why not share our ghost pepper growing guide and tips with your friends and family on Pinterest and Facebook?