We all like to fill our kitchen cabinets and drawers with a variety of spices that make our food taste better. One of our favorite common spices to cook with is ginger, a tropical plant that adds a spicy depth to our favorite recipes. Despite being a plant that grows in hot regions, learning how to grow ginger in a pot throughout the year is entirely possible.
Growing ginger in pots as a houseplant is a fun and easy way to guarantee that you're using only the freshest ingredients. Because ginger doesn't grow in most of the climates around us, it seems like learning how to grow ginger in pots could be complicated.
The good thing about ginger root is that it is easy to create a similar environment inside your home. Ginger is aromatic and pungent and one of the best roots to always have only a few steps away.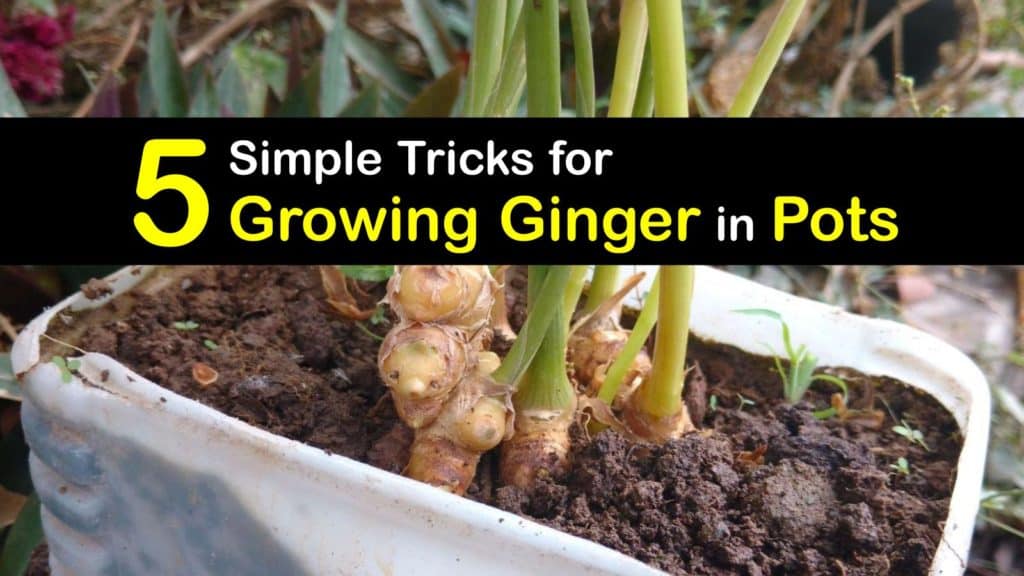 Benefits of Growing Ginger in Pots
Ginger, also called Zingiber officinale, originates in southeast Asia. We always eat the root, but it is also a flowering plant closely related to cardamom, turmeric, and galangal.
It is used fresh, powdered, dried, or as an oil or juice. There are also a lot of health benefits to having a ginger plant at home.
One of the most significant benefits of learning how to grow ginger in a pot is its powerful medicinal properties. Ginger is embraced in both alternative and traditional medicine and has been proven to aid digestion, fight the flu and cold, and reduce nausea. While there is a difference between ginseng and ginger, both are beneficial to the body.
Ginger contains gingerol, which is responsible for most of the plant's medicinal purposes. Gingerol is an anti-inflammatory and antioxidant that helps reduce stress.
Aside from the medicinal purposes of ginger root, some people believe that it helps with weight loss, osteoarthritis, and reducing blood sugar. Growing your own ginger year round is a wonderful choice for your tastebuds and your overall health.
How to Grow Ginger in a Pot
Growing ginger in a pot, like growing turmeric root, is relatively simple once you understand what ginger needs to survive. With the proper care, you'll be harvesting ginger in no time.
How to Grow Ginger in Pots
Similar to when you grow turmeric at home, start with a large, wide planting container when learning how to grow ginger in a pot. A container with lots of drainage holes and a tray to set below it to catch the water is ideal.
Ginger plants have shallow roots but are impressive growers and still require space to grow and spread. Shallow pots are okay as long as they are at least 12 inches wide.
Go outside or to your local grow center and pick up a few small stones to place in your tray and set your container on top of them. The rocks help improve the drainage even more and maintain humidity around the plants.
Choosing the Right Rhizome
The next step in learning how to grow ginger in pots is to source a piece of ginger. Ginger rhizomes are similar to root stalks. It is easy to find organic ginger near the other root veggies at your local grocery store.
If you plan to buy grocery store ginger, make sure the roots look plump and not shriveled. Look for multiple budding eyes that look like little notches sticking out of the skin.
Try finding ginger chunks that are at least two inches long and wide. Find ginger roots at nurseries or garden centers if you don't want to buy them from a grocery store. These roots often grow easier and produce a better root and ginger flower.
Planting Ginger
Once you have everything required, it's time to start planting. To grow ginger from root pieces, soak the fresh ginger roots in warm water throughout the night.
The following morning, cut each root into one-inch sections with a bud on each piece. These buds start sprouting, so the more you have, the bigger your yield becomes.
Fill your gardening container with a rich potting mix so that it is almost full. Garden soil isn't ideal because it may be carrying diseases and pests.
Put the root pieces on the top of the soil so the buds face up, and each piece is about five inches away from one another. Lightly cover the ginger pieces with the potting soil and water the plants right away to make the soil moist.
Mimicking the warm climates that ginger comes from is best since the cold is a growth inhibitor. Even though it comes from the tropics, ginger naturally grows in rainy and partly shaded conditions, so full sun isn't required.
Set the container in a warm spot that gets around five hours of filtered, indirect sun every day. Once planted, be patient and watch your nurturing bring something to life.
Caring for Ginger
Caring for the plants while they grow is one of the most crucial parts of the planting process. Try to keep the soil temperatures around 75°F. Keep the plant away from drafty spots in the house or near a south-facing window.
Try misting your plants every few days to keep moisture in the soil, and add mulch to the top to retain some heat and moisture. Resist overwatering the plant.
Although possible, we don't recommend trying to replant the ginger outside. It is a lot easier to care for inside your house and has a better chance of survival.
How to Harvest Ginger
Growing ornamental ginger for the flowers is lovely, but the biggest benefit comes from harvesting the root and using it in the kitchen.
The rhizomes don't mature fully for about eight months, but it is safe to harvest small pieces of the root three or four months after growth begins.
How long does it take to grow ginseng? It takes ginseng much longer to grow than ginger – three to four years to harvest.
However, when ginger is ready to harvest, remove some of the packed soil around the edges of the container and use your hand to feel for rhizomes. Use an extra-sharp pair of scissors to cut away the amount of ginger you desire and then gently push the soil back over the plant.
Once you have the ginger, it's time to start cooking! Making fresh ginger tea is great for your body and creates an enjoyable drink in the morning.
Add the sliced ginger, water, and cinnamon to a pot and bring it to a gentle simmer. Reduce the heat once the fresh water starts to bubble and let it infuse for five to ten minutes.
Remove the ginger tea from the heat and pour it through a mesh sieve and into a large mug. Add the fresh lemon slice and wait for the tea to cool before sipping.
There are a variety of ways of preserving fresh ginger root. Freeze or pickle it or even dry it in the dehydrator. How long does ground ginger last? When the spice is stored this way, it lasts a long time.
Keeping fresh ginger in the house is an easy way to incorporate vitamins and minerals into meals without taking an unnecessary trip to the grocery store.
Growing ginger in pots is something that anyone can do, and it benefits families in unbelievable ways. These growing-ginger-indoors tips are useful and give you the best strategies to succeed.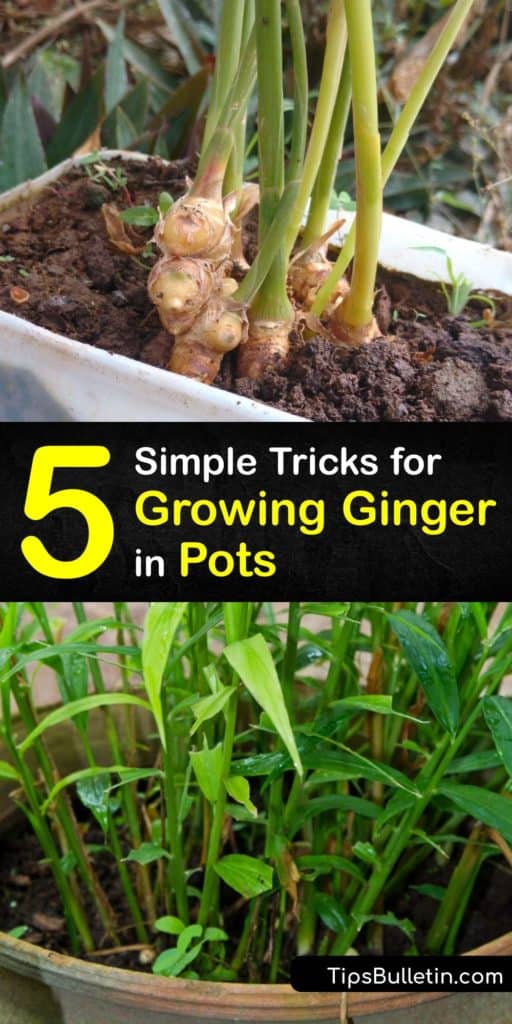 If learning how to grow ginger in a pot has made cooking easier for you, share these tricks to successfully grow ginger as a houseplant on Facebook and Pinterest.