Asparagus is one of the most treasured and in-demand garden vegetables around. These perennial veggies are tender and delicious, and if you have your own patch, it saves you quite a few dollars at the grocery store every spring. Learning how to harvest asparagus is one of the most critical parts of the growing process.
Harvesting asparagus takes a lot of patience, but it is well worth it in the end. Knowing when to harvest asparagus isn't something that every beginner gardener knows. These plants aren't like other veggies.
They take a lot of time, care, and patience to get to a desirable flavor and size. An asparagus patch requires dedication at the beginning, but soon these ferny plants provide you with years of veggies that are full of flavor.
If you're curious about when to pick asparagus at the perfect time, use some of these helpful tips to get the most flavorful spears.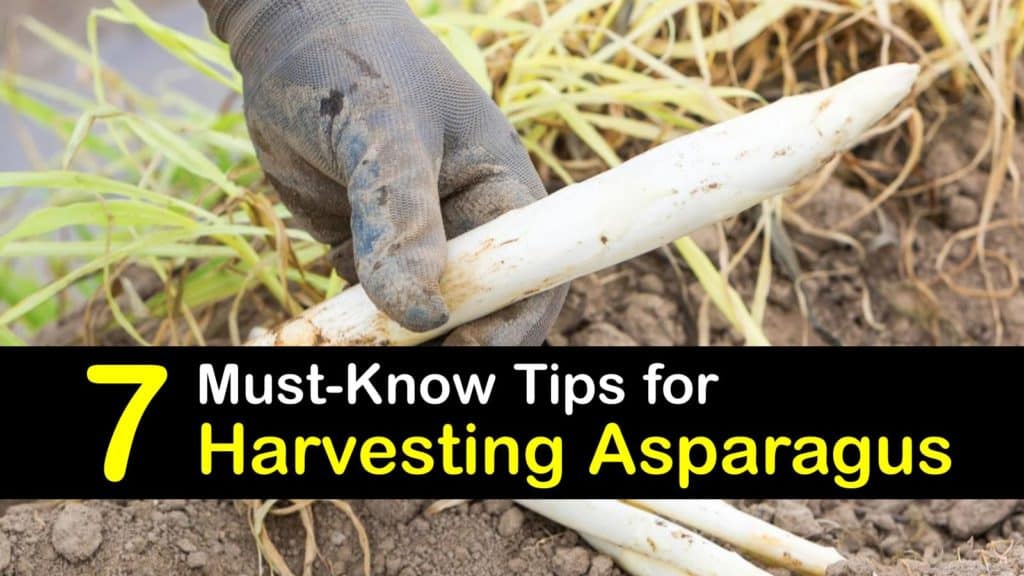 Things to Know before Harvesting Asparagus
Asparagus plants, also known as Asparagus officinalis, grow in nearly all United States areas, but they prefer to be in cooler regions with long winters.
What most gardeners find shocking about asparagus is that they aren't ready for harvest until after a few growing seasons.
Even though it takes several years for the stalks to taste their best, these plants are a perennial vegetable, and some last as long as 30 years. Before learning how to harvest asparagus, know what asparagus varieties there are to choose from.
The most popular types for gardeners in USDA hardiness zones four through six are Jersey Giant, Martha Washington, and Mary Washington asparagus.
These varieties are older than most but are hardy and have an excellent track record for successful harvests.
Whichever kind you choose, plant both male and female plants if possible. Learn what to plant with asparagus to eliminate unwanted pests and encourage helpful ones.
What is white asparagus? What about green or purple types? Do they taste different? Once you know what variety of asparagus you want to grow, time will fly by, and you'll soon know when to harvest asparagus so you can preserve it or turn it into a nutritious meal.
There are several ways to grow asparagus, including from seeds and growing asparagus from scraps.
Tips for How to Harvest Asparagus
Realistically, how long does it take to grow asparagus? You won't experience the satisfaction of a harvest season during the first year or the following year.
Although it is possible to harvest some asparagus spears the second year, they aren't as flavorful or tender as they are during their third year.
Despite the time it takes for them to be ready, the growing season is widely successful because they produce new spears every few days for several weeks during the spring. Asparagus harvest time is well worth the wait once you finally get to bite into them.
The Right Time to Plant an Asparagus Bed
While it is important to know when to harvest asparagus, recognizing when to plant it is also a priority. If you want to grow asparagus, early spring is the perfect time.
As soon as the last frost of spring passes and the soil is easily workable, it is safe to start prepping your garden bed. Start your asparagus either from asparagus crowns or from seed.
Preparing Your Beds for Asparagus
Asparagus plants have an extensive root system that needs protection. Dig a 12 to 18-inch wide and six to eight-inch deep trench in your garden beds. If you have several channels, make sure each one is at least three feet apart.
Soak the asparagus crowns in cold water for a few minutes before planting them. Add two inches of soil along the center of the trench to make a ridge. Place the crowns on top of the mound to encourage the roots to spread evenly.
Place each asparagus plants at least 12 inches apart. The crowns should not be at ground level. Put the crowns two inches below soil level.
Fill the trench with organic fertilizer or another type of organic matter while you are planting them. This gives the plants plenty of nutrients and makes them stronger overall. As long as you keep the soil loose, the spears shoot up from the ground with ease.
How to Care for Asparagus
Knowing how to harvest asparagus is one thing, but you won't ever reach that stage if you don't know how to care for these plants. The first thing to do after planting asparagus is to add a four-inch layer of mulch to the soil level.
Mulching helps manage weeds – one of the most significant issues with these plants during their first couple of years. Mulch also provides nutrients and maintains the soil's moisture and temperature.
Asparagus plants require one to two inches of fresh water every week. Drip irrigation is best, but you might have to make extra trips if you experience a hotter summer than normal in your region.
Asparagus also thrives when they have a steady source of food. Add organic fertilizer several times throughout the growing season to help the emerging spears.
Asparagus Pests and Diseases
Weeds are the number one cause of concern with asparagus. Hand pull weeds in your asparagus beds regularly during the spring and summer. While you keep up on your weeding, look for signs of asparagus beetles and cutworms.
Asparagus beetles turn the new spears brown and bend them into a hook shape. Remove these beetles by hand and dispose of any plant matter that might have eggs on them.
Cutworms cause wilting and sever the spears just above the soil line. Remove the worms by hand and keep the beds free from debris to keep them away.
The two most common diseases these plants face are fusarium crown rot and asparagus rust. Crown rot leaves the spears yellow and stunted. They also sometimes leave reddish-brown spots on the stems.
Remove the infected plants and don't plant asparagus nearby for at least five years. Try to choose resistant varieties when deciding what type to plant.
Asparagus rust leaves green spots and brown blisters on the spears during the summer. Rust requires moisture to spread, so keep excess water off the ferns and destroy plant matter that is already infected.
When to Harvest Asparagus
The asparagus harvest season is so exciting because you've been waiting several seasons to reach this point. New spears and plants have a harvest season of three or four weeks, while old crowns might produce spears for as long as eight weeks.
Harvest spears whenever they reach eight to ten inches tall and are about half an inch thick. Use a sharp knife or shears to cut them down at ground level and stop harvesting them when the spears' diameter decreases in size to about the thickness of a pencil.
Check your plants every other day and harvest only the ones that are ready. After the harvest season, fertilize your asparagus once during the early summer with an organic fertilizer.
How to Store Asparagus
Once you have your harvested spears, what do you do with them? How to store fresh asparagus starts with brushing off any remaining dirt and lightly washing them under cold water. Dry them thoroughly before storing.
Store the asparagus spears in a plastic bag with all the spears wrapped in a paper towel. Keep the bag in the crisper drawer of your fridge. Learn how do you know when asparagus is bad so you don't eat spoiled veggies.
What to Make with Asparagus
Asparagus is known for being the perfect roasted veggie. A little extra-virgin olive oil, salt, and pepper are the perfect additions to bring out these tender spears' flavor.
Although we love this traditional recipe, don't be afraid to jazz it up by adding a few flavorful ingredients to the mix.
Heat your oven range to 400°F and grease a baking sheet with non-stick cooking spray. Lay the spears on the sheet in an even layer and put the pan to the side. In a small mixing bowl, stir the olive oil, salt, pepper, and garlic.
Drizzle the mixture over the asparagus and roast them for ten to 15 minutes. Take the hot pan out from the oven and sprinkle the mozzarella over the spears.
Put the baking sheet back in the range and broil the cheese to get melty and golden brown. Remove the asparagus spears from the oven and serve them hot.
Harvesting asparagus is one of the most satisfying parts of gardening. After so much time and attention, there is nothing better than finally getting to chow down on these scrumptious spears.
These plants are both nutritious and beautiful in garden beds and make the perfect project for any home gardener.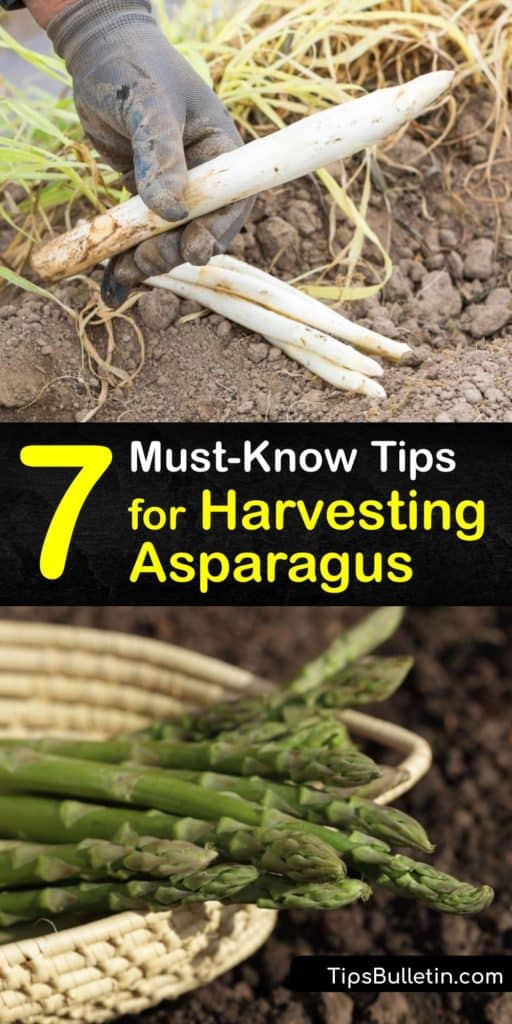 If learning how to harvest asparagus filled your cupboards with pounds of preserved veggies, share these tips for harvesting asparagus on Facebook and Pinterest.