If you're like most humans in the world, you love carbs. Bread is a staple in all worldwide cuisines, and there is nothing quite like soaking up the leftovers on your dinner plate with a warm and crusty piece of bread. When we know how to keep bread fresh, we're able to save ourselves some time and energy from either running to the store or making a whole loaf of fresh bread at home.
Loaves of bread are most often baked, and the main ingredients are water, flour, and yeast. The first loaf of bread got cooked over 10,000 years ago.
Since then, humans have experimented with recipes and made countless delicious variations. Since it's not always possible to eat an entire loaf, storing bread is something that every person with a kitchen should know.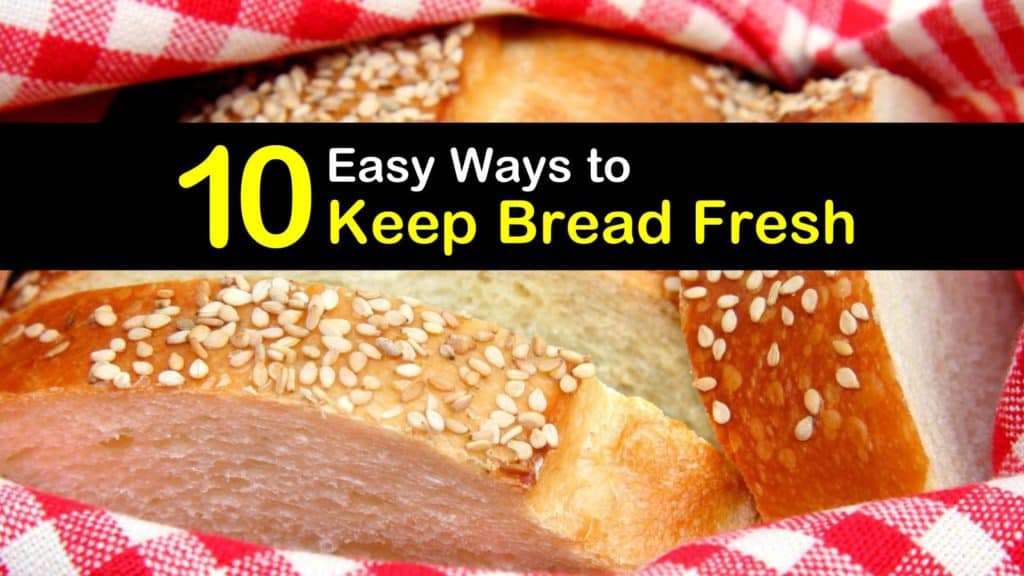 Benefits of Bread
Whether your go-to is sourdough bread, baguettes, rye, or a combination of them all, keeping bread fresh and learning how long does bread last helps us utilize every last, crispy crumb.
Bread doesn't only have to get eaten by the loaf. This food is versatile and made into mouth watering foods like French toast and pudding. Although we can't get enough of it, bread isn't always the healthiest option.
However, some bread is made with whole grains and nutritious ingredients, while others get filled with preservatives. Your local grocery store always has a variety, and it's up to you to read the ingredients and discover which are healthier than others.
Of course, just because some bread isn't incredibly healthy doesn't mean that you should never eat it. If you can't find the type you're looking for, making homemade bread and packing it with vitamins and minerals is possible.
When you find or cook healthy bread choices, your body benefits by protection from some cancers, heart disease, obesity, and diabetes.
Either way, sometimes you simply have to eat what makes you happy, even if that means you consume some of the poorer breads in moderation.
Learn how to determine if your bread is fresh or how to tell if a coffee is fresh by using your senses, including sight and smell.
How to Keep Bread Fresh
Similar to how there are dozens of ways to cook bread, there are also dozens of strategies for keeping bread fresh, whether you try to keep bread from molding in summer heat or want to eat it tomorrow for breakfast.
How long does bread last in the fridge? On the counter? The freezer? We've brainstormed some of the best ways to keep homemade bread fresh for whatever time frame fits your desire, whether you are storing fresh sourdough bread or banana bread.
You have probably asked yourself how long other foods last before they spoil, too. Keep potatoes fresh in the pantry or root cellar, add apples to the refrigerator crisper, and store strawberries by canning them.
How Bread Turns Stale
Bread turning stale is one of the first ways to tell if it's gone bad. Stale bread occurs when the starch molecules start to crystallize in the loaf. This crystallizing process forces the water out of the loaf.
Without water, our bread gets that hard, unappetizing taste and texture that we hate. Staling occurs even faster when there is a lack of moisture in the air or cold temperatures, so make sure your house isn't too dry or chilly.
Did you know that coffee goes stale, too? Keeping ground coffee fresh is important for your morning cup of joe. Put your ground coffee in an airtight container for the most delicious coffee.
Keeping Bread Fresh on the Counter
Let's say you finished making a fresh loaf of homemade bread and think you'll consume it within a few days. The kitchen counter is a safe place to store bread, as long as you stick to a three-day time frame when preserving homemade bread this way.
After three days at room temperature, bread that remains uncovered on the counter starts to mold and stale. Although it's an okay storage place, the shelf life of bread on the counter is too short for most families.
You may be surprised to learn that you can keep some eggs on the counter, too. How long do farm fresh eggs last when stored this way? As long as you got them directly from the chickens, these eggs last from two to four weeks.
Using a Bread Box
Bread boxes are your safest bet when it comes to keeping bread fresh for long periods. Storing bread in a bread box allows air circulation to flow due to small holes punched in the box.
This air circulation is what prevents your homemade bread from molding and helps it last up to five days. Purchasing bread boxes is also a great way to add style to your kitchen while hiding your food from plain sight.
Wrapping Your Bread in Plastic
If storing your homemade bread for a few days isn't long enough for you, wrapping your bread in either a paper bag, plastic bag, or plastic wrap extends the shelf life for several more days.
Of course, the grocery store's commercial bread may last even longer, but for homemade bread, wrapping it keeps it fresh and crispy for about one week.
Purchasing a Bread Bag
Bread bags are made from linen and are another way to wrap your bread without as much waste.
Bread placed in a linen bag lasts for up to a week and, instead of having to throw it away, is machine-washable and can be used time and time again. This bag not only saves you money but keeps you from throwing away unnecessary waste.
How Long does Bread Last in the Fridge?
While we may use the refrigerator for most of our food storage, this is the absolute last place you'd ever want to store a fresh loaf.
The fridge's benefits do not apply to bread because they make it stale much faster than any other place around the home. No matter what, keep your bread out of the fridge unless you enjoy munching on stale bread.
Keeping Bread Fresh in the Freezer
The freezer is always our go-to, long-term storage spot for almost all of our food. Unlike the refrigerator, the freezer doesn't allow the bread to stale overnight.
Wrapping a loaf of homemade bread in a freezer bag or plastic wrap and setting it in your freezer enables it to stay fresh up to six months. To defrost your bread, remove it from the freezer and allow it to thaw overnight on your kitchen counter.
Removing the bread from plastic keeps the bread from getting soggy. You'd be surprised how a loaf removed from the freezer and defrosted tastes as good as the day you made it.
It's like your loaf was frozen in time and is ready to get thrown in the toaster and slathered in butter.
Refrain from Slicing Bread
We think the best part of a freshly baked loaf is the crispy crust surrounding the soft, warm inside. The crust acts as a barrier to the outside world.
Slicing the bread too early exposes the interior to outside air and initiates moisture loss and staling. Waiting an hour or two before cutting into a freshly baked loaf of bread limits the air exposure and keeps it from turning gummy.
Storing Bread with the Cut Side Down
Limiting air exposure is one of the best ways to prevent staling. Once you cut a piece of bread, make sure to store it cut side down to keep a barrier between the air and the soft center.
Turn Stale Bread into Edible Food
Your bread will inevitably go stale before you can eat it at some point in your life. When this happens, the best way to tackle it is to turn it into something that is still tasty to consume.
Spread a large piece of parchment paper over a baking sheet and preheat your oven to 375°F. Once you cut the bread into cubes, mix them in a large glass bowl with olive oil, seasonings, salt, and pepper.
With the oil and seasoning evenly distributed, pour the cubes onto the lined baking sheet and spread them out in an even layer. Bake the cubes in the oven for roughly 15 minutes until the cubes are golden brown and crispy.
Remove the baked croutons from the oven and allow them to cool to room temperature before putting them in an airtight container. Store the croutons for up to two weeks.
Freeze before Baking
The only definitive way to prevent your bread from going stale is to preserve it before baking it. One of our favorite methods to do this is to pre-make the dough and freezing it.
After that, thaw it and let it bake. Frozen pizza dough works best for this technique and turns into a quick and delicious dinner.
Put the water in a large, glass mixing bowl. Stir in the yeast and sugar, and then let sit on the counter for roughly five minutes until the dough is bubbly. Stir in the olive oil and then stir in the flour and salt with a spatula.
Transfer the pizza dough to a floured surface and knead the dough with your hands until it is smooth. Add extra flour if necessary.
Roll the pizza dough into a ball, wrap it in plastic wrap, then store in the freezer for up to six months before thawing and turning them into pizza crusts.
How long does bread last? There are lots of options for keeping bread fresh, and it all depends on how soon you plan to eat the bread and how long you'd like to keep each loaf around.
Times vary from a few days to a few months, and all have individual benefits that may or may not fit your lifestyle. No matter what, bread is a staple in all of the world's diet and knowing how to keep bread fresh is the safest way to honor your homemade bread.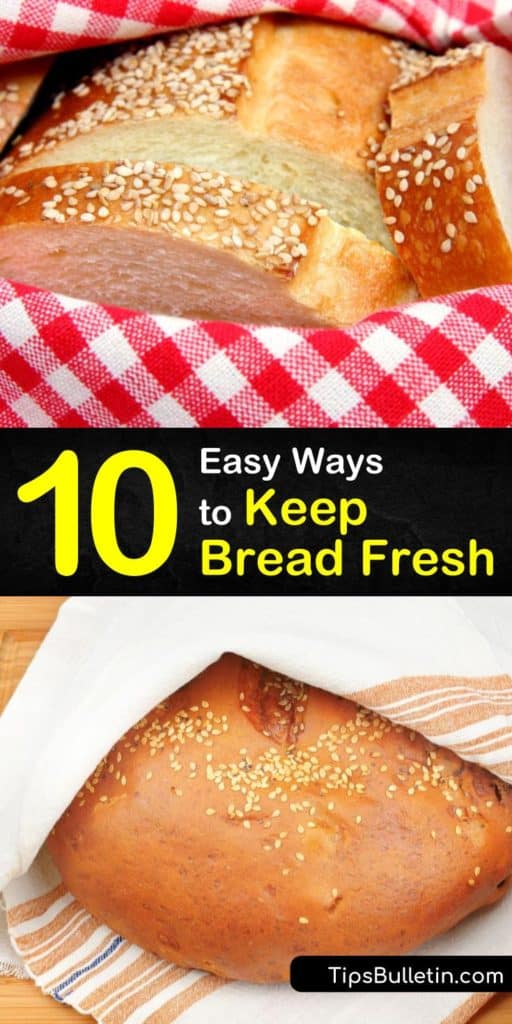 If this article teaching you how to keep bread fresh inspired new storage ideas, share these tips for preserving bread on Facebook and Pinterest.