Tomato plants are an excellent vegetable to grow in your garden. Not only are tomatoes easy to grow, but they also produce a bountiful harvest when taken of correctly. Learn how to make a homemade bug spray for tomato plants to protect your produce and the plant's overall health.
Several pests prefer the tomato plants in your garden. The most popular pests found on tomato plants include tomato hornworms and aphids. Some people believe that once your vegetable garden has an aphid infestation, it is impossible to save the plants. However, that common myth is untrue.
There are various DIY ways to repel insects that attempt to suck the nutrients out of your tomato plants. If you are searching for a homemade tomato leaf spray free of harsh chemicals found in pesticides, continue reading to uncover straightforward ways to repurpose familiar household products. Items like baking soda and cayenne pepper act as natural pesticides without harming your tomato plants.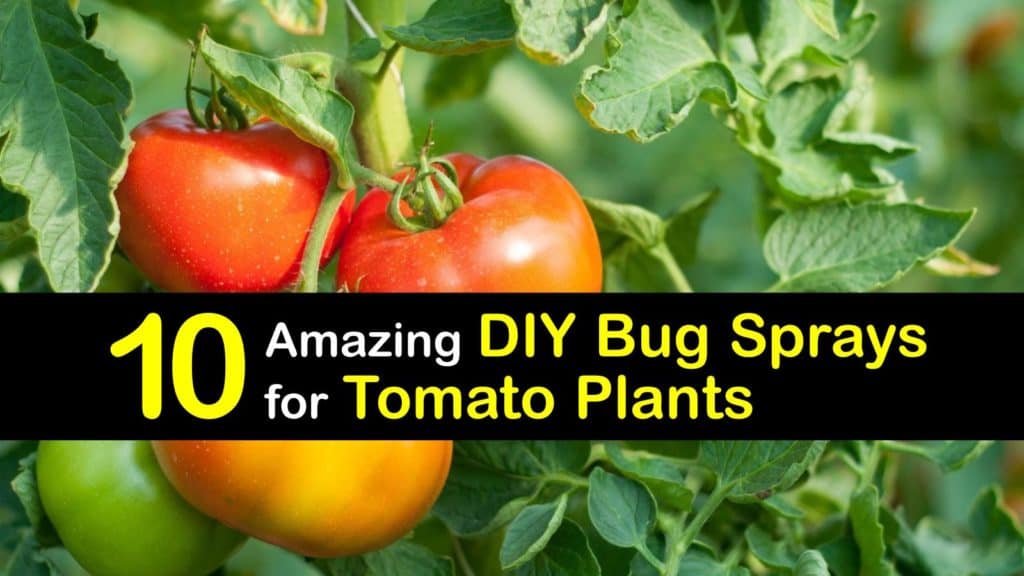 Locating Harmful Insects in Your Garden
Learning how to space tomato plants correctly can help deter bugs from traveling from one plant to another but it is not a failsafe. Before creating a DIY tomato bug spray, you must first correctly identify whether your plants have aphids. Signs that your tomato plant has aphids include wilted leaves, yellow leaves, powdery mildew on the leaves and fruit.
Another pest that steals the nutrients from tomato plants is hornworms. Hornworms are identifiable if your tomato plant has black droppings on the leaves and broken or missing pieces.
A rule of thumb is that if your tomato leaves are wilted or yellow, the plant is infested by tomato bugs or worms of some kind.
Homemade Bug Spray for Tomato Plants with Baking Soda
The ingredients in baking soda serve as a natural insecticide. After the insects consume baking soda in your garden, the release of carbon dioxide bubbles effectively kills the aphids or whiteflies on your plant.
Making a homemade tomato leaf spray with baking soda is safe on your tomato and houseplants while also killing all the bugs that reside on the leaves.
To make this homemade bug spray for vegetable plants, pour the ingredients into a large bucket and use a stirring utensil to mix the insecticidal soap until it forms a uniform consistency.
We suggest pouring a smaller amount of the solvent into a small spray bottle. Mist your tomato plants with the baking soda repellent to kill centipedes instantly and deter other unwanted critters.
While getting rid of tomato hornworms by plucking them off by hand is simple, it's just as easy to spritz them with this homemade insecticide.
Use Cayenne Pepper for a Great DIY Tomato Bug Spray
If you wonder what to spray on tomato plants to keep bugs away, cayenne pepper is an excellent solution. Another benefit of utilizing cayenne pepper as a spray for tomato plants is that it only calls for one ingredient.
To create a bug spray with this hot pepper, cut up four dried cayenne peppers and place them in a bottle. Use tap water to fill the remainder of the spray bottle, add a drop of dish soap, and mix.
Cover your plant's soil and the leaves on the plant with the DIY tomato bug spray. This homemade bug spray for tomato plants deters chipmunks, squirrels, and other rodents from feasting on tomatoes in your vegetable garden.
Homemade Tomato Leaf Spray Made from Castile Soap
If you have seen thrips on your tomato plant, create an insecticidal soap to eliminate the critters. Castile soap is a fantastic product to use for a DIY tomato bug spray. The ingredients in Castile soaps dissolve the bodies of insects, killing them immediately.
Combine the pest control substances in a glass spray bottle and shake the contents thoroughly. Use the soap spray on any plant in your garden that is infested with aphids or hornworms or when growing tomatoes in 5 gallon buckets. We recommend spraying your tomato plants once every four days.
Dish Soap Serves as an All-Natural Bug Spray
Cleaning dirty dishes is not the only use for liquid dish soap. The ingredients in dish soap also make it an excellent repellent for garden pests on your tomato plants.
Pest control is made simple with dish soap, which dissolves an insects' outer shell and kills them. Creating a homemade bug spray for tomato plants with dish soap is an inexpensive option for taking care of your plants.
For this organic spray for aphids and other unwanted bugs, pour a quart of water into a spray bottle with two tablespoons of your favorite liquid dish soap. Spray the insect repellent on your tomato plants' leaves and the soil to kill the pests in your garden.
A soap spray is one of the insect repellents that refrain from damaging the tomato plants' alkaloids.
Deter Aphids with Vegetable Oil
Vegetable oil is comprised of several fatty oils, which work swiftly to suffocate insects by blocking the pores they use to breathe. Another advantage of utilizing vegetable oil for a homemade tomato leaf spray is that they are a popular household product.
Pour the vegetable oil, water, and soap into a spray bottle and aggressively shake the liquid to ensure all the ingredients mix.
Cover your tomato plants to eliminate insect pests that steal nutrients from your garden. Vegetable oil is a fantastic DIY tomato bug spray ingredient that does not contain harsh chemicals and works well for getting rid of aphids on tomato plants and other vegetation in the yard.
Create a Homemade Tomato Bug Spray with Neem Oil
Neem oil is composed of oils extracted from the neem tree. These all-natural oils are great for making a homemade bug spray for tomato plants.
Besides acting as a natural insecticide, neem oil also serves as a fungicide that heals powdery mildew found on leaves. Neem oil is located at your local gardening or home improvement store and is nontoxic to birds, pets, and other wildlife.
Follow the instructions on the neem oil bottle and consistently mist your tomato plants to kill and repel insects that damage your tomato plants.
How to use Mineral Oil as a Tomato Bug Repellent
Another fantastic DIY tomato bug spray for plants in the nightshade family is mineral oil, eliminating a wide array of harmful pests, like aphids, spider mites, whiteflies, thrips, and mealybugs.
When using mineral oil to repel insects, know that it must be sprayed directly on the bugs to kill them. Dilute ¼ cup of mineral oil with two cups of water and pour the two ingredients into a spray bottle.
Shake the bottle gently to ensure the oil absorbs into the water. Spray a generous amount of the mineral oil insect spray on your tomato plants' leaves as well as the soil.
Create a Homemade Insect Repellent with Diatomaceous Earth
Diatomaceous earth is a proven solvent that kills any unwanted pest that tries to suck the nutrients out of your houseplants and garden vegetables. When you use diatomaceous earth, the ingredients dehydrate an insect's exoskeleton until it dies.
Diatomaceous earth has several beneficial uses, and a homemade tomato leaf spray is just one of the benefits.
Find diatomaceous earth at your local home improvement and gardening stores. To use, cover your tomato plants with the powder. Keeping your tomato plants healthy and safe from aphids is simple with the powerful effects of diatomaceous earth.
Garlic is a Magnificent Natural Insect Repellent
Garlic is a delicious spice used to add a kick to several Italian lunch and dinner dishes. However, cooking is not the only use for garlic.
This popular spice also serves as a great all-natural insecticide for your tomato plants. To fight off lingering aphids and other pests, create a garlic-based insect repellent spray.
Use a blender or a food processor, making sure you add a little water in the blender before you puree the garlic.
Let the mixture sit overnight before straining the contents into a quart jar, adding one tablespoon of liquid dish soap. Pour the repellent into a spray bottle with one quart of water and mist your tomato plants.
Use Natural Aphid Predators to Save Your Tomato Plants
Although aphids and spider mites persistently try to kill your tomato plants, there are two main predators that feast on these unwanted pests.
One of aphids' natural predators is the ladybug. Ladybugs consume nearly 50 aphids a day, so releasing these beneficial insects repels aphids effectively.
To get rid of mealybugs, spider mites, moth eggs, thrips, and whiteflies, implement green lacewings into your garden.
Green lacewings are vicious predators and consume unwanted pests that attempt to eat the nutrients from your tomato plants. Add a dill plant in your garden to attract ladybugs and green lacewings.
Tomato plants are a wonderful vegetable to grow in your garden. There are many benefits to growing tomatoes. They are great companion plants, they do not require that much effort to develop, and they produce fruit that is a versatile ingredient.
However, some pests attempt to steal the nutrients from your tomato plants, so you must know how to create a homemade tomato leaf spray to deal with them.
Recipe for Homemade Bug Spray for Tomato Plants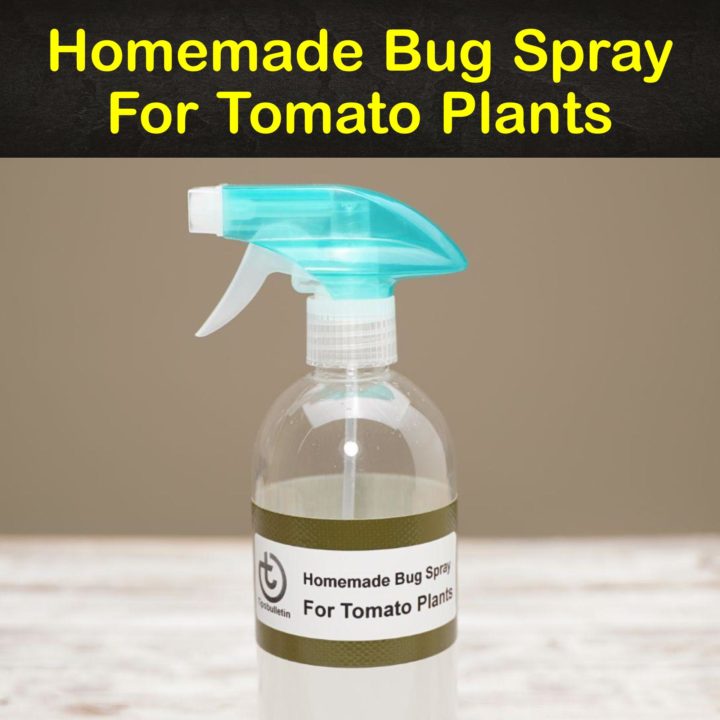 Homemade Bug Spray for Tomato Plants
Simple but effective for unwanted insects.
Materials
1 tbsp vegetable oil
1 tbsp dishwashing liquid
1 1/2 tbsp baking soda
Tools
Stirrer
1 gallon of water in a bucket
Tablespoon
Instructions
Add the dish soap, baking soda, and oil to the water in the bucket.
Stir well.
Pour some of the soap mixture into the spray bottle.
Spritz tomato plants.
Notes
This insecticidal soap kills beneficial and harmful bugs.
If you discovered a new homemade bug spray for tomato plants, share this article with DIY tomato bug sprays with your family and gardening friends on Pinterest and Facebook.