Spider crickets are small insects that resemble true crickets, like field crickets with long legs that enable them to jump far. These insects are not generally dangerous to humans, though they produce a foul odor and cause structural damage to homes if left alone. Find out how to kill spider crickets and rid your home of these annoying pests.
Known as cave crickets or camel crickets, these insects find food in various sources outside and inside the house. Outdoors, these crickets feed on fungus, plants, and other insects, but inside, they feed on wood, cardboard, and fabrics.
Spider crickets offer no beneficial value, unlike other cricket species like mole crickets or house crickets. In Thailand, residents consume regular crickets as food for protein; however, spider crickets do not pose such nutritional benefits and are pests known for their invasion of human spaces and the damage they cause.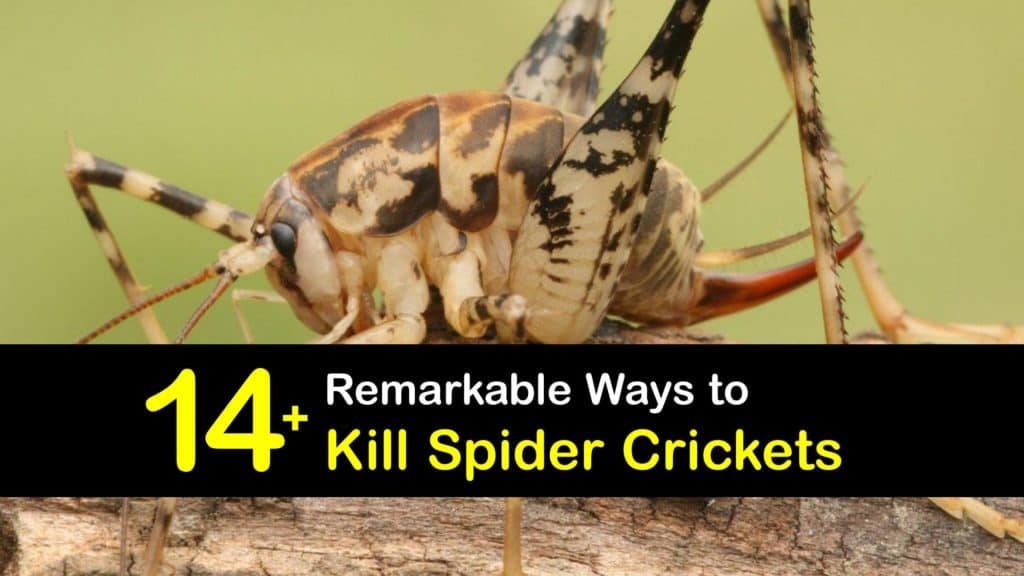 Killing Spider Crickets in the Home
Spider crickets enjoy living in a damp area that replicates their natural environment in caves and forests. To remove a spider cricket infestation, the basement or crawl space is an excellent place to start.
Apply Deltamethrin Dust to Your Home
Deltamethrin is an insecticide used in items like mosquito nets and to treat other pests. Deltamethrin dust is a dry powder ideal for use in crawl spaces and wall voids. If the application is not disturbed, one treatment lasts for up to a year, killing various pests.
When applied, the odorless dust coats walls and floors, killing nesting pests and any hatching young. Over time, studies show that mosquitoes and bed bugs may develop a resistance to Delta Dust.
Reduce the Humidity in Your Home
Spider crickets enjoy moisture and thrive in the damp, dark, cool space of your cellar and you may find a basement cricket infestation when you least expect it. They are typically accidental invaders, finding their way inside when conditions outside get too dry.
To create an environment that spider crickets dislike and as a simple way to get rid of spider crickets, add a dehumidifier to your space to suck up the extra moisture in the air.
Most spider crickets would rather find a new hiding place than deal with poor conditions. For those that don't leave, if you've cleaned the space, a lack of food and poor conditions will cause any remaining pests to die off.
How to Kill Spider Crickets with Soapy Water
Because spider crickets are drawn to moisture, using water with liquid soap is one of the quickest home remedies for killing spider crickets. Use large bowls of plastic containers from the kitchen and fill them with water before adding liquid dish soap.
Mix the soap to ensure the water is soapy enough before placing your containers for a spider cricket infestation in basement or crawl space areas.
The water attracts crickets, and once they jump in, the soap prevents the coating on their exoskeleton from allowing them to float, quickly drowning them. Because of its simplicity, it's the best way to kill spider crickets without much hassle.
Boric Acid Spray to Kill Spider Crickets
Hydrogen borate, or boric acid, is sold as a white powder. When dissolved in water, boric acid is helpful around the home as an insecticide against common pests like ants, fleas, and spider crickets. Boric acid is also one of the best roach killer for apartments and other homes, as it is easy to apply.
To make this fast and easy DIY cricket repellent spray, mix the acid powder with water into a 16-ounce spray bottle for the easiest application. Spray onto any spider crickets you find or around areas where they usually gather. If you're cleaning your basement, it's handy to have this spray to apply to any dark or damp areas to discourage spider crickets from gathering.
Kill Spider Crickets with Boric Acid Powder
If spraying boric acid has not been beneficial in reducing the large numbers of spider crickets in your home, a more direct approach is to apply the acid as a powder. The acid is poisonous to insects upon digestion, so this may be the better option instead of treating your space with a spray.
Once you determine the areas of activity in your home, sprinkle boric acid around the space that the crickets often visit or near any food sources. You can also create a bait using pet food or moldy bread to draw them in to trick them into ingesting the acid.
Pest Control with Diatomaceous Earth (DE)
DE is one of the best natural ways to kill spider crickets as it is a natural compound made of crystallized bodies of creatures. The sharp fossils in DE pierce soft bodied creatures like slugs to dry them out and penetrate the hard exoskeleton of insects like spider crickets.
Because DE is only effective when making direct contact with spider crickets, sprinkle food-grade DE around these areas if you've spotted entry points in your home for these pests. Add diatomaceous earth around the perimeter of your home to kill crickets outside before they make it indoors.
You can also leave out bait such as wet cardboard or moldy bread with DE around it to draw the crickets to walk across the DE.
Tackle a Spider Cricket Infestation with the Vacuum
If you've managed to kill spider crickets with other methods and need an easy way to dispose of their bodies without touching them, the vacuum is the way to go. However, if you don't mind taking a more proactive role in dealing with the spider cricket problem, you can sweep up live crickets with your vacuum.
Since they enjoy damp basements and cardboard, a good place to check for spider crickets is in storage boxes in your basement. Turn on the vacuum, begin moving clutter to expose any hiding crickets, and quickly run the vacuum or an extension part over the area to suck in the pests.
After you've gathered pests in the vacuum, suck in diatomaceous earth to kill them before disposing of the contents in the garbage cans outside.
Treat Your Home with Insecticides
If you notice spider crickets around the perimeter of your home, it's essential to spray an insecticide. This spray kills nearby pests and deters more from finding their way inside.
For spider crickets inside the house, insecticides are still essential for quickly killing spider crickets. Insecticide sprays made with permethrin work well at killing bugs.
Permethrin is available for purchase at many retail stores in a 10% concentration for use on fabrics, mosquito nets, and directly on surfaces. Once spider crickets contact surfaces treated with permethrin, they fall off and immediately die from contact.
Note: Follow all label instructions before handling permethrin.
Kill and Deter Insects with a Homemade Spray
Although the exact reason that liquid dish soap is so harmful to insects is not completely understood, many believe that soap breaks down the exoskeleton, which causes insects to lose water quickly.
Without the ability to form a new exoskeleton, the insects die. Create a soap spray to kill insects that visit the treated area.
Put on gloves before chopping up your peppers to properly measure them. Puree the peppers in a food processor with garlic and cayenne pepper. Add the pureed mixture into a large bowl with your water. Cover the mixture and leave it to sit for a full day.
Strain out the peppers and distribute the mixture into spray bottles for use around the house. The soap in the spray helps kill insects, while the addition of garlic and pepper deters pests from visiting the areas you've already sprayed.
Natural Ways to Kill Spider Crickets with Oils
Diestrammena asynamora, one species of cave cricket in the Rhaphidophoridae family, is also known as greenhouse camel crickets. These crickets are an introduced species in North America and are native to Asia.
As its name suggests, this cricket is known for its presence in greenhouses. If you're looking for what kills spider crickets but don't want to introduce any harsh chemicals into your greenhouse, consider using essential oils to treat a camel cricket infestation and other pests targeting your plants.
Clove Oil Insecticide
Eugenol is a chemical compound extracted from clove oil and other essential oils. Eugenol smells like cloves and is either colorless or a pale yellow in its extracted form.
It is also attractive to some insects, making them easier to study. When used in insecticides, it is effective as killing insects alone or when combined with other oils and is one of the most effective and natural ways to kill spider crickets.
When picking a soap for this recipe, avoid non-antibacterial soaps and any soaps with fragrance. Mix with water and eugenol in a spray bottle to create an insecticide. Spray around your home where spider crickets are known to traffic.
Neem Oil
Like eugenol, using neem oil is one of the natural ways to kill spider crickets. Neem oil is pressed and extracted from seeds of the neem tree and is highly toxic to insects. Many gardeners use the oil to rid their fields of bugs and works just as well inside the home as one of the home remedies for killing spider crickets.
As an oil, neem oil does not combine with water alone and requires liquid dish soap to emulsify. Mix your ingredients thoroughly and add to a spray bottle. Spray the mixture onto any pests or infected areas around your home.
The Best Way to Kill Spider Crickets with Traps
Because of their small size, you can catch spider crickets in simple traps, either store-bought or ones you make at home. Make cricket traps from a few simple ingredients that may need to contain some attractant to make the crickets more likely to visit your trap.
Homemade Glue Trap
A simple glue trap involves corn syrup to create a sticky surface to trap spider crickets and other small insects, and it is used like homemade earwig glue traps. These traps are simple to make multiples of as they fill from catching crickets.
Cut your cardboard into rectangles big enough to catch crickets but small enough to fit them around your home where you've seen crickets, like behind appliances or shelves. Mix corn syrup and water in equal parts in a pot over medium heat until it boils.
Remove your sticky mixture from the stove and use a utensil to spread it on one side of your cardboard. Place your trap in the corners of your basement or any other locations you've seen crickets and check them daily for activity.
Duct Tape Trap
One of the easiest sticky traps to catch spider crickets only requires a roll of duct tape. Tear off tape strips long enough to create loops and stick them around your basement floor and on the walls.
Spider crickets stick to the tape once they walk across it, but if you want to increase the chance of them visiting your traps, add bait. Stick pieces of dry pet food or bits of moldy bread in the middle of your tape to entice the pests to visit.
Once stuck, the cricket cannot free itself and will die from a lack of food or when you dispose of the traps. In this state, the crickets are also at risk of becoming food for other pests in your home.
Molasses
Although it differs from their usual diet of wood and moldy bread, spider crickets like the sweet smell of molasses, and because molasses is sticky, they quickly become stuck when left on a glue trap for spider crickets.
Pour molasses into a bowl or container and leave it in the corners of your basement or behind boxes in the crawl space. You can also use molasses in combination with cardboard to create glue traps that are easy to place and dispose of once they've trapped a few crickets.
Commercial Insect Traps
If setting up and disposing of homemade traps doesn't sit well with you, commercial options are just as effective. Many of them function like glue traps by drawing pests and trapping them to paper with an adhesive.
These traps do not require any bait to draw spider crickets. They typically come treated with some pheromone that attracts pests to the sticky pad, where they become trapped.
Other versions of insect traps involve a one-way trap that allows insects to enter but prevents exiting. These are typically non-toxic and reusable once you dispose of any trapped or dead pests inside.
Keeping Spider Crickets Out of Your House
Removing pests from your home is never fun, and if you can, you're better off preventing them from getting indoors than trying to get them out of your basement. Although pests are inevitable, there are some steps you can take to lessen their appearance in and around your home.
Lawn Care
Regular lawn care is essential to keeping spider crickets away. These bugs, like many others, enjoy tall grass, and if you let your grass grow high, you're allowing insects to live and hide close to the house. With cracks in the foundation or open windows, these insects have easy access.
Prevent bugs from living close to your house. Use simple remedies for keeping crickets out of your home by regularly cutting the grass and keeping the height of the grass low. This includes pulling or trimming weeds and removing debris that may harbor spider crickets.
If you find one spider cricket, you likely have many more in hiding that you can't see. If your home has an infestation of these critters and the idea of getting rid of them seems daunting, the National Pest Management Association suggests contacting a pest control professional to develop a treatment plan.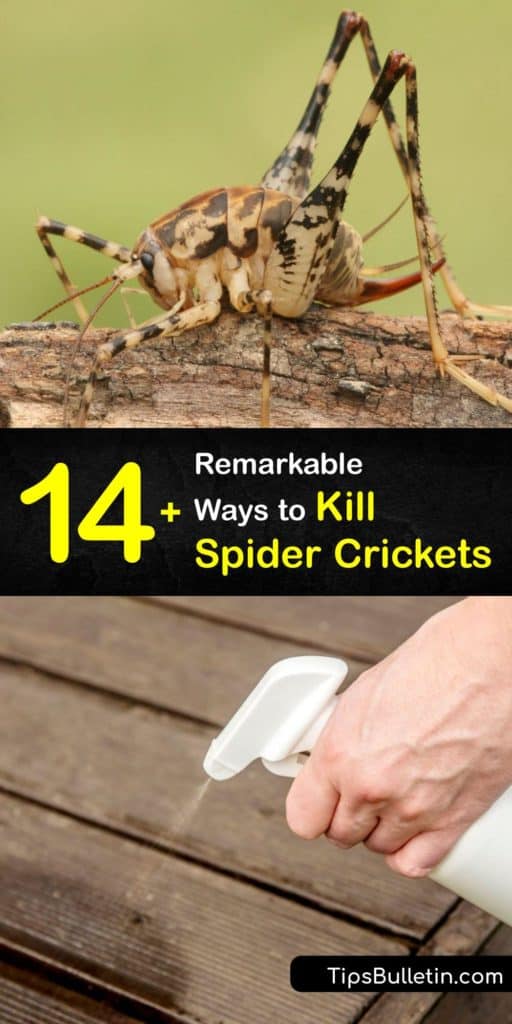 If our guide helped you discover how to kill spider crickets and one of our suggestions seems like the best way to kill spider crickets, please share this article on Facebook and Pinterest with your friends dealing with a cricket invasion.