Women's clothing is expensive, and the sizing is never the same at any store. Ordering online is virtually impossible. But learning how to make a shirt bigger is an easy way to ensure you wear t-shirts that fit right.
Whether you outgrow your favorite shirts, order the wrong size, accidentally shrink a shirt in the wash, or love a shirt that's a few sizes too small, there are smart and straightforward methods to increase the size of the shirt. Our guide will show you various ways to make a shirt bigger, without altering it too much.
Make your shirts bigger by stretching them or using the sewing machine, depending on your skill level. If you do know how to make clothes, these t shirt hacks may even help you create a DIY tank top from an old t-shirt. Don't shell out tons of money for new clothes! Upcycled shirts are the easiest way to keep your favorites around and save big.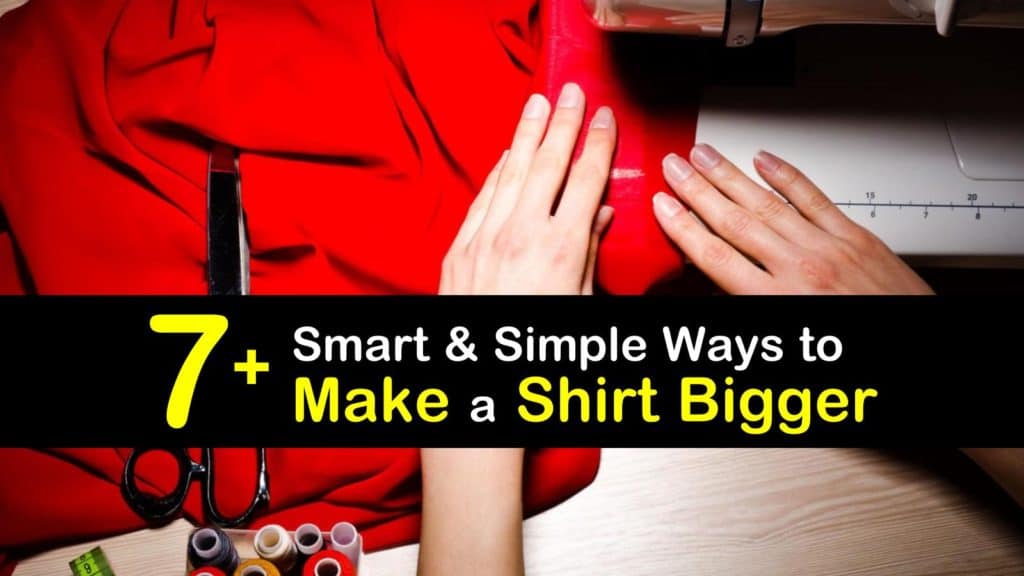 Ways to Make a Shirt Bigger
There are many ways to stop clothes from shrinking. Explore how to make a shirt bigger, with step-by-step directions for every possibility.
Know that it is possible to stretch out a variety of types of clothing. Not only can you re-size a shirt, but you can also loosen pants and jeans. Can you unshrink a sweater? Yes, sizing a sweater to fit is just as easy.
Resize Your Favorite Old Shirts
If you outgrew your favorite t-shirt, keep it in rotation by making it bigger. Begin by finding a shirt the same color as your too-small tee, only in the right size. Don't worry about what's on the front.
Cut your too-small shirt up the side seams using fabric scissors, removing the back-side. Leave the neckline on the small shirt if you prefer. Next, determine how much extra fabric to add, measuring from the hemline of the new shirt upward.
Six-inches or around enough fabric to reach a little above the armhole is perfect. Cut the strip of fabric in half to create two pieces for both sides of your shirt.
Use your sewing machine and ballpoint needle next to attach the strips in place, matching the hemlines on the shirts. Trim the neckline as needed.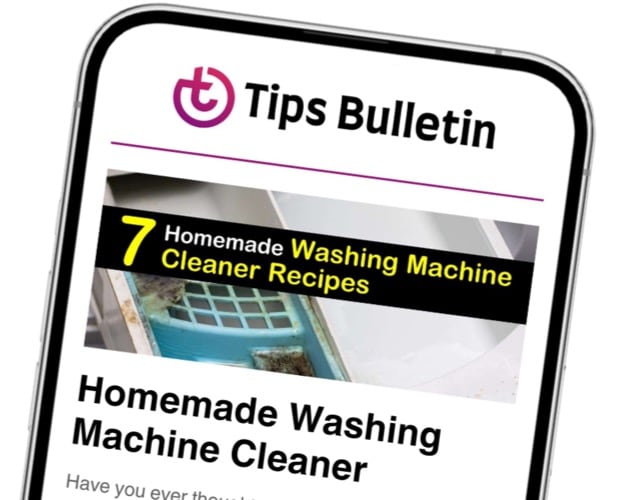 Finally, an email that Transforms Your Home.
Get the latest home and garden tips from our experts, delivered straight to your inbox.
Create a Shirt Patch to Resize Favorites
Another easy option to upsize your favorite t-shirts is to turn them into a shirt patch. This project is ideal if your shirt design is close to the neckline or for making a kid's Marvel t-shirt into an appropriate size.
Find a plain new shirt in the same color as your too-small shirt. Cut around the design of your old shirt with fabric scissors, leaving ½ inch seam allowance around the design.
If using a Marvel shirt, for example, cut around the Avengers fabric and attach it to the new shirt with a sewing machine. Sew the design directly onto the new shirt like a patch.
How to Make a Shirt Bigger with Side Panels
Fit into a too-small shirt whether you bought the wrong size from the thrift store or you bought smaller because your size was out. In Sarah Shah's easy tutorial, "Upsize: How to Make a T-Shirt Bigger," she shows how to make a t-shirt bigger by opening the side seams and replacing them with panels cut from another basic t-shirt.
For this t shirt makeover, find another shirt in a similar or color-coordinating shade. A knit t-shirt is perfect. Grab your fabric scissors and open each side seam clear up the sleeve seam.
Cut a strip of fabric from the same side of your knit shirt, keeping the bottom and sleeve seams intact. Sew the strips into the side seam of your small t-shirt, matching the panels in place.
Add a Shirt Gusset for More Length
A gusset is a small triangle detail along the side seam of many shirts. You can add length or a splash of pattern or bright color here with your favorite sewing patterns.
Create two gussets by folding two triangle-shaped pieces of fabric, sewing them in place along the fold lines with ¼-inch seams. Slip your scrap of fabric into the hem of your shirt, pinning it into place.
Sew your hem, matching the triangle edge to your side seams. Line the gusset up perfectly to cover the hem.
Modify an Upcycled Button-Down Shirt
Upcycle a small button-down shirt with a collar into a custom shirt that fits perfectly. Get rid of the collar altogether or refashion a shirt to match your couture with this shirt transformation.
DIY T-Shirt Refashion
To make a button-down shirt bigger, follow the same steps Sarah Shah lays out for t-shirts. Cut the side seams of the button-down. Only for these sewing projects, remove the shirt collar to create a scoop neckline.
If you're crafty, reuse the fabric by creating ruffles along the neckline. Online sewing tutorials may help.
How to Stretch a Shrunken Shirt by Hand
Did you know it's simple to resize basic t-shirts and stretch out pants after you accidentally shrink them? Learning how to stretch a shrunken shirt is simple. If your favorite shirts come out of the hot dryer with damage, there are a few ways to stretch the fabric back into place.
Use this method to extend a cotton shirt by about a size. First, rewash the shirt. Take your wet t-shirt in both hands, pulling outward to stretch cotton fabric as much as you can without tearing it.
Soak nylon, rayon, or cotton shirts in hair conditioner for a few minutes, then pull to stretch the fabric again. Follow the same procedure to stretch out a polyester shirt. If you run out of conditioner, try using baby shampoo in equal amounts.
Both soaps help relax fibers in a basic shirt, making the process easier. Avoid shrinking your clothing in the future by washing shirts in cold water. Dry on low heat or limit using the dryer altogether by air-drying old shirts. Never wring the wet fabric.
This strategy also works to loosen jeans that may be just a little too tight. Concentrate your stretching efforts in the waist band, hips, and crotch for a better fit.
Make a Regular Size Shirt into Plus Size
Learn how to make a regular size shirt fit a larger frame. This easy tutorial from the Shabby Creek Cottage only takes a few minutes to pull off at home.
Plus Size T Shirt DIY
Lay your t-shirt flat, and start cutting the side seams from the bottom to the end of the sleeves. Remove the hem on each arm. Use fabric scissors rather than traditional paper scissors for this step. The angled blades help cut fabric precisely.
Find t-shirt material for the side panels. There are sewing patterns for sale from your local fabric store or use upcycled old shirts in matching colors.
Cut panels from the material to fill in the side seams, tapering it slightly at the top to make way for plus-size sleeves. Use your sewing machine to match the fabric hems together. Follow sewing tips to back-stitch the pieces together.
Trim off extra sleeve fabric as needed. If the neckline is too small, cut it out as well. T-shirt material doesn't unravel.
Use Vinegar to Hand Stretch Wool Shirts
If you're stretching a wool shirt or sweatshirt, use vinegar instead of hair conditioner. The vinegar naturally softens the fabric and protects against damage.
Fill either the sink or bathtub with cold water. Add one or two tablespoons of vinegar to the water. Mix in conditioner as well if you prefer. Submerge your shirt for 15 minutes, then rinse with fresh water.
Soak the shirt for another five minutes, then lay the shirt flat to pull each side of the shirt. After stretching, allow your shirt to air dry overnight.
Hang Dry Small Shirts after Washing
Another simple way to stretch a slightly undersize shirt is to hang dry it. The added water weight allows the material to elongate and stretch while hanging, so there's little work on your part.
After washing your shirts in low-temperature water, skip the electric dryer. Hand the shirts to dry on a clothesline using clothespins. Place the pins along the bottom of the shirt, hanging it upside down, for more pressure.
Stuff Pillows and Blankets Inside a Small Shirt
If you bought or recently washed a shirt that feels a bit snug, stretch it out before you wear it. Stretch a slightly small t-shirt overnight using pillows.
Fit pillows and blankets inside the shirt, allowing the material to stretch. Stuff the arms, too. Keep adding significant pressure to expand the shirt overnight. You may also use towels if you can't find enough blankets or pillows.
Place the pillow-stuffed shirt somewhere you won't see it overnight. The shape may scare you if you wake in the middle of the night for a quick bathroom break.
How Do You Avoid Shrinking Shirts?
Always wash shirts in cold water and use low or no heat when drying. Hot water or air causes damage to shirt fibers. Certain fabrics, like wool, cashmere, and mohair, are best dry cleaned.
Make sure to follow the care tag on your clothes to avoid shrinking your t-shirts. Air-drying women's clothing is another failproof way to avoid shrinking problems, particularly if you love a shirt. It's also much better for the environment.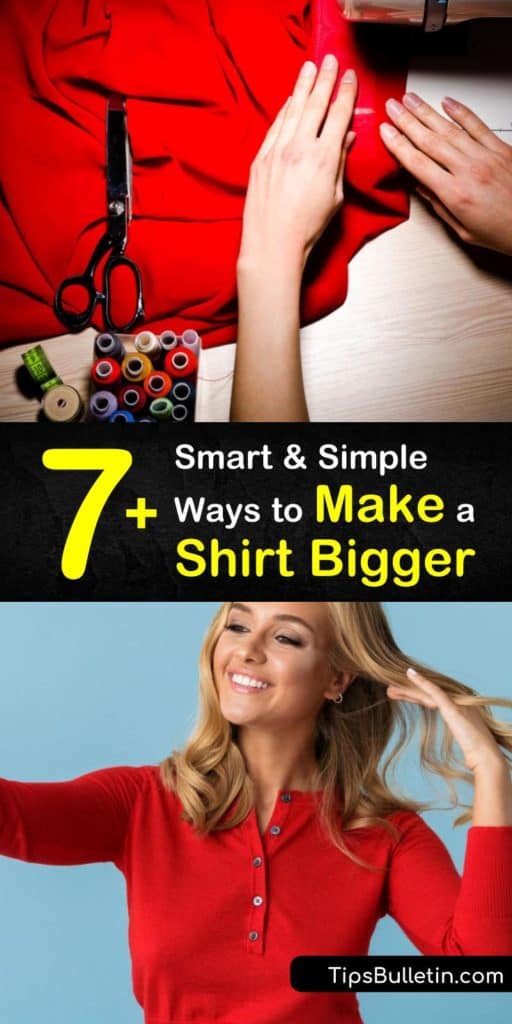 If you enjoyed reading about how to make a shirt bigger, share our refashioning t shirt hacks with your friends and family on Pinterest and Facebook.