There's always that one sweater you forget to take out of the dryer early, or a stray piece of clothing mixed in with shirts requiring a high heat cycle. And of course, you can't forget the one you bought during a Cyber Monday sale; you know, the one that arrived two sizes too small. Whatever it is, your favorite coverup is now tiny, and you need to know how to unshrink a sweater fast.
Luckily, the situation isn't as hopeless as it sounds. While it may seem easier to give that one-of-a-kind pullover you bought during a Black Friday special to your child, there are a few simple ways to unshrink a sweater back to its original size.
One of the main things to focus on is the material the jumper consists of and utilize plenty of patience. Tugging too hard on the fabric is never recommended, and it takes time to return it to its former glory. Still, finding the right strategy for how to stretch a sweater back into shape has never been easier with these helpful tips of the trade.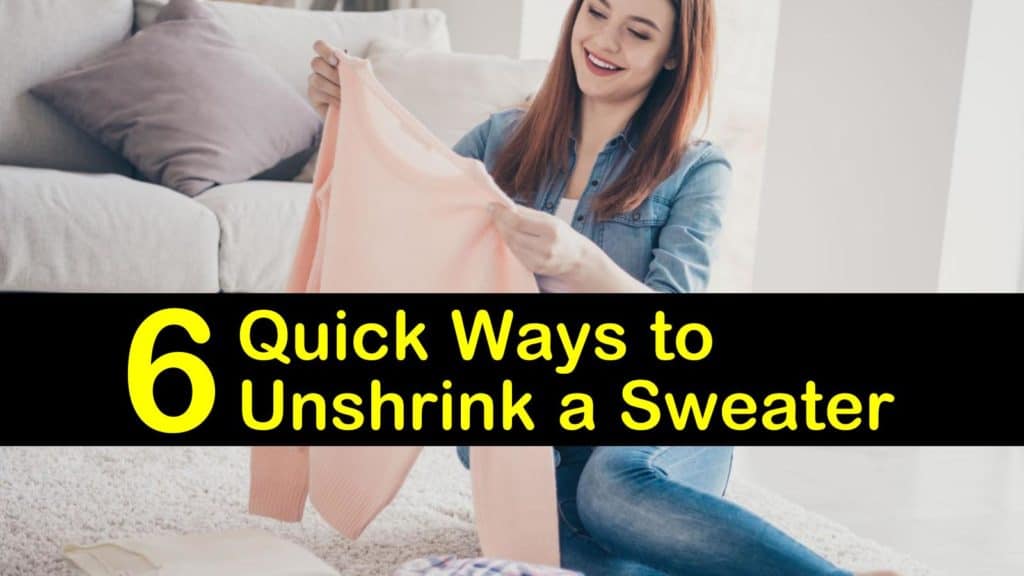 The Easiest Ways to Unshrink a Sweater
While shrinking may be common it is often reversible. Can you unshrink a dress or sweater? Fortunately, many times, the answer is yes.
It's only natural to panic when you accidentally shrink polyester and spandex clothing or even your favorite wool sweater. However, there are many different factors to consider before chalking your best Black Friday find up to a total loss. Having a few of the necessary supplies listed below to start you on your way undoubtedly makes things even easier.
Alternate methods may require additional resources, though. For the most part, these items are the most necessary and beneficial across the board and help bring your sweater back to its usual size in no time.
Determine Whether the Material Still Stretches
The first thing to do when you accidentally shrink a cotton hoodie is to determine whether salvaging the sweater is even possible. If attempting to unshrink apparel comprised of natural fibers like cashmere or wool fibers, check if the material is felted. Felting occurs when fibers permanently fuse together during repeated friction.
This process is a common byproduct of washing certain fabrics in the washing machine and makes it nearly impossible to reverse. To determine whether your cashmere or wool sweater is felted, tug on a small corner of the sweater to see how tightly packed the material appears.
If you notice any visible fibers when pulling, or if the wool gives way at all to stretching, then it is still usable and able to be unshrunk. If the sweater has felted, you won't be able to stretch it at all.
How to Unshrink a Sweater with Soap
Now that you've determined your merino wool sweater is capable of saving or you need to unshrink cotton sweaters, it's time to implement the next phase of the stretching process. Polyester fabric is stretchy and often responds well to both shrinking and stretching.
Start by filling a large basin up with lukewarm water and adding mild soap. A gentle fabric softener like Woolite works perfectly and is even safe for handwashing. Otherwise, baby shampoo or hair conditioner also suits the purpose.
The way to stretch fabric with soap is to soak the sweater in the solution for approximately 30 minutes. In extreme cases, let it sit in the soapy water for up to two hours. This mixture softens up the fibers in the shrunken sweater, making it easier to stretch out the material later on in the process. Make sure that the garment is completely wet.
More Ways to Unshrink a Sweater
An alternative approach to unshrink a sweater is by using vinegar and water instead of a conditioning solution. Similar to the above technique, the only necessary supplies are a basin and the two ingredients to loosen up the fibers in the sweater and prepare them for stretching.
Start by mixing one part vinegar to two portions of lukewarm to cool water. Add the sweater and gently swish it around in the mixture. Let the clothing soak in the vinegar for about 25 minutes before taking it out and moving on to the next part of the process.
Let the Sweater Air Dry
No matter which formula you use to loosen up the sweater fibers when removing the shrunken garment from the tub, do not wring it out. Wringing damages the structure of the hairs, weakening them rather than softening them. Instead, empty the basin and squeeze as much excess water from the sweater as possible.
Place the clothing item flat on a dry towel and roll it up to absorb even more of the moisture from within the material. Unroll the sweater, and repeat as necessary. The coverup doesn't have to be completely dry when stretching, though it should not be more than a little damp.
How to Stretch a Sweater Safely
Stretching a sweater may seem like a simple task. However, it potentially causes irreversible damage to the threads if executed improperly. Having supplies like cork board and pins help make the process easier since it keeps the sweater in place when stretching. For less severe cases, hand pulling is also acceptable.
Start by placing the garment on a flat surface, either the cork board or a piece of foam board. Since both are easily perforated, and adequately hold the pins in place, either of the two materials is ideal. After gently tugging the sweater from top to bottom and side to side by hand, slowly pin the edges of the garment to the board in a way that continues stretching them.
In other words, fasten them with the fabric taut so that it gradually expands back to its original shape. Take care when pinning, however, that you do not tear small holes that grow during the widening process.
Use this same process as one of the ways to make the jeans waist bigger if your pants are a little snug around the middle.
Prevent Shrinking Down the Road
Following a few simple cleaning tips for future washes prevents more mishaps and saves you repeated heartache down the road. Once a sweater shrinks, it's even more likely to do so the next time. To avoid this problem later, it's better to just hand-wash it, especially when it's made of particularly shrinkable fabrics like wool and cotton.
It's important to ensure that you don't accidentally mix your shrinkable sweater or other clothes in with a regular wash. The best way to sort laundry is to do it carefully so that another accident doesn't happen.
While this is the best scenario, running it through the washing machine is an inevitability sometimes. Instead of using hot water, only use cold water settings when washing. Also, stay away from the dryer and let it air dry instead to avoid further shrinkage.
More Information on Unshrinking Sweaters
Understanding why wool and nylon shrinks in the wash is one way to be proactive about maintaining the structure and size of your clothing. These last few pieces of advice provide you with added information to help you unshrink your clothes and keep them at the usual sizing.
Why do sweaters shrink?
There are a few culprits behind why your clothing shrinks, though none stand out more than high heat levels. Whether it comes from your dryer or even hot water in your washer, it's a significant contributor to why clothing shrivels up into the miniature version of itself.
Sadly, it's not the only reason. Part of what makes clothing shrink so quickly is that companies stretch the fibers out to the max when creating the apparel. It's sort of a way to get more clothing for a smaller amount of material.
When exposed to heat or even the friction caused by brushing up against the sides of your washer or dryer, those taut little fibers spring back into their smaller selves, resulting in the shrunken sweaters that cause us so much grief.
What do I do if the sweater is felted?
When it comes to a felted sweater, there isn't much left to do to save it. The fibers of the clothing item weave so tightly together that prying them apart is nearly impossible. However, there are a few fun ways to repurpose felted material, which may lessen the sting of losing one of your favorite clothing items.
Felted fabric makes a fantastic material for any number of craft items and projects. Simpler tasks for beginning crafters include making small items like pillowcases, phone covers, or mittens.
If attempting more complicated project ideas, these range from making plush toys, pet beds, and even coin purses. Just because the outfit no longer fits doesn't mean it can't still be useful. The only limitation is your creativity.
These easy instructions should have your favorite sweater looking as good as new in no time. While trying to unshrink an outfit may feel a little daunting at first, having the right strategies in place, save you a ton of time and give you all the peace of mind you could ever want.
Don't despair when you accidentally turn that cashmere sweater into new puppy clothes. You have all the tools you need to succeed here.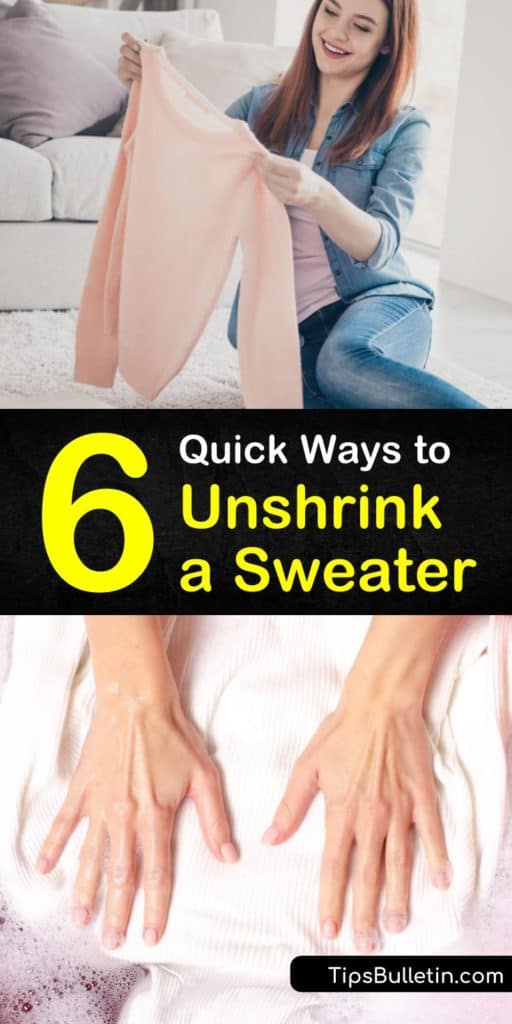 If you found these different ways to unshrink a sweater useful, then please remember to share how to unshrink a sweater with friends and family on Facebook and Pinterest.