If you have rabbits and want an easy way to add nutrients to your garden, rabbit waste is the best place to start. Sometimes referred to as bunny honey, fertilizer made from rabbit poop is nutritious for plants and is simple to use. Learn how to make rabbit manure compost to add nutrients to your garden soil without spending money on commercial fertilizers.
Rabbits are small animals that create lots of waste pellets; these pellets are easy to incorporate into fertilizer. Unlike cow manure or horse manure, rabbit droppings are small and easy to manage. Compared to other types of waste, like chicken manure, bunny poop does not have a strong smell to deter gardeners from working with it.
Bunny berries contain nitrogen, potassium, and phosphorus, which are essential nutrients for plants, and rabbit manure does not carry the risk of burning plants like other manure. Rabbit manure is considered cold manure; you don't have to let it age or compost before using it in the garden.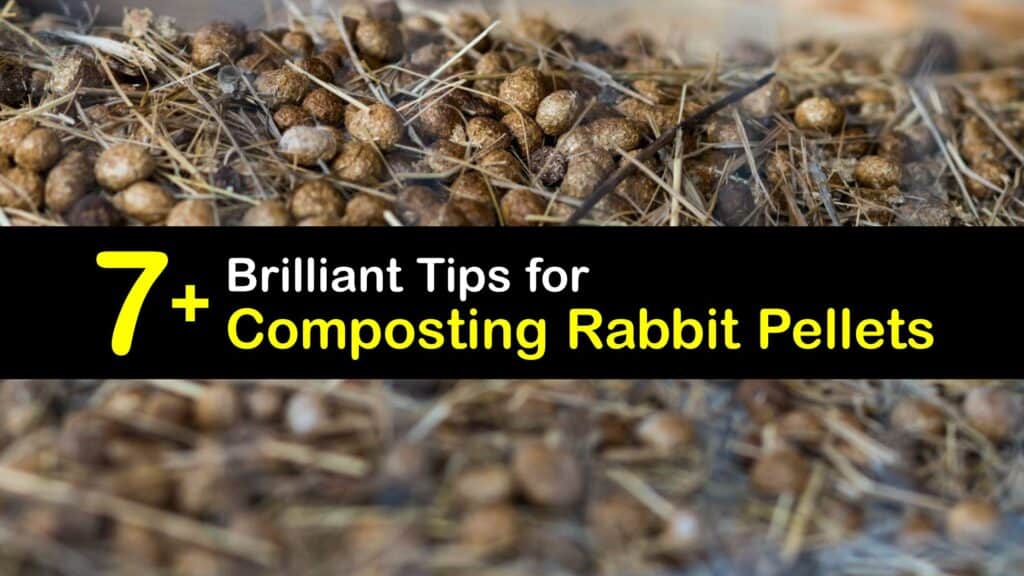 Why You Should Use Rabbit Manure Fertilizer
Although animal manure is an excellent natural resource for compost and fertilizer, not everyone can raise livestock at home. Sheep manure is good for fertilizing your plants, but space for these animals may be an issue. Rabbit poop fertilizer is an excellent alternative because rabbits are small and capable of living in urban areas.
Benefits of Using Rabbit Manure
Fresh manure from rabbits contains twice the amount of nutrients as manure from poultry and horses. Aside from the three primary nutrients required for plant growth, fresh rabbit manure contains other essential nutrients like calcium, sulfur, and magnesium.
Because rabbit waste is good for gardening and healthy plant growth, using pellets is easy to provide your plants with a balanced pellet fertilizer. Fertilizer made from rabbit pellets also improves soil texture and overall quality.
Direct Burying Rabbit Manure
The most straightforward method of using rabbit litter is to gather pellets from the rabbit cage to use in the garden. Because rabbit poop doesn't burn plants, the pellets are safe to use during the growing season.
The easiest way to use rabbit manure fertilizer is to create a furrow between your plants. Bury rabbit pellets in the trench to incorporate them into the soil. Using pellets directly in the trench helps prevent fly activity and allows nearby plants to benefit from the slow release of nutrients.
How to Make Rabbit Manure Compost
If you have a compost pile, rabbit and alpaca dung are excellent additions. Rabbit waste is a green compost material because it releases nitrogen into compost. Composting rabbit manure encourages the activity of the microorganisms that live in compost piles and help with decomposition.
Because rabbit pellets don't have much of a smell, they work well in small composters, especially for gardeners living in urban areas.
When using rabbit waste in compost piles, add brown materials to balance the carbon and nitrogen in the pile. Dried leaves and twigs are the most accessible brown materials to keep an ideal ratio of your pile.
Using Rabbit Waste for Vermicompost
Vermicomposting is one of the most intriguing compost types. Rabbit droppings double in usefulness as you can use rabbit manure by providing pellets to worms to create worm castings. Worm castings, or vermicompost, are the droppings left by worms. Worms eat compost, and the waste they produce helps with soil aeration and adds nutrients for growing plants.
Use a shallow worm bin with drainage holes between eight and 12 inches in depth, and layer the container with sand and strips of damp newspaper. Add your compost materials, rabbit droppings, and other organic matter like twigs, leaf litter, and more newspaper.
Top the bin with worms and a food source like vegetable or fruit peels to finish your worm bin. As your worms eat the compost and deposit waste, separate the worm poo from the rest of the organic material.
Dump your worm bin out onto a screen layer. Sort the compost heap by hand and allow the castings to fall through the screen. Mix these castings with your garden soil to help with soil structure and boost plant growth.
Top Dressing with Rabbit Manure Fertilizer
One of the simplest methods for using rabbit droppings is to top-dress soil with manure. This method for fertilizing plants is extremely effective for container gardening. Using rabbit manure or goat manure fertilizer outside the soil draws flies, so droppings on indoor plants or plants growing under covers means you don't have to worry about bugs.
To use rabbit manure for plants in containers, spread an inch of pellets around the base of your plants. Thoroughly water your plants to help the pellets dissolve, and the nutrients reach the roots.
Bunny Brew Fertilizer Tea from Rabbit Droppings
Creating a liquid manure tea is one way to use rabbit manure in the garden. To make tea for your plants, soak rabbit droppings to allow the pellets to dissolve and release the nutrients into the water.
Line a five-gallon bucket with a pillowcase before pouring in the rabbit pellets. Fill the bucket the rest of the way with water before covering the bucket with a lid. Leave the bucket in a spot that receives direct sun and stir at least once daily.
Leave the bucket to sit for three to five days so the rabbit dung breaks down. Although the waste won't dissolve completely, it is ready for use in the garden after five days. Pull the pillowcase and allow the water to strain out before using the manure tea as water for your plants.
Safely Using Rabbit Dung in the Garden
When choosing between different animal-waste manures, rabbit droppings are among the best to use in the garden. The waste from rabbits is less likely to contain weed seeds from invasive plants. Due to a rabbit's diet, their waste is less likely to contain harmful pathogens.
Despite the low risk behind composted rabbit manure as fertilizer, allowing it to age before using it is a safe way to avoid possible illness from pathogens. After gathering manure, let it dry for at least four months before using it on your plants.
Using Other Rabbit Waste in the Garden
Rabbit urine benefits gardens as a fertilizer too. Using a plastic tarp under your rabbit hutch, catch the urine and harvest it into containers. Rabbit urine is high in nitrogen because rabbits don't consume much water. Because of its nitrogen concentration and the phosphorus and potassium in the urine, rabbit pee improves soil fertility.
Because rabbit urine is high in nitrogen, using it directly on your plants burns them. To make a safe spray, dilute the urine in water before applying it to vegetables like spinach, lettuce, cabbage, and cucumbers.
Because rabbits have life spans of up to twelve years, raising rabbits is a long-term commitment. If you have the space and the ability to care for rabbits, they'll provide you with a continuous fertilizer supply for your vegetable garden.
If you learned how to make rabbit manure compost with our help, please share our advice for using rabbit manure fertilizer with your fellow gardeners on Facebook and Pinterest.