Bananas are sweet, creamy, and one of the best fruits to grab for a snack on the go. The one downfall to these popular fruits is that we often can't eat an entire bunch of bananas fast enough. Knowing how to preserve bananas keeps them from turning brown too quickly and ensures that you're able to finish the bunch before they go bad.
There are many ways to preserve bananas, and we're willing to bet there are strategies you've never considered before. Preserving bananas isn't something that a lot of people attempt.
Most people buy the bananas, place them on the counter, and let them sit until they get so brown that they are mushy and inedible.
For those who want to preserve fresh bananas, we have some tips and tricks that we guarantee you'll love if you're bananas for bananas!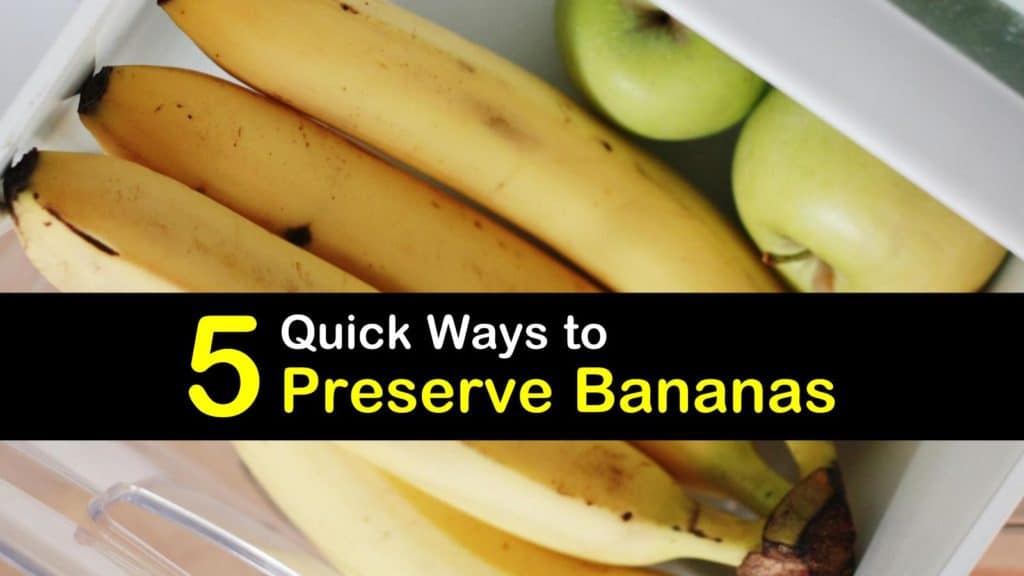 Benefits of Bananas
Bananas are a healthy snack, versatile, and full of nutrition and are some of the most popular worldwide. Bananas are available for purchase year-round at the grocery store and come in various sizes, shapes, and colors.
One banana has around 100 calories and has virtually no fat. They contain potassium, magnesium, copper, manganese, fiber, protein, and vitamins B6 and C.
They also help moderate blood sugar levels, improve digestion, contain antioxidants, and improve heart and kidney health.
It's truly astonishing how one small fruit has so many benefits. If you want to preserve fresh bananas, there are several actions to try for yourself.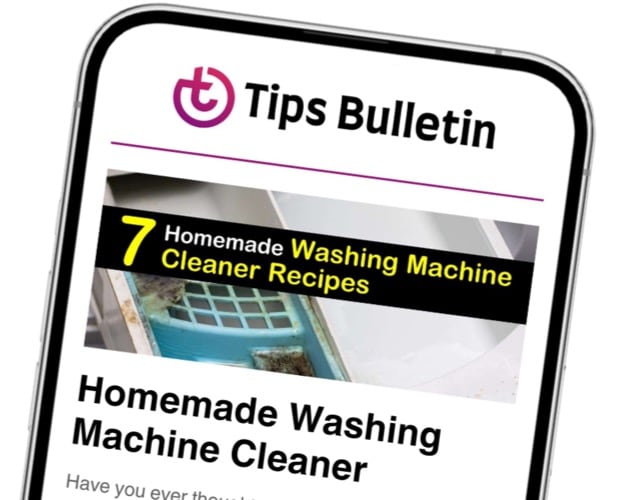 Finally, an email that Transforms Your Home.
Get the latest home and garden tips from our experts, delivered straight to your inbox.
Whether you freeze your bananas or make fresh banana bread, it's important to know the best way to store banana bread and your bananas so you have them when you want them.
Ways to Preserve Bananas
The most crucial aspect to keep bananas fresh starts at the grocery store. To keep bananas fresh longer, purchase fruits with green banana peels. Unripe fruits last longer because they have a longer shelf life from the time you take them home.
Of course, if you like to eat them right away, then ripe fruit is the best. However, for those who eat them throughout the week, unripe bananas are the way to go.
Look for firm fruit that is free from dark spots, bruising, or cuts on the peel. Once you're home from the store, immediately remove the fruits from the plastic bag if stored in one.
Too much moisture causes the fruit to rot. Aside from purchasing the right ripeness, there are several other ways to preserve bananas that you'll love.
How to Preserve Bananas at Room Temperature
Storing bananas at room temperature is the most common strategy for preserving bananas. How long are bananas good for? It depends on your storage method.
If you refrigerate or freeze them before they are ripe, it permanently interferes with the ripening process.
If the fruit is underripe, store them in a brown paper bag with an apple to speed up the process. If they're ripening too quickly, store them in a paper bag with an underripe avocado or pear to slow ripening.
Another trick to storing bananas at room temperature is to keep them in the right environment. Buying a banana hanger allows them to get proper airflow while preventing brown spots and bruising from where they sit on the cupboard.
Preserving Bananas in the Fridge
If you have perfectly ripe bananas and want to prevent them from becoming overripe bananas, storing them in the fridge with your other fruits and veggies is safe. Make sure that they are ripe, though, or the quality becomes compromised.
Wrap ripe bananas in a plastic bag or plastic wrap and store it in the fridge. The peels darken in the refrigerator, but the flesh inside remains unaffected. Remove them from the fridge and allow them to come to room temperature before snacking on them.
Of course, preserving fresh eggs is best done in the refrigerator, as well. Eggs that come right from the farm, however, can sit out longer without refrigeration.
Wrapping Banana Stems
Wrapping the area where the banana stems meet in plastic wrap is a smart way to preserve fresh bananas. It stops the ethylene gas from escaping and causing them to ripen. It also prevents them from absorbing gas from other fruits nearby.
Storing Peeled Bananas in the Fridge
Peeled bananas quickly turn brown after removing the outer layer and cutting them. Thankfully, there is an easy way to combat this browning. Place the banana slices in a bowl and squeeze lemon juice or lime juice over them.
Stir the bananas so that all sides get covered in the liquid. Store bananas in the fridge for several days using this technique. Throw the slices in smoothies or throw them on top of ice cream.
How to Freeze Bananas
The best way to preserve bananas for long periods is with the freezer, just as with how to freeze milk. Line a baking sheet with parchment paper, spread the bananas slices out in a single layer, and freeze them.
Remove the lined baking tray from the freezer and place the chunks of frozen bananas in freezer bags or an airtight container. Store the bananas in the freezer for up to a year and add them to smoothies.
Freezing is also one of the best ways to preserve peaches and other fruits.
Another way to preserve bananas is by drying them in your oven or a dehydrator. Can you freeze dried fruit? Yes, freeze dried bananas if you like or store them for shorter periods in an airtight container in the pantry.
Make Homemade Banana Bread Muffins
The secret to good banana bread is overripe bananas. The ripeness makes the bananas sweeter and helps keep the bread moist.
Once your bananas become overripe, cook the muffins immediately, or store the overripe bananas, with the peel still on, in the fridge until you are ready to cook with them.
Grease a muffin pan with nonstick cooking spray and preheat the oven to 425°F. In a large bowl, whisk the flour, baking soda, baking powder, cinnamon, nutmeg, and salt together and set the bowl aside.
Whisk the bananas in a separate large bowl, melted butter, sugar, vanilla, milk, and egg. Add the dry ingredients to the wet ones and whisk until evenly combined.
Evenly spoon the banana batter into the muffin tray and bake for about 20 minutes until cooked. Let the muffins cool for five minutes on the counter before devouring them.
If you happen to have any of these delicious muffins leftover, knowing how to freeze banana bread is important, too.
How can bananas not be one of your favorite fruits when they are so tasty and durable? Preserving bananas is a delicious way to get your daily vitamins in, and all of these preservation tips only take a few minutes.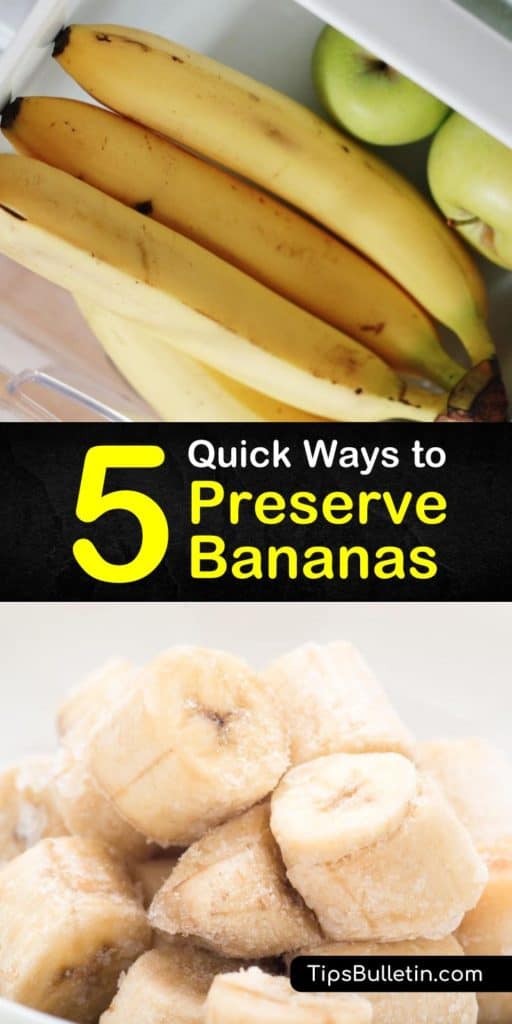 Anyone can learn how to preserve bananas and keep these sweet fruits in their food rotation throughout the year. If you found it helpful to learn how to preserve bananas, please share these fruit storage tips on Facebook and Pinterest.