Squash bug control may seem impossible when these insect pests invade your garden. Learn how to prevent squash bugs from attacking and keep your summer squash, zucchini, winter squash, and other cucurbit crops safe from bug infestation.
Young plants or flowering plants are most at risk for an invasion, which is easily noticed by observing eggs laid by the insect on a leaf of a plant they favor, such as the squash. Despite their name, these pests target and destroy other crops such as melon, cucumber, and zucchini, making them a big problem for your garden.
Squash bugs are dark gray or brown with orange stripes on their underside. Their eggs are dark in color with an elliptical shape, usually laid on the bottom of a squash leaf. A few easy steps will halt bug damage and quickly achieve squash bug control to help beneficial insects (and your garden) thrive.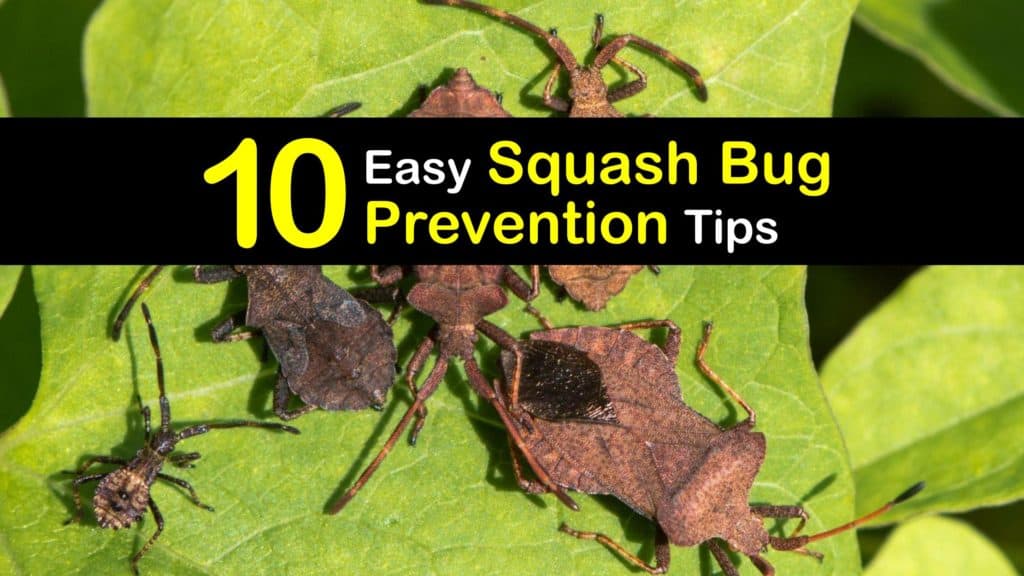 Simple Tricks for Squash Bug Prevention
The squash beetle, also known as Anasa tristis, and the squash vine borer, are easily identified by the bug eggs they leave behind.
The squash pest favors young plants, and finding a squash bug egg on a leaf indicates a problem that could lead to severe destruction of your crops if left unchecked.
Thankfully, a few simple tricks stop adult bugs and squash bug nymphs from destroying your garden, but time is of the essence.
As soon as you notice squash bug eggs or adult insects, act quickly to prevent infestation and achieve control before extensive bug damage occurs. Whether you control squash bugs with diatomaceous earth or another simple solution, keep your plants safe so you can harvest them later.
Homemade Insecticidal Soap Recipe
Use an easy-to-make insecticidal soap mixture to kill the adult squash bug, the squash bug nymph, and the vine borer moth alike.
This method avoids harsh chemicals and works on stink bugs, often confused with the squash bug. Be sure to choose an insecticidal soap from the garden store as one of the home remedies for getting rid of squash bugs and other pests that damage your crops.
Many recipes recommend dish soap, but unlike insecticidal soap, this will not remove the pests, and worse, may cause more harm to your plants. Use this recipe to get rid of squash bugs and stink bugs on tomato plants and other crops in the garden.
Swirl the soap and water in a spray bottle. Perform a test by spraying the insecticidal soap killer on a small area of the plant.
Check back the next day to ensure the plant is okay. For this easy and natural way to kill squash bugs, spray the entire plant, covering every leaf with the solution. It is essential to achieve full coverage, as any untreated spots may lead to reinfestation.
Insecticidal soap works best on the squash bug nymph, so be sure to check for and treat the cucumber beetle early in the season to avoid bug damage.
How to Prevent Squash Bugs using Neem Oil
Squash bug damage may appear similar to bacterial wilt and leave your cucurbit crops looking lifeless.
Neem oil is an easy-to-obtain natural pesticide used to kill squash bugs. It works well on other plant pests and powdery mildew and neem oil does kill baby squash bugs as well as the adults. It's a great option for natural bug prevention.
Swirl the mixture in a spray bottle until thoroughly combined. Spray every squash leaf, vine, stem, and all plant surfaces.
Neem oil coats the squash bug egg, ensuring it does not hatch. It is effective against the squash bug nymph and adult bugs. This option provides total squash bug control with just a few easy steps, using ingredients you likely already have.
When you're dealing with the squash bug vs stink bug, neem oil does the trick for both, as well as a host of other unwelcome garden pests.
Preventing Squash Beetles by Keeping a Clean Garden
The adult squash bug is drawn to plant debris. Prevent squash bugs before planting by ensuring your garden is free of plant debris that lures adult bugs to the area and acts as a breeding ground.
Remove any vine, leaf, or other plant matter and dispose of it away from your garden site. Rake up leaves, litter, dead or dying crops, and other organic debris.
If you compost, do this far away from where you plan to plant your cucurbit crops, as the plant debris in your compost pile summons the pest.
Maintaining some distance between your composting area and garden is vital in preventing squash beetles from reaching and destroying your precious squash and zucchini.
How to Prevent Squash Bugs using Crop Rotation
Crop rotation is an excellent form of squash bug prevention. Crop rotation is the practice of growing different crop types on any given plot of earth over a sequence of time.
Rotating crops is a valuable concept in preventing squash beetles. It deters bug infestation from taking hold and helps avoid unwanted pests like powdery mildew and bacterial wilt.
Prevent squash bugs before planting by considering last year's crop locations and the space you have available. Plant your cucurbit crops in an area where squash bug-resistant or non-affected plants were grown the previous year.
Rotate your garden by planting a different crop type in each area every year.
Pay special attention to pests each crop is susceptible to, such as summer squash being sensitive to squash bugs, and avoid planting the same type in the same area twice.
Prevent Squash Bugs by Avoiding Wood Mulch
While mulch is excellent for keeping plant beds moist and aiding weed control, it may contribute to a squash bug invasion.
Increase the chance of keeping your squash plant free of Anasa trisitis by opting not to use wood mulch in your garden.
Mulch provides a convenient place for the squash bug to hide, and without it, they are less likely to stick around and cause bug damage to your squash plant.
If you must use mulch, spread it in your flower beds but keep it away from the vine and base of your cucurbit plants to help prevent the pest from getting close and causing destruction.
Squash Bug Prevention using a Companion Plant
Companion planting involves growing certain species of plants together to achieve mutual benefit.
A bug repellent companion plant allows you to prevent squash bugs before planting your cucurbit crops. Several plants are known to repel the squash pest.
Choose a suitable companion plant to locate near your cucurbit crops and repel squash bugs naturally, without any harsh chemicals.
This method is one organic choice for squash bug control. Companion planting lets you enjoy additional vegetables or beautiful blooms while protecting your squash leaf and aiding in bug control.
Prevent Squash Bugs before Planting by Choosing Resistant Types
Choosing a plant type resistant to these insect pests is a great way to prevent squash bugs before planting.
Exchange your squash beetle-sensitive crop for something not susceptible to bug damage and save the headache of dealing with the squash pest while still using your garden.
By choosing an alternative to the summer squash, winter squash, and zucchini which squash beetles love, you can still enjoy growing cucurbit crops without worrying about squash bug damage.
How to Prevent Squash Bugs Infestation by Removing Insects Early
It is critical to catch any sign of squash bugs early. If you identify insect pests on your squash plant before bug damage occurs, you stand the best chance of avoiding a full-scale infestation.
Regularly inspect every squash leaf and vine, including the underside, for signs of eggs, squash bug nymphs, and adult bugs.
If you find any activity, commence treatment immediately and beat squash beetles before they take hold. Prevent squash bugs before planting by thoroughly inspecting the area for any sign of insect pest activity.
Preventing Squash Beetles by Attracting Beneficial Insects
Beneficial insects prevent squash beetles from moving into your garden and kill them if they arrive by eating them. Draw these beneficial insects by having plants they enjoy located close to your cucurbit crops.
The pollen and flowers of these plants will lure beneficial insects like the Tachinid Fly to guard your squash, zucchini, and other susceptible plants against insect pests.
Hand Pick Insect Pests and Squash Bug Eggs
If you notice squash bug eggs, bug nymphs, and adult bugs and need to remove them quickly from delicate young plants, the most straightforward method is to pick them off by hand.
Squash beetles should be plucked off leaves and dropped into warm soapy water to kill them. Crush squash bug eggs and set them in the water.
It's a good idea to check your squash plant and other cucurbits regularly; however, early June is a time to pay close attention as this is when the cucumber beetle lays eggs and is easiest to spot.
Whether you call it the Anasa tristis, the cucumber beetle, or the squash vine borer, this nasty little pest will quickly ruin your cucurbit plants and leave your squash leaves looking sad.
By following these tips, you will kill squash bugs and prevent them from targeting your garden.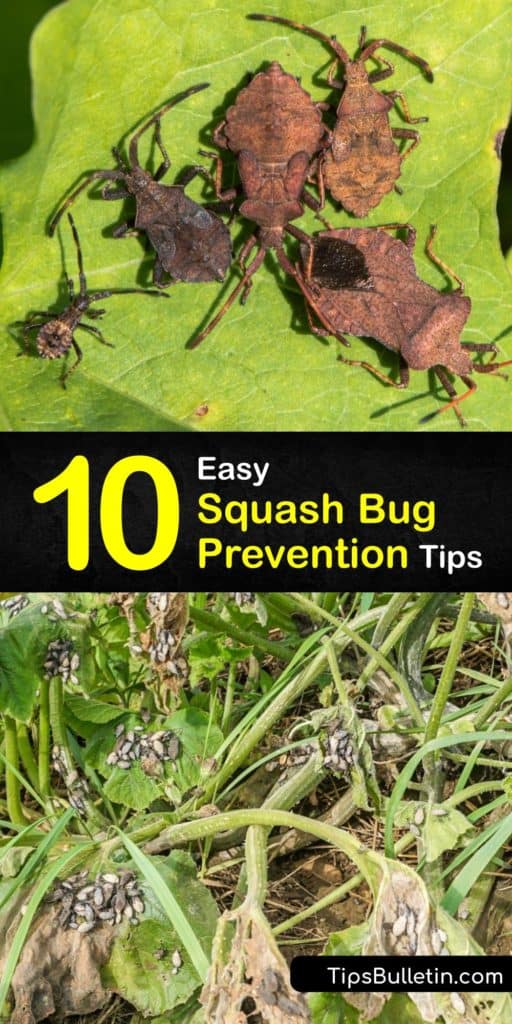 If this article helped you understand how to prevent squash bugs, share these straightforward methods and tips for preventing squash beetles with your social media friends on Pinterest and Facebook.