Not knowing how to remove adhesive from the wall can be stressful. Making matters worse, if the glue remnants are roughly pulled off, you harm the wall finish. Your walls reflect your style, regardless of whether you buy paint and carefully use your own color palette on your space or have wooden dividers.
Leftover adhesive from stickers, decals, or tape are unsightly. Fortunately, there are several DIY solutions for getting adhesive off walls. Before cleaning, peel off as much adhesive as possible with your fingers. Remove large chunks without difficulty by forming small balls out of the glue.
Walls significantly influence the impression a house or office space gives. Keeping them clean and clear of glue stains ensures they look their best. Explore the following methods for the best way to remove sticky putty from a wall, then select the one fitting your parameters in terms of time and supplies.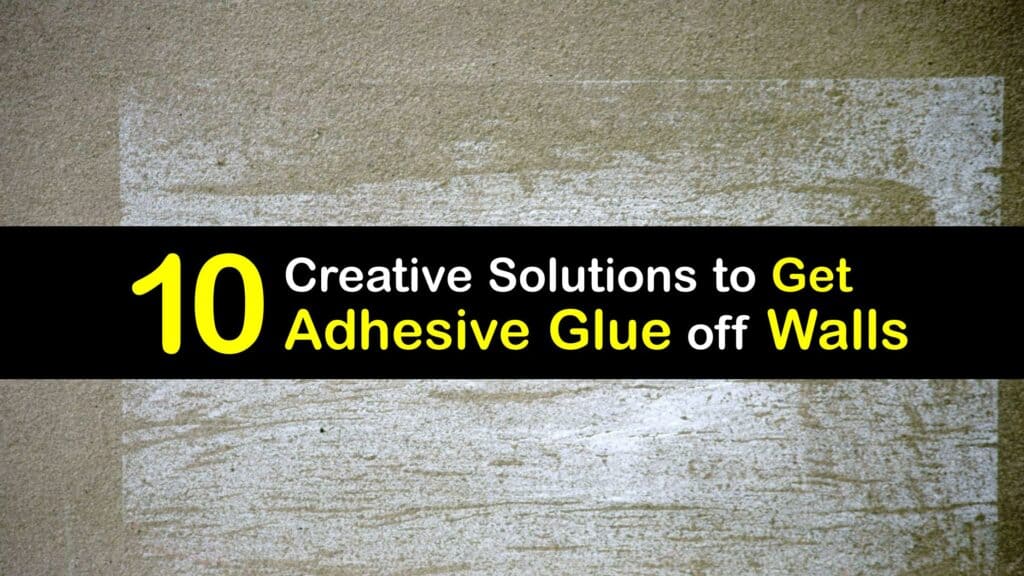 How to Remove Glue From a Wall With Ease
Learning how to remove adhesive from the wall allows you to decorate with stickers or decals and use adhesive hooks. Though peel-and-stick products claim to be temporary, they often leave behind a residue and make your walls look messy.
Sticky, gooey gunk is left behind once a Command hook or decal is removed from a wall, and getting rid of it can seem tricky. Use proven hacks for getting adhesive off walls to ensure the process of lifting glue from many types of wall surfaces is simple.
Tips for Getting Adhesive off Walls
For renters, adhesives offer a way to personalize a space without making permanent modifications. Even homeowners rely on glue products to save time and make hanging decorations simple. Yet, as the time comes to remove the glue, problems may occur. Several adhesive products commonly leave behind sticky marks.
Whether you're struggling with sticky spots from 3M adhesive or the glue from duct tape, your wall is salvageable with a little effort.
How to Remove Adhesive From the Wall With Soapy Water
Utilize the cleaning power of liquid dish soap for an uncomplicated and affordable method to remove sticky spots from your walls. Dish soap removes stubborn food stains and dried-on food residue. It's equally efficient for removing old glue stains from a sticker or adhesive strip.
Spray the soapy water mixture onto the adhesive residue after thoroughly mixing it. Get up as much glue as you can remove by rubbing a clean cloth over it in a back-and-forth motion, then let the wall air dry. If there are no visible marks, check the wall for any evidence of leftover glue by patting it to search for sticky spots.
Use White Vinegar to Get Glue off Walls
White vinegar is frequently used for pickling and stain removal but is also conducive to removing tenacious glue residue from walls. Distilled white vinegar is inexpensive to use as an adhesive remover and may be recycled for cleaning.
Distilled white vinegar contains acetic acid, which damages the bonds in the glue, causing them to break down and peel off.
Warm the vinegar in the pan, then use the microfiber cloth to soak the adhesive with the warm vinegar. Peel the residue the vinegar has been sitting on for several minutes, and wipe your wall with a clean, damp towel. White vinegar is safe for many wall types, including paint, concrete, and wood.
Removing Glue From Drywall With Petroleum Jelly
Petroleum jelly offers a convenient and affordable way to soften adhesive so it peels off your walls without a fuss. Like oil, petroleum jelly floods the chemical bonds holding the glue to the wall.
Use the petroleum jelly from your bathroom, pick some up from the pharmacy, and quickly work out unsightly glue streaks and stains on your walls. Smear a generous helping of the jelly onto the adhesive and leave it for at least an hour. Once the glue is soft, gently peel it from the wall with a plastic scraper or a blunt putty knife.
Clean Glue off Walls Without Damaging Paint
To begin your journey to clean sticker residue off a bedroom wall with an intelligent hack that doesn't damage the finish using your heat gun or hair dryer. To warm the glue, use your hair dryer on the maximum heat setting or your heat gun on low.
Keep the appliance at least six inches away from the wall. Use a plastic scraper every minute or so to examine whether the bond is beginning to loosen. If the glue has become pliable, use the edge of the blunt tool to scrape it off and throw it away.
Removing Old Adhesive From Walls With Rubbing Alcohol
Rubbing alcohol effectively breaks adhesive bonds, making it painless to remove glue residue. Some alcohol hand sanitizers and 70% rubbing alcohol are effective. The greater the alcohol content of a product, the better it removes residue. Cover the adhesive stains by immersing a cotton ball in the alcohol.
Try lifting the edge of the glue with a putty knife. Allow it to sit for a little longer, or add more alcohol if it is tough to remove. The longer the alcohol sits, the easier it is to remove the glue.
Carefully lift the adhesive with the putty knife. After removing the dry glue, wash the area with a damp cloth to lift any remaining sticky residue. When using alcohol on a painted surface, use caution. To prevent the color from fading, only apply the alcohol to the glue.
Olive Oil Adhesive Remover
Most adhesives, including wall decals and glues, are oil-based, so they water down with excessive oil. When olive oil or baby oil is applied to the adhesive residue, and the oil saturates the adhesion. The sticky particles become scattered, lose their hold, and are easy to lift.
Using olive oil to remove glue is a straightforward method that does not require traveling to the store to purchase specialist gear. Apply olive oil to stains by saturating a clean paper towel or rag with the oil and rubbing it into the affected area to eradicate all the adhesives.
Give the oil 20 minutes to work on the stains before using a putty knife to scrape tile glue off floor and walls. Repeat the process until no glue is left on the wall and it is thoroughly clean.
Eliminate Sticky Residue From a Painted Wall
Acetone, a chemical included in nail polish remover, is a strong solvent used for a variety of purposes, including removing Super Glue and tile adhesive from the wall. If you have a nail polish remover in your cosmetic kit, you already have a powerful adhesive cleaner.
Dip a paper towel or clean cotton ball in acetone nail polish remover to massage over the gooey residue until all of the adhesive residue is removed. Acetone dissolves glue residue and tacky wall stains, making them easy to wipe away. Put the old cotton ball in the trash, use a damp towel to remove any remaining acetone from the wall, and air dry.
Remove Adhesive From a Wall Surface Using Baking Soda
Since baking soda is non-toxic and safe for food, it's a perfect alternative to using harsh chemicals to remove glue from your wall. Mix equal measures of baking soda and olive or vegetable oil to create a paste. Apply the paste to the sticky stains, leave it for five minutes, and wipe it away.
The glue wipes off with the baking soda. It could take some trial and error to figure out the timeframe the paste needs to soak. The amount of time required to soften the adhesive depends on the glue's formula.
Commercial Cleaners to Erase Adhesive Residue
Store-bought adhesive strippers are frequently made of potent chemical solvents, so handling them carefully is crucial to protect you, your family, and your walls. Consider buying a commercial glue remover like Goo Gone if you don't want to use DIY methods to remove stickers and unattractive glue residue from your walls.
Always follow the label instructions when using chemical solvents for the best results. Make a note of the surfaces you intend to clear of adhesive marks before shopping, and choose a cleaner suggested for those surfaces.
Many people struggle to determine how to remove glue from a wall. As the glue dries, it clings tightly to everything from wood and paint to drywall.
Even the thin adhesive layers on stickers and decals form a strong bond and often leave behind sticky streaks. Fortunately, using easy-to-follow ideas for DIY adhesive removal makes releasing glue from your wall a breeze.
If you loved this helpful article for how to remove adhesive from the wall, please share this expertise with your friends and family who are getting adhesive off walls on Pinterest and Facebook.