A spilled coffee can ruin your day in a hurry and stain all kinds of surfaces. Coffee is an essential drink for many people, but it's easy to stain your clothes, teeth, and more when you use it regularly. It's critical to know how to remove coffee stains from many different materials if you want to have a happy life as a homemaker.
This guide gives you tips for removing coffee stains from a variety of surfaces. In this article, we show you coffee stain removal tips for materials ranging from upholstery to dishes and everything in between.
You'll find out how to remove coffee stains from clothes, carpets, and bowls, and we also show you some outstanding methods to get your tannin-stained teeth white and gleaming. You'll be prepared for any coffee emergency after you finish our guide.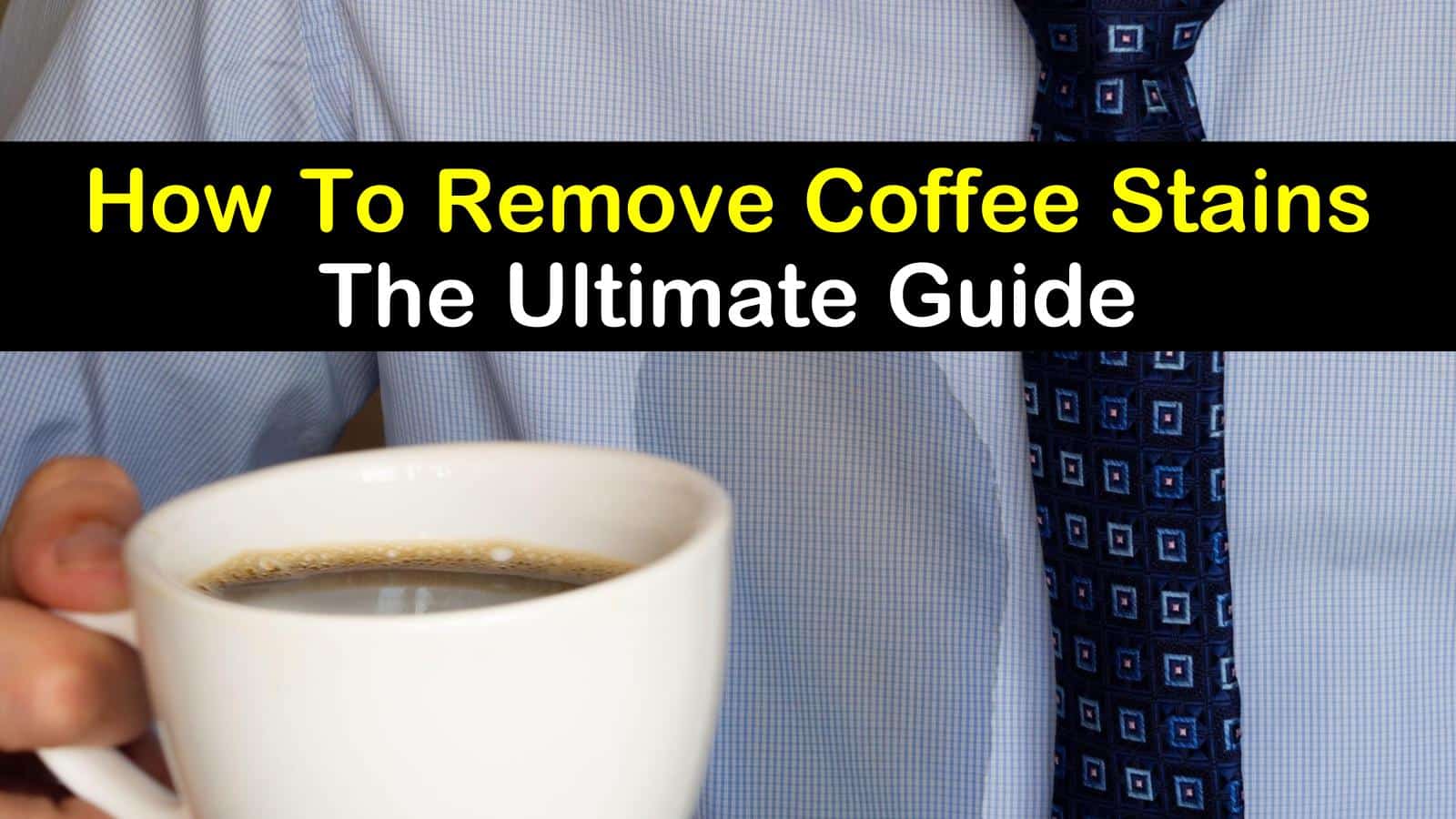 Removing Coffee Stains from Clothing
We've all experienced the sinking feeling of starting a day with a fresh set of clean clothes only to spill coffee all over them. Having effective methods for removing coffee stains from clothes is crucial if you want to overcome these unfortunate incidents. Fortunately, there are lots of reliable coffee stain removal recipes that you can use to get you through the spills.
This section looks at getting out coffee stains on clothes and returning your laundry to like-new condition when laundry detergent won't cut it. We let you know how to remove coffee stains using household cleaning products such as salt, vinegar, and baby powder. You'll be ready for the next coffee spill after you finish this section.
Get That Stain Out with Salt
Table salt is a surprisingly effective cleaner for all kinds of surfaces. Use salt to clean wood or to get your grout sparkling, and it works wonders on coffee-stained clothes.
Use salt as a first response to coffee spills when you need something to soak up the liquid. It's a practical and versatile cleaner that will get your clothing looking great.
As an easy homemade coffee stain remover, use a damp paper towel to blot your stain until you can't pull out any more excess coffee. Sprinkle enough salt on the stain to completely cover it.
Let the salt sit for a few minutes to soak up the liquid and wipe the salt away with a clean, dry cloth or paper towel. Repeat as needed. Additionally, this cleaning method will stop the stain from spreading, too.
You can also use this simple remedy as a DIY carpet spot cleaner for coffee spills, as well. Sprinkle salt on the stain, let it sit and remove excess salt. Vacuum as needed.
Use Baking Soda on the Stained Clothes
Baking soda is a handy household cleaner and food product. Baking soda has a mild abrasive quality and an absorbent nature that makes it ideal for soaking up all kinds of odors and liquids. Use baking soda's absorbance to pull coffee out of fabric and get your clothes looking fantastic, as well as to remove stains from dentures and countertops.
Dampen a paper towel in water, and use it to blot the stain until you can't remove any more liquid. Sprinkle enough baking soda on the stain to cover it entirely.
Wait for at least ten minutes, and then wipe the baking soda away. Like the table salt option, this method is useful for preventing stains from setting in and spreading.
Hit the Coffee Stain with Vinegar
Vinegar is a great cleaning product that can get your stained clothing looking beautiful once more. Use vinegar to pretreat any stained clothing and get them ready for a wash. You can also use it to remove coffee stains from cotton sheets if you accidentally spill a little while you lounged in bed with your morning wake-up juice.
The acid in vinegar eats at the stain and breaks down the coffee. It's a simple and effective method of removing coffee stains from clothes.
Dampen a paper towel in cold water, and blot the stain. Dilute the vinegar with equal parts water, and pour a few drops on the stain. Work the vinegar solution into the problem area by rubbing the front of the stain against the back of the stain.
Add a drop of liquid laundry detergent to each stain, as well. In a pinch, you could also use a natural dishwasher detergent that is liquid or powder mixed with water.
Rub the cleaner into the stained area and then run the item of clothing through a regular wash cycle. You'll be amazed at how effectively the vinegar eliminates the coffee stains.
Use Baby Powder to Soak Up the Coffee
Baby powder is a nonreactive substance that you can use for all sorts of tasks. It's ideal for powdering babies and for soothing skin, and it is also just what you need to absorb coffee stains. Use this cleaning option when you're on the go and need a quick fix to halt the staining before it gets going.
Get a paper towel wet, and blot the stain until you've soaked up as much liquid as you can. Sprinkle enough baby powder on the stain to cover it. Wait for at least ten minutes to allow the powder to absorb the coffee, and then brush the debris away with a soft cloth. Repeat as needed.
Removing Coffee Stains
After your clothing, the most likely victim of a coffee spill is your upholstery, rugs, and carpet. We carry coffee all though our homes, and we've all made a rash movement that resulted in a spill on a couch cushion or carpet. These stains can last forever if you don't take care of them, which is why having methods for removing coffee stains from carpets, rugs, and upholstery is so essential.
Cleaning Carpets and Upholstery
This section covers how to remove coffee stains from large fabric-covered items such as couches, carpets, car seats, and more. We show you how to use standard cleaning products and household agents that you probably already have at home for cleaning a microfiber couch or upholstery and get rid of stains forever. Our solutions will tackle even the most robust coffee stains without blinking. Our tips will prepare you to take on any stain you encounter on these bulky items.
Get Your Carpet and Cushions Clean with Liquid Dish Soap
If you're only using your liquid dish soap to clean dishes, you're missing out on one of the most potent and useful cleaners in your arsenal. Liquid dish soap works by breaking down grease and other substances and pulling them onto the soap.
Take advantage of this ability to get your carpets and comfortable chairs coffee-free. This cleaning method is a great option when you need to know how to clean mattress stains, too.
First, dampen a paper towel and blot the stain, then combine the dish soap and water in a container. Dampen one end of a cloth in the mixture, and blot at the stain. Keep blotting slowly and steadily until the carpet stains lift out.
Clean Out the Stain with Egg Yolk
On first glance, egg yolk seems like a poor choice for a cleaner. However, when you use them properly, egg yolks will get coffee stains out of carpet with little effort on your part.
The yolk pulls the coffee right out of the fabric in no time flat. Give this cleaning option a shot the next time you encounter a carpet coffee stain you can't clean away.
Blot the stains with a damp paper towel to remove as much of the stain as possible. Then, combine the egg, rubbing alcohol, and water in a bowl, and stir until the mixture combines thoroughly.
Dip your scrub brush bristles into the solution, and scrub at the stain. Blot with a clean cloth. Repeat until the coffee stain is gone.
Use Vinegar on Your Upholstery
When you combine vinegar with dish soap, you create a powerful cleaner that you can use for all kinds of cleaning tasks. It's just what you need to get coffee stains out of your rugs and furniture. Use this option for removing coffee stains from cushions and carpets.
Blot the stains with a damp paper towel to remove any free liquid. Combine the soap, vinegar, and water in a spray bottle.
Spray the stains, and use a brush to scrub at them. Blot the stains with a clean cloth while you work. Continue until the stains are gone.
Tackle Stains on White Carpets with Diluted Bleach
If you encounter a stain in your carpets, chairs, mattresses, or cushions that won't clean away despite your efforts, you might need to reach for a more powerful solution. Chlorine bleach will clean out coffee and other tannin-based liquids from white carpets and cushions and leave them looking pristine.
Only use this cleaning solution on light-colored fabrics to avoid discoloration, and test the product on a hard-to-see spot before using it on the stain.
Blot the carpet stain with a damp paper towel to remove excess coffee before you use the bleach. Mix the liquid ingredients in a bowl, and wet the brush bristles. Scrub at the stain, and blot at the carpet with a dry cloth. Repeat until the stain lifts out.
Coffee Stain Removal from Dishes
Knowing how to remove coffee stains from clothing, carpets, and furniture is part of the battle, but there are other materials for coffee to stain. Even dishes aren't immune from coffee's influence and will wind up stained and dingy after regular exposure to coffee. Removing coffee stains from dishes is essential if you want a stain-free home.
This section looks at how to remove coffee stains from all kinds of dishes, cups, mugs, and other eating and drinking utensils. Our recipes will have your kitchenware and coffee maker gleaming once more, and all of the ingredients are already in your pantry. Before long, you'll have a kitchen full of beautiful dishes.
Use Baking Soda on Your Plates and Glasses
Just because you have a coffee stain on your dishware doesn't mean it isn't salvageable. In addition to its abrasive qualities, baking soda is dynamite at eating away at tannin stains such as the ones produced by spilled coffee.
Soak your dishes in a baking soda solution to clean away long-standing and baked-in coffee stains. This cleaning method is handy for all kinds of dishes and works exceptionally well to get coffee stains out of a mug or a teacup.
Don the gloves. Combine the baking soda and cold water in a basin, add the dishes, and let the baking soda work its magic. You'll need to allow an hour or two for the solution to work down into the stain.
When the stain loosens, use a nylon scrubber to clean off any remaining coffee. Run the dishes through a wash cycle with dishwashing detergent after you finish scrubbing them.
Get Your Dishes White with Denture Tablets
Denture tablets may seem like a surprising entry for this list, but the same scrubbing action that gets dentures white and blemish-free overnight can work a treat on your dishes to remove old coffee stains. Give this DIY dentures cleaning option a go when you have the time to let your dishes soak for a few hours.
Combine the water and denture tablets in a basin, and add the dishes. Let the stained dishes soak for at least four hours.
When you remove the dishes from the bowl after their soak, they should be noticeably whiter. Use a nylon scrubber to clean away any remaining coffee stains.
Clean Your Plates and Mugs with Lemon Juice and Baking Soda
Lemon juice, like vinegar, is acidic and makes lemon juice a useful cleaning product, and ideal for cleaning coffee stains. Use our lemon juice and baking soda cleaning option to knock out coffee stains and leave your dishes smelling wonderful.
Sprinkle the baking soda on any coffee stains on the dishes. Fill the bottle with lemon juice, and spray the baking soda until damp. Use a scrub brush to work on the dishes until the stain lifts out and the dishes are clean. Rinse in cold water.
Hit Your Dishes with Salt and Vinegar
Salt and vinegar are both potent cleaners, and combining them creates a new and more powerful cleaning product. Salt reacts with vinegar to form sodium acetate and hydrogen chloride, and this chemical reaction creates an intense cleaning action on many surfaces. It's a great way of removing coffee stains from dishes.
Sprinkle salt on the stains, and spray the salt with vinegar. Let the vinegar and salt solution sit for at least three hours for the reaction to do its work. Wipe the dishes down with a clean cloth. Repeat as needed until the stains lift away.
Brighten Your Dishes with Toothpaste
Like vinegar, lemon juice, and many other household items, toothpaste has many more uses beyond its intended one. Use toothpaste to clear away pimples or clean tiles, and it's just the thing to get your glasses and mugs back to new condition. Use toothpaste to clean off tough stains other cleaners can't touch.
Apply a drop of toothpaste to the stain, and scrub at it with a nylon scrubber or scrub brush. Keep rubbing until the stain is gone. Add more toothpaste as needed, and wipe it away with the cloth from time to time to check your progress and determine how much of the stain remains.
How to Remove Coffee Stains from Teeth
Using home remedies on dishes, clothes, and furniture is one thing, but what if the stain is in your mouth? Coffee is notorious for altering tooth color from a brilliant white to a dull brown and can ruin your smile if you don't address the issue. Having proven coffee stain removal options for your teeth will help you keep your pearly whites looking gorgeous.
This section covers how to remove coffee stains from teeth. We show you how to whiten your smile with coconut oil, vinegar, and peroxide.
You even get a tooth whitening recipe made from strawberries. We've got the know-how you need to keep your teeth white and shiny.
Use Hydrogen Peroxide and Baking Soda on Your Teeth
There's a reason both cleaning with hydrogen peroxide and baking soda are standard ingredients in different kinds of toothpaste. Both agents are effective tooth cleaners and help with regular stain removal. When you run up against a tough coffee stain, combine these cleaners to create a top-notch stain remover.
Combine the peroxide and baking soda to form a paste. Add a few more drops of peroxide if needed to thin the paste enough to apply it to the toothbrush.
Brush your teeth with the peroxide mixture for a minute, and then leave it on your teeth for 15 to 20 minutes. Rinse with enough water to clean off the mixture, and repeat until your teeth are white.
You can also use this remedy to clean partial dentures with metal parts. Be sure to rinse well so that you do not accidentally damage the appliance.
Pull Coconut Oil Through Your Teeth
Coconut oil probably isn't the first thing that comes to mind when you want to tackle a coffee stain on your teeth. But, oil pulling is a time-honored method of whitening and cleaning your teeth and leaves them gleaming and bacteria-free. The oil kills the bacteria that stain your teeth and can lift off dark stains.
Get a mouthful of coconut oil, and then swish it around your mouth. Swish it between your teeth and everywhere you can reach.
If you can't manage an entire 20 minutes at first, go for as long as you can tolerate. Spit out the oil after 20 minutes. Brush your teeth with water.
Use Apple Cider Vinegar to Neutralize Coffee Stains
Vinegar is acidic by nature, and so is coffee. This quality makes vinegar an ideal cleaner for coffee stains, as the acid in vinegar neutralizes the coffee and makes it easier to clean away. For one of the best uses for apple cider vinegar, you can use this cleaning option to tackle tough coffee stains on your teeth.
Get a mouthful of vinegar, and swish it in your mouth and between your teeth for ten minutes. Keep the vinegar circulating the entire time it's in your mouth. After ten minutes, spit out the vinegar, and brush your teeth as you normally do.
Make sure you use toothpaste when you brush so that you deactivate the acid in the vinegar and prevent it from eating into tooth enamel. Give yourself a thorough rinsing with cold water to complete the cleaning. Regular use of apple cider vinegar on your teeth will leave them shiny and eliminate dark coffee stains.
Get Your Teeth White with Strawberries
There are always new products available for cleaning your teeth. Celebrities swear by this hot new DIY cleaning hack, and you should give it a try.
Strawberries contain malic acid, which makes this attractive and tasty fruit a fantastic tooth cleaner. Use our strawberry tooth cleaning recipe when you need a white smile in a hurry.
Crush the strawberry, and combine it with the baking soda in a bowl. Spread the whitener on your teeth with a toothbrush. Wait for five full minutes, and then rinse your mouth and brush with toothpaste. Floss to remove any leftover seeds from between your teeth.
We know that coffee tastes delicious and that coffee stains can be annoying. However, you can take advantage of your leftover coffee grounds by using them in the garden. Sprinkle coffee grounds on plants and around them to improve the soil and help them grow better. Just don't get the grounds on your clothes while you do it!
We hope you had a blast looking into our coffee stain removal guide. Coffee is an essential part of our day, but it's easy to spill it and cause a nasty stain. This guide helps you discover how to remove coffee stains from fabrics, dishes, teeth, and more. With our assistance, you won't have to worry about coffee stains again.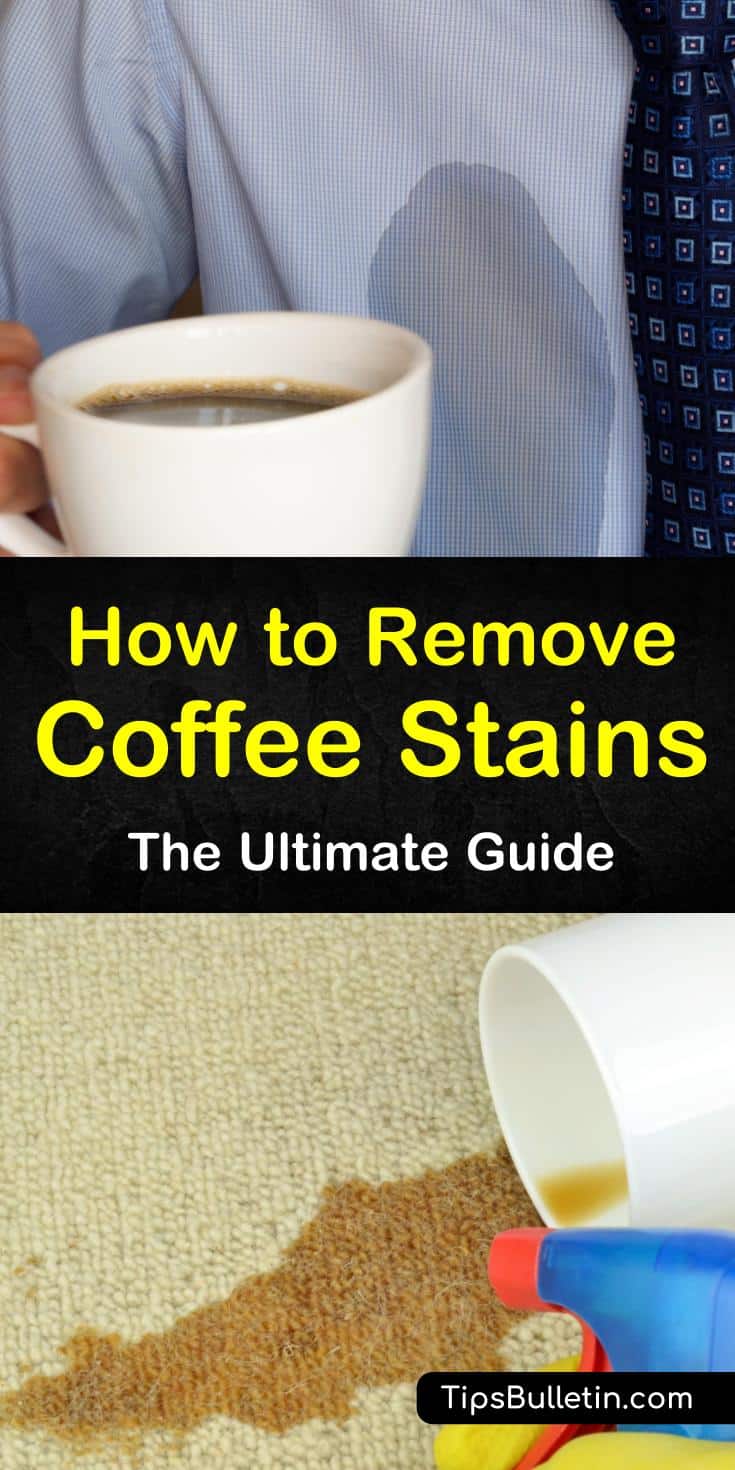 Thanks for reading our article on removing coffee stains. If you found our tips on how to remove coffee stains useful, please share these coffee stain removal suggestions with your family and friends on Pinterest and Facebook.