It may have seemed harmless enough at the time, but you probably regret giving yourself that manicure or pedicure while relaxing on the sofa. Spilled nail polish is a pain to remove, and even more so when it's on your favorite piece of furniture. We'll show you how to remove nail polish from a couch using a few simple ingredients.
Nail polish stains on upholstery are an eyesore that lowers the value of your sofa if not cleaned properly. Fortunately, there are a variety of useful cleaners and tools already in your home that are useful for removing a nail polish spill.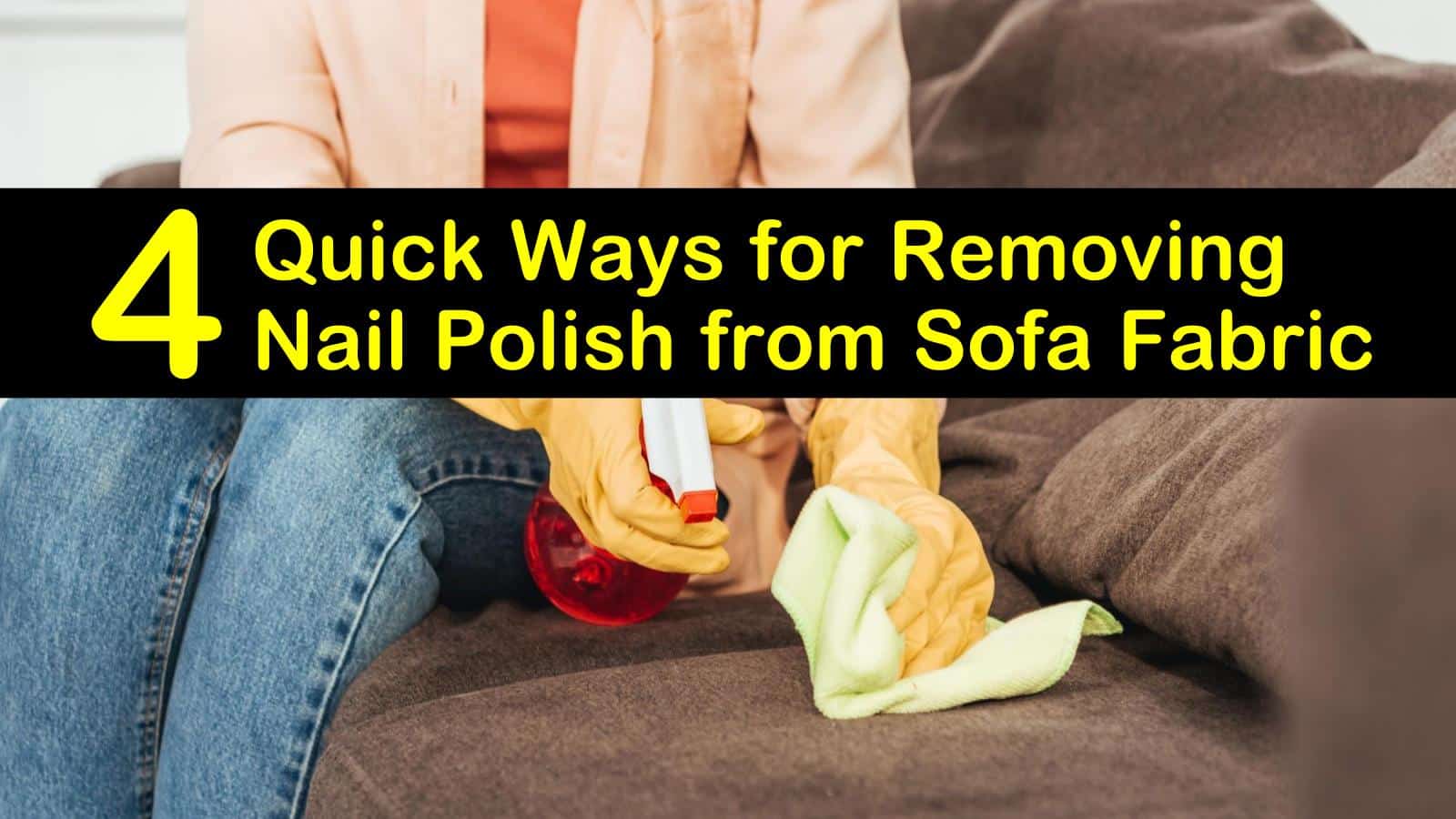 Best Ways to Get Nail Polish Off a Couch
Because fingernail polish is especially challenging to remove if it is left to dry, blot as much of the excess nail polish away as possible. Here are some cleaning solutions to show you how to remove nail polish from a fabric, suede, or leather sofa.
Follow the same guidelines for stain removal on couch pillows. If the care label permits, machine washing pillows after stain treatment ensures that the stain is completely gone.
Removing Nail Polish from a Couch with Vinegar and Peroxide
If you do not have access to a dry cleaning solvent, remove nail polish with vinegar or hydrogen peroxide and water. These solutions not only work at cleaning a stain off a couch but carpet fibers as well. Here is how to get nail polish off a couch in a few easy steps.
For a way to clean a sofa with an ugly nail polish stain or even some other type of blemish, fill a bottle sprayer with white vinegar or hydrogen peroxide and spray it onto the stained area of the sofa. Get a cloth wet with water and use it to blot up the stain. Repeat this process until the fingernail polish is gone.
After addressing the nail polish, it might be a good time to learn the best way to steam clean a sofa. Steam cleaning can remove other, less obtrusive stains and bring your couch back to like-new condition.
Removing Nail Polish from Sofa Fabric
Removing nail polish from sofa fabric seems like an impossible task, especially if it's red nail polish. While it might be extremely tempting to grab a bottle of bleach, doing that may damage your couch.
Use fingernail polish remover as an upholstery cleaning solution to remove spilled polish from light or white colored fabric.
Apply some non-acetone polish remover to a cotton ball or swab and use a blotting action to lift the stain. Continue using fresh cotton and polish remover to dab at the area until the polish is gone. Get a cloth sponge or wet with warm water and wipe away residue from the clean area.
Easy Ways to Remove Nail Polish from Suede Couch
Finding a stain on suede, especially when it's fingernail polish, is not a fun experience. Since suede is not the same thing as fabric, there are appropriate steps to take when you launder a suede couch.
Apply baking soda to the stain as an absorbent and let it sit for 15 minutes. Use a toothbrush for gently scrubbing the stain absorbed powder away from the couch surface.
If the stain is still present, apply some rubbing alcohol to a cotton ball and blot the polish away, using fresh cotton as needed. Allow the area to air dry and brush the material using a suede brush.
How to Remove Nail Polish from Leather
Removing nail polish from leather is not as difficult as you might think, even if the stain is the result of a bright red or pink nail polish. All you need is a little rubbing alcohol and some cotton balls.
Pour some rubbing alcohol onto a white cloth or cotton ball and blot the stained area. If you do not have any rubbing alcohol, use hairspray instead. Do not rub the stain to prevent spreading the polish outward. Continue blotting the stain using fresh cotton balls until all of the polish is gone.
Fill a small container with water and a few drops of dish soap. Apply some of the detergent solution onto a soft cloth and wipe away all of the residue using a circular motion. Dry the area thoroughly with a cloth.
If you're fortunate to have a cover over your couch, after you remove the stain, take care of washing sofa covers in the machine to eliminate any leftover cleaning residue and get the cover back to like-new condition.
Removing spilled nail polish from your furniture is not only possible but easy, whether it is a microfiber couch or a leather sofa.
Using simple tools and ingredients such as paper towels, nail polish remover, hairspray, and rubbing alcohol make the job of removing unsightly nail polish from your couch a simple task to accomplish.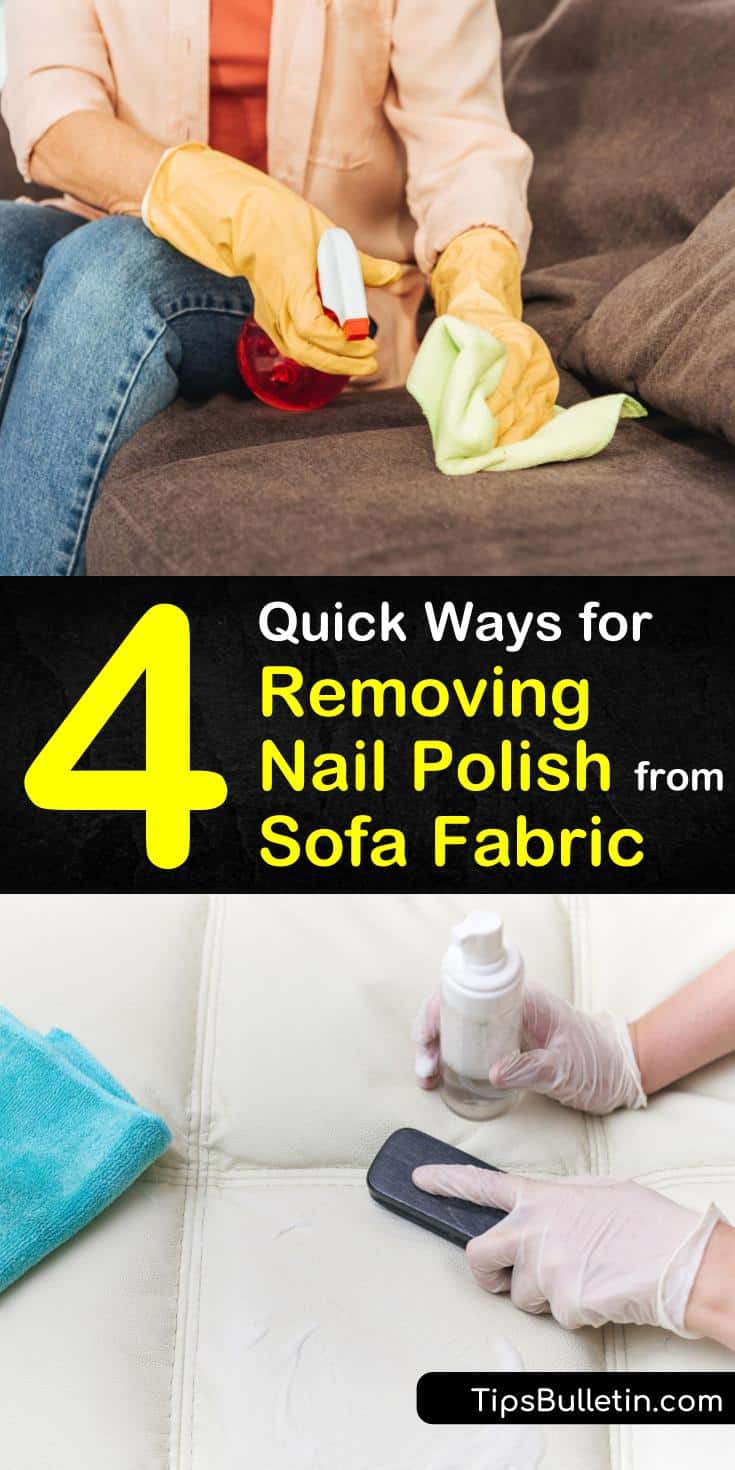 We're glad that we could show you how to remove nail polish from a couch using common household cleaners, and we'd love it if you'd share our nail polish removal tips and recipes with your friends and family on Pinterest and Facebook.