Do you know how to make homemade upholstery cleaner? Which cleaners are safe for your upholstery? How to get out tough pet stains? These are subjects that we knew little about, so, until recently, we purchased commercial products and hoped for the best.
However, we have been trying to avoid chemical cleaners that may have harmful ingredients, especially in my home where my kids spend so much time. We want to know that the cleaners we use are safe for my family and pets, but we also want to know that they will do the job.
One thing that we hesitated about was a homemade upholstery cleaner, mainly because we didn't always understand the cleaning instructions for each piece and we didn't want to risk ruining an expensive piece of furniture. We have some great ideas for you.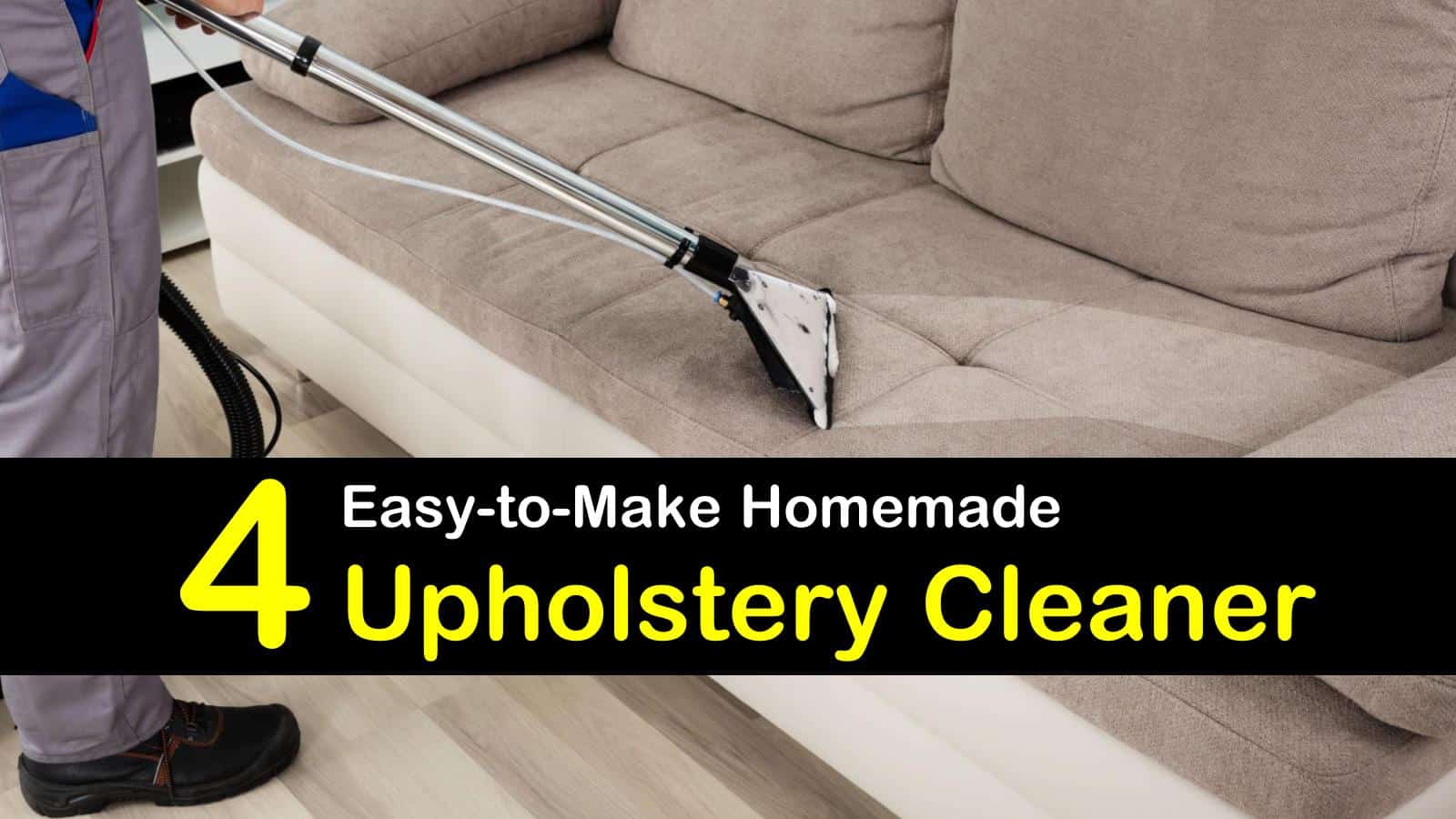 How to Clean Upholstery – Precautions and Washing Codes
Before you apply any cleaner to your furniture, understand the manufacturer's recommendations for the materials used. Many of us purchase a recommended brand of commercial cleaning product because we know that will be a safe choice. However, all you need is to understand which cleaners are safe for your furniture, then choose the best upholstery fabric cleaner recipe.
The key to choosing the best natural upholstery cleaner is understanding the cleaning codes. Codes that contain a W, such as SW, W, WS, and WW, are safely cleaned with water-based cleaning agents and will be safe to use with all the water-based cleaners listed here.
Before you start to clean upholstery, do a spot test. Choose an inconspicuous spot on your furniture. This could be on the underside of the furniture, or maybe in the hem or on the back of the upholstered furniture. You want a spot that is rarely seen, just in case your cleaner fails the spot test and causes a stain.
Once you have chosen your spot, apply a small amount of the cleaner and follow the instructions for cleaning the area. Allow the cleaner to dry and check for stains. If the area looks clean and you see no rings or spots, you can proceed with cleaning the furniture.
The Best Homemade Upholstery Cleaner
One of the best homemade upholstery cleaners, especially for spot cleaning, is soap foam.
Sidenote: This recipe is also the base of an excellent DIY carpet shampoo.
Make the foam by mixing six tablespoons of soap flakes and one pint of boiling water. Let the mixture cool until it forms a gel, then whip it with a mixer or immersion blender until a head of foam forms.
Simple Way to Clean Upholstery
Apply the foam with a cloth or brush, scrubbing the upholstery to lift the stain. Re-whip the soap gel as needed to make more bubbles. Wipe the foam off the upholstery with a damp, not wet, cloth. You want to remove the soap without soaking the fabric or microfiber couch.
Best Upholstery Cleaner for Cat Urine
Pet urine stains and odor can quickly ruin your furniture, but with proper cleaning, it can be salvaged. You have two important goals when cleaning pet urine on upholstery. It is important to soak up the urine without driving the urine into the cushions or fill material below the fabric.
Once the urine soaks into the stuffing below, you may never get it out. You need to get the urine out of the fabric immediately. Extract the moisture by blotting the area with paper towels or cloth. Rubbing can spread the stain. If you have a shop vacuum, you can also use it to remove the liquid before it can soak in.
Place a dry cloth on the spot and allow it to dry completely before you begin to clean the spot with our homemade upholstery cleaner for pet stains.
Mix the water and vinegar. Use it sparingly to dab at the stain, dampening it, then lifting the moisture with a dry cloth. If you add some hydrogen peroxide it will even take any odor away.
Avoid soaking the material; you don't want to drive the urine into the underlayer. Repeat the dabbing and drying until the stain is gone. Adding a little oil to the water and vinegar mixture will create an excellent DIY furniture polish, as well.
The next step is to sprinkle the stain with baking soda. Cat urine is acidic and can ruin the fabric. The baking soda not only neutralizes the acid, but it also helps deodorize the fabric and is a natural homemade fabric freshener.
Work the baking soda into the fabric and let it dry, then vacuum it away. Repeat the entire process if any stain or smell remains.
How to Make Homemade Car Upholstery Cleaner
Of course, since we are in our vehicles much of the time, stains are bound to happen. In addition, sweat and body odor can easily permeate fabrics on the car interior. It's just as easy to clean car upholstery as it is for furniture in the house.
To make a simple car upholstery cleaner, just use some basic household ingredients. Mix club soda, vinegar and dish detergent with some drops of essential oil.
You will have an effective cleaning solution that tackles virtually every type of stain you may encounter in the car. This recipe is ideal for the car seats, carpet, headliner, and to clean car mats of stains.
For cleaning your car upholstery, you need a shop vacuum or a steam cleaner, a spray bottle, a scrub brush, and our homemade car fabric cleaner. A slight variation of this recipe can also be used as DIY car carpet cleaner. Generously spray the cleaner on the upholstery, mats or carpet and allow it to soak in for three to five minutes.
Scrub the stains in small circles to lift the dirt, then spray the area with water and vacuum it up. Steam cleaning car seats rinses out the cleaner with ease. Allow the area to dry thoroughly to keep mold or mildew from settling deep within the upholstery.
The vinegar smell is strong and may take a few days to air out completely. Using an essential oil helps with the vinegar smell, but you can leave it out if needed. You can also use other essential oils like lavender or cedarwood if you don't like citrus.
You can use any dish detergent, but do not use laundry detergent. I prefer a good degreasing detergent. Note that you should not use this cleaner on leather car seats as it could damage them. Find tips on the appropriate methods for leather cleaning in our special homemade leather cleaner recipes here.
Homemade Alcohol and Vinegar Upholstery Cleaner
This is a quick and easy cleaner to make and it is the best upholstery cleaner for removing stubborn stains such as ink. It is also one of the best upholstery cleaners for a sofa, couch, and chairs. Do not use this cleaner on furniture with a designated WW cleaning code.
>> More on upholstery and sofa cleaning: How to best clean suede upholstery
The rubbing alcohol dissolves many stubborn stains and white vinegar gets the rest. The essential oils are optional, but they give the cleaner a pleasant smell.
Combine all the ingredients in a small spray bottle and set the spray for mist. Spray the spot with this DIY upholstery deodorizer spray and scrub with a clean sponge or microfiber towel. Repeat spraying and scrubbing until the stain is completely removed and the odor is gone.
While this solution is ideal for cleaning, it also works well at removing mold smell from a car or other unpleasant odors. Allow the spot to dry.
For any stain, it is important to spot clean the sofa or textile as soon as possible when spills happen, then do a complete upholstery cleaning when it is convenient. Once a stain has set in, it will take more work to get it out, so a fast response is preferable.
This is particularly true for a DIY suede cleaner. You'll find that these four upholstery cleaning solutions will take care of most of the stains that happen during normal everyday use.
Recipe for Homemade Upholstery Cleaner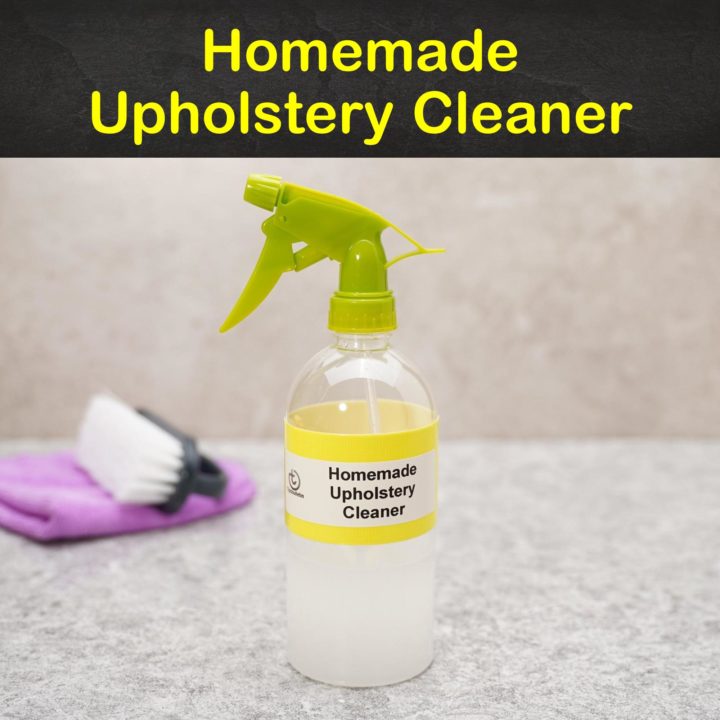 Homemade Upholstery Cleaner
Remove stains and brighten fabric.
Ingredients
16-ounce glass sprayer
4 tbsp dish soap
3 drops orange essential oil
8 ounces club soda
4 ounces white vinegar
Brush or cleaning rag
Vacuum cleaner
Instructions
Add the ingredients to the spray bottle.
Shake gently to mix. Don't create too many suds.
Spray one area at a time.
Carefully brush or wipe the cleaner into the fabric.
Allow it to dry.
Vacuum cleaner residue.
Notes
Test on an inconspicuous area first, like on the back of a sofa.
Do not use on leather.
Give an easy-to-make homemade upholstery cleaner a try and we hope you will share this article about upholstery cleaning on Facebook and Pinterest so that others can benefit.