Grease and oil spray when cooking; they get on your hands and spread around the house, especially the walls. Ideally, it's best to clean up grease and oil smears as soon as they happen. Understanding how to remove oil stains from painted walls keeps your space from looking dirty and dingy.
To tackle the accumulated oil and dirt around the house, figure out how to get oil out of walls. The quicker you discover the marks and act, the easier it is to remove grease from walls. Grease and oil stains penetrate deeper into the wall paint the longer they are left untreated on the walls.
Oil is a stubborn stain that has the potential to ruin your paintwork if mismanaged. The more deeply they penetrate, the more difficult it is to eliminate them – though not impossible. Thankfully there are several uncomplicated remedies for getting rid of oil marks on walls without toxic chemicals or expensive store-bought degreasers.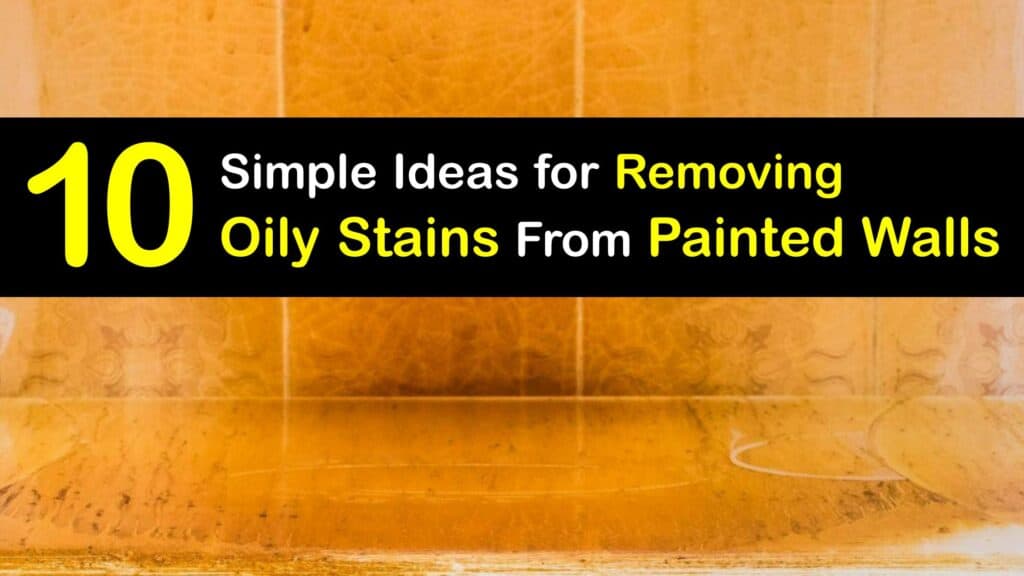 At-Home Ideas for How to Get Oil Out of Walls
Easily learn how to remove oil stains from painted walls. Removing grease and oil stains on a wall with a fresh coat of paint is impossible. If the grease doesn't lift beforehand, it soaks through the new color and causes the stain to return.
Cooking oil, grease pencil marks, skin oils, and other substances can leave a grease stain. Before painting, you need to begin by scrubbing grease stains off kitchen walls and cabinets and seal any leftovers with a stain primer.
This procedure ensures after your freshly painted surface dries, it will be appealing and stain-free. If you don't want to repaint, use a straightforward technique for getting rid of oil marks on walls and leave your wall paint clean.
Removing Oil Stains From Walls Without Removing Paint
Before you clean painted walls, it's wise to understand what type of paint you have. Some paints, like eggshell paint, are more delicate and require extra care while cleaning.
Scrubbing is one of the temptations of cleaning oil stains off white walls. If you notice a fresh oil stain on the wall, blot it with a paper towel and use a cleaning idea from this list. Rubbing spreads the oil and makes it trickier to eliminate.
How to Remove Oil Stains From Painted Walls
Liquid dish soap reduces grease and removes oil stains from painted walls. Though dish soap is most popular for dirty plates, pots, and cutlery, it also makes a degreaser for kitchen walls. Grab the dish soap to tackle a streaky, greasy mark on the paint.
Use a damp cloth to administer the dish soap liquid to the stain and rinse it with clean water. Clean and rinse as necessary until the grease stain is gone. Blot with a towel or dry cloth until dry. Use as little of the solution as possible to clean the oil away, as too much liquid can leave a water stain on your clean wall.
Getting Rid of Oil Marks on Walls
Use baking soda to remove tricky stains like grease or oil. Find this white powder in most grocery stores. It offers a budget-friendly way to eliminate the grease from painted surfaces. Mix baking soda into a paste with water to make it effortless to spread.
Stir the baking soda powder and lukewarm water together to create a paste. Use a paper towel or clean cloth to apply a thick layer of the baking powder paste to the oil mark and leave it to sit for at least 30 minutes.
Wipe the paste off with a slightly damp cloth and allow it to dry naturally. If evidence of the grease remains, repeat the paste treatment until the wall is clean. Corn starch makes a suitable substitute if you don't have baking soda in your pantry.
White Vinegar Is Ideal for Cleaning Oil off Walls
White vinegar contains mild acetic acid, severing the bonds holding the grease to the wall, so it wipes up cleanly. Mix distilled white vinegar with cold water to make a simple stain-removal cleaner.
Apply the vinegar degreaser to the stain using a sponge. Let it rest on the grease for at least 15 minutes before wiping it off with a clean rag. Erase oil stains on the wall paint by working in tiny areas and repeating the process as often as required.
DIY Cleaning Solution for an Oil Stain on a Painted Wall
You don't have to rely on an expensive commercial cleaner to remove stains from your walls. Blend common household ingredients to make a homemade solution to wash walls before painting or to keep up on household maintenance.
Shake the liquids in a sprayer and test on a hidden region of your wall. Spritz the oily mark, spot clean with paper towels, wipe with a damp cloth and allow to dry.
Use a Magic Eraser for Cleaning Grease off Flat Paint Walls
The Magic Eraser has gained a lot of popularity. The melamine foam sponge is ideal for grime and has many roles in household cleaning, including removing grease from walls. The size of the eraser varies by manufacturer.
Rub the Magic Eraser back and forth over the mark to remove grease stains from the walls. Exercise caution because, occasionally, the eraser may remove some of the paint. Focus on using the Magic Eraser only directly on the grease stain. Work with the slightest pressure possible, stopping when the oily mark is no longer detectable.
Clean Grease and Oil Stains With a Clothes Iron
Use a traditional clothes iron to apply heat to the oil stain, emulsifying the oil and pulling it out. Prepare a small pile of paper towels or an absorbent cloth; warm your conventional clothes iron to the lowest heat setting for a few minutes.
With one hand holding either the towels or the fabric firmly over the grease stain on the wall, use the other to gently move the iron just on the paper towels or cloth. Avoid touching your hand or the wall with the hot iron's plate to avoid getting burned. Repeat to give the oil time to emulsify and seep into the fabric or paper towels.
Use clean paper towels or a new cloth to remove the stain as often as necessary. After removing stains, wash the wall with warm, soapy water using a clean rag or sponge. Wipe the soap away with a damp cloth and a towel to dry the area.
WD-40 Will Clean Walls With a Grease Stain
A petroleum-based lubricant called WD-40 may leave stains on clothing, yet it aids in stain removal. Remove oil, especially old oily stains, using WD-40's solvents, which release the pigmented molecules from a surface. Head to your local home or auto parts store and pick up a can of WD-40 to quickly tackle the greasy stains on your walls.
WD-40 eliminates oil challenging oil stains on wall paint. Apply WD-40 sparingly on the oil stain. Wipe away any WD-40 pouring off the blemish, but wait five to ten minutes before completely removing it from the oil.
Remove Stains by Repainting Walls
If everything else fails, you might have to conceal the oil stain; this means you need to repaint the entire wall or just the stained region. Head to the hardware store to touch up the stained area and purchase a stain-blocking primer, touch-up paint, and the original wall color and paint type.
Follow the package instructions to cover the oil stain after choosing the correct touch-up paint or wall repaint and stain-blocking primer for your wall.
Tools for Cleaning Walls
No matter which stain removal method you select to get the stubborn stain off the kitchen wall, choosing the proper tools ensures you don't destroy your wall paint finish. It may seem like a wire brush can clean the stained area, but the harsh bristles easily scratch paint to leave an unsightly scuff mark.
Opt for soft cloths and sponges when working on painted walls. Begin with the lightest possible pressure and slowly increase as you monitor the status of the wall paint. If you notice paint residue on your cloth or sponge, lightly pat the spot clean with a damp cloth, and choose a new cleaning technique.
Explore how to get oil out of walls to ensure your kitchen looks clean and hygienic for food preparation. Oil has many uses in the home, though unfortunately, it often ends up on walls. If streaky, oily blemishes are bringing down the tone, don't panic. Use simple home hacks and everyday items to eradicate greasy marks and leave painted walls spotless.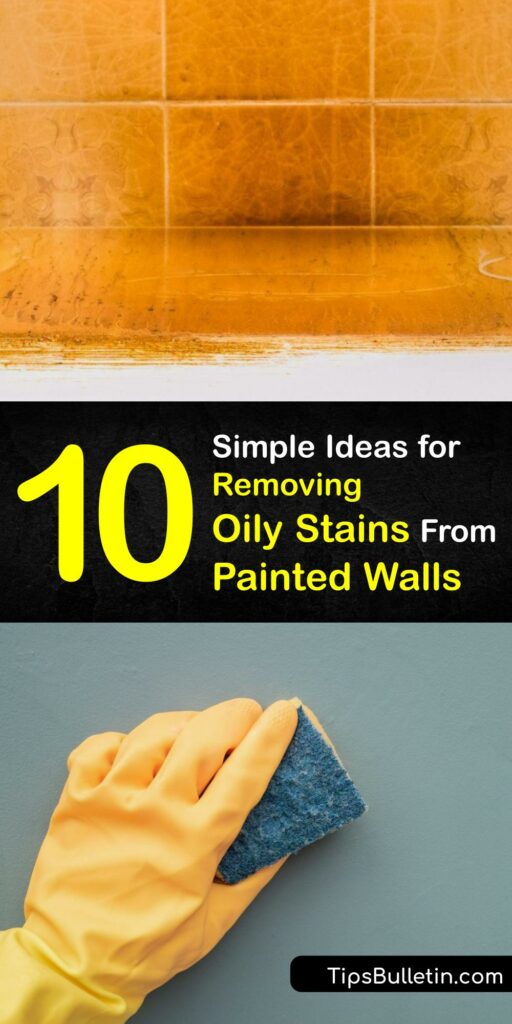 If you loved this insightful article on how to remove oil stains from painted walls, please share this helpful information with your friends and family who might need help getting rid of oil marks on walls on Pinterest and Facebook.