Are you looking for advice on how to remove grease from kitchen cabinets? When we splatter grease on our wooden cabinets, we get frustrated. Cooking spaghetti can be even worse.
It seems like we have to clean up the backsplash, stovetop, and our cabinets every day! The backsplash and stovetop are easy to clean; use a wet cloth to wipe them down. But, how to clean greasy kitchen cabinets is not an easy job without these tips.
Natural household products will work just fine without resorting to a harsh multi purpose cleaner. Even months' old grease won't stand a chance with our natural cleaning products. Focusing on the ingredients we have at home is the cheapest and healthiest way to clean.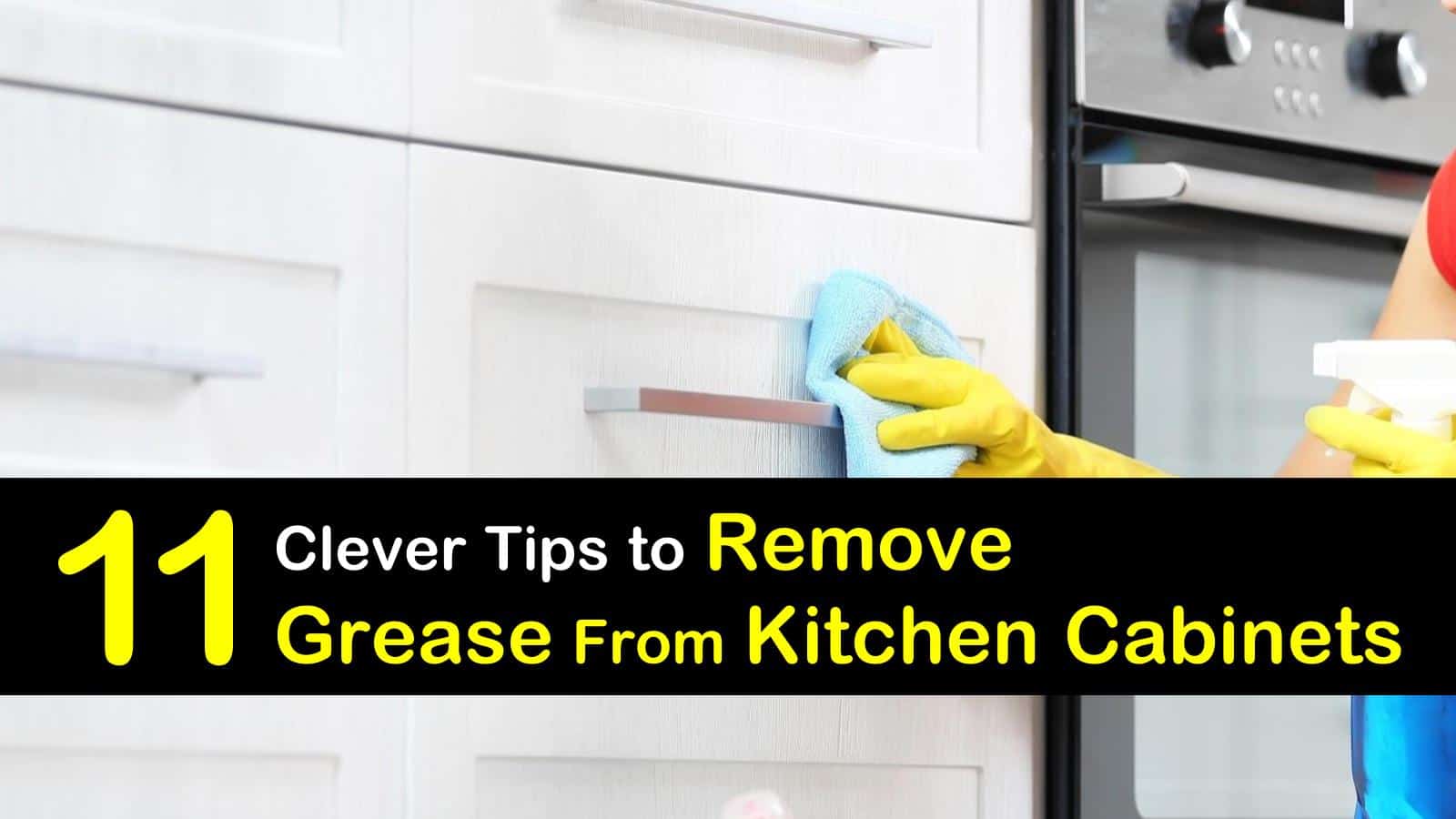 Cleaning Tips to Remove Grease from Cabinets in the Kitchen
We don't want to buy a harsh chemical cleaner if we already have the solution at home. Plus, dish soap, vinegar, baking soda, and other household items make cleaning up grease a snap.
Set aside a little time for getting your cabinets free of grease stains. Although our recipes work wonders, a degreaser for kitchen cabinets does take some effort and will probably take a few hours, depending on how many cabinets you have.
Remove Grease with Baking Soda and Lemon Degreaser
There are all kinds of products you can use to degrease pots, pans, and cabinets. The best degreaser for the kitchen may just be lemon.
Lemon is an acid, so it cuts through the organic grease and grime fast while leaving behind a fresh, citrusy scent. Baking soda is an alkali and can cut through goo very quickly. This recipe makes cleaning grease off kitchen cabinets simple and it takes no time at all.
Pour the water in a container along with baking soda and the lemon juice and mix it up. Spray it on the grease build-up, and wait for a moment. Wipe away with a dry cloth.
You'll have clean cabinets.Now you can use our kitchen cabinet cleaner on the grease free kitchen cabinets.
Removing Grease from Kitchen Cabinets with Vinegar and Hot Water
How to remove grease from kitchen cabinets has a simple answer. Use hot water and some vinegar to wash painted cabinets. But be careful; white vinegar is an acid and can damage unsealed surfaces, even marble.
After you mix the two ingredients, put the damp cloth in the microwave, and heat it for 20 seconds. With dish gloves on, use the hot water and the clean cloth to wipe the greasy cabinets.
The heat should move the grease, while the vinegar cleans it. We've found this to be an ideal solution to the greasiest cabinets in the kitchen.
Cleaning Grease with Microfiber Cloth
A microfiber cloth does clean grease off wood cabinets better than paper towels or dishcloths. According to the University of California, San Francisco, a microfiber cloth is incredibly absorbent and negatively charged, so they attract the positively charged grease.
Use microfiber cloth along with the homemade degreaser you prefer. Carefully rub in circular motions until the grease is gone. After just a little practice, removing grease from kitchen cabinets with this tip will be much easier.
Rinsing the microfiber cloth every time you use it is necessary. Grease can get trapped inside it, making it useless at cleaning.
How to Remove Grease from Kitchen Cabinets Using Dish Soap and Hot Water
Many dish soaps, like Dawn, cut through grease build up quickly and easily. This means we can safely use a mixture of dish soap and hot water as a natural grease cutter to clean off the cabinetry, as well as numerous other surfaces in the kitchen. Do not use a lot of water, though, as it can seep in and damage your wood while you are cleaning it.
Mix the soap and warm water in a small bowl until the mixture foams. Make sure the microfiber cloth is damp. Gently rub the greasy cabinet doors to get rid of the grease without scratching the wood. After a few minutes, you should have a very clean kitchen cabinet.
If you do not have any dish soap at home, shampoo or liquid soap can be substituted. This recipe is excellent for cabinetry, but if you have to clean dishes, you should use our homemade dishwasher cleaner.
Cut Through Grease with Ammonia and Water Degreaser
We find ammonia in many household products, like Windex and oven cleaners. When you mix ammonia with grease, it turns into soap!
Wet the microfiber cloth with a mixture of the water and ammonia. Make sure to scrub slowly and carefully. The grease should combine with the ammonia and come off the cabinet in a few seconds. Once wiped away, you have sparkling clean wood kitchen cabinets.
Be careful when using ammonia. Don't use large amounts and do not combine it with bleach. The results can be dangerous.
How to Clean Greasy Kitchen Cabinets with Vegetable Oil and Baking Soda Degreaser
Vegetable oil mixes with hardened grease stains and softens them. If we combine the vegetable oil with baking soda, we are removing grease from kitchen cabinets without any problems.
To better control the paste and how hard we scrub the cabinets, use a toothbrush to apply it. Scrub in soft circular motions until there is no more grease. Afterward, we'll be thrilled with our clean wood kitchen cabinets.
If the grease is on the floor or the sink, use our DIY kitchen cleaning solution instead.
Wipe Up Grease with Flour
Flour is a fantastic household cleaner, too. We can even use flour to clean sticky grease off kitchen cabinets, instead of using more harmful chemicals. When the grease stain is fresh, sprinkle some flour on it.
When the flour is dry, it is excellent at absorbing moisture. Wait for it to absorb the grease, and you can wipe the flour and grease mixture up without any issues. If you want to throw the grease away immediately, use a dry paper towel.
As a bonus, the flour doesn't damage cabinets, unlike Magic Erasers. Magic Erasers can scrub away parts of wooden kitchen cabinets if we work too hard.
How to Clean Up Grease with White Vinegar and Baking Soda Degreaser
How to clean greasy kitchen cabinets is tricky, and all of our previous tips may not be enough. Grease often builds up in the worst places under the stove and around the hinges on our cabinets. But don't worry, we can remove the worst grease build up with this recipe.
Combine the ingredients in a mixing bowl, and dip a cloth in it. When the cloth is damp but not wet, find the location where the worst grease is to learn how to clean kitchen cabinets the best way. Rub firmly but softly on that spot until the stain is gone.
If it is a stubborn stain, try more of the degreaser, or a slightly wetter cloth. With that and some patience, the greasy goo should be wiped away, leaving behind a shiny surface. With this tip, and the other nine, we now know how to clean greasy kitchen cabinets in every situation.
The Last Step in Removing Grease from Kitchen Cabinets
Small amounts of water damage some cabinets. It can seep into the cracks and cause the wood to expand. Take care when drying the cabinets.
If you have a dry microfiber cloth, carefully run it across the surfaces you cleaned of grease. Dry with the cloth until there is no water on the cabinet. Use the tips of your fingers to find any leftover water.
If you haven't wholly dried the cabinetry, you could see swelling or joints breaking. That's an excellent reason to dry them carefully.
Removing Grease from Your Hands
After we have taken care of the kitchen, we now have to take care of ourselves. We want to remove the greasy gunk left on our skin. Unfortunately, most grease cleaners are a type of acid, and we can damage our skin with acid.
Dish soap will not harm our skin, so it's safe to use. Put one drop of dish soap on your hands, and run some hot water. Keep your hands under the hot water for at least 30 seconds.
Clean between your fingers too. If you can, use a soft damp cloth. Now your hands will be grease-free and ready to clean the kitchen once more.
Prevent Build Up with Regular Cleaning
We have given you many tips on how to remove grease from cabinets in your kitchen or elsewhere. But those tips are not everything we can do to make removing grease from kitchen cabinets easy. Some prevention in advance makes the kitchen very easy to clean.
When cooking, periodically wash your hands. That way, less grease will get on your clean wood kitchen cabinets when you have to take something out.
To keep the clean kitchen cabinets grease free, wipe down the stove and cupboards with a soft cloth every week. Dip the cloth in the dish soap and hot water degreaser, and lightly run it over all the kitchen surfaces.
If the rest of the kitchen is clean, the cabinets will be easier to wash. Using the other natural cleaning tips on TipsBulletin, you can ensure a grease free kitchen.
These are just a few things we can do to prevent grease build up in the kitchen. With our guidance, you should know how to remove grease from kitchen cabinets with ease.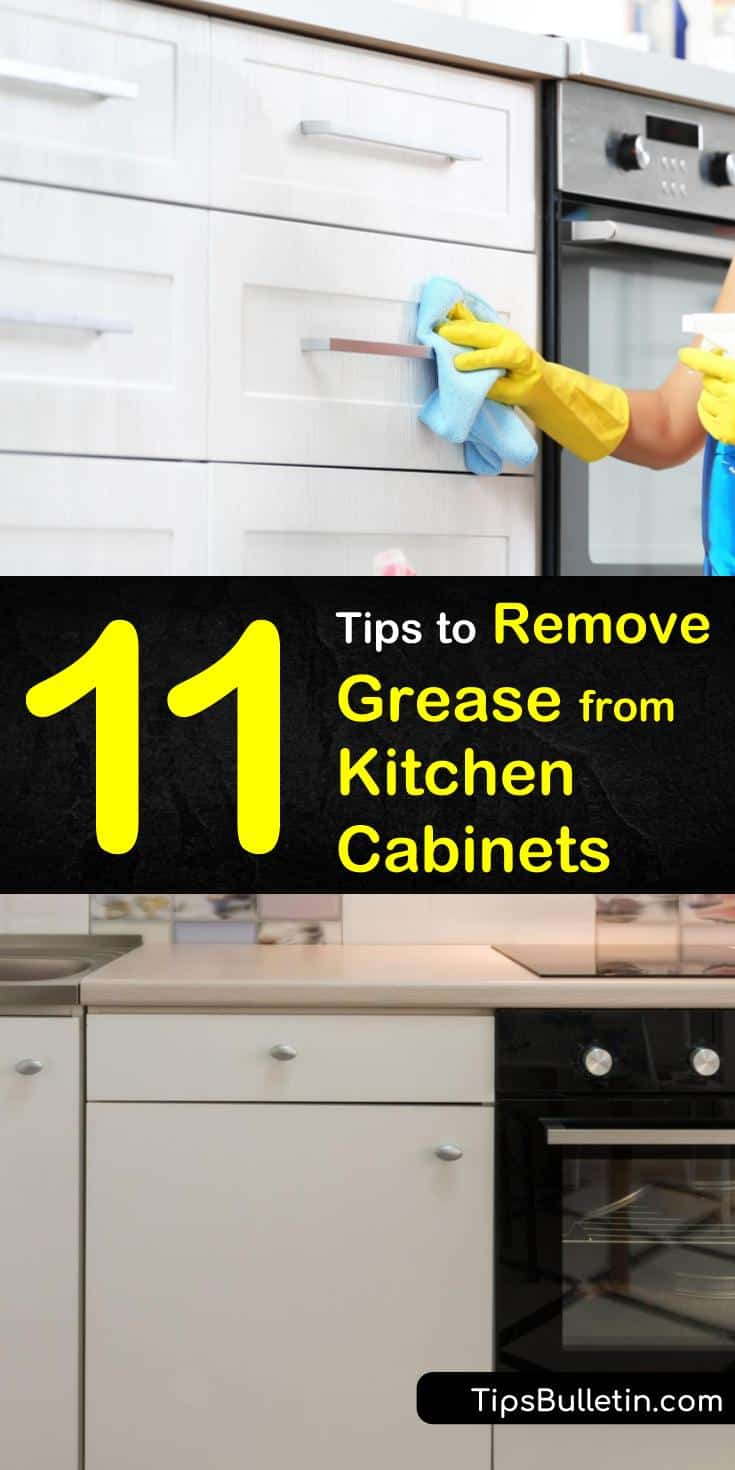 Now that you know how to remove grease from kitchen cabinets, pass along the knowledge on social media.