White walls can make any room look bright and fresh, but it's also a blank canvas just waiting for dirt. Keeping your white walls sparkling isn't as hard as it sounds; you just need to have the right tools! You can quickly learn how to clean white walls with only a few natural methods. 
There are many commercial cleaners you can find in stores, but the ingredients list can sometimes look a little intimidating. Not only can that, but the price of cleaning products quickly adds up. Instead of spending money on products filled with chemicals you might not want on your walls, clean dirt and grime off the wall with homemade cleaning solutions.
These easy ways to wash walls are quick and only require simple household ingredients you probably already have in your pantry. If you follow these steps, your walls will look like you just had a fresh paint job!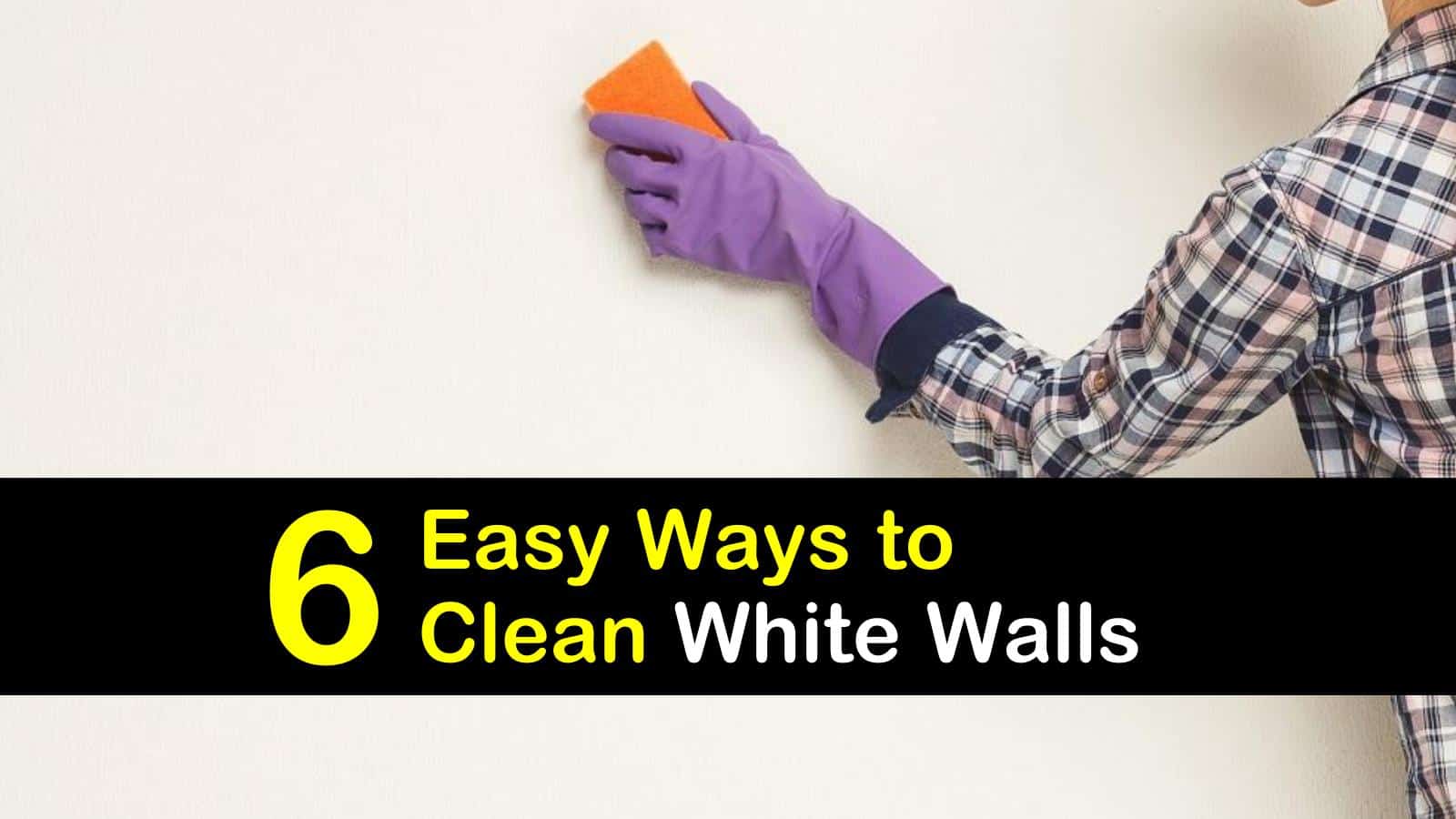 How to Clean White Walls with Natural Ingredients
So often, we purchase products from the store without looking at the ingredients label. If you want to feel secure in knowing what you are using to clean your house, the best thing you can do is make your own cleaners. This guide shows you how you can get your white walls sparkling using only natural ingredients.
1. How to Clean White Walls
Cleaning walls is easy, and it is worth putting a little bit of extra time into it to make sure you get the job done right. If you have a lot of pictures or other decor items on your wall, it's best to take them off instead of cleaning around them. 
For thorough cleaning, you might need a step ladder to reach the top of the wall, and you'd better prepare to squat down to get those baseboards. To ensure you start strong, you'll need a vacuum, a broom, and a towel. To make sure you don't miss a spot, read our guide on how to clean white baseboards. 
2. How to Clean Dirt Off White Walls
The easiest way to clean dirty walls is to cover a broom with a towel or microfiber cloth. Dust the walls, making sure to clean up cobwebs and other bits of dirt. Especially dirty walls may require more than a simple dusting.
In those scenarios, a vacuum cleaner will do the trick. Use the brush attachment to pick up loose dust and dirt after dusting. Don't worry if you notice some scuff marks or other smudges, as you can get to those using one of the cleaning methods listed below. 
3. Clean Latex Paint Walls with All Purpose Cleaner
Now that you know how to clean dirt off white walls, it's time to get to the real scrubbing. If your white walls are painted with latex paint, your best option is cleaning with a gentle DIY all purpose cleaner.
This cleaning solution is ideal for painted walls, floors, countertops, and a variety of surfaces throughout your home. Adjust the measurements to make a double batch to have on hand when needed.
Homemade All Purpose Cleaner

2 cups of warm water
1 tablespoon of baking soda
2 tablespoons of Castile soap
30 drops of tea tree oil
20 drops of orange oil
Pour the warm water into a bowl and mix in the baking soda. Stir until combined and then add the soap and essential oils. You can also use this recipe to make a bathroom cleaner, as it works very well to clean grout. 
Grab another bucket and pour in a gallon of warm water and then mix in a small amount of your homemade cleaner. Dip a sponge in the soapy water and gently scrub at grease stains, crayon marks, and more. Pay extra attention to areas that get touched often, such as light switches and doorknob.
Be cautious and wring out excess water before rubbing around anything electrical, such as outlets and jacks. When you finish scrubbing, pour out the bucket and refill it with clean water. Rinse your clean walls with plain water and a clean sponge or cloth. 
4. Clean Oil-Based Walls with White Vinegar
You can make an incredibly useful vinegar-based cleaner for oil-based walls. Vinegar is a powerful natural cleaning agent that cuts through the dirt. For this cleaner, all you need is vinegar and a few extra ingredients!
Vinegar Wall Cleaner

1 teaspoon of dish detergent
1 quart of warm water
¼ cup of vinegar
Pour the quart of warm water into a tub and mix in the dish detergent. Add in the vinegar and stir until all ingredients combine. Grab a rag or sponge and dip it in the vinegar cleaner. Swipe your dirty walls, paying extra attention to areas that are touched regularly. 
5. Remove Stains with Mild Degreaser
If you have white walls in your kitchen, you might need a cleaning solution tailored for the mess. With the right ingredient, cleaning kitchen grease build-up is easy. 
Degreaser for Walls

4 tablespoons of dish soap
4 cups of hot water
Fill a bucket with hot water and then pour in the dish soap. Mix the solution until it foams. Dip a microfiber cloth in the mixture. Rub the greasy stains off the walls.
This degreaser can be used on any wall in your home, not just the kitchen, especially if you have kids. Children have a habit of getting greasy fingerprints everywhere they go, and this mix is the perfect solution.  
6. Use a Magic Eraser
Stubborn stains might require a little more elbow grease, and a magic eraser is an ideal tool for giving a good scrubbing. The combination of the cleaning solution and the light abrasion of the eraser will get all marks, scuffs, and stains off your white walls. 
DIY Magic Eraser

½ cup of water
1 teaspoon of Borax
1 tablespoon of baking soda
1 sponge
Heat the water and place it in a bowl. Mix in the Borax and baking soda and stir. Place the sponge in the mixture long enough to soak up the cleaning solution. Squeeze out excess water before scrubbing. These handy cleaning tools work out to only cost about 10 cents per eraser, so this is a great cleaner to use around the house!
Keeping your home clean and bright doesn't have to be back-breaking work. With these simple cleaning tips and recipes, your white walls will look as good as they did when you first painted them! Not only are these cleaning solutions easy to make, but they also cost a fraction of the cost of commercial cleaners.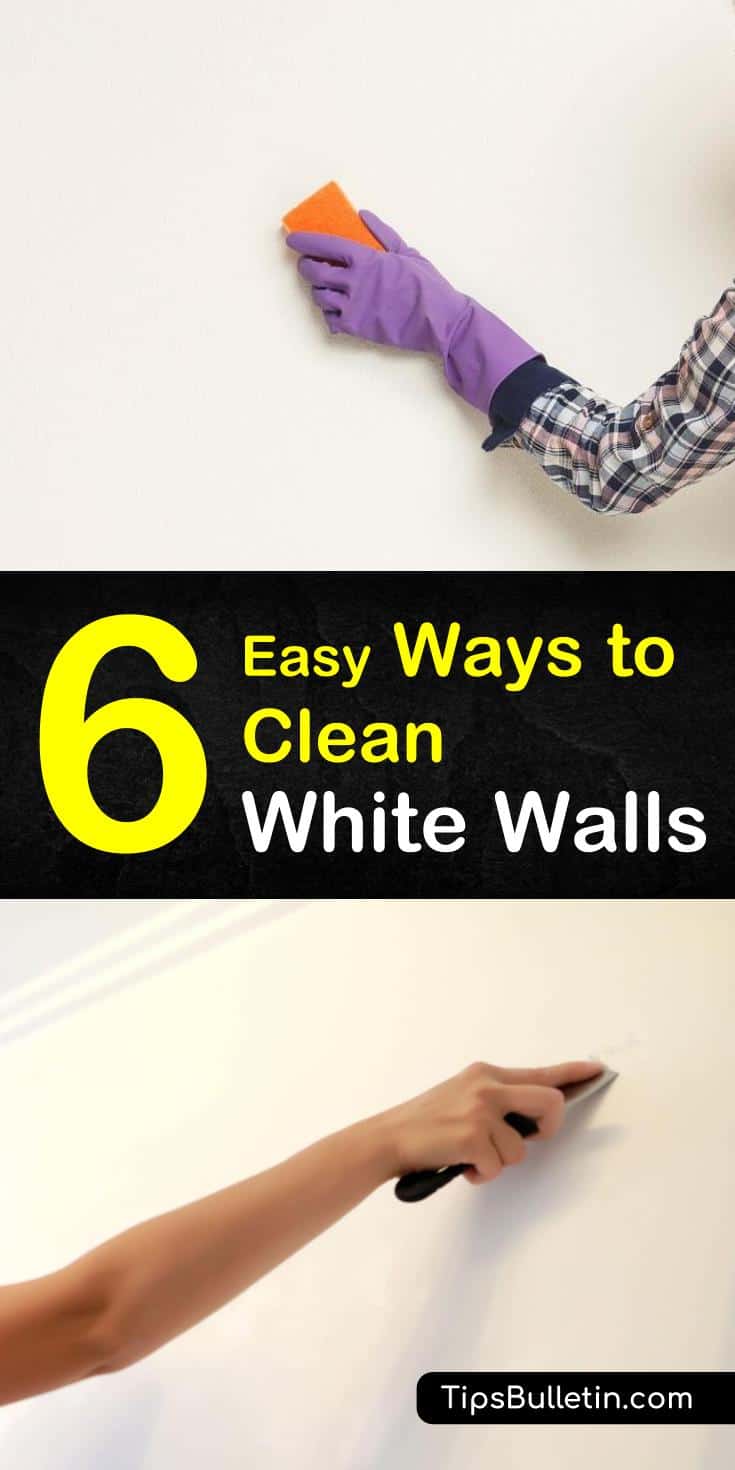 If this guide helped you figure out how to clean white walls, then share these cleaning tips on wall cleaning with your friends and family online!