Adhesive residue on glass surfaces is often thought to be difficult to remove. However, learning how to remove sticker residue from glass is easy with the correct tools. Everyday household products like nail polish remover, white vinegar, and even mayonnaise serve as excellent all-natural mechanisms to remove sticker residue.
The adhesive forms a strong bond when stickers remain on a glass surface for an extended period. If you need to get sticker residue off glass, you must learn what cleaning products get the sticky residue off the glass without damaging your windows. Whether you are looking to remove the stickiness leftover from price tags or car decals, we provide you with the correct techniques to get rid of a sticker.
The step by step instructions we show you remove stubborn stickers and are inexpensive. Most of the adhesive removers we provide use products commonly found in most households, so you do not have to make an extra trip to the store.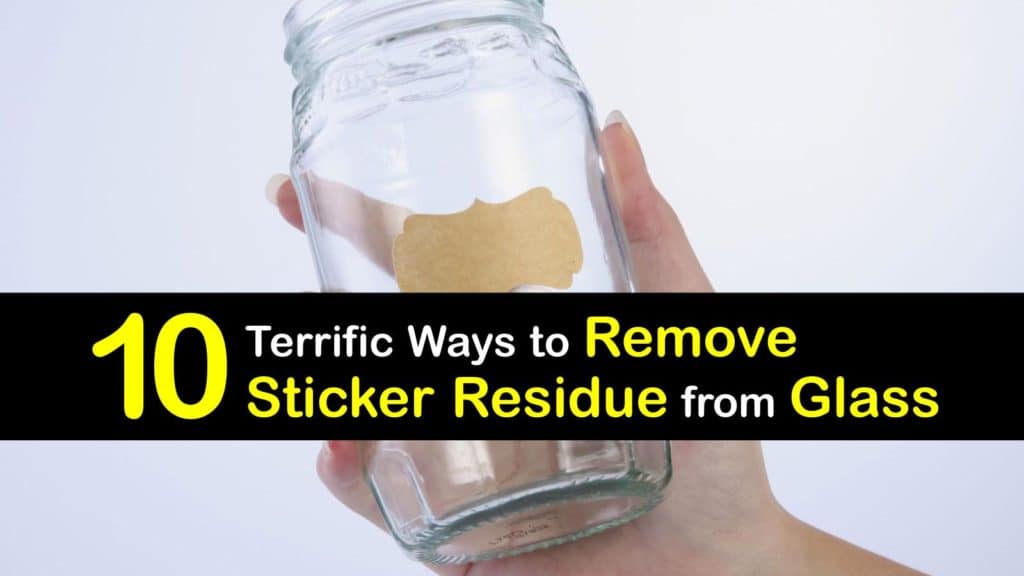 Preparing Glass to Remove a Sticker
To properly remove stickers from glass, prepare the surface to loosen the adhesive bond. Soak the area in hot soapy water. Combine liquid dish soap and warm water in a bucket and use a damp cloth to soak the area.
Scrubbing sticky labels with steel wool eliminates a majority of the sticker. If you do not have access to steel wool, peel the sticker with a plastic scraper or razor blade.
Understanding how to remove sticker residue from a bottle or jar starts with first peeling a sticker off plastic without leaving scratches. If you want to reuse the plastic or glass jug, then protecting it from scratches should be your first priority.
How to Remove Sticker Residue from Glass with Rubbing Alcohol
Rubbing alcohol is fantastic at getting any sticker off glass. The ingredients in rubbing alcohol loosen sticky residue on glass and make it effortless to remove.
When you need to get sticky residue off glass or get rid of sticker residue on laptop, using rubbing alcohol is a safe solution that does not damage glass and other surfaces.
After soaking the affected area with soapy hot water, soak a cotton ball with rubbing alcohol. Rub the cotton ball on the sticky residue to get adhesive off glass and to get super glue off of glasses.
Work the rubbing alcohol into the glass for about five minutes. To fully remove all the residue, use a plastic scraper to peel off the remaining stickiness from the glass.
Get Sticker Residue off Glass with Cooking Oil
Although it is unconventional, oils like cooking oil, baby oil, canola oil, olive oil, or vegetable oil are a great way to remove sticky tape residue from glass. The fatty oils in these cooking ingredients make it simple to peel off sticker residue.
Break off the initial parts of the sticker with a serrated eraser first. A serrated eraser is safe to use on glass and breaks away chunks of stickers.
Coat the sticker residue with a thick layer of the oil of your choice. Leave the substance on the sticker for 12 hours before rinsing the area with hot soapy water.
If there is still a little sticker residue on the glass, scrape it away with a razor blade. Cooking oil makes learning how to remove sticker residue from glass easy.
Remove Sticky Tape Residue from Glass with Mayonnaise
Similar to vegetable oil, mayonnaise contains fatty oils that work great to break down the residue from stickers. Using mayonnaise to get sticker residue off glass is a unique method to repurpose this sandwich condiment.
If you do not have cleaning products, mayonnaise works just as well to restore your glass surfaces from the effects of adhesive residue. Spread a thick layer of mayonnaise to the affected glass.
Let the all-natural sticker residue remover sit for 15 minutes before wiping it away with a clean cloth.
Rinse the cleaned area with warm water to remove any excess mayonnaise that may streak the glass. If you need to get sticker glue off glass and are limited on supplies, use mayonnaise.
Remove Tape Residue off Glass with White Vinegar
White vinegar contains several acids that easily break through dirt, grease, and sticky residue. Vinegar is also excellent for removing bugs from car glass and old price tags on glass jars. Soak a sticker with hand sanitizer to remove the sticky residue better.
Combine the ingredients in a large bucket. Use a sponge to scrub the solution on your car windshield to remove bugs or take off stickers. Let the vinegar solution sit for five minutes before using a plastic scraper to get rid of the bugs and sticky residue.
If a smaller batch of this amazing sticker remover is required, pour equal parts white vinegar and warm water and use a damp paper towel to soak the affected area.
Try this remedy for how to remove water stains from glass, too. It often offers excellent results.
Peeling off Sticker Residue with Nail Polish Remover
Nail polish remover is an excellent solution to eliminate sticker residue from glass surfaces. Nail polish remover, or acetone, breaks down the bonds formed by adhesives. Learning how to remove sticky tape residue from glass is easy with acetone.
We suggest heating the sticker on glass with a hair dryer to make it easier to peel off. Then, soak a paper towel in nail polish remover and soak the sticker for five to ten minutes. After the sticker loosens, peel it away with a razor blade.
How to Remove Sticky Residue with Goo Gone
If you want to find a way to remove super glue from plastic without acetone, there are many magnificent products that are specially designed to clean off sticker residue from glass and plastic surfaces.
Goo Gone is designed to loosen and eat away at adhesive bonds. A Goo Gone solution is also safe to use on a variety of surfaces.
To get duct tape residue off glass with Goo Gone, spray the area generously. Let the Goo Gone work on the glass for 15 minutes before scraping the residue with a putty knife or plastic scraper. Rinse with warm soapy water.
Clean off a Sticker with Window Cleaner
Using window cleaner to get sticker residue off glass is terrific because it breaks down adhesive bonds while protecting your glass surfaces. This adhesive remover may require repeat application to peel off the sticker residue fully.
Spray window cleaner on the sticker residue and let it soak for five minutes. Scrape the sticker with a razor blade or a plastic scraper.
Quickly Loosen Sticker Residue with an Ice Pack
If you are limited on supplies, applying an ice pack over the sticker is an effective way to loosen up the adhesive and it's a great way to remove adhesive from car paint.
The freezing temperatures slow down molecule movement and make glue easier to scrape off with a razor blade. Use a plastic scraper instead of a razor blade on car paint to keep from damaging it.
For this simple DIY label remover, press an ice pack on the adhesive for up to five minutes before gently scraping away at the sticker with a putty knife or a razor blade.
Create a Baking Soda Paste for Stubborn Stickers
Combining the natural adhesive removing qualities of baking soda and cooking oil breaks down stubborn stickers on glass. Cooking oil loosens adhesive while baking soda breaks down the bond.
Baking soda paste is perfect to pair with a DIY window washing solution to get your glass surfaces in the best condition possible.
In a medium-sized container, blend equal parts cooking oil and baking soda. Stir the ingredients until the solution forms a paste.
Spread a thick layer of the paste on the adhesive residue and let it sit for five minutes. Finally, get sticker residue off the glass by rinsing with warm water.
Repurpose Peanut Butter as a Sticker Remover
Peanut butter contains a lot of natural oils that easily break down the adhesive bonds formed by stickers.
Peel off as much of the sticker as possible before using peanut butter. Getting rid of as much of the sticker as you can makes it quicker to remove all the adhesive residue.
Cover the sticky residue with a thick coat of peanut butter and let it sit for five minutes to let the ingredients break down the adhesive bonds. Wipe away the peanut butter with a paper towel.
Finish the process by rinsing with warm soapy water to clean up all the peanut butter. If there is still a little sticker residue on the glass, scrape it off with a putty knife.
To remove sticky tape residue from glass but have limited supplies, peanut butter is a creative tool.
Adhesive residue is challenging to get off glass when you do not know what tools or cleaning supplies to use. However, standard household items like nail polish remover and mayonnaise are perfect ways to get sticker residue off glass.
It is best to use solutions that clean off sticker residue while also protecting your glass surfaces.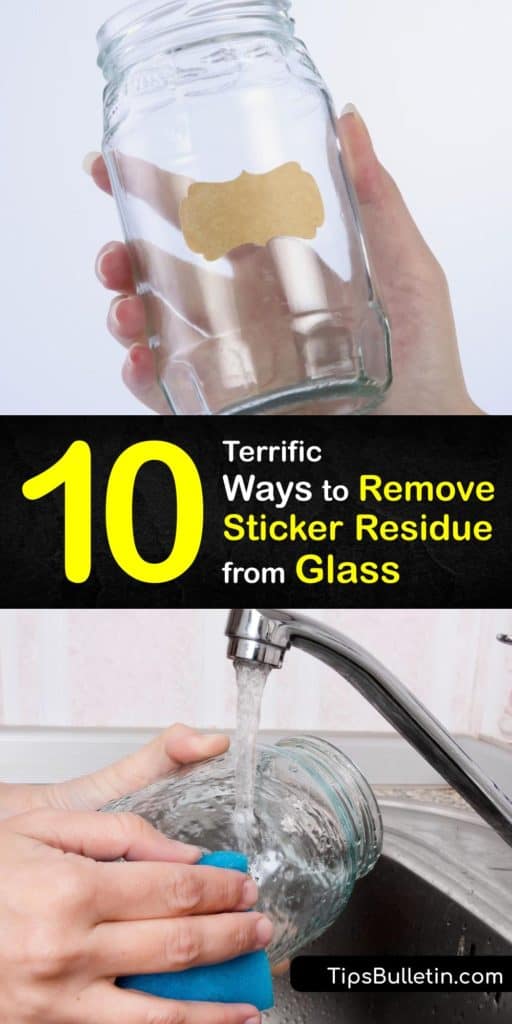 If you discovered how to remove sticker residue from glass, share these tips that remove sticky tape residue from glass on Pinterest and Facebook with your friends.