Maybe you were doing a craft in the kitchen and didn't realize until afterward that it would have been a good idea to lay out sheets of newspaper. Maybe your hand slipped as you were fixing a broken plate or a ceramic tile backsplash. Whatever your particular sticky situation, you want to know how to remove super glue from a countertop.
Super glue comes in handy for many DIY projects. However, its ability to form a powerful bond nearly instantly with many surfaces can create as many problems as it solves. Super glue is known to stick to skin, stone, metal, wood, and just about everywhere you don't want it, and the kitchen countertop is no exception.
Research how to get super glue off a kitchen counter to enjoy a clean counter again. Use household products like dish soap and nail polish remover to rid your granite, quartz, or laminate countertop of adhesive.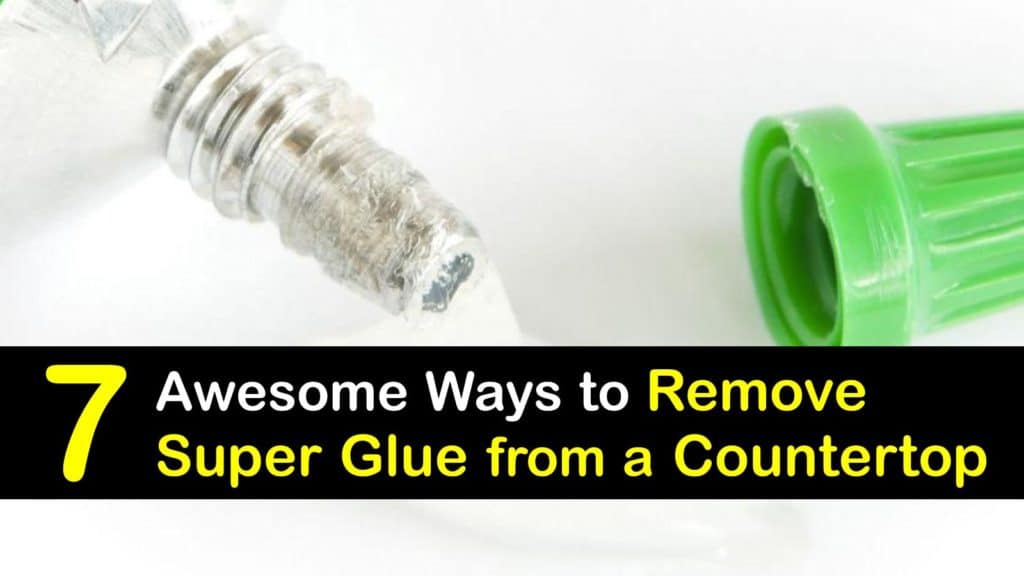 Tips for Removing Super Glue from a Counter
Cleaning super glue from kitchen countertop often involves trial and error. Since harsh cleaners damage several types of surfaces, start with the gentlest solution possible.
Check any care instructions for your countertop, whether you need to clean quartz kitchen counters or another type, and begin by testing a small, hidden area for discoloration.
Scraping to Get Super Glue off a Kitchen Counter
Before applying any liquid to your countertop, try scraping at the dried glue with a putty knife, a razor blade, a dull butter knife, or your fingernail. Whatever type of scraper you choose, hold the edge close to the counter and don't push too hard.
This glue removal strategy is ideal for small stains. For tougher patches of adhesive, use scraping as a first step, then choose a solution like acetone.
Loosening Super Glue with Water and Dish Soap
If you catch glue before it hardens, wet a sponge or piece of paper towel with hot water, then wipe off the glue. This also applies to getting super glue off metal surfaces. If you're not so lucky, moisten the rough side of a sponge with hot water and dish soap, then scrub at the adhesive. This is often an effective strategy to get super glue off hands, too.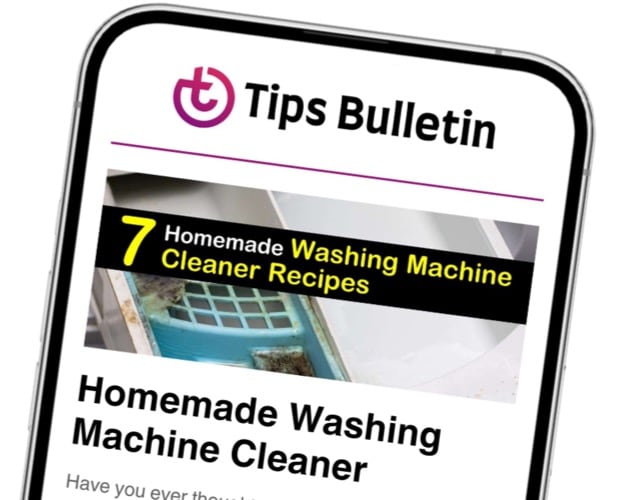 Finally, an email that Transforms Your Home.
Get the latest home and garden tips from our experts, delivered straight to your inbox.
Dish soap is a common homemade kitchen cleaning solution. It's no surprise that it's also a way to clean super glue out of Corian countertop.
For especially tough stains, soak a cloth or paper towel in warm water, then press it onto the affected area. Leave the cloth in place for several hours. When the glue is soft, scrub at it with a damp cloth or razor blade.
How to Remove Super Glue from a Countertop using Acetone
This chemical, present in most nail polish removers, dissolves super glue bonds. Try applying it with a cotton ball, a rag, a Qtip, or one of those applicators for nail polish remover. Don't forget to test an inconspicuous area first.
The glue should start softening immediately. If necessary, leave the acetone nail polish remover soaking for several minutes. Wipe with a damp cloth, scrub with a nylon scrubber pad and hot water or scrape with a putty knife or razor blade.
You may need to repeat the process of applying nail polish remover and scrubbing. After the acetone dries, clean the counter with a cloth and soapy water.
How to Get Super Glue off Granite Countertops
Although granite is durable, avoid harsh cleaners if possible. To remove super glue and get your granite glistening, combine dish soap and water to form suds.
Soak a cloth or paper towel in the solution, then press it into the adhesive. Let the glue soak for several hours. If needed, moisten the cloth again or cover it with plastic wrap to retain moisture.
When the glue has softened, rub with a damp cloth or scrape with a razor blade. If the adhesive doesn't come off, dampen a cotton ball with rubbing alcohol or pure acetone. After removing the remaining glue, wipe away the cleaner with a damp cloth.
Clean Super Glue out of Corian Countertop without Acetone
If the adhesive has already dried, try this easy trick to get super glue off a table or a kitchen counter without using harsh chemicals.
Hold a bag of ice against the affected area for about five minutes until the glue turns brittle. Break off the chunks of adhesive by applying pressure.
Remove any remaining glue with olive oil or peanut butter on a cloth. After you've eliminated all excess glue, wipe with another damp, soapy cloth.
How to Remove Super Glue from a Countertop with a Commercial Product
Hardware stores carry commercial glue removers in situations where nothing else is working. Does Goo Gone remove super glue? Goo Gone is one of many products that work well on most surfaces. Start by testing the cleaner on a small section of counter.
Glue remover products are generally safe to use on nonporous hard surfaces and sealed marble, granite, ceramic, and concrete.
Like you might do before applying a homemade quartz countertops sealer, test the seal by splashing a little water on the surface. If water beads quickly, the seal is still good.
Apply the glue remover according to the directions, then let it work for the recommended duration. Scrape off the glue, then wipe away the cleaning product.
How to Remove Objects Stuck on a Counter
If you get a glue bottle, plate, or other object stuck onto the counter or need a DIY super glue remover for plastic, don't panic. Instead, wave a hair dryer over the glue from several inches away. The heat should soften the adhesive.
Once the glue is soft, twist the object free and scrape off the remaining adhesive. If the adhesive doesn't come off, try rubbing with sandpaper.
Note that you may need to refinish the counter afterward and that you should always consider the type of surface before employing an abrasive.
How to Remove Super Glue from Different Types of Countertops
Consult cleaning advice from the manufacturer. Some countertops are porous, meaning that they stain easily, while others require a mild cleaner.
Test any substance stronger than dish soap in an inconspicuous place. Acetone is generally safe to use on several types of surfaces.
For laminate countertops, leave acetone soaking for as short a time as possible. When you clean super glue out of Corian countertop, also remove harsh cleaners promptly.
For granite counters, dab the chemical onto the glue spot with a Qtip, avoiding the granite as much as possible.
Remove adhesive from a butcher block countertop with a razor blade. Lighter fluid or denatured alcohol is effective for stainless steel, and isopropyl alcohol works well on glass.
Safety Precautions for Working with Acetone
This chemical is one of the most common ways to get super glue off a kitchen counter. It can also cause eye irritation, drowsiness and dizziness, nose and throat irritation, and mild skin irritation. Open the kitchen windows to improve ventilation.
Wear rubber gloves and, if there's any chance of getting acetone in your eyes, safety goggles.
If the chemical gets on your skin or clothing, remove the contaminated clothing and rinse your skin with lukewarm water. If acetone gets in your eyes, flush them immediately with lukewarm, gently flowing water for 15 to 20 minutes.
Note that acetone is highly flammable. Keep it far away from open flames and heat sources. Store the container in a cool, well-ventilated location out of direct sunlight.
Don't worry if you don't want to use acetone to clean super glue out of Corian countertop. Many other DIY options are available, from scraping with a putty knife to using a hair dryer.
Of course, the best solution is not to spill super glue in the first place. However, accidents happen. Knowing how to remove super glue from a countertop gives you peace of mind for the next time your hand slips while holding a tube of this powerful adhesive.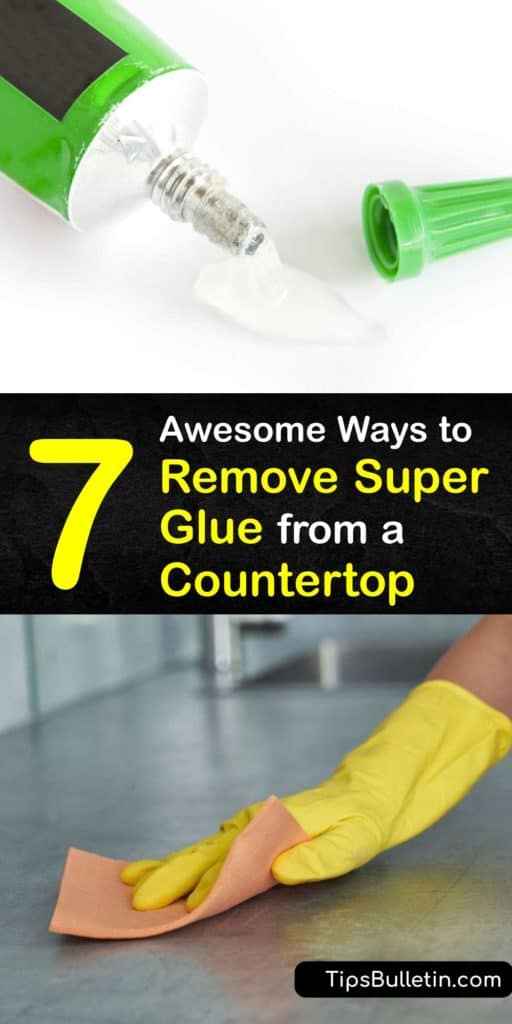 If you found these super glue removal tricks helpful, please share these countertop cleaning tips with your friends on Facebook and Pinterest.